The Sandbox Active Daily Users at Rock Bottom – New Trending Blockchain Game Calvaria Has a Fix
Disclosure: Crypto is a high-risk asset class. This article is provided for informational purposes and does not constitute investment advice. By using this website, you agree to our terms and conditions. We may utilise affiliate links within our content, and receive commission.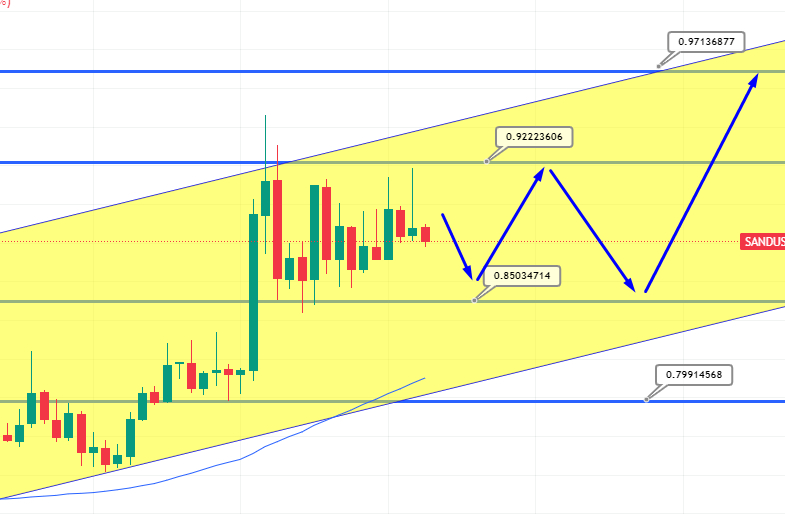 The Sandbox price is on the rise, having gained over 20% in the last seven days to trade at the $0.89 level. In October, The Sandbox celebrated the conclusion of Sandbox Alpha Season 3 with a massive celebration, but that wasn't the only big way the network said goodbye.
The Sandbox, One of The Top P2E Gaming Coins
Sandbox (SAND) is a popular P2E gaming coin on the cryptocurrency market. It is an online multiplayer gaming system in which players compete for non-fungible tokens (NFTs). The network existed long before the NFT sector exploded and has since produced mobile games.
The network has been creating immersive gaming experiences for consumers since 2011, even before blockchain technology existed. Because the system's P2E mechanism allows users to play games and earn cryptocurrencies, NFTs have played an important role in the sandbox network.
Users can have fun while earning money in the sandbox virtual reality environment.
The native cryptocurrency SAND also had a high month-end performance. Despite the recent uptrend, The Sandbox's active daily users are dropping.
🏆 Our Community Top 10 Experiences in Alpha Season 3 🏆@warnermusic WMG Landhttps://t.co/T917LUkcua

— The Sandbox (@TheSandboxGame) October 31, 2022
Metaverse was a popular term in 2021, and many businesses, including Meta, changed their names to keep up with the Metaverse trend.
According to the community, only a small number of people are still interested in the Metaverse game. Despite a market valuation of $1.3 billion, Sandbox, the famous Metaverse platform, is having difficulty retaining customers.
https://www.twitter.com/lorelordnft/status/1583433257500434432?s=20&t=NsNTqq9mRT_D-zpYQrqgTQ
The data shows 728 Metaverse Sandbox daily active users, according to DappRadar, a platform that provides insights into decentralized apps.
Less Active Daily Users
According to DappRadar, active users are unique wallet addresses that interact with Dapp's Smart Contracts. It does not include users who are simply browsing the Metaverse and not engaging in Smart Contract transactions. Furthermore, Sandbox is a platform that does not require users to perform transactions on a regular basis.
Furthermore, the Metaverse platforms' play-to-earn strategy drew customers whenever the bull market was in full swing. The primary strategy used by these platforms to attract users was to emphasize the possibility of earning cryptocurrency while playing games.
Consumers may view platforms like Sandbox as attractive investments rather than platforms to switch to from their preferred Web 2 platforms, owing to their significant market capitalization. Users are returning to Web2 platforms as a result of the severe reduction in revenue from these platforms during the bear market.
Better Player Engagement Metrics
According to Yat Siu, co-founder of Animoca Brands Corp., the primary owner of the online game, The Sandbox, a blockchain-based virtual world, is performing great despite a claim that the platform only has 500 daily active players.
Some comments about Web 3 metrics:
= Web 3 player worth more than Web 2 players engaged with a wallet, all payers VS low conversion in "Freemium" model;
= on chain transactions does not mean Users;
= NFT owners invest in an asset that will grow in value over time based Utilities; https://t.co/IIpsDjRUnm

— Arthur Madrid (@arthurmadrid) October 10, 2022
For The Sandbox, which has thought about raising money at a valuation of over $4 billion, such a tiny user base would be shocking. Siu asserts that these transactions, which may involve the sale of virtual land represented by non-fungible tokens, are not representative of overall platform activity.
Moreover, he believes that because more players are keeping their NFTs rather than selling them, to utilize them in-game. Yat Siu believes there are more effective ways to measure player activity. According to him, The Sandbox has more than 200,000 active users each month.
According to Siu, other metrics, including the number of jobs produced on the site and the amount of revenue made from the game, are better indicators of user involvement.
The Sandbox Price & Tokenomics
At the time of writing, the SAND/USD was trading at $0.8871, with a 24-hour trading volume of $359 million. The Sandbox has gained less than 0.5% in the last 24 hours. With a market capitalization of $1.3 billion, and a current ranking is 43.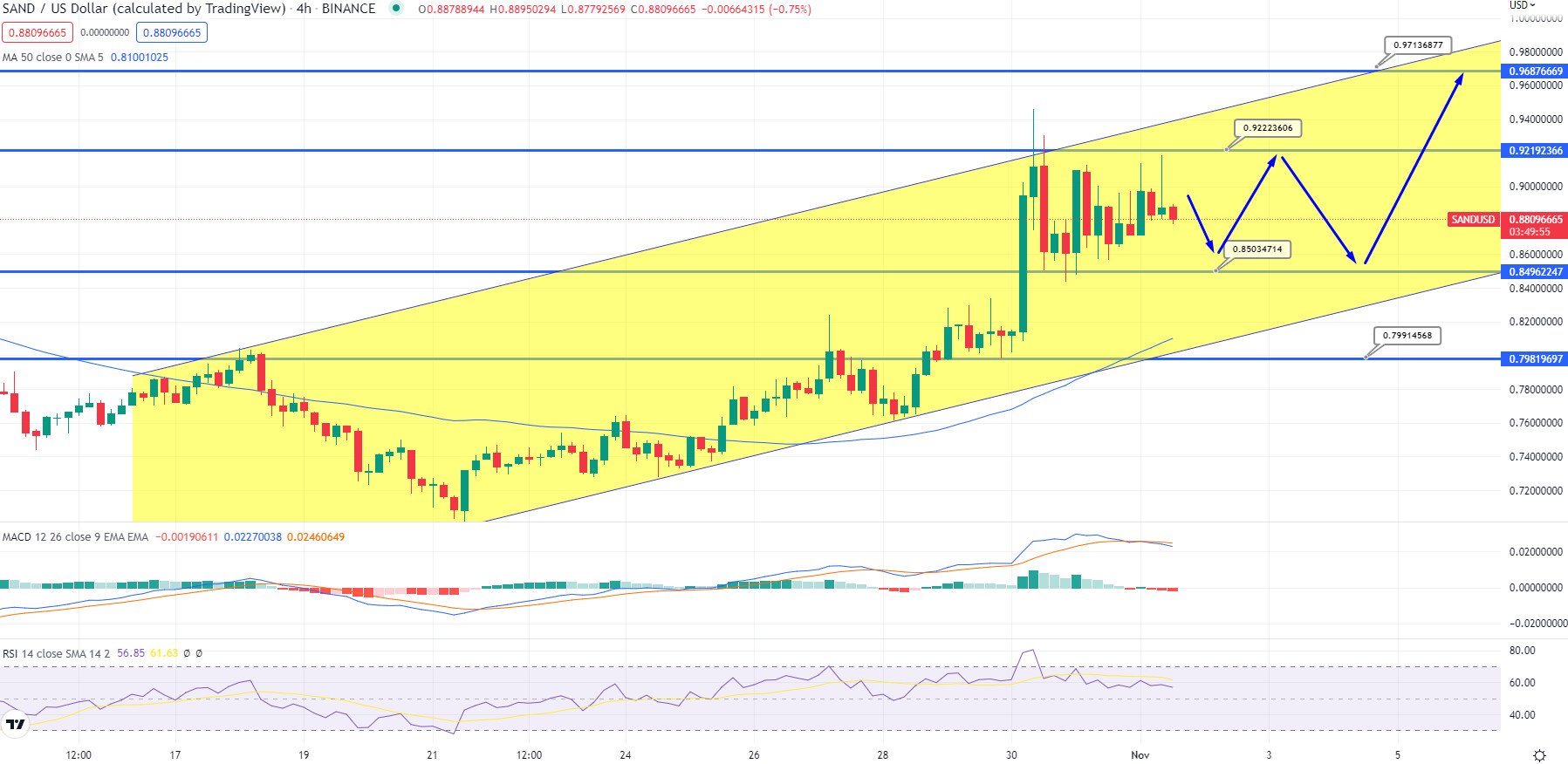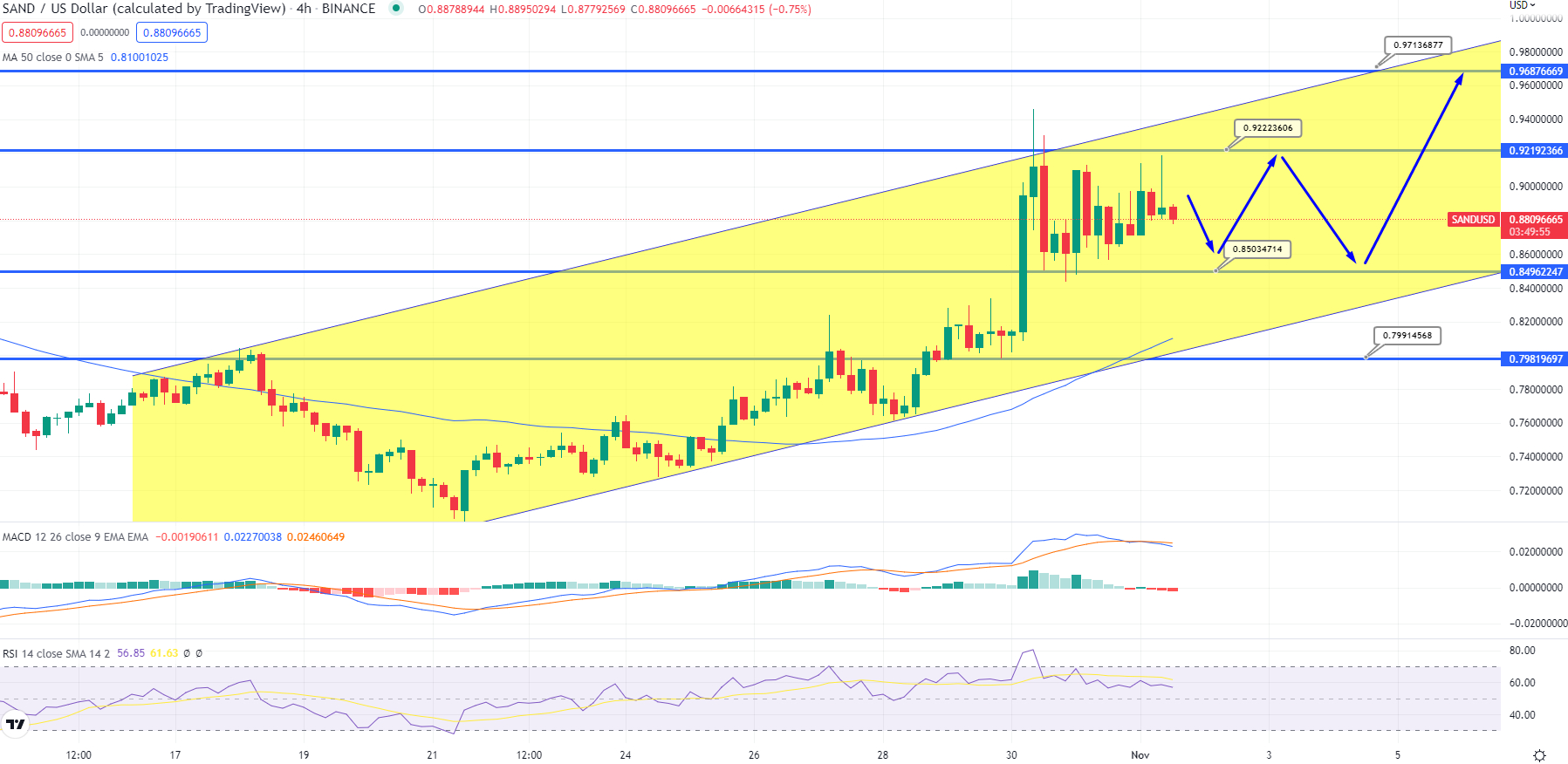 On the technical front, the SAND/USD has formed an upward channel, which is supporting SAND at $0.8503, while resistance remains at $0.9220. A bullish break above $0.9220 could expose SAND to the $0.9715 level.
Given the mixed signals from the fundamental and technical sides, The Sandbox appears to be moving slowly. Investors can, however, look for coins on presale to make quick profits.
Calvaria is one of these tokens. Let's have a look!
New Trending Blockchain Game Calvaria Has a Fix
After drawing a large number of investors in the previous week, the new crypto gaming project Calvaria has raised approximately $1 million in its presale. Given its novel approach to resolving two fundamental difficulties of blockchain gaming, the project, which is now in stage 3 of a 10-stage presale, is generating a great deal of attention in the crypto industry.
Despite GameFi's evident potential, the scene hasn't been able to win over mainstream gamers. Despite having market valuations of over $1 billion, games like Decentraland and The Sandbox only had 20,000 users in October, according to DappRadar.
---