Recovering Hash Rate, Improving Metrics Indicate Market Rebound - Report
The recovering hash rate indicates that some mining operations are beginning to return online in new locations outside of China, and the worst of the crackdown could be over, according to a recent analysis by crypto financial intelligence provider CoinMetrics.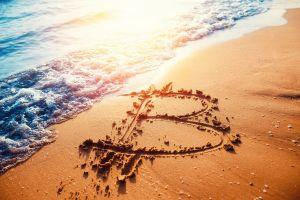 With mining operations moving out of China following the ongoing government crackdown, Bitcoin hash rate plummeted to its lowest level since 2019. However, after it had hit a local bottom near the end of June, it started recovering in July and August.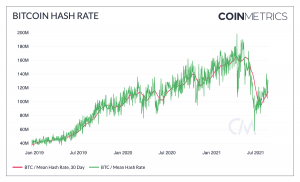 Bitcoin's (BTC) seven-day average spent output profit ratio (SOPR) - a ratio of bitcoin's price at the time UTXOs are spent to its price at the time they were created - was negative for most of June which signaled that investors were selling the cryptocurrency at loss.
But BTC SOPR has turned positive again in August, a sign that the capitulation period has ended and that the market is back on more solid ground, the report said.
Other cryptocurrencies are also improving their posture this month.
"The rest of the crypto market has bounced back over the past month as well," CoinMetrics said. "Smaller-cap assets have outperformed BTC over the last 30 days led by cardano (ADA) and polkadot (DOT). Other potential ethereum competitors have broken out over the last month, including new all-time highs for solana (SOL)."
Ethereum (ETH) has outperformed bitcoin over the past 30 days, driven by the exploding sales of non-fungible token (NFT) assets such as CryptoPunks, Art Blocks, and others, according to the firm.
Both BTC and ETH usage continued to increase over the past week, growing 4.6% and 4.2% week-over-week, respectively.
Although ETH transactions were up by 3%, total fees dropped by 25.9% for an average of USD 16.3m per day. ETH fees have cooled off since the previous week, but they still remain at the highest level since May, predominantly owing to an avalanche of new NFT drops, the analysis said.
Spot trading volume has also begun to show signs of major improvements, as the "combined trusted trading volume of BTC, ETH, XRP, BNB, DOGE, ADA, DOT, and UNI topped[USD] 25B on August 19th," according to CoinMetrics.
However, this was still well below the levels seen in April and early May. On May 9, DOGE alone was responsible for more than USD 20bn of trading volume.
Another significant development is linked to a spike in BTC and ETH addresses, as the number of such addresses with relatively small holdings has been increasing throughout this year.
"The total number of BTC addresses holding between 0.001 and 0.1 bitcoin has increased ~15% so far in 2021 but has been somewhat flat since the end of April," according to the analysis, adding:
"The number of ETH addresses holding 0.01 to 1 ETH is up ~58% YTD and has continued to steadily increase throughout the summer. With NFT summer raging on Ethereum, it is possible that retail interest in NFTs is helping Ethereum adopt new users."
____
Learn more:
- Green Shoots of Recovery Sprout for Bitcoin Miners – Report
- BTC Mining Migration, Challenges & Forecasts for the Post-crackdown Industry
- 'Next Great Miner Migration Will be Away from China' - Poolin Exec
- Shenzhen Crypto Mining Hardware Retail Hotspot Becomes a Ghost Town
- China Is Not Done Yet With Its Crackdown On Crypto Mining - Researcher
- A Closer Look at the Environmental Impact of Bitcoin Mining
- Cryptoverse Reacts: Visa May Become "Front-End for Ethereum", NFT Sales Explode
- NFT Sector Far from Dead or Even Resting, Exploding Across the Board
- 8 Crypto Mining Apps Exposed as Fakes - And 120 More are Still in Business
- Watch: Spanish Police Bust a Suspected 111-rig Crypto Mining 'Farm'
---