Ray Dalio Prefers Bitcoin Over Bonds, But Gold Over Bitcoin
After his recent statement that he would personally pick bitcoin (BTC) over a bond, founder of major investment firm Bridgewater Associates Ray Dalio is back with more food for thought. The legendary investor claims that while bitcoin resembles a digital version of gold, he would still rather own metal than crypto.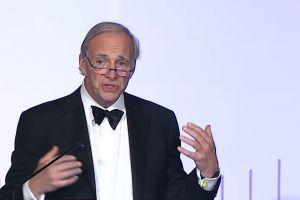 "If you put a gun to my head, and you said, 'I can only have one,' I would choose gold," he told CNBC, adding that he owns "a very small amount of bitcoin."
"There are certain assets that you want to own to diversify the portfolio, and bitcoin is something like a digital gold," he said.
Last May, the billionaire admitted he owned an undisclosed amount of the cryptocurrency despite the fact that he has raised concerns over cryptocurrencies for many years.
As part of his previous cautious remarks on bitcoin, Dalio made claims that, among others: the cryptocurrency was not very good as a medium of exchange because you could not buy much with it; it was not a good store-hold of wealth due to its great volatility and little correlation with the prices of necessary products; and governments could outlaw it.
The businessman has also stated that "one day we will" see a digital dollar launched, although he also admitted that the United States was "behind on this," and might not be as attractive to investors as China's digital yuan.
Establishing Bridgewater Associates, which manages about USD 150bn in assets, has put Dalio on Forbes magazine's list of the richest people in the world. In this year's edition of the list, the entrepreneur was ranked as the globe's 88th richest individual, with a net worth of some USD 20.3bn.
____
Learn more:
- Bridgewater's Ray Dalio Sends Stronger Bitcoin Signal
- Did Ray Dalio Just Say You Should Buy Bitcoin?
- Response to Ray Dalio: Banning Bitcoin Is a 'Game of Whack-a-Mole'
- Ray Dalio Trashes Cash as Store of Value, Avoids Questions on Bitcoin
- How Education – and Envy – Turned a Billionaire Skeptic into a Bitcoin Bull
- The Bond King Goes From 'Bitcoin Is A Lie' To BTC 'Maybe The Stimulus Asset'
---