PSYOP Token Price Explodes 1,000% But Is It A Crypto Scam? - Best Meme Coins to Invest In Now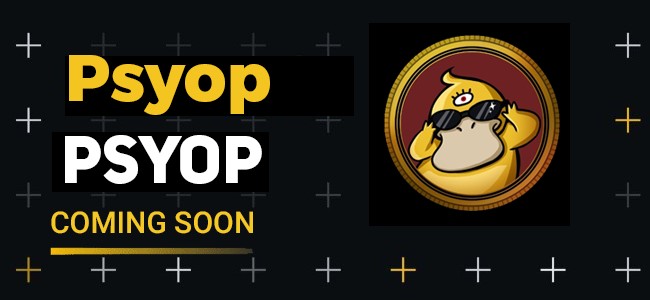 The hot news in the cryptocurrency market today is the explosive rise of PSYOP token, with its price soaring by over 1,000%, and the coin ranked in the top trending assets on DEXTools.
However, despite its positive price action there have been questions posed about the legitimacy of the new crypto project.
In this update, we will delve into the phenomenon surrounding PSYOP token, exploring its potential as a lucrative investment opportunity and addressing concerns about its authenticity.
Additionally, we will highlight some of the best meme coins available for investment in the current market.
Ben.eth's Latest Meme Coin $PSYOP Generates $7 Million in ETH Sales - Promising or Risky Investment?
Celebrated NFT enthusiast and creator of viral meme coins, Ben.eth, has garnered remarkable triumph with his most recent endeavor, $PSYOP.
Over the past week, he has raised an impressive sum of more than $7 million in ETH transactions via an early sale of his novel memecoin.
The project picked up steam after gaining the endorsement of renowned crypto enthusiast, Ben Armstrong, who later assumed control of the venture from Ben.eth for an unspecified amount.
Despite a few warning signs related to the $PSYOP presale, investors demonstrated an impressive show of faith by pouring funds into Ben.eth's Ethereum wallet, amassing a total exceeding 3,860 ETH.
This scenario underscores the escalating eagerness amongst investors to partake early in prospective trending meme coins, even in the face of potential risks.
PSYOP Token Price Explodes 1,000% But Is It A Crypto Scam?
The PSYOP token's value has skyrocketed by a staggering 1,000%, stirring a whirlwind of discussion in the crypto sphere.
However, this massive price hike has raised suspicions, causing many to wonder if it might be another crypto hoax.
Simultaneously, Ben.eth has been subjected to the substantial backlash, primarily due to his unfulfilled commitment to distribute the promised allocations to his crypto investors.
Ex-FTX Engineer Raises Concerns
On Friday, former FTX and Ethereum engineer Vydamo raised concerns about Ben.eth's intentions for his community.
Screenshots provided by Vydamo suggest the PSYOP smart contract might allow for the transfer of tokens from any whitelisted wallet to another, with varying transaction fees based on the NFTs in the wallet.
Vydamo stated his discomfort with the project led him to leave the team, forfeiting $1M worth of PSYOP tokens, despite Ben.eth dismissing these concerns as baseless fear.
Yet, Vydamo also reported a standard distribution pattern for the token's presale, akin to PEPE's, indicating not all aspects of PSYOP are alarming.
With significant engagement from prominent NFT communities, PSYOP's future remains uncertain.
PSYOP Token Set for Binance Listing
In a recent tweet, Ben.PSYOP, the creator of the PSYOP token, announced some exciting news: $PSYOP is set to be officially listed on Binance.
This announcement could be the impetus for the token to regain its traction in the market.
Ben.PSYOP encourages current and potential holders to swap and maintain their $PSYOP, and even participate in a $PSYOP Airdrop by liking and retweeting his announcement.
With this listing on one of the world's largest cryptocurrency exchanges, $PSYOP is well-positioned for a potential surge in interest and value.
PSYOP Price
Given the prevailing concerns, according to price data from Dextools, the price of Memecoin PSYOP has experienced a sharp decline, plummeting nearly 70% to trade at $0.00006495.
Examining the four-hour timeframe, the PSYOP coin appears to be establishing a support level around the 0.00004770 mark.
The consistent closing of candles above this level, which also represents a double bottom, suggests potential for upward momentum.
If the coin maintains its position above the 0.00004770 level, it could potentially target the next resistance level at 0.00009380.
A breach above this level could reveal the possibility of reaching as high as 0.00001213. If the upward trend continues, it may explore a price target of 0.0001500.
Conversely, should the PSYOP coin continue its downward trend and break below the double bottom level of 0.00004770, it could be vulnerable to hitting the next support levels of 0.00003200 and 0.000020.
Despite the current downtrend of PSYOP, it's worth noting there are other meme coins displaying significant upward potential.
These could offer lucrative investment opportunities during PSYOP's downturn.
Best Meme Coins to Invest In
In the ever-expanding universe of cryptocurrencies, meme coins have carved out a niche of their own, attracting investors with their potential for quick profits. Among these, Copium, Sponge, and AiDoge have emerged as high-potential alternative investment options.
Copium, with its engaging community and robust tokenomics, shows promise, recently mentioned in New York Magazine
Sponge, with its unique burn mechanism and real-world use cases, has growth potential and is also trending on the DEXTools hot pairs list
AiDoge, the meme coin backed by artificial intelligence, offers a novel twist to the traditional Doge meme coin, suggesting it could be a rewarding venture for those willing to explore these playful aspects of the crypto market.
As always, remember to do your due diligence before investing.
---