Proof of Institutionals: Bitcoin Derivatives Skyrocketed in April
Regulated bitcoin derivatives trading volume increased sharply in April, when the recent bitcoin rally started.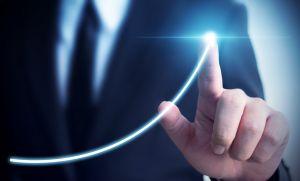 Average CME's bitcoin futures product volumes increased by 263%, to USD 256 million in April, while Grayscale's bitcoin trust product (GBTC), also increased in terms of average trading volume in April to USD 29.7 million, according to cryptocurrency market data provider CryptoCompare.
Also, CBOE's bitcoin futures volume more than doubled, reaching USD 9.9 million despite their decision to cease listing additional bitcoin futures products, they added.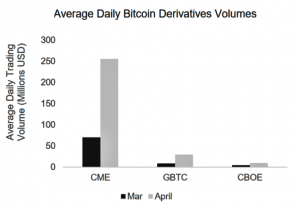 However, it seems that institutional products are in the spotlight in May also. As previously reported, CME Bitcoin futures reached an all-time high of 33,700 contracts on May 13, up nearly 50% from the last record of 22,500 contracts on April 4.
Meanwhile, in a recent interview with Cryptonews.com, Charles Hoskinson, CEO of blockchain consultancy and research firm IOHK that is developing the Cardano platform, said that it will take another 12-24 months for the cryptocurrency ecosystem to be ready for institutional money to enter the space.
Some other findings in a monthly exchange review by Cryptocompare include:
Trading volume from exchanges that offer only crypto pairs increased by 49%, to USD 396 billion in April, while those that offer fiat pairs increase by 25%, to USD 72 billion.
In April, 60% of all Bitcoin trading into fiat was made up of the US Dollar, compared with 46% in March.
BTC to USD volumes increased by 75%.
BTC trading into JPY continued to decrease, while BTC trading into KRW continued to increase.
---