Positive News and Buyers Return to the Crypto Market
After the past few days of heavy selling, crypto markets are again in the green across the board today. All top 20 coins are seeing gains on Wednesday.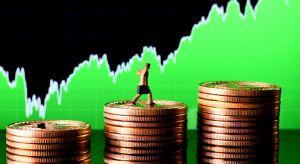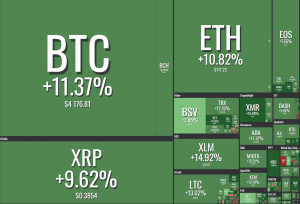 It seems that buyers once again has hit the markets, after selling has brought prices of most coins down to levels that some would consider "cheap" again. This comes at the same time as a range of positive news developments have been revealed regarding the much-anticipated institutional entry into crypto.
Let's go through them one by one:
Nasdaq and Bitcoin futures
Nasdaq, the second-largest stock exchange in the world by market capitalization, aims to allow Bitcoin futures trading in the first quarter of 2019, despite the market crash this year, Bloomberg reported, citing "two people familiar with the matter." The Nasdaq futures will be based off the Bitcoin's price on numerous spot exchanges, as compiled by VanEck Associates Corp., according to the report.
"We're kind of agnostic on price"
This comment was uttered by Jeffrey Sprecher, the founder and CEO of Intercontinental Exchange (ICE) when asked about the recent decline in bitcoin prices during the CoinDesk's Consensus conference in New York on Tuesday. ICE is the parent company and an important backer of the new Bakkt platform, which is widely expected to bring more institutional liquidity into the bitcoin market.
Sprecher was joined on stage by Bakkt CEO Kelly Loeffler, who echoed the same sentiment by saying "the price is being expressed but there's a lot of missing infrastructure and use cases," thus suggesting that prices may recover once the "missing infrastructure" is put in place, according to Coindesk.
However, as reported, the launch date of the Bakkt platform will be pushed back to January 24, 2019, from an originally scheduled release in December of this year.
Crypto is "here to stay": El-Erian
The retail investors in crypto are becoming more reasonable, while institutions are starting to establish a foothold for the long-term, Mohamed El-Erian, chief economic adviser at insurance and investment giant Allianz said during the same conference on Tuesday.
The highly regarded economist further said that he believes cryptocurrencies "will exist," and that they will become "more and more widespread," Reuters reported. However, he also added a word of caution to some of the most outspoken crypto enthusiasts, saying "[cryptocurrencies] will not be [as] dominant as some of the early adopters believed them to be."
Bitcoin is "akin to the dollar": SEC
Meanwhile, at the same conference, the US Securities and Exchange Commission (SEC) Chairman Jay Clayton reiterated the SEC's stance that bitcoin is not a security.
"An asset like bitcoin, where it's designed to be a replacement for sovereign currencies, we've determined that doesn't have the attributes of a security," Clayton said, according to Yahoo Finance.
However, when it came to the much-anticipated bitcoin-based exchange traded fund (ETF), Clayton's comments were not so positive. On the issue of a potential ETF approval, Clayton explained that whatever asset an ETF is based on must be "free from the risk of manipulation." He added that this is "an issue that needs to be addressed before I would be comfortable [with approving a bitcoin ETF]."
Code of Crypto Conduct
And it looks like the crypto industry is trying to address these issues. In the US, a new crypto association has emerged that aims to establish a Code of Conduct for emerging digital asset markets.
Ten financial services and technology firms, including Galaxy Digital, Paxos, Genesis Global Trading among others, launched the Association for Digital Asset Markets (ADAM.) It will will work with current and former regulators to provide rules for the efficient trading, custody, clearing and settlement of digital assets, according to the announcement. ADAM's Code of Conduct will include guidelines for market integrity, risk management, KYC (know your customer) and AML (anti-money laundering), custody, record keeping, clearing and settlement, market manipulation, data protection, and research, among other topics.
---