Pepe Coin Price Prediction as PEPE Becomes Top 10 Most Traded Crypto in the World – Can PEPE Reach $1?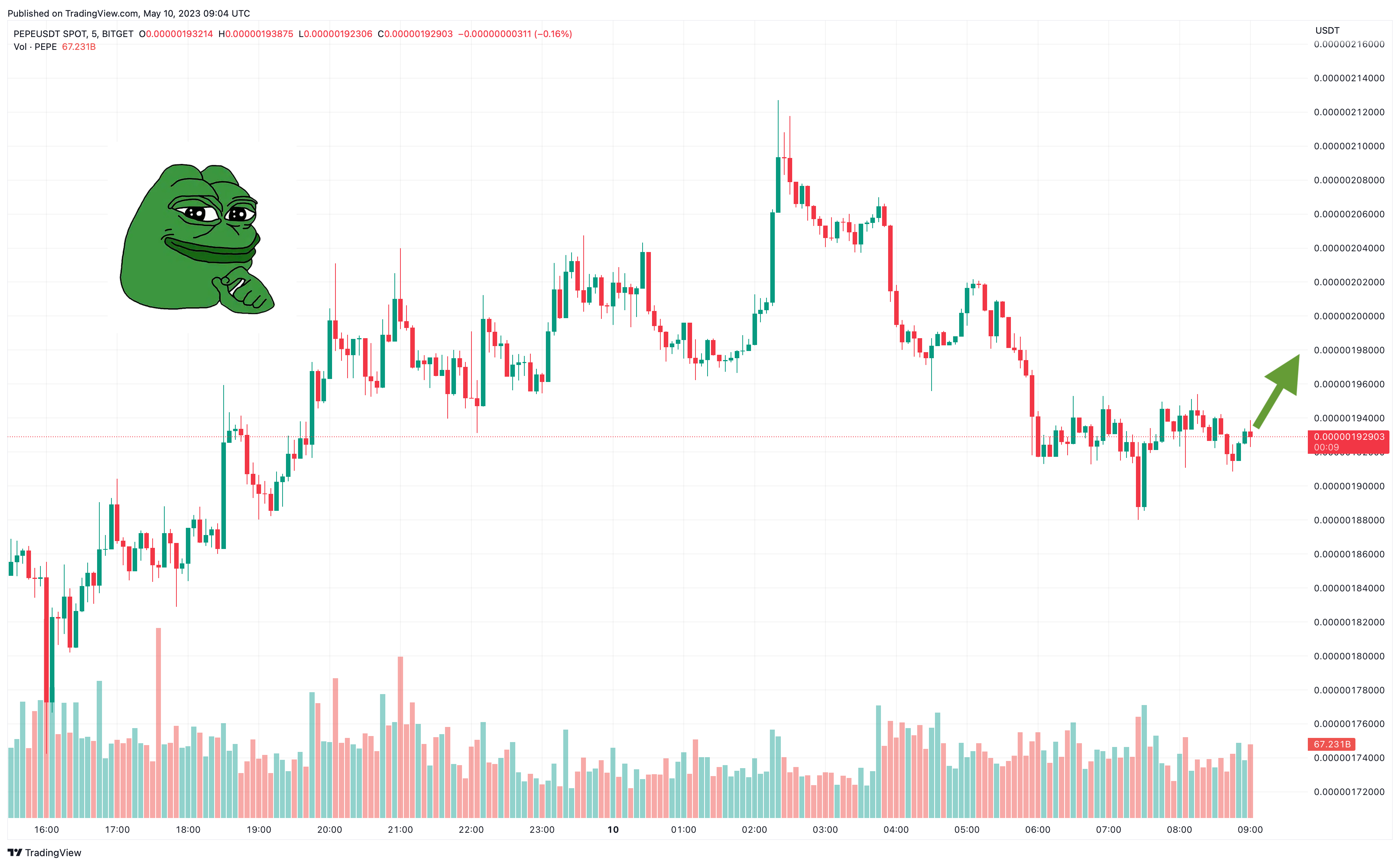 Pepe Coin price has entered the top 10 cryptocurrencies by 24-hour trading volume, with CoinGecko data currently putting it eighth overall, ahead of BNB but behind Binance USD (BUSD).
Despite its impressive rise, PEPE is currently down by 2% in the past 24 hours, although its price of $0.00000192 represents a 70% gain in a week and a 650% increase in the past fortnight.
As meme-y as it seemed when it first appeared in the market, the ability of PEPE to maintain and build on its early momentum suggests that it has now become an established meme token, with its volume far outstripping that of Dogecoin and Shiba Inu.
This means it could easily continue rising again once its current correction has played out, potentially losing more decimal places as it climbs further up the cryptocurrency leaderboard.
Pepe Coin Price Prediction as PEPE Becomes Top 10 Most Traded Crypto in the World – Can PEPE Reach $1?
PEPE has notably gained by 0.5% in the past hour, with its chart reflecting this recent recovery of momentum.
Indeed, PEPE had been due a recovery, given that its various indicators had more or less bottomed out in the past day.
Its relative strength index (purple) had dropped below 30 early this morning, helping the meme token to begin rising again.
Likewise, its short-term moving average (yellow) had fallen underneath its long-term average (blue), and given that it, too, is close to a bottom, we could see PEPE mount a more substantial recovery in the next day or so.
Indeed, after testing the $0.00000190 support level, PEPE has been able to resume its earlier climb, suggesting that further gains are incoming.
As noted above, the fact that PEPE is now one of the most widely traded coins in the market suggests that it could be here to stay, despite its beginnings.
It seems that whales and exchanges have latched onto the coin, which has benefitted from listings in the past few days from the likes of Binance, KuCoin and OKX.
Such listings have essentially been taken by the market as validation of PEPE, with retail investors rushing to the meme token with every new exchange that began supporting it.
Whales also appear to be stocking up on Pepe, as are the exchanges which list the token, all of which help to drive up demand and limit its supply.
As such, even though PEPE is a more or less intrinsically worthless meme token, and even though its anonymous founders have dumped large quantities of the token on the market, it has already become a 'big' token.
It currently has just over 108,000 holders, up from only a few thousand a week or so ago.
This kind of momentum will help it continue rising in the medium and longer term, with the coin likely to recover from its current price of $0.00000192 and reach $0.000003 or $0.000004 in the next few weeks.
From there, it could easily lose one or two decimal places by the end of the year, particularly if the wider market becomes more bullish.
Another Trending Meme Token
For traders who like diversifying their portfolios, PEPE isn't the only successful new meme token at the moment, with SpongeBob (SPONGE) witnessing gains of well over 2,500% since listing directly on Uniswap on May 4.
A new ERC-20 cryptocurrency, SPONGE has also been created by anonymous founders, but as with PEPE, the coin and its market has already taken on a life of its own.
Aside from the early Uniswap listing, it has begun receiving a growing number of CEX listings, including from MEXC, LBANK, CoinW and Toobit.
Other listings are likely to follow, and if SPONGE does succeed in attracting some of the biggest exchanges, then it can be expected to enjoy some very big rallies in the not-too-distant future.
PEPE has a total maximum supply of 40.4 billion, which is markedly lower than PEPE's, at just over 420 trillion.
It also has more than 10,800 holders, a number which has risen quickly over the past few days, testifying to the coin's momentum.
Such momentum could easily help it rise to $0.001 and higher in the next few weeks, with the coin's all-time high of $0.002394 more than beatable if it attracts a listing or two from a top-tier exchange.
---