Pepe Coin Price Prediction as PEPE Becomes Second Most Traded Meme Coin in the World – Is Now a Good Time to Buy?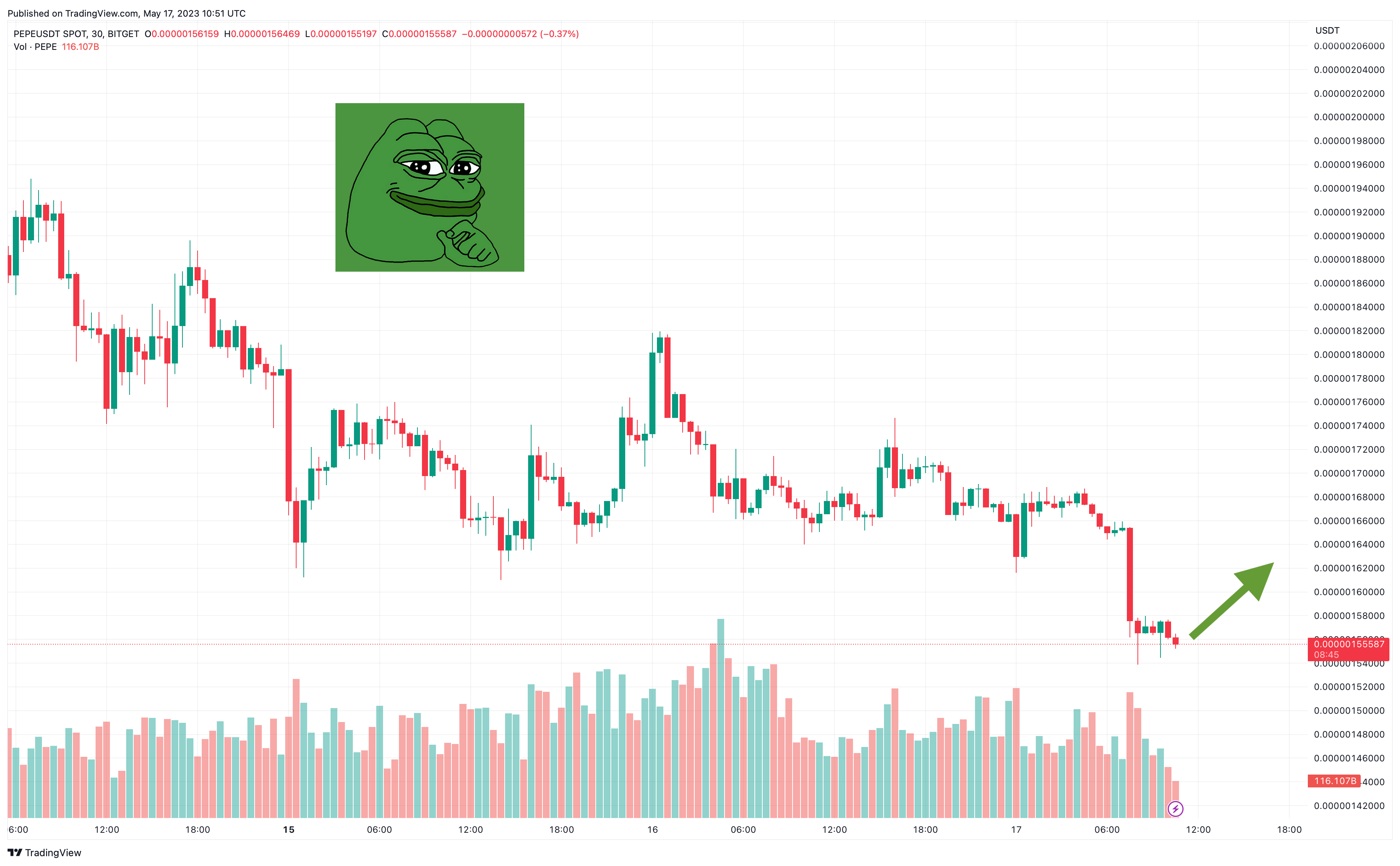 The price of Pepe Coin (PEPE) has dropped by 5% in the past 24 hours, falling to $0.00000158 as the wider crypto market sees a 0.5% decline today.
PEPE's current price means that it has lost 18% in a week and 63% since reaching an all-time high of $0.00000431 on May 5, although the meme token remains up by over 2,500% since CoinGecko began tracking it on April 18.
PEPE movements today come as it secures its position as the second-biggest meme token in terms of 24-hour trading volume, with current volume of $212 comfortably beating that of the Shiba Inu, which is the third-biggest at $113 million.
Given this high trading volume, it's likely that PEPE will continue to see further rallies down the line, particularly if it gains any other big exchange listings.
Pepe Coin Price Prediction as PEPE Becomes Second Most Traded Meme Coin in the World – Is Now a Good Time to Buy?
While PEPE has lost today, its chart is now in a position where it could be due for rebounds, particularly with its relative strength index dropping below 30 earlier today.
This indicates that the market is overselling it right now, as does the fact that its short-term average (yellow) has been below its long-term average (blue) for quite some time, implying that a recovery is now due.
That said, it may come as a disappointment to note that PEPE has been falling through a number of support levels in recent days, meaning that it hasn't quite bottomed out yet.
Still, its ability to become the second-most traded meme token highlights how it has now established itself as a major altcoin, having come from nothing about a month ago.
It continues to attract the attention of whales, with some stocking up on the altcoin at a discount, in the belief that it will shoot up again soon.
Being a 'pure' meme token (i.e. it has no utility), the only thing propping up PEPE is community-led FOMO and new exchange listings, with Binance, BitMart, KuCoin, and OKX recently announcing trading pairs and services involving the meme token.
As such, it's not likely to rise strongly again unless another major exchange lists it, something which explains why so much of the nascent PEPE community has spent the last week or so putting pressure on Coinbase.
Assuming that PEPE is about to receive another new listing like this, it could easily return to 0.00000431 or higher.
If not, it may continue to decline unless it finds some actual utility.
Newer Meme Tokens Look More Promising
In light of the possibility that PEPE's time may already be over, some traders may prefer to look at newer meme tokens, with SpongeBob (SPONGE) being one of the promising right now.
SPONGE is an Ethereum-based meme token that has enjoyed gains of well over 2,000% since listing directly on Uniswap on May 4.
SPONGE is currently up by 2% in the past 24 hours, based largely on the news that OKX has opened voting on whether it should list the meme token.
And there's a very good chance that SPONGE will ultimately be added to OKX, seeing as how it has recently celebrated listings on Gate.io, Poloniex, MEXC, LBANK, CoinW and Toobit.
The meme token now has more than 12,000 holders and a total maximum supply of 40.4 billion, given it a smaller supply than many other meme coins (e.g. PEPE).
And with the prospect of listings on OKX and Bitmart, it could potentially rise to $0.0006 and $0.0007 in the next few weeks, or even high if more exchanges follow.
---