Obsessed Amateur Crypto Traders Are 'Disproportionately Liquidated'
Inexperienced and small crypto derivatives traders are outperformed by more savvy players and their positions are "disproportionately liquidated," according to a recent study by researchers from the Carnegie Mellon University CyLab.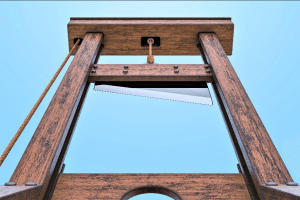 They analyzed publicly available trading data from major crypto derivatives exchange BitMEX and collected price and volume data for all 265 instruments and 212 indexes traded on the platform since its establishment in 2014. They also sourced price data for bitcoin (BTC) markets on major exchanges such as Coinbase, Kraken, and Bistamp, among others.
Per the study, on average, the traded volume in crypto derivatives markets exceeds the regular crypto spot markets by a factor of five.
"Our data show really small positions in these markets—likely held by people with not a ton of experience—being disproportionately liquidated" as "really sophisticated people show up and have a significant edge over amateurs," according to Kyle Soska, a Ph.D. student in electrical and computer engineering and the study's lead author.
Moreover, while smaller traders disproportionately account for liquidations, "chatbox evidence suggests that many users are obsessively trading 24/7."
"Korean traders seem to be active at all hours of the day, indicating that trading may be an all-consuming activity for many of them," the researchers said.
They added that "derivatives instruments attract a culture of long-biased highly leveraged speculators" which makes BitMEX "home to many professional outfits that control thousands of bitcoins and manage dozens of accounts."
In "addition to retail speculators, BitMEX is utilized by highly sophisticated traders which echoes the claims made by a professional market marker about the usefulness of derivatives in cryptocurrency," the paper says.
"An example of a large cluster would be the one rooted from Bitcoin address 1KiJkugknjgW6AHXNgVQgNuo3b5DqsVFmk which owns 86 BitMEX accounts. This address has sent approximately 13,900 [USD 764.7m] bitcoins to BitMEX but has extracted over 72,100 bitcoins from it."
This said, the available market data shows that BitMEX accounts for a relatively minor share of total liquidations. Of the roughly USD 1.34bn worth of liquidations carried out in the past 24 hours (09:15 UTC), only USD 24.5m took place on the derivatives exchange, representing about 1.8% of the total.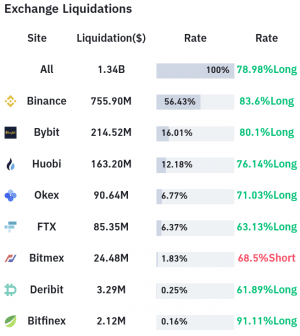 "All of this raises concerns about the impact that derivatives have on BitMEX's customers and on the cryptocurrency ecosystem as a whole. The flip side of the coin is that these phenomena, and possible responses to interventions, are far easier to measure in the context of cryptocurrencies, than they are in more traditional markets," the authors of the study concluded.
As reported on multiple occasions, long liquidations have become more numerous this year. With bitcoin (and other coins) breaking all-time highs nearly every passing week, some traders may feel unable to gain significant exposure without margin trading. However, a growing number of traders can't afford to maintain their leveraged positions in the event of dips. Hence, the growing frequency of big liquidations.
Leveraged trading refers to borrowing funds so that you can take a larger position than you would be able to with your existing funds so that you can potentially generate a higher profit. However, while margin trading enables traders to amplify their returns, it can also lead to increased losses and liquidations, which is why experienced traders tend to advise newcomers to stay away from leveraged trading.
____
Learn more:
- Almost USD 10 Billion Liquidated Amid Sunday Sell-off In Crypto Market
- Institutions & Retail Compete For Bitcoin - Whose Hands Are Stronger?
- This Is The Biggest Risk To Crypto Market According to Pantera Capital CIO
- What Are Leveraged Tokens And Should You Trade Them?
- Cryptoasset Margin Trading: How Safe is it?
- 7 Ways to Short Crypto
- Crypto Traders Warn Newbies About New & Super Risky Binance Feature
- 5 Leverage Trading Platforms (for Experienced Margin Traders) in 2021
---