NFT Overtakes Litecoin, Bitcoin Cash, and XRP on Google
Disclosure: Crypto is a high-risk asset class. This article is provided for informational purposes and does not constitute investment advice. By using this website, you agree to our terms and conditions. We may utilise affiliate links within our content, and receive commission.
The non-fungible token (NFT) hype is very real – and the popularity of digitized art, music, manga and all the rest is now threatening to eclipse that of some of the world's biggest cryptoassets.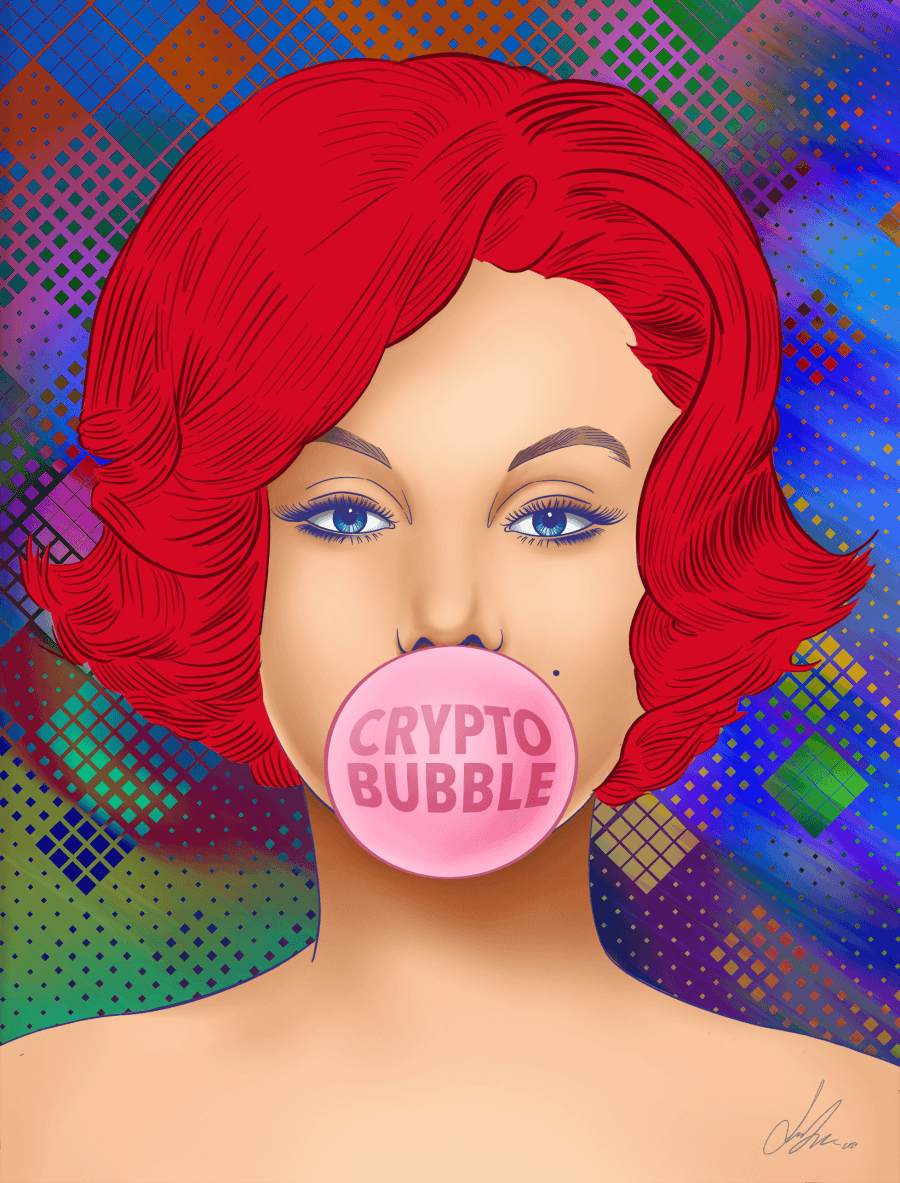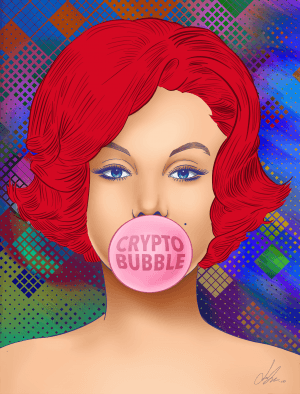 Per data from Google, NFT-related searches are now more popular than altcoin heavyweights litecoin (LTC), bitcoin cash (BCH) and, sometimes, Ripple's XRP – peaking at the very end of February and remaining high on the first few days of this month.
NFTs still have a long way to go if they are to catch up with bitcoin (BTC) and ethereum (ETH), however – although they are gaining ground. Google data shows that BTC still rules.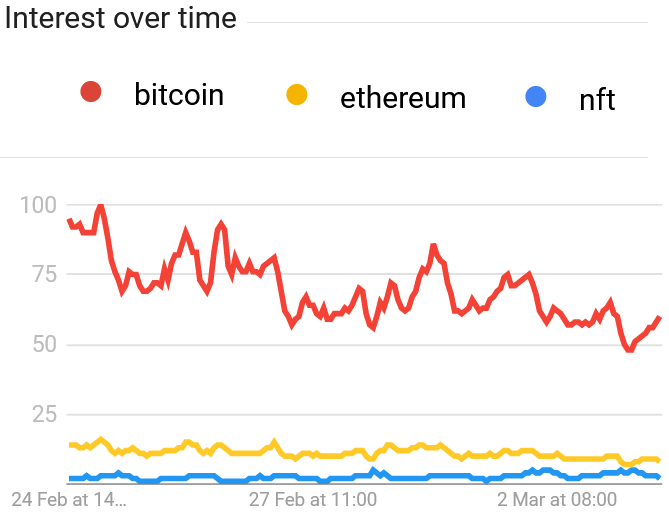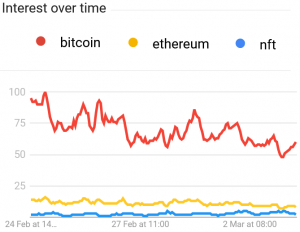 They are also well behind cardano (ADA) and binance coin (BNB), although Google Trends shows that NFT-related searches are gaining ground on both tokens.
But NFTs are around neck-and-neck with the breakthrough token of the year, dogecoin (DOGE), also per Google – due in part due to a sharp decline in DOGE interest since late January.
The NFT charge got going in February. Statistics from Google show that NFTs enjoyed a sharp rise in (search) popularity from around February 11 to the end of the month.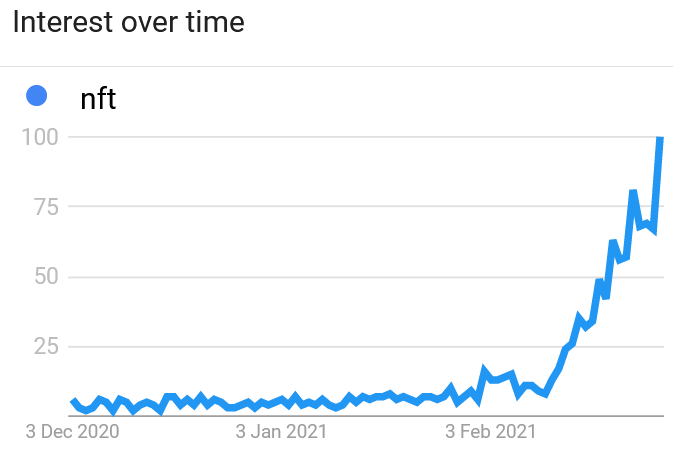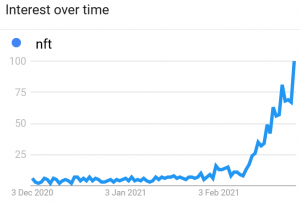 Data from East Asia appears to correlate. In South Korea, figures from the biggest search engine Naver show a 99% increase in NFT-related searches from 2020, and a similarly massive spike in interest in the past three months.
Compared with BTC, however, NFTs are still yet to get off the ground in South Korea, the statistics show. They are also a country mile behind ETH, although they are well ahead of DOGE – a phenomenon that is yet to take off among many East Asian investors.
Further east in Japan, data from a Yahoo Japan tool that analyzes Japanese Twitter posts reveals that almost 9,000 tweets made mention of NFTs in the past 30 days, over 1,000 of which were posted in the past 24 hours. The sentiment in 66% of the tweets was judged as being positive, with 34% tacking a more negative tone.
In fact, Japanese-language Twitter is positively abuzz with NFT-related posts right now, with a recent example from one user echoing sentiments expressed by experts in North America and Europe yesterday.
Azarashibae wrote, "I think NFT-related [items] are really tulip bubbles. But I think the ripple effects of NFTs will be absolutely huge."
After another record-breaking day for sales yesterday, the NFT wheel just keeps on turning, with a Homer Simpson-Pepe the Frog mash-up artwork selling for a staggering USD 312,000 worth of ETH, per an Instagram post from its former owner.
And another celebrity has waded into the NFT debate with a bold prediction: The influential entrepreneur and investor Gary Vaynerchuk opined that blockchain and NFTs could disrupt the music industry on the same scale that the file-sharing site Napster, a pioneering peer-to-peer file sharing Internet software, once did. He wrote,
"Shit's about to be super interesting. Technology always squeezes the middle."
____
Learn more:
– Grimes and Paris Hilton Go Full NFT – But Some Warn of Trouble Ahead
– Defeated Donald Trump-themed NFT Sells for USD 6.6 Million
– Check These 4 Make-Your-Own-NFT Platforms
– NFTs Gaining Traction Around the World as Key Milestone Is Met
– Non-Fungible 2021: Prepare Your NFTs For DeFi, Staking, and Sharing
– 'Traditional' Art vs. Crypto Art: How to Value It
---