NFT Explosion Coming over Next 2 Years & Will Create Jobs, Say Insiders
Brace yourself if you think you've had just about all you can stomach from the world of non-fungible tokens (NFTs) – as industry insiders at the BlockDown 4.0 conference say that a non-fungible growth "explosion" is coming over the next two years.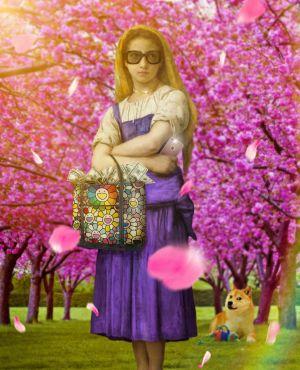 The comments were made at a panel session of the conference – currently streaming on Cryptonews.com – named "NFTs and the Metaverse: the most ambitious trend in crypto?"
One of the panelists, The Sandbox CEO and co-founder Sebastien Borget, bemoaned the fact that brands that have become keen to cash in on the NFT trend are simply "asking how to sell NFTs," while "a more long-term strategy is required."
He opined that the current NFT push was "just scratching the surface," and that a rise in "gaming and wearable NFTs" as well as other uses for the technology would provide fuel for an "explosion" in the next two years. After that, governance-related matters would "take over" as stakeholders attempted to answer the question: "How will totally decentralized ecosystems work?"
But the good news for those who have already had a bellyful of NFTs is that the insiders think that all this will spell new jobs.
Borget opined that as the ecosystem grows, so will the need for content creators, as well as curators, who could "help guide people through virtual worlds," as "digital identities" become more important than "physical identities."
Pplpleasr, a 3D artist who grabbed headlines last month after an NFT of her Uniswap promotional video fetched USD 525,000 in an online sale, claimed that a "lot of people" currently "see NFTs as a cash-grab." But, she added, this "won't be the case later on" as it is not representative of "the right kind of mindset."
"It's more important to build value first," she said, with creators then ideally seeking to build the NFT framework around that value.
Jamie Burke, the CEO and founder of the metaverse accelerator Outer Ventures, claimed that his firm was this year "working with 100 startups, about half of which will be NFT-related." He opined that in the future, NFTs, as well as augmented reality (AR) and virtual reality technology would help "the physical and virtual become indistinguishable from each other."
Currently, he said, owning NFTs might only allow owners with the opportunity to "flex on their OpenSea pages," but "as NFTs become more social and influential, their value will become more obvious."
He added that the decentralized finance (DeFi) sector stood to gain as "DeFi isn't that interesting right now," but with an open metaverse that "unlocked" young people's wealth, "which is primarily digital not physical," NFTs could "feed DeFi and create a super-cycle."
Burke stated,
"NFTs are the gateway drug to crypto, and self-[sovereignity]. NFTs will be the gateway for the mainstream into Web 3.0 […] and will be 100x the opportunity that crypto is today."
Cathy Hackl, who describes herself as a futurist and a luxury NFT advisor, opined that NFTs currently "miss the experience layer," but represented the "endgame for the metaverse."
NFTs, she added will soon "have a reality layer," and will be visible through AR glasses and smartphone-linked technology.
Hackl concluded,
"The world's next Coco Chanel will be a 10-year-old who's currently designing skins on Roblox."
____
Learn more
- Oversupplied NFT Market Sees Interest and Sales Plunge
- NFTs Are Selling for Millions, But How Do You Tell a Diamond From a Dud?
- Money Laundering Might Taint NFTs Too, Prepare For Tighter Controls
- Why Would Anyone Buy NFT – A Link To A JPEG File?
- Check These 4 Make-Your-Own-NFT Platforms
- Non-Fungible 2021: Prepare Your NFTs For DeFi, Staking, and Sharing
---