New LUNA Token Rises, Still Down 65% After Launch, Kraken CEO Defends Listing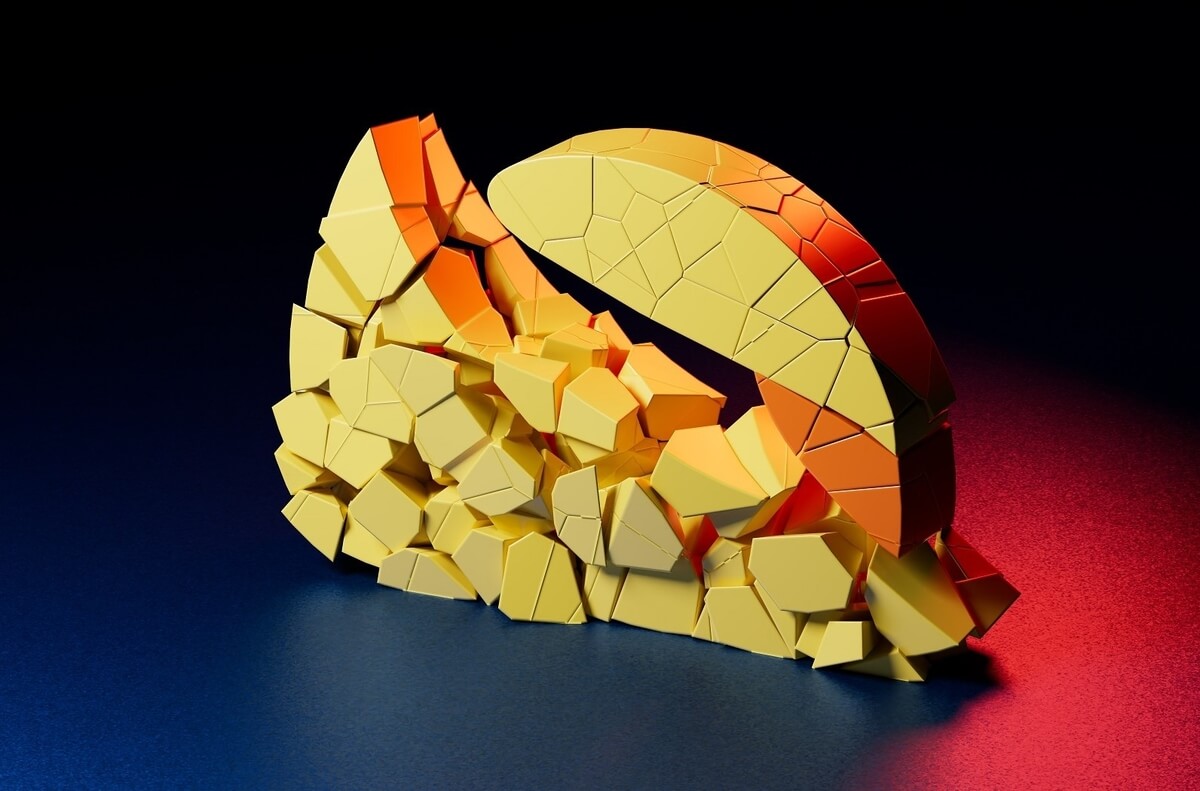 The new Terra (LUNA) blockchain went live on Saturday, with the newly airdropped LUNA token seeing extremely volatile trading on its first day, before stabilizing and gaining some ground later in the weekend. Despite having become a controversial project, the new LUNA token can already be traded on a number of large exchanges.
According to Do Kwon, the CEO of Terra development firm Terraform Labs, the new network with the chain ID "Phoenix-1" was launched on May 28 at 06:00 UTC. "Pheonix-1 mainnet is now live and producing blocks - public node services, wallets and explorers should be going live shortly," the controversial Terra founder wrote on Twitter on Saturday.
Besides the launch announcement, the normally outspoken Terra founder has not said much in public other than retweeting announcements from exchanges on which the new token is being listed.
The first exchange to make the new token available for trading on Saturday was Bybit, which announced that markets were open around 10 minutes after the airdrop. The exchange was followed by Kucoin about an hour later.
On Bybit, the price of the new LUNA token opened at USD 0.5, before rising quickly to reach a peak of USD 30 within the first hour of trading. The price then crashed to a low of USD 3.5, before stabilizing around USD 5.5.
On Kucoin, meanwhile, the price opened at USD 5, before rising to a peak of just over USD 6 on Monday morning in Europe.
As of Monday at 10:25 UTC, LUNA traded at USD 6.20, up several percents in a day and down 65% in two days, per Coingecko.
Price of LUNA on Bybit: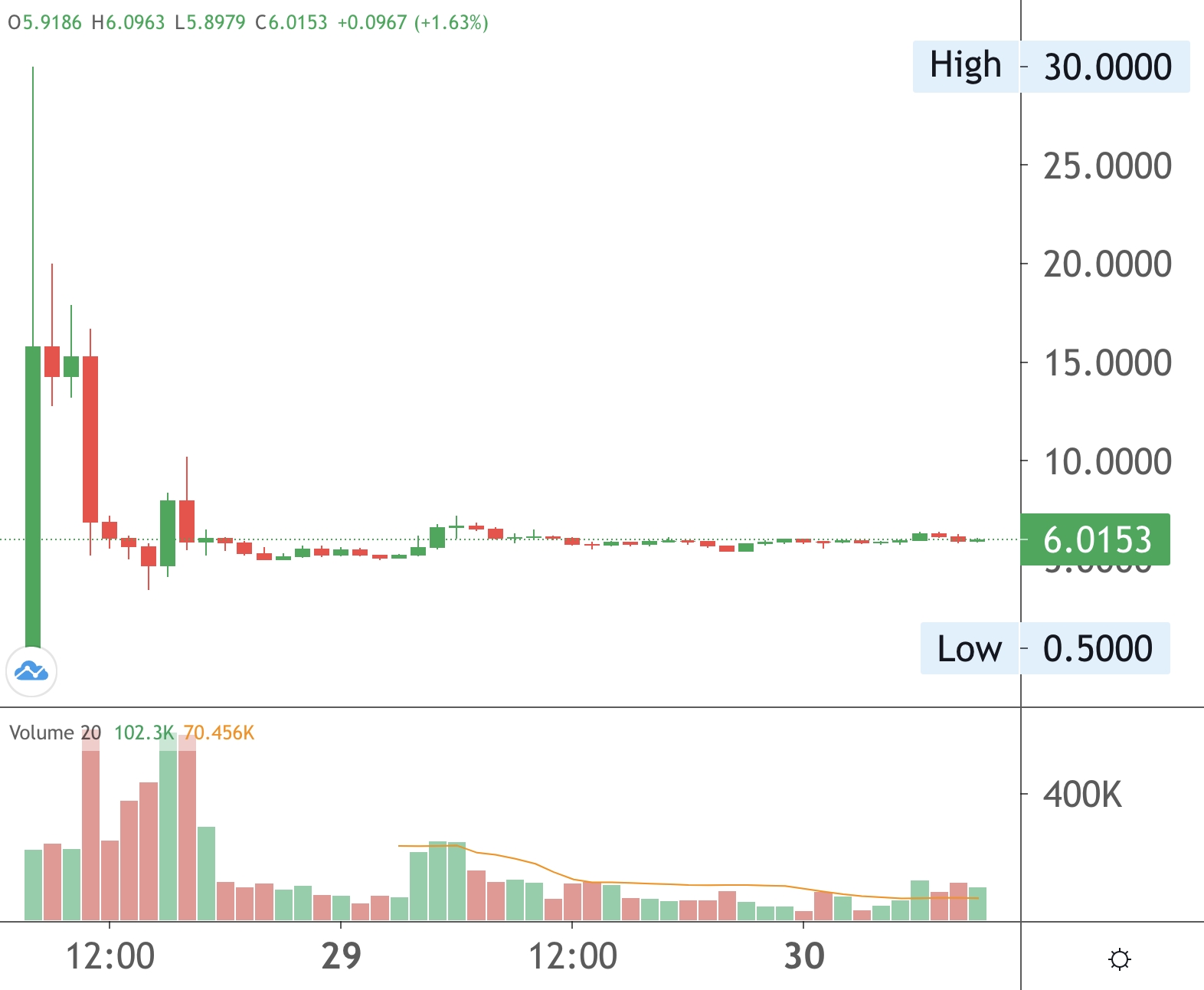 In addition to the two above-mentioned exchanges, the new token was at the time of writing traded on OKX, Huobi Global, Gate.io, Kraken, Bitfinex, and MEXC Global, according to exchange data from CoinGecko.
Out of a total of 1bn new LUNA tokens, only 21m entered circulation via the airdrop on Saturday. The remaining supply will be issued in phases, according to Terra's official revamp plan.
Luna Classic rises
And while the new LUNA token launched, the old one – from now on called Luna Classic (LUNC) – surged in price.
At 10:25 UTC, LUNC traded at USD 0.00014471, up 82% for the day, but still down by more than 23% for the past 7 days. Despite falling from a price of more than USD 80 in early May, the token is still ranked as the 75th most valuable cryptocurrency by market capitalization, according to CoinGecko.
Luna Classic has already been embraced by some members of the community who are skeptical of Do Kwon and his plan to re-invent Terra. Among them was one user who even set up a GoFundMe campaign to bring Luna Classic to USD 0.07. Others, such as the crypto YouTuber Ben Armstrong, wrote on Twitter: "Don't buy LUNA ever again. Not 2.0, not 3.0, not 3.14."
"Sometimes you just have to accept your loss. The experiment failed. Move on," Armstrong added.
Kraken CEO defends listing
Confronted with why Kraken listed the new LUNA token after seeing what happened with the old one, the exchange's CEO, Jesse Powell, said on Sunday that he does not necessarily see the two tokens as "related."
"Is there a technical takedown of LUNA2? Does LUNA2 have the same flaws? I'm not an expert on the coin but presumably LUNA2 has learned something from LUNA," Powell said.
Powell added that exchanges need to respond to "client demand," and stressed that a listing "isn't an endorsement." "We're here to run a marketplace, facilitate price discovery, not pick winners and losers," the exchange CEO said.
No single malicious actor
Meanwhile, new light has been shed on the events that ultimately led to the collapse of the original Terra chain and its algorithmic stablecoin terraUSD (UST).
According to crypto research firm Nansen, there was no single "malicious attacker" responsible for the collapse. Instead, the collapse happened as a result of the actions of multiple larger players, including the crypto lending and borrowing company Celsius Network (CEL).
According to Nansen, these players withdrew several hundred million dollars' worth of UST from Anchor Protocol (ANC), the flagship decentralized finance (DeFi) protocol on Terra where users were promised 20% yields on their UST deposits, as the Terra ecosystem imploded.
Celsius CEO Alex Mashinsky has previously commented on his firm's role in the drama surrounding the Terra collapse, saying on May 11 that "all funds are safe," and that "we continue to be open for business as usual."
____
Learn more:
- New Terra Blockchain Goes Live
- Terra's New Chain Launch Pushed to Saturday, NFT Projects Get an Invite to Move to Polygon

- LUNA, UST Jump as Terra Revival Plan Moves Ahead After Vote
- South Korean Regulators to Inspect Companies Linked to Terraform

- Binance CEO Shares Lessons Learned From Terra Fall, Says He is 'Pleased by the Crypto Industry Resilience'
- After Terra's Collapse, Cryptoverse Reflects on 'Ponzi-like Assets', Role of VCs, and 'Ignorant' Crypto People

- A Curious Coincidence – Major Terra Backers Break Silence on Same Day
- Legal Storm Brewing for Terra's Do Kwon & Co as 'Hundreds' of Investors Ready Complaints
---