MPs' Bid to Amend El Salvador's BTC Bill Raises Questions About State & Freedom
An audacious bid from two opposition lawmakers to amend key clauses in El Salvador's forthcoming bitcoin (BTC) adoption law is accompanied by furious debate among the international crypto community.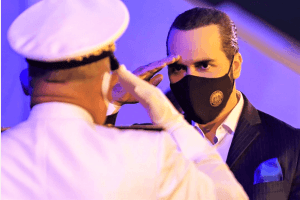 Two MPs from the Farabundo Martí National Liberation Front (FMNL) party – Anabel Belloso and Dina Argueta – yesterday announced they were seeking to launch a private member's bill in the National Assembly that, if accepted, would repeal sections of the Bitcoin law, which is now more than two months from promulgating. One controversial section, number 7, obliges merchants to accept BTC at the request of a customer – in effect forcing businesses to accept BTC, provided they have access to a PC or a smartphone.
But Belloso and Argueta told reporters that the proposed amendment would, in the former's words, ensure that BTC "is not mandatory to use" – and go even further.
"The amendment stipulates that salaries, bonuses, and pensions continue to be paid in dollars and not with this cryptocurrency and that it is not recognized as legal currency," she said.
Belloso added,
"We are not against technological modernization, but you should not play with people's finances."
Her posts divided opinion in ensuing threads, with some expressing their "thanks," but others pointing out the futility of salary-related insistences – particularly as the government this week has already ruled out the notion of companies paying their employees in BTC. Others still accused the FMNL of "hypocrisy," and said other – larger – opposition parties had put forward "more credible" arguments.
The FMNL was once the driving force in Salvadorian politics, and produced presidents who ruled from 2009 to 2014. However, the party suffered a crushing defeat in 2019, when the incumbent Nayib Bukele came to power. And in legislative elections held earlier this year, it took another battering, with its representation in the lower house reduced to just four seats.
Bukele's ruling coalition has 64 out of 84 seats, 56 of which are held by his own Nuevas Ideas Party – meaning that barring a major backbench rebellion or an (equally unlikely) concerted opposition effort, the Belloso-Argueta bill may not even make it past the committee stage and onto the floor of the lower chamber.
Regardless, the bill has already succeeded in stirring debate among international crypto thinkers.
Jake Chervinsky, General Counsel at Compound Labs, opined that it "would be great if this could go forward, or at least if we advocated in favor of it."
But Castle Island Ventures partner Nic Carter claimed:
"If you're steadfastly opposed to state monetary coercion, and your best way to instrumentalize that view is to demean bitcoiners, I'm going to question the sincerity of your opposition to coercion."
Chervinsky, however, questioned the wisdom of this assertion.
The Coin Center Executive Director Jerry Brito, meanwhile, went on the offensive, claiming that "El Salvador's Bitcoin law is a disgrace."
He wrote:
"It forces citizens to accept bitcoin whether they want to or not. This is intuitively wrong to any liberal. I'm surprised that so many smart and principled people have nevertheless applauded and defended this law. They are confusing the ends of liberty with the means of bitcoin and I hope they're doing so merely in error."
The commentator @jeetsidhu_, though, took exception to Brito's assertion that the BTC community needed to "reflect on our shared principles," writing:
"What shared values is he on about? This is literally a low trust environment among many people with different incentives!"
Another bristled: "So what I read in your tweet is [El Salvador] should stay on the USD system under complete control of the US. Is this what you are suggesting or will you provide a [different] solution?"
One seemingly Salvadorian voice claimed that de-dollarization was simply not an option for commercial ventures.
Meanwhile, within the country, opposition to the bill is still vocal, with some opponents now seeking to question the constitutionality of the decision to adopt BTC as legal tender.
Per ElSalvador.com, the influential Salvadoran Foundation for Economic and Social Development (Fusades) think-tank has come out in opposition to the bill, claiming that the bill was adopted with "no room for debate," is riddled with inveteracies and was "approved by parliament without analyzing its impact."
"Studies should have been carried out before the vote," claimed the Fusades executive director Javier Castro.
Polls conducted by the media outlet La Prensa Gráfica painted a decidedly mixed picture: 77% of respondents yesterday stated they were in favor of the BTC adoption law, while another poll today saw 84% of respondents agree with the World Bank's decision not to provide support to Bukele's adoption plans.
____
Learn more:
- Bitcoin Salaries a No-go, Confirms El Salvador as Adoption Worries Rise
- Bitcoiners Boo 'Official Bitcoin Ambassadors' to El Salvador
- JPMorgan on El Salvador's Bitcoin Move
- Bitcoin Beach Provides Clues about El Salvador's Greater BTC Intentions
- Stakes Get Higher As El Salvador Offered Volcanic BTC Leverage In Talks With IMF
- El Salvador Brings New Global Puzzle - What Is Bitcoin & How To Tax It?
____
(Updated at 10:35 UTC with a tweet by Andrew M. Bailey.)
---