More US Crypto Investors To Hodl Than Eye Short-Term Profit
Some 48% of surveyed US consumers declare they have invested in cryptoassets during the first half of 2021. Among those who have already bought crypto, 58% view it as a long-term investment, potentially supporting lower market volatility, while 43% plan to sell their crypto to make a short-term profit, according to a recent survey commissioned by digital asset marketplace Bakkt.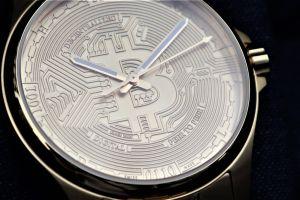 The platform's online US Consumer Crypto Survey gathered answers from more than 2,000 US consumers last July.
If you've purchased cryptocurrency in the past 6 months, what do you plan on doing with it (select all that apply)?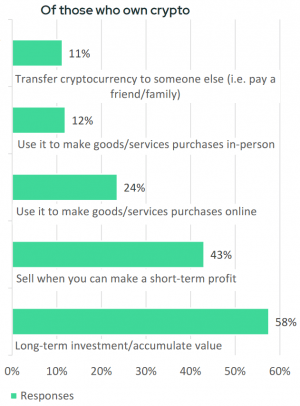 The survey's findings show that 32% of respondents point to "too much volatility" as the main obstacle to buying crypto, while 24% declare they do not have the necessary know-how to start investing in cryptoassets.
A relatively small group of 11% claim crypto prices are currently high, and this is the smallest hurdle identified across all age groups, according to Bakkt.
Crypto's purchasing power is important for 24% of respondents who say they plan to use it for online purchases, while 12% declare they plan to use it for in-person purchases. Some 11% aim to use crypto to send it to peers, the survey said.
Among the 48% who bought crypto in the first half of this year, the largest group, at 19%, owns USD 100 or less worth of crypto. Only 5% own more than USD 1,000 worth of crypto.
Costs and fees are the most important factor when deciding from which platform to buy a cryptoasset for 27% of respondents, while 26% declare they want an easy-to-use platform.
The survey indicates that 37% of respondents aged 18-29 and 30-44 who have not purchased crypto in the past six months are "somewhat" or "very interested" in investing in this asset class, while only 25% demonstrate the same approach in the 45-60 age range, as well as 19% in the 60+ range.
As many as 69% of the respondents who own crypto are 44 and under.
"The results of the survey demonstrate that Gen Z and millennials are adopting crypto en mass and for alternative forms of payment, but the biggest roadblock standing in their way has been lack of understanding on how to get started and concerns with market volatility," said Gavin Michael, CEO of Bakkt.
____
Learn more:
- Lack Of Knowledge Is More Important Than Volatility For Crypto Newcomers
- Estimated Number of Crypto Users Reaches 221M, Spurred by Altcoins
- Knowledge of Crypto on the Rise, Encouraging Investment - Survey
- Developing Economies & Better Educated People Lead Crypto 'Space Race'
- Americans Increasingly Invest In Crypto Even During Downturn
- Pre-Crash Survey: 70% Of Institutional Investors Considered Investing In Crypto
---