Mark Cuban Praises Ethereum and Keeps Buying Bitcoin
The Bitcoin (BTC) vs. Ethereum (ETH) debate just became even more complicated thanks to American billionaire entrepreneur Mark Cuban. He keeps praising ETH as more superior to BTC, but stores much more of his wealth in this most popular cryptocurrency than ETH, aims to buy more BTC, and doesn't plan to sell it.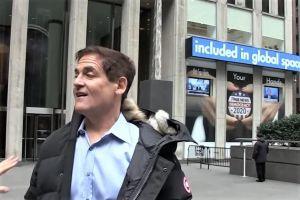 In March, he said that ETH is "the closest we have to a true currency," and now he's talking about ETH as a store of value alternative as it has "a lot more built-in utility in its organic and native form."
"Because people are using ETH to buy NFTs, to do more things, and because smart contracts just make it a little bit simpler to do development. And because we're looking at hopefully a shorter-term evolution to ETH 2.0, [...] I think you'll see there's more reason to buy ETH right now beyond just being a store of value - but it doesn't exclude, you know, being a store of value to buy ETH," the Dallas Mavericks owner said during the recent Unchained podcast.
He added that with Ethereum improvement proposal (EIP) 1559, "everything changes and what happens going forward is going to really impact how people perceive it specifically as a store of value." Once the proof-of-stake is reached, bringing forth a much higher number of transactions per second, there will be a massive change in the environment, he said, resulting in a reason for some to use ETH as a store of value over BTC.
"I think the applications leveraging smart contracts and extensions on Ethereum will dwarf Bitcoin. Bitcoin will be a store of value but because it has to be done using miners, you can't just switch to proof-of-stake with Bitcoin," Cuban said.
Meanwhile, any asset that is looking for appreciation has to be sold with narratives, said Cuban. While gold's narrative has historically been a hedge against inflation, it has never been that hedge, he argued. Gold's not actually needed, but the narrative that it's precious helps build its value.
"And bitcoin kind of is the same way," he said. There is no correlation between the actions of the US Federal Reserve and the price of BTC, but it's a "great narrative," he said. "All assets could go up in price with inflation, and bitcoin could be one of them [...] but so could the cost of bananas."
That said, as a "bitcoin believer as a store of value," he'll "make an exception" - he plans to buy new BTC, not spend his existing coins, and use that to buy a Tesla.
Also, recently he said that his crypto portfolio consists of 60% bitcoin, 30% ethereum, and 10% of other cryptoassets.
Reserve currency and global tide
Meanwhile, Senior Commodity Strategist at Bloomberg Intelligence, Mike McGlone, argues that BTC has a better chance to become a reserve currency than ETH. Per a Bloomberg Galaxy Crypto Index April report,
"It appears the narrative has tilted toward allocating a small portion of assets toward the crypto vs. the risks of missing out on the potential for bitcoin becoming the global benchmark digital asset. Adoption of the benchmark crypto as a global reserve asset has crossed the mainstream threshold, as we see it, and the market tide is rising."
McGlone said that BTC is replacing gold suddenly rather than gradually and this process is likely to accelerate, "underpinning its price for the foreseeable future and magnifying the dollar's dominance as the reserve currency."
Bitcoin fills the need for a digital reserve-asset in a low-yield world, he said. Companies like Visa, Goldman Sachs, and Morgan Stanley have "embraced the digitalization of money, buoying the process of bitcoin replacing gold as the global digital-reserve asset," said the strategist.
Most indicators show a shifting global tide that favors bitcoin as a reserve asset, McGlone concluded.
However, despite this tide, ETH keeps outperforming BTC in the crypto market.
At 15:41 UTC, BTC, with a market capitalization of more than USD 1trn, trades at USD 56,572 and is up by 676% in a year, while ETH (market capitalization - USD 239bn) trades at USD 1,992 and is up by 1,074%.
____
Learn more:
- Proof-of-Disagreement: Bitcoin's Work vs. Ethereum's Planned Staking
- Bitcoin vs. Ethereum Fight Escalates amid Fresh Capital Entering the Space
- Bitcoin Is Better Than Ethereum At These Four Things
- Mark Cuban May Be More Involved with Crypto, 'Shitcoins' than First Thought
- Mark Cuban Says Crypto Is a Store of Value & Redditors Right to 'Kick Wall St. Ass'
---