Leading Malaysian Bank Goes Bitcoin, Snaps up 19% Stake in Crypto Exchange
Malaysia's top independent investment bank, the Kenanga Investment Bank, has announced that it has acquired a 19% stake in the domestic crypto exchange Tokenize Xchange. The trading platform is one of just three in the country to have received a digital asset exchange (DAX) license from the regulatory Securities Commission Malaysia.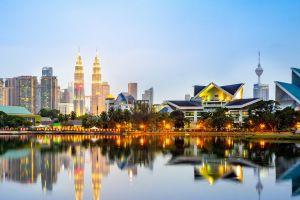 The bank said in a statement that the platform was "currently the second-largest DAX in the country by traded market share,"
As of 30 September 2020, the bank had close to USD 1.69bn in assets, according to its financial report.
The deal was carried out by the bank's private equity arm Kenanga Private Equity, which entered into a conditional agreement to buy a stake in Tokenize Malaysia, the exchange's operator.
The value of the deal was not disclosed.
Datuk Chay Wai Leong, Group Managing Director at Kenanga Investment Bank, said that the bank has "been building a digital ecosystem to offer our customers a wide spectrum of financial products and services, including digital assets."
The executive praised the regulator and added,
"While we are keen on crypto as an asset class, we are aware of the volatility and the proliferation of unregulated players in the market."
Tokenize Malaysia allows its customers to trade in bitcoin (BTC), ethereum (ETH), litecoin (LTC), and XRP.
Set up in 2018, Tokenize Xchange was launched in Singapore by the blockchain-keen entrepreneur Hong Qi Yu, who currently serves as the company's CEO and Chief Technology Officer.
The exchange currently has a customer base of more than 100,000 users, Kenanga claimed.
Tokenize Xchange obtained its recognized market operator (RMO) license from the regulator back in June 2019, and its domestic trading platform went live in April 2020.
___
Learn more:
DBS Makes it Official: Banking Giant Will Launch Crypto Exchange
Colombian Banks to Work with Exchanges on Year-long Crypto Pilot
South Korean Bank Shinhan Seals Crypto Custody Deal with BitGo
Several Swiss Banks Are 'Ready to Go' Upon Crypto Gateway Launch - SDX
---