Latest CoinShares Report: Crypto Investment Funds See First Outflows in Over a Month – What's Going On?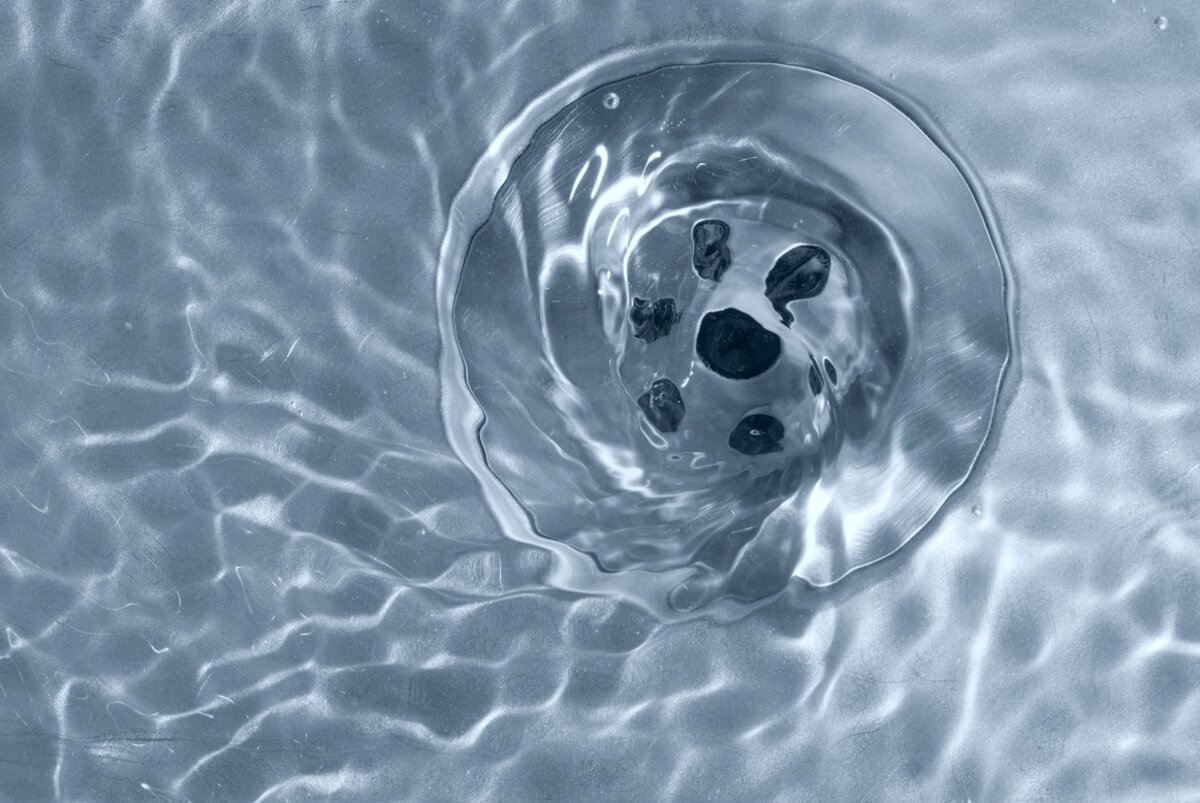 Crypto-backed investment funds saw outflows for the first time in 6 weeks last week as investors chose to take some chips off the table after seeing bitcoin (BTC) prices north of the $30,000 mark.
In total, $30.4 million were withdrawn on a net basis for the week from the crypto-backed investment funds that are tracked by CoinShares, according to the firm's latest fund flows report.
The outflows last week represent a significant cooling in interest among investors in crypto funds compared to the week before, when crypto funds overall recorded inflows of $113.7 million.
It is also notable that last week marks the first time in well over a month that investors have pulled more money out of crypto-backed funds than they have deposited in them.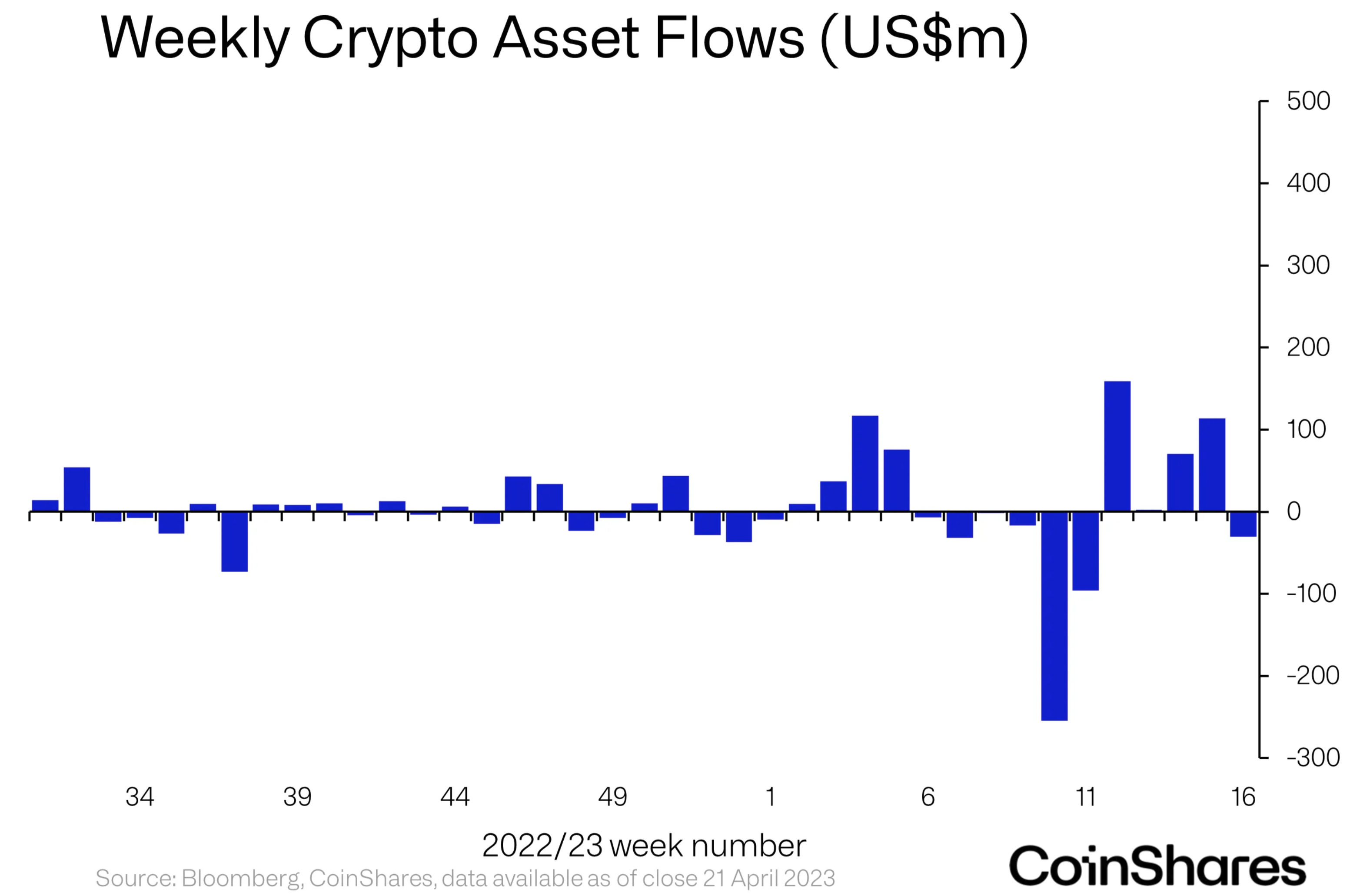 As usual, the biggest change was seen for bitcoin-backed funds, which for the week saw outflows of some $53.1 million.
In addition to outflows from bitcoin funds, funds backed by Ripple's cryptocurrency XRP also saw minor outflows, while all other altcoin funds saw either inflows or no change from the week before.
Notably, short-bitcoin funds recorded what was described as "very minor" inflows of $1.5 million for the week as some speculators chose to bet on lower bitcoin prices going forward.
Funds backed by Ethereum's ETH token registered $16.8 million in inflows, up significantly from inflows of just $300,000 the week before.
According to CoinShares, the inflows into ETH-backed funds indicate "increasing confidence amongst investors following the successful implementation of the Shapella upgrade."
Funds backed by Solana's native token SOL, which saw relatively strong outflows of $2.1 million in the previous week, recorded inflows of $700,000 during the most recent week, the CoinShares data showed.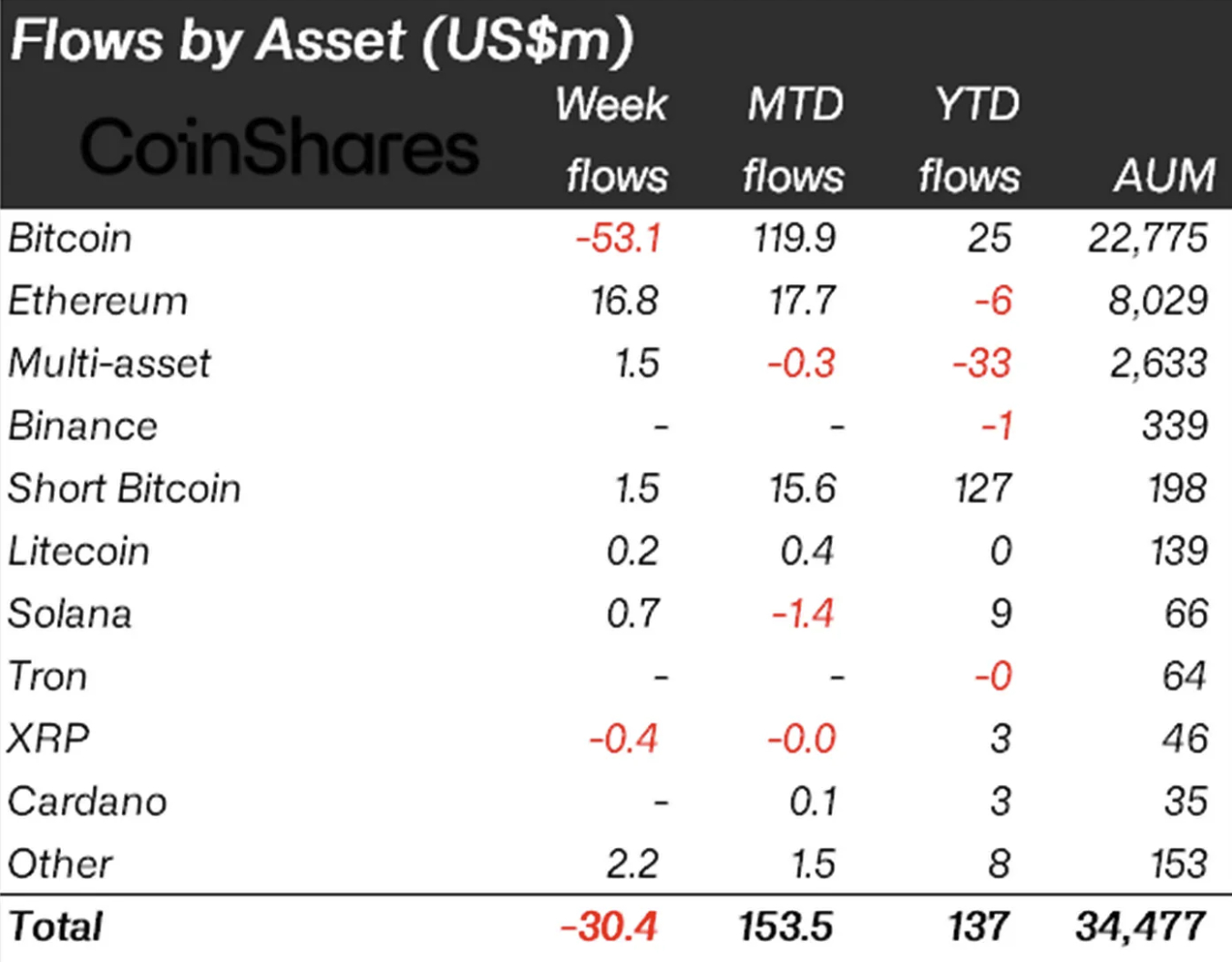 Commenting on the weekly flows, the report said the outflows can most likely be attributed to profit-taking among investors as BTC has hit highs north of $30,000 in recent weeks, while no major macro developments have been seen.
The vast majority of the selling for the week came from North American investors, while investors in Europe – and particularly in Germany – were net buyers for the week, CoinShares said.
---