Is It Too Late to Buy Ethereum? This New Project May Be a Better Investment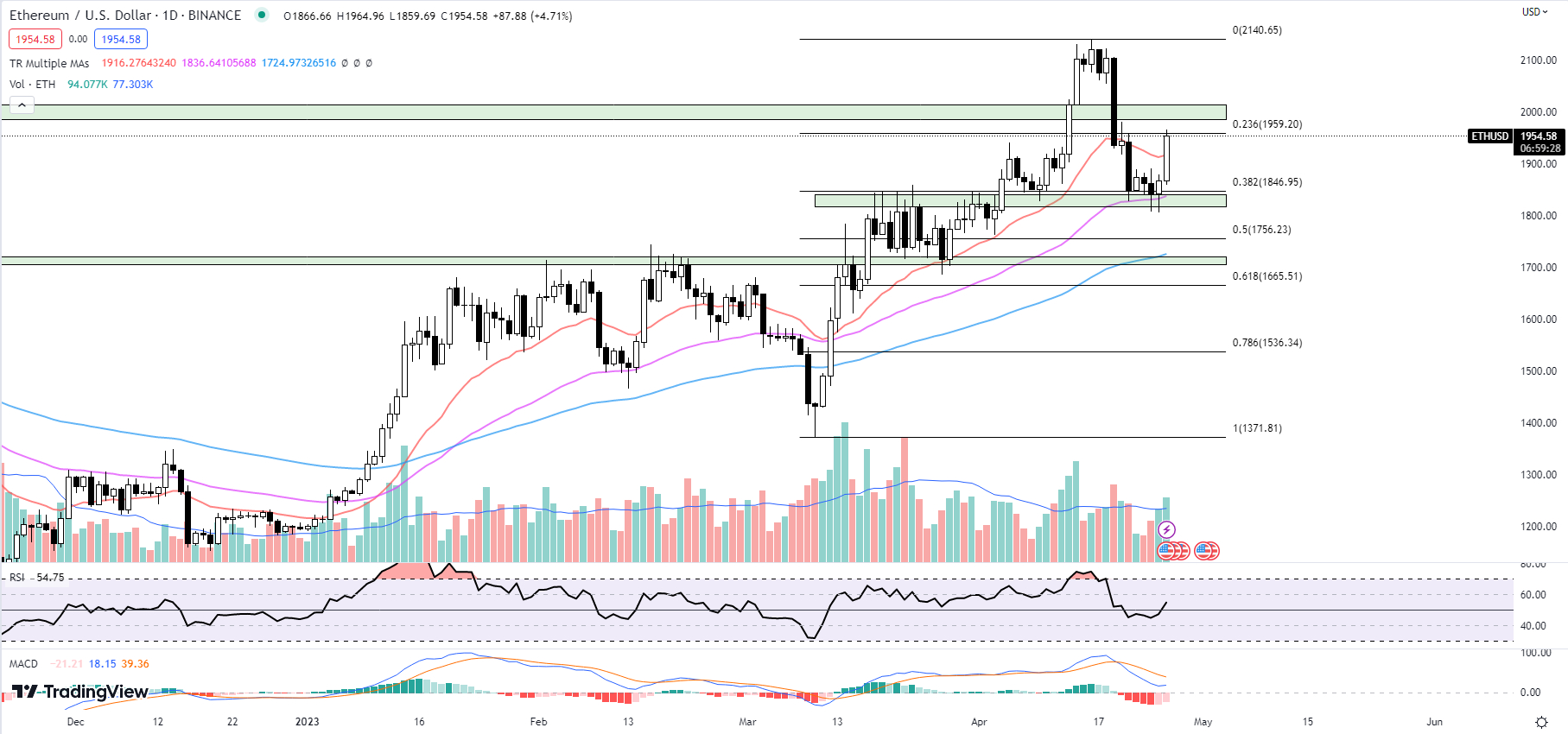 Ethereum—the second-largest cryptocurrency by market capitalization—has recently weathered a three-day breakdown from April 19 to 21, leaving market watchers on edge.
During this period of uncertainty, Ethereum's trajectory appeared to stall, moving sideways while cautiously maintaining its footing above the horizontal support zone of $1,815 to $1,820.
Despite briefly dipping to a low of $1,805, Ethereum refused to falter.
Closing yesterday's candle with a 1.31% move to the upside, Ethereum confidently strides into today's trading session with sustained bullish momentum and a notable uptick in volume.
Currently experiencing a 4.71% gain so far today at $1,954, Ethereum is attempting to retake the $1,900 psychological level.
Ethereum's resurgence signals renewed optimism and a rekindled spirit of resilience in the face of cryptocurrency market volatility.
As the cryptocurrency market forges ahead with sustained bullish momentum in today's trading session, investors are faced with a big question: Is it too late to buy Ethereum?
Amidst this uncertainty, however, a newly-emerging project within the crypto space is emerging as a promising prospect for those seeking to make informed and strategic investments with more potential upside.
Ethereum's Bounce Back: A Rally in the Cards?
On April 25, Ethereum's value experienced a notable resurgence, bouncing back from a combined support level of $1840 and Fib 0.382 level, accompanied by a tweezer bottom candle formation.
Such a reversal pattern at a critical support level hints at the potential for Ethereum's value to counteract the preceding downturn and embark on a recovery journey.
This resurgence in Ethereum's value coincided with news of another U.S. bank facing the threat of collapse, leading to a marked increase in activity within the cryptocurrency market.
Theoretically, a Fib 0.382 level correction is viewed as an indication of a sustained uptrend, which could extend the rally in Ethereum's value.
For those looking to buy Ethereum, the key lies in a breakout above the psychological level of $2,000, which could fuel the inherent positive momentum.
Ethereum's intraday trading volume stands at $11.4 billion, reflecting a 46% increase for the past 24 hours.
Banking Woes Fuel Crypto Gains
Recent reports suggest that the First Republic Bank is grappling with substantial capital outflows, drawing parallels to the banking crisis of mid-March.
The ensuing uncertainty in the traditional banking sector has led to an influx of buyers in the cryptocurrency market, propelling the value of several major cryptocurrencies over the past two days.
As a result, Ethereum's value experienced a 4.71% boost, with the current trading value hovering around the $1,954 mark.
If this momentum is sustained, Ethereum could soon approach the $2000 resistance level.
Overcoming this barrier is vital for those who buy Ethereum, as it could trigger an additional 7% rally, pushing Ethereum's value to challenge the previous swing high resistance of $2138.
A Word of Caution for Ethereum Enthusiasts
While the prospect of a rally is enticing for those looking to buy Ethereum, caution is advised. Should Ethereum's value exhibit signs of reversal at the $2000 mark, potential buyers should tread carefully, as this could signal the formation of a new lower high, extending the correction phase.
A Closer Look at Ethereum Price and Technical Indicators
In terms of technical indicators, the daily RSI exhibits an upward trajectory above the midline, suggesting a return of positive sentiment toward Ethereum.
Additionally, the 50-day Exponential Moving Average (EMA) has served as robust pullback support during the recent correction, reinforcing the established uptrend.
Ethereum's intraday levels reflect a bullish trend with low volatility. Resistance levels are set at $2000 and $2138, while support levels are established at the horizontal resistance level of $1,815 to $1,840 followed by the Fib 0.5 level at $1,754.
A New Contender in the Crypto Market: DeeLance Takes Center Stage
While Ethereum's performance has been dominating the spotlight, another crypto project is garnering significant attention in the freelancing sector.
DeeLance, a rapidly growing Web3 freelancing recruitment platform, has garnered significant attention with its recent presale, which has already amassed over $478,000 in just over three weeks.
As DeeLance progresses into the second stage of its presale, the momentum is building rapidly.
With $478,000 of its $800,000 stage 2 goal already raised, the pace of investment is accelerating, reflecting the growing enthusiasm among market participants.
The DeeLance Difference: The Freelance Marketplace with a Twist
DeeLance is not your typical recruitment platform.
It distinguishes itself by leveraging the power of blockchain technology to create a decentralized marketplace that connects freelancers and recruiters in a secure and efficient manner.
But that's not all—DeeLance goes beyond traditional platforms like Upwork and Fiverr by incorporating non-fungible tokens (NFTs) and metaverse technology into its offerings.
The NFT Advantage: Securing Ownership and Trust
DeeLance's use of NFTs is a game-changer for the recruitment industry.
By utilizing NFTs, the platform will ensure that ownership of work is securely established, providing both recruiters and freelancers with peace of mind.
This level of security and transparency is a key selling point for those considering joining the platform.
Metaverse Meets Marketplace: A New Dimension of Commerce
DeeLance's metaverse integration adds another layer of innovation to the platform.
Within the DeeLance metaverse, users will be able to interact as avatars, purchase virtual land, advertise services, and forge business partnerships.
The metaverse environment fosters collaboration and trust, making it an ideal setting for conducting business.
Exploring Possibilities: The $DLANCE Token and Its Potential
The value of DeeLance's native token, $DLANCE, is derived from its utility within the platform's ecosystem.
As the access token for DeeLance's services, $DLANCE will play a central role in the platform's growth.
Currently priced at $0.029 USDT in Stage 2 of the presale, the token's price is set to increase to $0.033 in Stage 3, making now a prime time for potential investors to consider their options.
A Word from the Founder: DeeLance's Vision and Progress
Dommeti Kiran, the founder of DeeLance, has expressed excitement about the platform's progress and the enthusiastic response from investors.
With a vision to disrupt the $761 billion global recruitment industry, DeeLance aims to offer lower fees, enhanced security, and a transformative metaverse experience.
Kiran's team of developers is already hard at work building the ecosystem, and he extends his gratitude to all who have contributed to the presale.
A Promising Prospect in the Crypto Landscape
As the crypto market continues to evolve, DeeLance stands out as a promising prospect for those seeking new investment opportunities in the cryptocurrency market.
Whether you're looking to buy Ethereum or explore other crypto ventures, DeeLance's innovative approach to recruitment and commerce is worth keeping an eye on.
With its presale in full swing and a bright future ahead, DeeLance is poised to make its mark in the Web3 and freelancing spaces.
---