IOTA Surges on New Partnership with Fujitsu
IOTA, the decentralized internet-of-things project, may have just landed one of their most high-profile partnerships to date, according to a joint statement from the IOTA Foundation and Japanese electronics giant Fujitsu.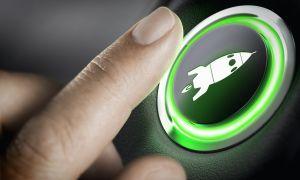 The two organizations said in the notice that one of the goals of the new partnership is to demonstrate how IOTA can act "as an immutable data storage medium" in audits of the production process, while also improve transparency, trust, and data security across the supply chain.
"Fujitsu is well-equipped to help roll out IOTA as the new protocol standard as we are experts in both IT services and the manufacturing of IT products," Leopold Sternberg, program manager at Fujitsu, said in the statement.
The IOTA price surged more than 20% on strong trading volume on Monday in response to the news: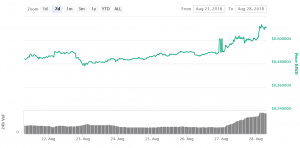 The news may not have come as a surprise for some IOTA followers given reports from April that the Foundation brought onboard Dr. Rolf Werner, head of Central Europe at Fujitsu, as a permanent member of its Supervisory Council.
Dr. Werner, who is managing Fujitsu's business Germany, Austria, and Switzerland, then said that "the possibilities of decentralized and secured applications based on IOTA Tangle as a Distributed Ledger Technology are immense," adding that they include things like "[…] tamper-proof monitoring of the supply chain and secure identity management […]"
Earlier in August, IOTA's price suffered severely when a heated internal discussion about board positions for two of IOTA's co-founders got out of hand. Overall, the price of IOTA has seen a decline of more than 80% this year.
_____
Watch Leopold Sternberg talking about IOTA in April:
---