How to Buy Battle Infinity Token - Step-by-Step Guide for Beginners
Battle Infinity (IBAT) is behind one of the most successful crypto presales of 2023. In just 24 days, this play-to-earn gaming project raised its 16,500 BNB hard cap target - or about $5 million.
Now that IBAT has launched on PancakeSwap, the purpose of this beginner's guide is to explain how to buy Battle Infinity in under 10 minutes.
What is Battle Infinity?
For those new to Battle Infinity, here's a quick overview of what the project aims to achieve:
Battle Infinity is a Mumbai-based blockchain project that is building a metaverse of play-to-earn gaming ecosystems. In what it calls the 'Multiverse', the Battle Infinity platform will host fantasy sports games, staking tools, decentralized token swaps, an NFT marketplace, and more.
Those engaging with Battle Infinity multiplayer games can earn rewards in the form of the project's native crypto asset - IBAT. Players will also have the opportunity to earn in-game assets and ownership is verifiable via NFTs.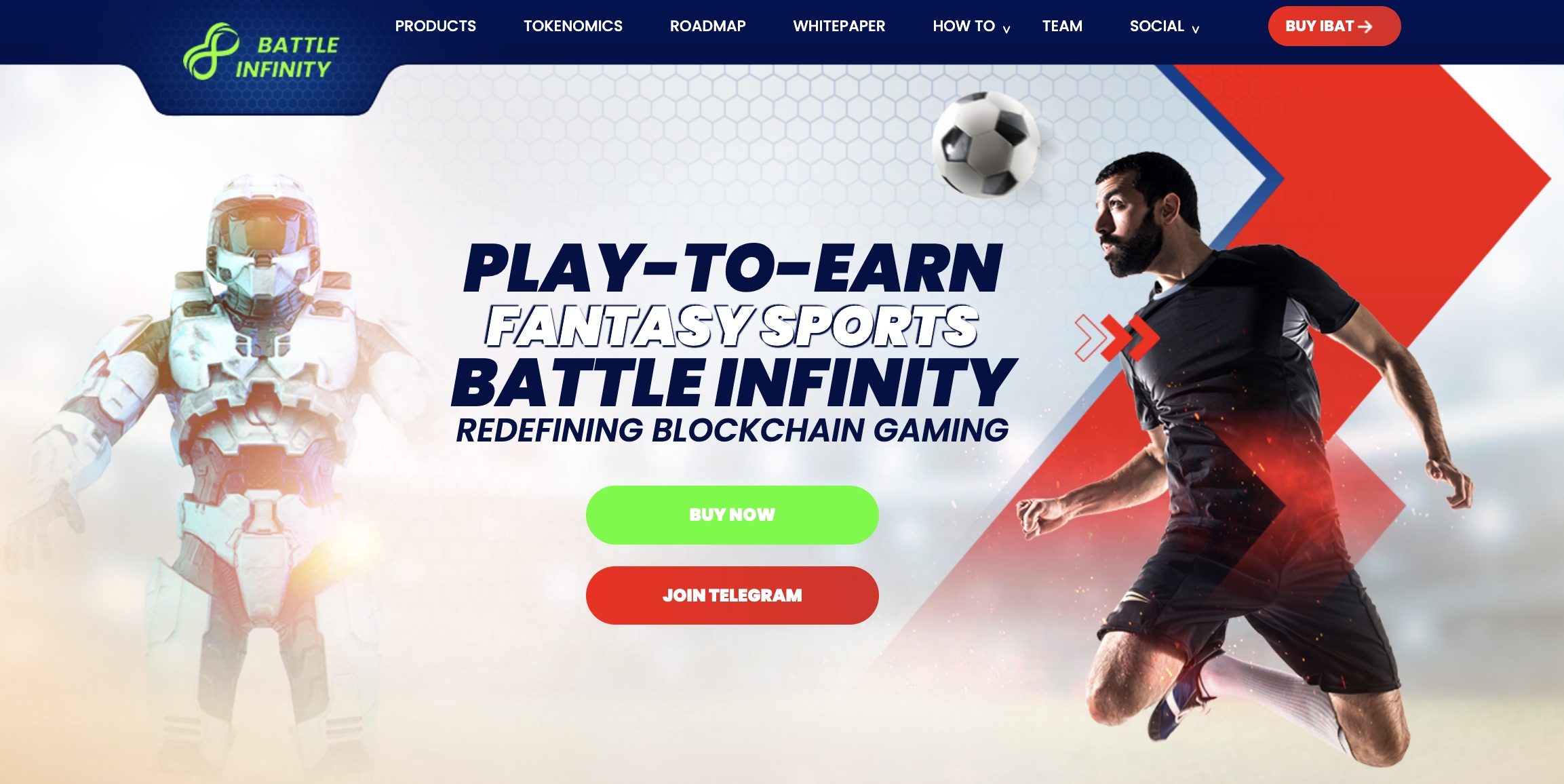 IBAT is built on top of the Binance Smart Chain and it recently achieved its 16,500 BNB presale hard cap target in just 24 days. The presale campaign was scheduled to last for 90 days.
Those who missed out on the Battle Infinity presale can still gain exposure to IBAT while this project is young, as the crypto asset now trades on the Pancakeswap exchange.
Read on to learn how to buy Battle Infinity today.
How to Buy Battle Infinity (IBAT) - Full Tutorial
It is important to note that IBAT trades on PancakeSwap, which is a decentralized exchange. This means that, unlike conventional crypto exchanges, it is not possible to buy this new crypto with a debit/credit card or bank wire.
Instead, investors will need to pay for their Battle Infinity purchase with BNB tokens. With this in mind, this compressive step-by-step walkthrough of how to buy Battle Infinity will be catered to complete beginners.
Note: IBAT has since been listed on the LBank exchange, which is centralized. LBank supports debit/credit card purchases, which might be more suitable for first-timers. However, do note that debit/credit fees on LBank can be high.
Step 1: Get a Suitable Crypto Wallet (MetaMask)
The very first part of the IBAT investment process is to download a suitable crypto wallet. This is because when buying digital currency from a decentralized exchange like PancakeSwap, token swaps are conducted without a third party.
And therefore, instead of depositing tokens into PancakeSwap itself, investors simply need to connect their crypto wallet to the platform.
In choosing a suitable crypto wallet for the purpose of buying Battle Infinity, two important metrics need to be considered:
The wallet needs to support the Binance Smart Chain and BNB tokens
The wallet needs to be compatible with the PancakeSwap exchange
The two leading crypto wallets in this space are Trust Wallet and MetaMask. We much prefer MetaMask as the wallet can be installed as a browser extension or downloaded onto a smartphone via an iOS or Android app.
For complete beginners, we would suggest installing the MetaMask wallet onto a Google Chrome, Edge, or Firefox browser for the most seamless investment experience possible.
Once the wallet has been installed, a strong password will need to be entered. Moreover, MetaMask will display a 12-word backup passphrase.
This should be written down on a sheet of paper and kept somewhere safe, as this backup passphrase will be required if the password is forgotten or the device is lost or stolen.
Step 2: Add Binance Smart Chain Network to MetaMask
Although MetaMask is arguably the best wallet to use when buying Battle Infinity tokens via PancakeSwap - it comes with a very slight flaw. That is to say, by default, MetaMask connects solely to the Ethereum blockchain.
But, as IBAT operates on the Binance Smart Chain (BSc) network, this needs to be manually added to MetaMask. Fortunately, the process of adding BSc to MetaMask is very straightforward.
First, click on the circular icon in the top-right corner of MetaMask, and click the 'Settings' button
Click on the 'Networks' button followed by 'Add New Network'
The BSc network details then need to be pasted into the relevant boxes - see below:
Network Name: Smart Chain
New RPC URL: https://bsc-dataseed.binance.org/
ChainID: 56
Symbol: BNB
Block Explorer URL: https://bscscan.com
To confirm, click on 'Save'.
Then head back to the main MetaMask interface and the wallet should now display 'Smart Chain' in the top right-hand corner.
Step 3: Transfer BNB to MetaMask Wallet
Now that MetaMask has been set up and the BSc network has been added, the next step is to transfer BNB to the wallet.
The reason for this is that in order to buy Battle Infinity on PancakeSwap, the purchase needs to be made with BNB tokens.
BNB is one of the largest and most trusted digital currencies globally, so most crypto exchanges support the token.
The fastest way to buy BNB is via Binance, as the platform offers a near-instant verification process which then enables investors to complete their purchase with a debit/credit card.
After buying BNB from an online exchange, request a withdrawal.
When asked to enter the destination wallet address, this needs to be obtained from MetaMask.
In the main MetaMask interface, the BSc wallet address can be found below 'Account 1'.
By clicking on this address, it will automatically be copied to the user's clipboard.
Therefore, the user can then paste the address into the exchange where the BNB tokens are located, and after confirming the transfer, the funds should appear in the MetaMask wallet within 1-2 minutes.
Step 4: Connect Wallet to the PancakeSwap Exchange
At this point of the process, the investor should have the following:
MetaMask wallet installed and set up
MetaMask connected to the BSc network
BNB tokens showing in the MetaMask wallet balance
As such, the next step is to connect MetaMask to the PancakeSwap exchange.
To do this, visit PancakeSwap.Finance website and look for the 'Connect Wallet' button. Then, click on 'MetaMask. This needs to be done from the same device that the MetaMask wallet is installed on.
The reason for this is that PancakeSwap will now send a notification to the MetaMask wallet, asking for authorization for the connection. After providing authorization, the MetaMask wallet will then be connected to PancakeSwap.
Step 5: Search for Battle Infinity (IBAT)
On the PancakeSwap website, hover the mouse over 'Trade' and click on the 'Swap' button.
By default, the investor will see that:
BNB is set as the purchase currency. This is correct, so this can remain untouched.
CAKE is set as the receiving currency. This isn't correct, so we need to change this to IBAT.
Click on 'CAKE' to reveal a search box. Type in 'IBAT' and click on the relevant result.
This will then replace 'CAKE' with 'IBAT' in the PancakeSwap order form.
Step 6: Buy Battle Infinity (IBAT)
The final part of the investment process requires the user to set up an order form. This is much the same as buying crypto from a centralized exchange, insofar as the user needs to specify the total trade size.
This can be done by typing in the number of BNB tokens that should be swapped for IBAT. As per the real-time exchange rate, the number of corresponding IBAT tokens will update.
In the image below, PancakeSwap tells us that a 3 BNB purchase will get us just over 240,000 tokens.
To proceed, click on the 'Swap' button.
In a similar nature to connecting the wallet to PancakeSwap in Step 4, the exchange will once again require authorization from MetaMask.
After proving authorization, the BNB/IBAT exchange will take place instantly.
Step 7: Add IBAT to MetaMask
Now that the purchase is completed, there is one final step to take. That is to say, the purchased IBAT tokens will not initially display in the MetaMask wallet balance.
Instead, the IBAT contract address needs to be added to the wallet for the tokens to appear.
This can be achieved by:
Clicking on the 'Import Tokens' button
Pasting in the unique contract address for IBAT - which is:
0x19cd9B8e42d4EF62c3EA124110D5Cfd283CEaC43
The IBAT tokens should now appear in the MetaMask wallet and thus - the step-by-step investment process is complete.
A Closer Look at Battle Infinity
It is important to have an intimate understanding of a crypto project before making an investment. As such, we will now explain the fundamentals of Battle Infinity and its native IBAT tokens.
In a nutshell, Battle Infinity is a Mumbai-based startup that is building a metaverse ecosystem. Within its metaverse - notably known as the 'Multiverse', users will have access to a wide variety of decentralized products and services.
This includes multiplayer games based on the play-to-earn concept. This means that by engaging with Battle Infinity games, players can earn real-world rewards. This comes in the shape of IBAT tokens and even NFTs.
The first multiplayer game launching in the Battle Infinity Multiverse is the IBAT Premier League. This is a play-to-earn game based on fantasy sports. Users will first need to purchase an NFT pass and then build a team of players from their preferred sport.
The first sport to launch in the IBAT Premier League is cricket, albeit, the likes of soccer, basketball, and others will follow suit. Depending on how each selected player performs in their respective sport, the user will earn points.
As the player earns more points, this will translate into additional rewards. Therefore, Battle Infinity users are motivated and incentivized to engage with the Multiverse.
In addition to its core play-to-earn ecosystem, the Battle Infinity Multiverse will also offer the following:
Battle Swap
Battle Swap forms an integral part of the Battle Infinity ecosystem.
This is the native decentralized exchange of the project and it will enable users to buy and sell tokens without needing to use a centralized website.
Crucially, Battle Swap will allow users to cash out the IBAT tokens that have been earned during gameplay, in exchange for other digital assets like BNB.
Battle Market
When playing Battle Infinity games - such as the IBAT Premier League, players will have the chance to earn in-game assets.
This might, for example, be by a unique character or weapon. Either way, in-game assets earned by users are 100% owned by the player. Therefore, Battle Market offers a decentralized marketplace to buy, sell, and trade in-game NFTs.
Battle Games
This segment of the Battle Infinity ecosystem is where players can access multiplayer play-to-earn games, such as the previously discussed IBAT Premier League.
Battle Arena
The Battle Infinity Multiverse offers immersive experiences that can be personalized to the user's chosen online identity.
Battle Arena facilitates this goal by enabling users to upgrade and fully customize their virtual avatar by purchasing anything from clothes and hair to shoes and sunglasses.
Battle Staking
We mentioned just a moment ago that the Battle Swap division of this project enables users to trade IBAT tokens that have been earned.
However, Battle Infinity also offers long-term investors of the project the opportunity to generate a yield on their IBAT holdings. This can be achieved via the Battle Staking tool.
Is Battle Infinity a Good Investment? Key Points
Battle Infinity represents an innovative project that has the potential to capitalize on a range of emerging technologies - such as the metaverse, NFTs, and play-to-earn gaming ecosystems - which has led to many people considering it one of the best cryptos to buy.
But, does this mean that IBAT is a good investment?
To make an informed decision, consider the key points outlined below:
Hugely Successful Presale Campaign
First and foremost, seasoned traders will often 'follow the money' in the crypto space. And by this, we mean that successful projects often do well because they have the capacity to generate hype.
In the case of Battle Infinity, its recent fundraising campaign attempted to reach a hard cap total of 16,500 BNB (approximately $5 million) within a 90-day presale.
Battle Infinity managed to reach this goal in just 24 days. This is essentially unprecedented considering the current state of the broader crypto market, which has been on the decline since Bitcoin hit an all-time high of nearly $69,000 in late 2021.
Post-Presale Performance
After reaching its hard cap total, Battle Infinity listed its IBAT token on the PancakeSwap exchange on August 18th, 2022.
During the presale, IBAT was available to purchase at $0.0015 per token. This means that an initial investment of $1,000 would have yielded approximately 666,666 IBAT.
Within just 24 hours of trading, IBAT hit a price of just under $0.009. This represents growth of almost 500% for those that were fortunate enough to invest in the IBAT presale.
Slight Dip But Sizable Gains Nonetheless
Since the initial post-presale launch on PancakeSwap, the value of IBAT has been corrected. As of writing, IBAT is trading at $0.0045.
Crucially, however, this still represents growth of 200% since its PancakeSwap listing on August 18, 2022 making it one of the fastest growing cryptocurrencies to invest in.
In comparison, the value of Bitcoin has declined by approximately 8% over the same timeframe. As such, IBAT continues to outperform the broader market.
Small Market Capitalization
Seasoned crypto investors will often look to target high-quality projects that are still in their infancy.
One of the main reasons for this is that newly launched projects typically carry a very small market capitalization. This is no different from investing in a company during its IPO campaign.
In the case of Battle Infinity, as of writing, the project has a market capitalization of just over $37 million (fully diluted).
In comparison, other metaverse and P2E gaming projects in this space - such as the Axie Infinity and Decentraland, already carry billion-dollar valuations. Therefore, the upside potential of these established projects is going to be somewhat limited.
Battle Infinity, on the other hand, offers a significant upside considering its current valuation, which will appeal to those that wish to target above-average growth.
Opportunity to Take Advantage of the Bear Market
Although IBAT has thus far performed well since its presale campaign, this digital currency is yet to reach its full potential.
And the overarching reason for this is that the broader crypto markets have been in a bearish cycle since late 2021.
Bitcoin, for example, went from highs of nearly $69,000 in November 2021 to lows of $19,000 in the three quarters to follow. This ultimately brings the rest of the crypto market down with it.
On the flip side, this restraint in increased valuations means that high-grade projects like Battle infinity can be accessed at favorable prices.
The theory here is that if and when Bitcoin and the broader crypto markets recover, this could benefit IBAT's growth trajectory.
Crucially, it can often pay off to be a market contrarian by investing in assets when prices are on the decline.
IBAT Price Action - What to Know
To recap, the price of IBAT during its presale campaign was $0.0015. After listing on PancakeSwap, IBAT hit a price of just under $0.009. As noted, this represents growth of 500% in just 24 hours of trading.
As of writing, IBAT is trading at $0.0045. While this still represents growth of almost 200% when compared to presale prices, this also offers a discount of 50% from its previous high of $0.009.
If IBAT is able to get back to the $0.009 level, this would offer a short-to-medium term upside of 100%.
At this moment in time, IBAT trades on both PancakeSwap and Lbank. According to CoinMarketCap, a majority of IBAT trading volume is found on PancakeSwap. Moreover, IBAT carries significantly more liquidity on PancakeSwap when compared to LBank.
IBAT Price Forecast
Irrespective of the crypto asset being traded, reliable price predictions do not exist.
The crypto markets are highly speculative and unpredictable, so forecasts do not carry the same weight as found in the traditional stock trading scene.
As such, attempting to assess the future price trajectory of IBAT is a complex task. Instead, it's best to view Battle infinity as a long-term play. After all, the project is still just a few months into its Multiverse journey.
Crucially, as noted earlier, IBAT carries a market capitalization of just $37 million as of writing, so there is plenty of upside potential to target as a good future crypto project.
Battle Infinity App and NFT Ownership
One of the core goals discussed on the Battle Infinity roadmap is its much-anticipated mobile app launch. Across both iOS and Android, the Battle Infinity app will have seamless access to the IBAT Multiverse on the move.
This means that, for example, when engaging with the IBAT Premier League, play-to-earn rewards can be tracked on the go. The app will also offer access to other segments of the Battle Infinity ecosystem, such as Battle Swap, Stake, and Arena.
In addition to its mobile app, we should also make reference to the NFT aspect of Battle Infinity. This is important because Battle Infinity multiplayer games enable players to earn in-game assets.
Each in-game asset is unique from the next and subsequently ensures that players retain full ownership of any rewards earned during gameplay. Battle Infinity NFTs are stored on the Binance Smart Chain.
In theory, each NFT will carry value, at a price of what the market is prepared to pay. Buying and selling Battle Infinity NFTs will be facilitated via the Battle Market.
The Verdict?
This guide has explained the process of how to buy Battle Infinity (IBAT). We have also provided an in-depth overview of the Battle infinity project, alongside its goals and long-term objectives.
The price action of the IBAT token has also been explored, in addition to its future upside potential.
Ultimately, those that missed out on the hugely successful presale campaign can still buy IBAT tokens early, either through PancakeSwap or LBank.
Update - read the latest updates on IBAT and a potential IBAT price forecast here.
FAQs
How do I buy Battle Infinity crypto coins?
Battle Infinity (IBAT) is listed on two exchanges at this moment in time - PancakeSwap and LBank. Those opting for PancakeSwap will need to connect their crypto wallet to the exchange and subsequently swap BNB for IBAT. LBank, on the other hand, supports debit/credit card deposits.
What is the price of IBAT?
IBAT was priced at just $0.0015 during its recent presale launch. The IBAT token has since witnessed growth of over 500% - hitting highs of nearly $0.009. The real-time price of IBAT can be viewed on CoinMarketCap.
What is the total supply of Battle Infinity crypto?
According to the data aggregation website CoinMarketCap, the total supply of Battle Infinity is 10 billion tokens.
---