How Much Bitcoin Should I Buy - Top Tips for 2023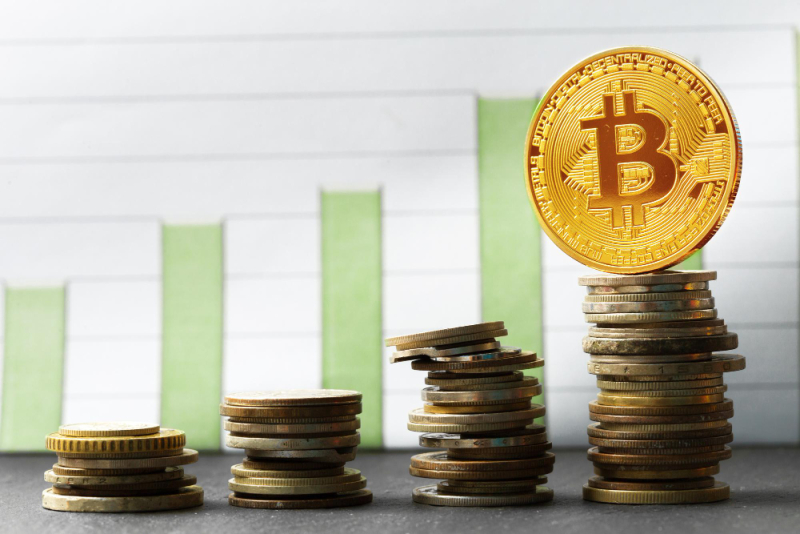 Disclaimer: The Industry Talk section features insights from crypto industry players and is not a part of the editorial content of Cryptonews.com.
Bitcoin remains one of the most attractive asset classes to invest in - considering that the digital currency has generated gains of over 300% in the last five years.
Moreover, Bitcoin is now trading 60% below its former peak of $69,000 - so the digital currency can be purchased on the cheap.
But that begs the question - "How much Bitcoin should I buy?". Read on to evaluate the most risk-averse way to gain exposure to Bitcoin today.
How Much Bitcoin Should I Buy - Key Factors to Help You Decide
Those asking the question - "How much Bitcoin should I buy?" should first consider the key points discussed below.
Discretionary Income - It goes without saying that when asking yourself "how much Bitcoin should I buy?" - the amount should never exceed discretionary income. This refers to money available after all core expenses have been covered - such as mortgage payments, food, travel, and debt.
Dollar-Cost Averaging - A notable strategy taken by risk-averse investors is to slowly drip-feed money into Bitcoin at the end of each week or month. This strategy is known as dollar-cost averaging (also DCA/DCA-ing) and it ensures that investments are made gradually, as opposed to a lump sum. Moreover, dollar-cost averaging allows investors to avoid being over-exposed to a single cost price (e.g. buying at the peak of the bull run).
Be Prepared for Volatility - Since its inception in 2009, Bitcoin has generated unprecedented returns prompting many investors to wonder if Bitcoin is a good investment. However, Bitcoin goes through super-volatile market cycles, with current prices trading 60% below the digital asset's former all-time high. Therefore, when assessing how much to invest in Bitcoin, investors should consider that the value of the investment can decline considerably in the short term.
Appetite for Risk - All investments come with an inherent level of risk. However, when compared to the likes of blue-chip and dividend stocks, government bonds, and real estate - Bitcoin is significantly riskier. As such, investors need to consider that there is a chance that the Bitcoin investment can result in some or even all of the money being lost.
Don't Put All Eggs in One Basket - One of the best ways to approach Bitcoin investing is to ensure that investments are spread out across other assets, both digital and traditional. A common diversification strategy is to also invest in the best altcoins - whether that's Ethereum, Litecoin, Cardano, or dozens of others. Some people also invest in stocks, property or other assets. Within crypto, many investors consider the best crypto presales as a high-potential strategy as they offer access to a new digital asset before its exchange listing.
Ultimately, when assessing "How much should I invest in Bitcoin?" - there are many factors to take into account.
Read on to learn some top strategies that can assist in finding the optimal Bitcoin investment stake as well as deciding whether it is too late to buy Bitcoin in 2023.
How to Decide How Much to Invest in Bitcoin
Learning how to make money with cryptocurrency doesn't have to be a complicated ordeal. Not only in the case of Bitcoin, but all potential investment decisions require an in-depth assessment of how much to allocate.
While it can be tempting to go all-in on Bitcoin due to its unprecedented past performance, this isn't a wise move to take. Instead, it's best to approach Bitcoin and other cryptocurrencies in a risk-averse manner.
We will now take a much closer look at what to consider when evaluating how much to invest in Bitcoin to make money.
1. An Evaluation of Discretionary Income
Before making any investments - whether that's Bitcoin or any other asset class for that matter, it is crucial to take a step back and assess how much discretionary income is available.
In a nutshell, discretionary income refers to the amount of money left over after core expenses. Think along the lines of everyday expenses like food and travel, in addition to mortgage payments, utilities, and a 401(k) plan.
In theory, anything above this figure is classed as discretionary income and thus - can be utilized for non-essential purchases.
In other words, when assessing "how much Bitcoin should I buy?" - the chosen amount should not exceed the discretionary income that has been identified.
Let's break down a hypothetical example to help demonstrate this point:
We'll that after tax and social security, an investor has $3,000 worth of monthly income
Of this figure, $2,000 is allocated for core, everyday expenses
$500 is set aside for savings and a 401(k) plan
This leaves $500 in discretionary income
Now, it is important to note that when exploring how much should you invest in Bitcoin, it wouldn't be wise to allocate 100% of the available discretionary income.
On the contrary, assuming that the investor has $500 at the end of the month, a more risk-averse strategy would be to diversify the funds across multiple assets.
Ultimately, the most important thing is knowing exactly how much money will be left at the end of each month, after all expenses are covered. Nothing above this amount should be considered when assessing how much Bitcoin to buy.
2. Deploy a Dollar-Cost Average Strategy
An even more risk-averse way to answer the question - "How much Bitcoin should I buy?" - is to wait until the end of each month, perhaps a few days before the next salary will be deposited.
In other words, just before payday, any disposal income - however small - left over can be utilized for Bitcoin and other investments. This represents a smart way to approach Bitcoin, considering that all expenses have already been covered and payday is around the corner.
Now, this strategy actually coincides with dollar-cost averaging, also referred to as DCA or DCA-ing. For those unaware, dollar-cost averaging is the process of investing in an asset on a set day each month, rather than going 'gung ho' and injecting one lump sum.
This is a tried and tested strategy not only in the case of Bitcoin but broader stock market indexes like the S&P 500 and the Dow Jones. The reason for this is that dollar-cost averaging removes the need to try and time the market. Moreover, it also alleviates the risk of being over-exposed to a single cost price.
For instance, consider that those that invested a lump sum into Bitcoin in November 2021 at $69,000 are now looking at losses of 60%.
Of course, the investment will only yield a loss if the investor sells their Bitcoin.
But nonetheless, the investor will remain at a loss until the price of Bitcoin returns to $69,000.
Now consider a risk-averse investor that conducts a dollar-cost averaging strategy. Sure, at its peak, monthly investments would have been made towards the top of the bull run. However, as Bitcoin continued to decline in the proceeding months, each monthly investment would have resulted in a lower cost price.
Let's look at an example of dollar-cost averaging in the context of Bitcoin:
We'll say that an investor has $600 at the end of each month
The investor decides to buy $300 worth of each and every month, a few days before payday
In months 1, 2, and 3 - the investor gets a cost price of $69,000, $40,000, and $30,000
In months 4, 5, and 6, the investor gets a cost price of $25,000, $20,000, and $20,000
As per the above, the investor has made six monthly investments into Bitcoin at $300 each. Owing to the dollar-cost averaging strategy, the investor has an average cost price of $34,000.
This means that should Bitcoin eventually return to its former all-time high of $69,000 - the investor would generate a profit of 102%. On the other hand, an investor that went all-in when Bitcoin peaked at $69,000 would only break even once this price point is revisited.
3. Understand the Volatility of Bitcoin
Being able to accurately predict the price movements of BTC is virtually impossible, but researching the historical data and current indicators is very important. Although Bitcoin trades in a highly liquid marketplace, it is still a super-volatile asset class. Much more so than the likes of US Treasuries or stocks. While dollar-cost averaging always has the chance to ride out volatile crypto waves in the long run, it is important to have the risks that this invites nonetheless.
After all, we mentioned above that after peaking at $69,000 in late 2021, Bitcoin has since declined by 70%.
On the one hand, this isn't necessarily an issue for an investor that plans to buy and hold Bitcoin over many years, in addition to buying the dip and deploying a dollar-cost averaging strategy.
However, if an investor has invested more than they can afford and subsequently needs to sell Bitcoin to pay for everyday expenses, this will result in major losses.
This is why making an assessment of discretionary and disposal income should remain a top priority when assessing how much to invest in Bitcoin.
In addition to this, beginners must be prepared for the emotional side effects of Bitcoin's volatility.
Many newbies will see that Bitcoin has declined by 25% in the space of two weeks, and subsequently decide that enough is enough.
With that said, panic selling should be avoided when investing in Bitcoin, as long-term investors are those that typically generated the best returns.
One of the best ways to deal with volatility is to avoid frequently checking the price of Bitcoin. Beginners are known for this, oftentimes checking the value of their portfolio several times throughout the day. Instead, consider checking the price of Bitcoin on a monthly basis - at the same time that the next dollar-cost averaging investment is being made.
4. Determine How Much Appetite for Risk is Acceptable
Another crucial factor to take into account is how much risk tolerance is acceptable. This is a challenging metric to evaluate, as no two investors are the same.
For example, some investing money into the S&P 500 every month for several decades can be somewhat confident that over the course of time, the value of the portfolio will be healthy at the point of retirement. After all, the S&P 500 has generated average annualized gains of 10% since its inception in 1926.
However, in the case of Bitcoin, we only have 14-ish years of trading history. As a result, it would be unwise to invest in Bitcoin without considering the risk of loss. In fact, many market commentators argue that a suitable amount of Bitcoin to buy should reflect money that the investor is prepared to lose in its entirety.
While this is somewhat extreme, risk mitigation practices should be put in place. Once again, this links back to our previous discussion on dollar-cost averaging and limiting investments to discretionary income.
5. Buy the Dip to Invest in Bitcoin at a Cheap Entry Price
Many seasoned investors will look to increase the size of their stakes in an asset when the broader markets are bearish. In this regard, Bitcoin is no different.
As we have mentioned many times previously, Bitcoin is now trading at $27,000 - which is 60% below its former all-time high. This means that in theory, by purchasing Bitcoin at current levels, a discount of 60% is on offer.
Although Bitcoin was inception as recently as 2009, the digital currency has already gone through several bear markets. Most importantly, Bitcoin has always recovered. But just how many Bitcoins are there in the market?
Let's take the previous bear market as a prime example of why buying the dip can be a profitable strategy to take when investing in long-term cryptocurrencies like Bitcoin:
After a prolonged bull run, Bitcoin peaked at $20,000 toward the close of 2017
Bitcoin then entered a prolonged bear market, hitting lows of under $4,000 just 12 months later
Many investors that purchased Bitcoin at $4,000 would have eventually made sizable gains
After all, Bitcoin hit $69,000 just three years later
This translates into gains of over 1,600%
It goes without saying that buying cryptos on the dip does require some element of attempting to time the market. With that said, buying the dip can run in conjunction with a dollar-cost averaging strategy.
This is because investments will be made each month regardless of how much Bitcoin is trading at. Therefore, when Bitcoin is on the decline, the dollar-cost averaging strategy will make purchases nonetheless.
6. Diversify Across Many Different Crypto Assets in Addition to Bitcoin
What is the best crypto portfolio allocation in 2023 to minimize potential losses and maximize profits? Diversification is another tried and tested investment strategy utilized by experienced investors. By diversifying, this ensures that the investment portfolio is not over-exposed solely to Bitcoin. Sure, Bitcoin is the original, de-facto, and most valuable cryptocurrency of choice. However, in recent years, it has underperformed against other digital currencies in this space.
This is especially the case with crypto presales, many of which continue to outperform the broader market.
For example, in 2022, TAMA - the native token of meme token and play-to-earn ecosystem Tamadoge - generated returns of almost 2,000% after it launched on OXK.
Presale investors could buy TAMA for $0.01 in stage 1 of the presale and reached an all-time high of $0.194.
As we cover in more detail shortly, there are a number of solid presales ongoing at this moment in time - all of which offer an immediate upside. The reason for this is that the best upcoming ICOs operate a progressive pricing structure.
Why You Shouldn't Just Invest in Bitcoin - Top Crypto Presales are the Top Crypto Investments
As noted above, one of the best options in the crypto market right now - especially for those on budget, is to target presale campaigns. This offers an attractive upside potential without needing to risk significant amounts of money.
Crypto presales should, however, be in addition to more established and liquid digital currencies - such as Bitcoin. It's all about diversification and risk management - which crypto presales can certainly play a part in.
Below, we discuss some of the top trending crypto presales in the market right now:
Wall Street Memes - Hot New Community-Backed Meme Crypto With Staking Rewards, Raised Over $25 Million In Presale
Known for their hit NFT series on Ethereum, which sold out within half an hour of its launch, Wall St Bulls are expanding their crypto portfolio with Wall Street Memes ($WSM) tokens.
After their NFT line success, Wall St Bulls has stayed current with crypto trends. They've introduced Bitcoin Ordinals NFTs and launched their meme coin, a top-performing crypto asset class lately.
Though presales can be risky, platforms with solid community support usually fare well long-term. With a million-strong following across various social platforms, Wall Street Memes showed strong community backing.
The presale has been one of the best of 2023, raising more than $25 million ahead of its closing on September 25, with the token then to be listed on a tier-1 centralized exchange for a high-potential IEO.
Niot just a meme coin, Wall Street Memes also offers staking, with holders able to earn an annual percentage yield (APY), which is currently estimated at 60%. Rewards are determined by an individual's share in the overall $WSM staking pool, which currently holds around 350 million WSM, with the current reward rate 75 WSM per block.
Moreover, even big names like Elon Musk have interacted with the platform on Twitter. With such traction, WSM might soon debut on top-tier platforms like Binance.
As per the Wall Street Memes whitepaper, WSM's supply cap sits at 2 billion tokens, all allocated for the community. The breakdown? 50% for the presale, 30% for community rewards, and 20% for ensuring exchange liquidity.
Since the entire token supply is community-allocated, there's zero team holding, eliminating any rug-pull risk.
Additonally, the platform is also offering a $50,000 airdrop to five lucky winners. You can follow their social media handles, including Discord, to participate in this airdrop.
The presale ends in September, after which WSM aims for listings on top-tier exchanges. Enter the Wall Street Memes Telegram channel to keep up with the latest updates.
| | |
| --- | --- |
| Presale Started | 26 May 2023 |
| Purchase Methods | ETH, USDT, Credit Card |
| Chain | Ethereum |
| Min Investment | 100 $WSM |
| Max Investment | None |
Bitcoin BSC - Emerging Low-Cost High-APY Staking Crypto that Secured Over $3.5m in Just Two Weeks
Bitcoin BSC ($BTCBSC) is a trending new staking token modeled after Bitcoin but running on the Binance Smart Chain. In addition to being cost-efficient and fast, the platform offers high-APY staking rewards every 10 minutes.
The project has launched to massive interest in the crypto community, already raising more than $3.5 million in just two weeks since launch and having almost 2 million tokens locked into the staking pool, which is currently offering over 150% APY.
Each BTCBSC token is priced at only $0.99 in its ongoing presale phase to mirror Bitcoin in April 2011 - the last time it cost less than $1.
While mirroring Bitcoin's 21-million supply the presale offers an initial 6.125 million tokens, also mimicking BTC in April 2011.
BTCBSC diverts from Bitcoin's Proof-of-Work system to a greener Proof-of-Stake model. This allows token holders to earn by staking their tokens, thus promoting a buy-and-hold strategy.
Per the Bitcoin BSC whitepaper, the staking rewards are structured to roll out over a 120-year timeline, the same as Bitcoin's and giving the project a long-term outlook.
By leveraging the Binance Smart Chain, the platform offers quicker, less expensive transactions than Bitcoin or Ethereum.
Interested buyers can join the Bitcoin BSC Telegram channel for the latest updates.
| | |
| --- | --- |
| Presale Started | September 5 2023 |
| Purchase Methods | ETH, USDT, BNB, Credit Card |
| Chain | BNB Smart Chain |
| Min Investment | $10 |
| Max Investment | None |
How Much Should You Invest in Bitcoin? What the Experts Say
While third-party advice should be taken with a grain of salt, it can be useful to evaluate what industry experts suggest when it comes to Bitcoin stakes.
The general rule of thumb across the board is that investors should never allocate more than 5% of the overall portfolio to Bitcoin - and cryptocurrency in general.
This is because Bitcoin is viewed as a high-risk asset, so the portfolio should be balanced out with other, more established asset classes. This will typically include the likes of bonds and stocks, in addition to index funds and perhaps an allocation of gold and real estate.
With that said, there are also industry commentators who argue a slightly higher percentage is perhaps suitable.
For example, Alex Doll, president of Anfield Wealth Management in Cleveland, argues that high-risk assets like Bitcoin should be capped at 10%.
Certified financial planner at FIT Advisors, Anjali Jariwala, is more risk-averse in this respect. Jariwala notes that she suggests capping cryptocurrency investments to 3% of the overall portfolio allocation.
There isn't, however, a one-size-fits-all answer when it comes to assessing how much to invest in Bitcoin. As we have shown extensively earlier, it all boils down to personal risk tolerance, long-term financial goals, and how much volatility investors feel comfortable with.
Moreover, the most pertinent takeaway is that investors should only consider utilizing discretionary income when making Bitcoin and crypto purchases. This means only investing funds after core expenses have been covered.
Conclusion
Finding the so-called sweet spot when evaluating how much to invest in Bitcoin is a crucial task that should be taken before risking any money. Beginners, in particular, should ensure that they consider tried and tested risk management strategies, such as dollar-cost averaging, budget planning, and diversification.
Regarding diversification, crypto presales are proving popular with investors interested in learning how to get into cryptocurrency in the first place.
They can be riskier than Bitcoin investment but also offer more chance for growth in the short term, especially with BTC seen more as a store of value. Wall Street Memes and Bitcoin BSC are two high-potential presales that have seen huge investor interest since launch.
FAQs
How much Bitcoin did Elon Musk buy?
In terms of his personal investment, the amount of Bitcoin that Elon Musk currently owns has not been made public. We do, however, know that Tesla - which Elon Musk is the CEO of, invested more than $1.5 billion in Bitcoin as a means to more efficiently utilize free cash flow. Although Tesla has since sold the majority of its Bitcoin holdings, the firm noted in its most recent earnings call that it still holds $218 million worth.
How much Bitcoin should a beginner buy?
While there is no harm in investing in Bitcoin as a beginner, first-time investors should ensure that they remain cautious. Consider how much discretionary income is available at the end of each month and perhaps consider a dollar-cost averaging strategy. This should be in addition to creating a diversified portfolio that also contains other cryptocurrencies. Ultimately, beginners should understand that they can lose some or even all of their Bitcoin investment.
Is $100 worth investing in Bitcoin?
It is possible to invest just a few dollars into Bitcoin, so there is no amount too small in this regard. The most important factor to consider is that Bitcoin investment amounts should be based on the investor's disposal income, risk tolerance, budget, and long-term financial goals. Some investors will consider allocating $100 each month into Bitcoin via a dollar-cost averaging strategy. This is perhaps a more risk-averse way to buy Bitcoin in contrast to investing one lump sum.
---