Good News Failed to Cushion CELR and BTT Price Drop
Despite some expected but still positive news coming the way of Celer Network (CELR) and BitTorrent (BTT), the prices of both tokens continue to drop.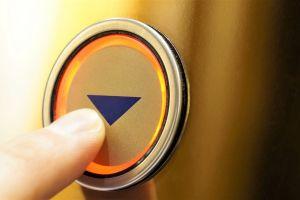 Celer Network announced the launch alpha-mainnet, Cygnus in yesterday's Twitter post. In their Medium post, Celer Network explains that this is their first step towards "the world's first Generalized State Channel Network", beginning with Ethereum. They claim that the network will open up a new dimension of blockchain layer-2 scalability "with real-time and zero-fee interaction, instant micro payments and low-latency interoperability for decentralized Apps." They will be giving their users a platform for blockchain-based apps, starting with games. The goal is for the users, to develop skills while playing games and earning crypto in Cygnus's gaming hub, CelerX. "We are empowering the developer communities to build skill-based mobile games which they can monetize with CelerX eSport Gaming SDK", the post explains.
Not only was Cygnus launch announced, but a few hours later, the partnership with a decentralized organization with Dai stablecoin, MakerDAO, to enable instant micropayments for gamers and developers.
And while many congratulated them on the Cygnus launch, others were not as satisfied, worried about the falling price of CELR. Indeed, looking at the past week, a steady drop is obvious, starting with July 3rd. Since then, until the moment of writing, the price of CELR fell by 23.46%.
_________________________
_________________________
At pixel time (13:32 UTC), CELR trades at c. USD 0.0146 and is down by more than 10% in the past 24 hours.
CELR price chart: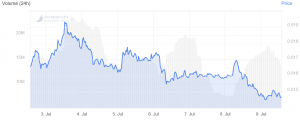 BitTorrent speed fall
Meanwhile, it was announced yesterday that BitTorrent, a communication protocol for peer-to-peer technology sharing of files on the Internet, announced the release of BitTorrent Speed, a software that rewards users' content sharing with BTT tokens, introduced on the official website as "the first case of blockchain mass adoption." BitTorrent Speed will be integrated into new downloads of µTorrent Classic Windows client, and the download speed is expected to improve. Download optimization will vary, stands in the release, "depending on the number of people using the file and the number bidding with tokens."
BitTorrent is controlled by the Tron blockchain project. In the press release, founder of Tron and CEO of BitTorrent, Justin Sun stated that "Tron has completed early integration work of its two decentralized networks - Tron and BitTorrent - with the launch of BitTorrent Speed," that they expect amazing feedback from early users, and that they will be adding more features to improve customer experience.
However, a rather steep decline is noticeable in BTT's price, starting with July 7th, dropping by 12.56% until the moment of writing. It's unknown if the drop could've been affected by the criticism Sun received over Tron's alleged association to a scam, or yesterday's fake news claiming that police raided the Beijing Tron offices, which affected the price of Tron's native token, TRX.
BTT trades at c. USD 0.00129 and is down by almost 6% in the past 24 hours.
BTT price chart: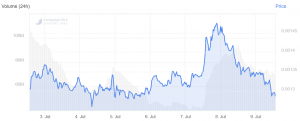 ---