Gala Games Price is Giving Back Some Gains So Maybe It's Time to Consider This Crypto Web3 Game Alternative
Disclosure: Crypto is a high-risk asset class. This article is provided for informational purposes and does not constitute investment advice. By using this website, you agree to our terms and conditions. We may utilise affiliate links within our content, and receive commission.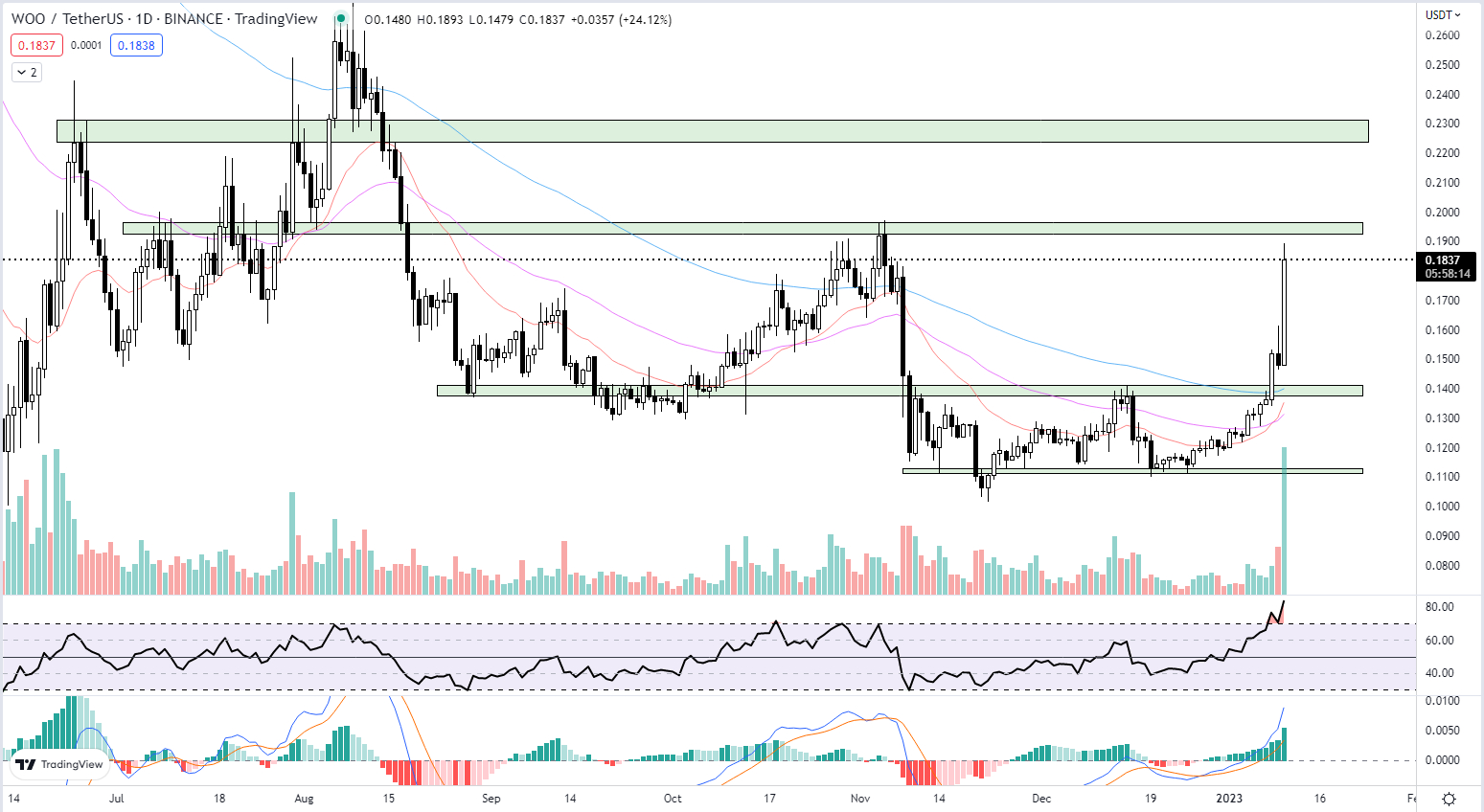 In recent days, GALA's price has been on the rise, thanks in part to a highly-publicized partnership with Hollywood stars Mark Wahlberg and Dwayne "The Rock" Johnson. This partnership helped push the price of Gala Games's crypto Web3 game token up by an impressive 150% in the first 10 days of January alone.
However, GALA's price is currently experiencing a decrease of 9.25% for the day. Despite this minor setback, many investors are closely watching the cryptocurrency and making GALA price predictions for where it may head next as it goes through a normal period of retracement due to buyer exhaustion.
Gala Price Prediction and Technical Analysis
Exponential Moving Average (EMA) and GALA's Price
The current price is trading above both the short to long-term EMA which suggests a bullish outlook for the long-term future. Additionally, the recent crossover of the 20-day EMA with the 50-day EMA, with the 100-day EMA as the next potential target. It is considered a positive signal when the EMAs are arranged in a bullish alignment, which can affirm the bullish trend further.
How Relative Strength Index (RSI) Could Impact GALA Price
After trading in oversold levels for the past three days and reaching a peak of 87.50, a retracement could bring the RSI down all the way to 70 for a potential price consolidation. As of writing, GALA RSI is at 76.21.
GALA Price Prediction and Moving Average Convergence Divergence (MACD)
GALA's MACD is still in a bullish crossover position and has been for the past nine days. The indicator is still well above the zero line, however, and with today's open red candle, the histogram has indicated a slight decrease in separation between the MACD and the signal line. Overall, the bias from the MACD indicator is still bullish.
Support, and Resistances of GALA Price
After getting rejected from the resistance range of $0.04330 to $0.04442 for two consecutive days, crypto Web3 game token GALA's price is sitting at $0.03776 as of writing–down by 9.25% for the day.
Plotting a Fibonacci Retracement Level from GALA's recent swing reveals the possible support level in which the price might possibly bounce. FIB 0.382 at $0.03733 is a potential support while FIB 0.5 at $0.03315 perfectly coincides with the resistance range of $0.03134 to $0.0383.
Alternative Crypto Web3 Game Project Worth Considering
In the world of blockchain-based gaming, Gala Games has been a well-known player for some time. However, recent market conditions have caused the price of its token, GALA, to take a dip, and there is certainly no guarantee the price will head back to its recent highs anytime soon. As a result, investors may be on the hunt for new opportunities in the Web3 space that haven't already seen most of their gains. One such project that's worth considering is MEMAG, the world's first mobile-focused Web3 gaming guild.
Meta Masters Guild ($MEMAG)
Meta Masters Guild (aka MMG) has a mission to build high-quality, blockchain-integrated mobile games that will form a decentralized gaming ecosystem, allowing members to earn rewards in exchange for their contributions.
The core of this ecosystem is a single currency, the Meta Masters Guild token ($MEMAG), which will be used in all MMG games. In-game rewards called "Gems" can be converted to $MEMAG and players will have the option to cash out or reinvest in the ecosystem in various ways, according to the company's litepaper. The system is designed to incentivize players to invest both their time and money into the ecosystem, ensuring they are fairly compensated for their investment.
A Fun and Sustainable Gaming Experience for Crypto Web3 Games
Fun is the top priority at MMG and the company pledges not to let the blockchain integration, tokenization, and earning mechanisms get in the way of what really matters–an interactive and fun gameplay experience for the player.
Sustainability is another important aspect, the creation of a sustainable economy model requires a stable player base, and the players need a fun and engaging game for them to continue playing.
MMG introduces Play and Earn (P&E) gaming in the crypto Web3 game space, which aims to provide high-quality, fun games that players will want to spend money on, and then give them opportunities to earn money back and be compensated for the value they provide to the ecosystem. Unlike the traditional play-to-earn (P2E) concept which is flawed, where the focus is only on earning, P&E offers a holistic approach of playing and earning both.
By providing a high-quality, engaging gameplay experience and a sustainable economy model, MMG hopes to attract and retain a large player base. As more players join the ecosystem, the value of the Meta Masters Guild token is expected to increase, providing even more earning opportunities for players.
Ownership and Community in Crypto Web3 Games
One of the key features of MMG's ecosystem is that players truly own in-game assets. All in-game assets are owned, verifiable and tradable on the Ethereum blockchain. This allows for decentralization of the ecosystem, which in turn increases incentives for players to buy these assets, as they are aware that these assets are 100% tradable, unchangeable and under their control.
Community engagement is also a major focus for MMG. Multiplayer games thrive on their community and the company wants to ensure that their community is with them every step of the way. Players' voices will help shape the future developments of the ecosystem and MMG will be proactive in engaging their community and involving them in decision-making.

---