G7 Inadvertently Makes the Case for Bitcoin with New Gold Move
Disclosure: Crypto is a high-risk asset class. This article is provided for informational purposes and does not constitute investment advice. By using this website, you agree to our terms and conditions. We may utilise affiliate links within our content, and receive commission.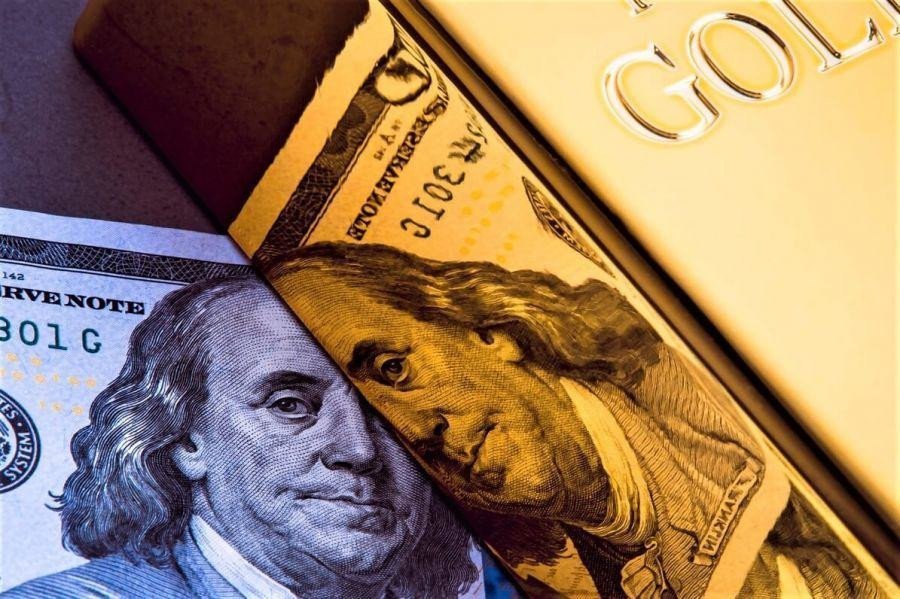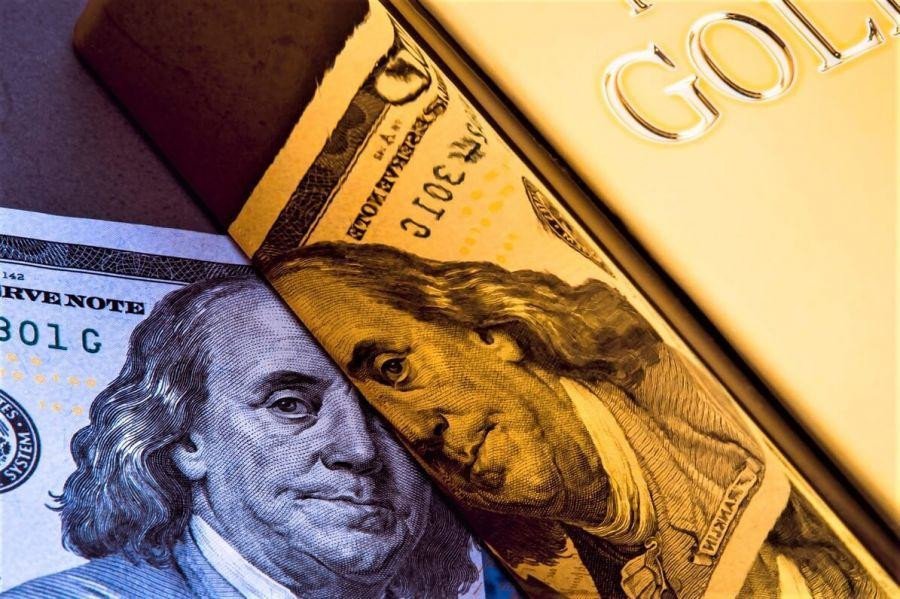 The Group of 7 (G7) countries are inadvertently making the case for Bitcoin (BTC), as gold's shortcomings are becoming more obvious after a new move to ban imports of Russian gold.
The move to ban gold imports from Russia was announced by the US, UK, Japan, and Canada during the G-7 meeting that started in Germany on Sunday. According to a statement from the UK government, the move will have "global reach, shutting the commodity out of formal international markets."
And while analysts said the move is mostly symbolic, given that the London Bullion Market Association (LBMA) already in March removed Russian gold refiners from a list of accredited companies, it still shows how Bitcoin is better as an asset on a global scale than gold is.
According to Anthony Pompliano, a Bitcoin proponent and investor, the move to block Russian gold exports is just another step in an ongoing "weaponization of currencies."
"[…] this is another major milestone in the decades-long trend of attempted weaponization of currencies by developed nations leading to degrading trust in those very same currencies," Pompliano wrote in his newsletter on Monday.
Pompliano went on to quote Danny Diekroeger, a software engineer at Jack Dorsey's company Cash App, as saying that the move could make physical gold far more difficult to get hands on in Western markets, potentially leading to a divergence in the price between 'paper gold' and the physical commodity.
"Even a bitcoin [maximalist] like myself can see this potential shock coming to the gold markets, and I can't resist riding the wave. Got some physical gold coins secured in storage, hoping to sell for bitcoin when the panic hits," Diekroeger was quoted as saying.
Pompliano added that if this scenario plays out, bitcoin would also likely be part of the story.
"If Danny's theory plays out, there will be ramifications to gold, bitcoin, and various fiat currencies," he wrote.
An advertisement for Bitcoin
Commenting on the situation on Reddit, several users pointed out how the ban on Russian gold in reality works as an advertisement for Bitcoin, which at its core is designed to be censorship-resistant.
"It's like the [World Economic Forum] is guiding Russia to bitcoin step by step," one user wrote, while explaining that Western countries have now "kicked [Russia] off all the fiat networks."
"Blocks gold at the border, but still lets oil flow," the user added about the paradox of importing Russian energy while having few if any traditional payment methods available to pay for it.
Others seemed to agree, with one user pointing out how the G7 ban is just another step on the way of weaponizing the US dollar and other fiat currencies.
"Wow. First they freeze their USD reserves, now making gold imports illegal," the user wrote.
As of Monday at 14:17 UTC, the price of gold was unchanged since the UK government published its announcement of the import ban on Sunday, trading at USD 1,826 per ounce.
Since the war in Ukraine started on February 24, gold is down by over 4%, while BTC has fallen 44%.
Bitcoin (blue line) and gold (orange line) since the start of the war in Ukraine: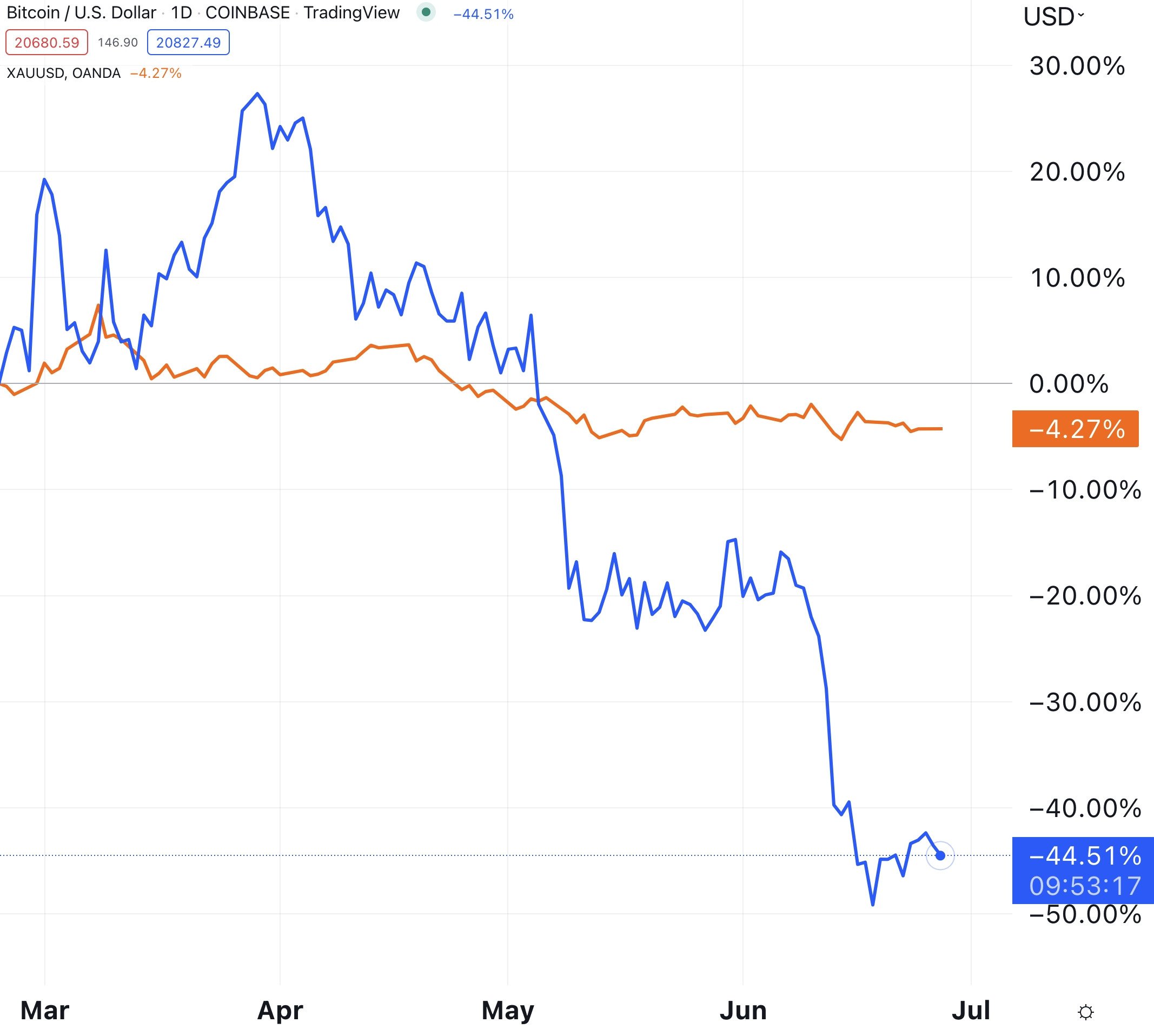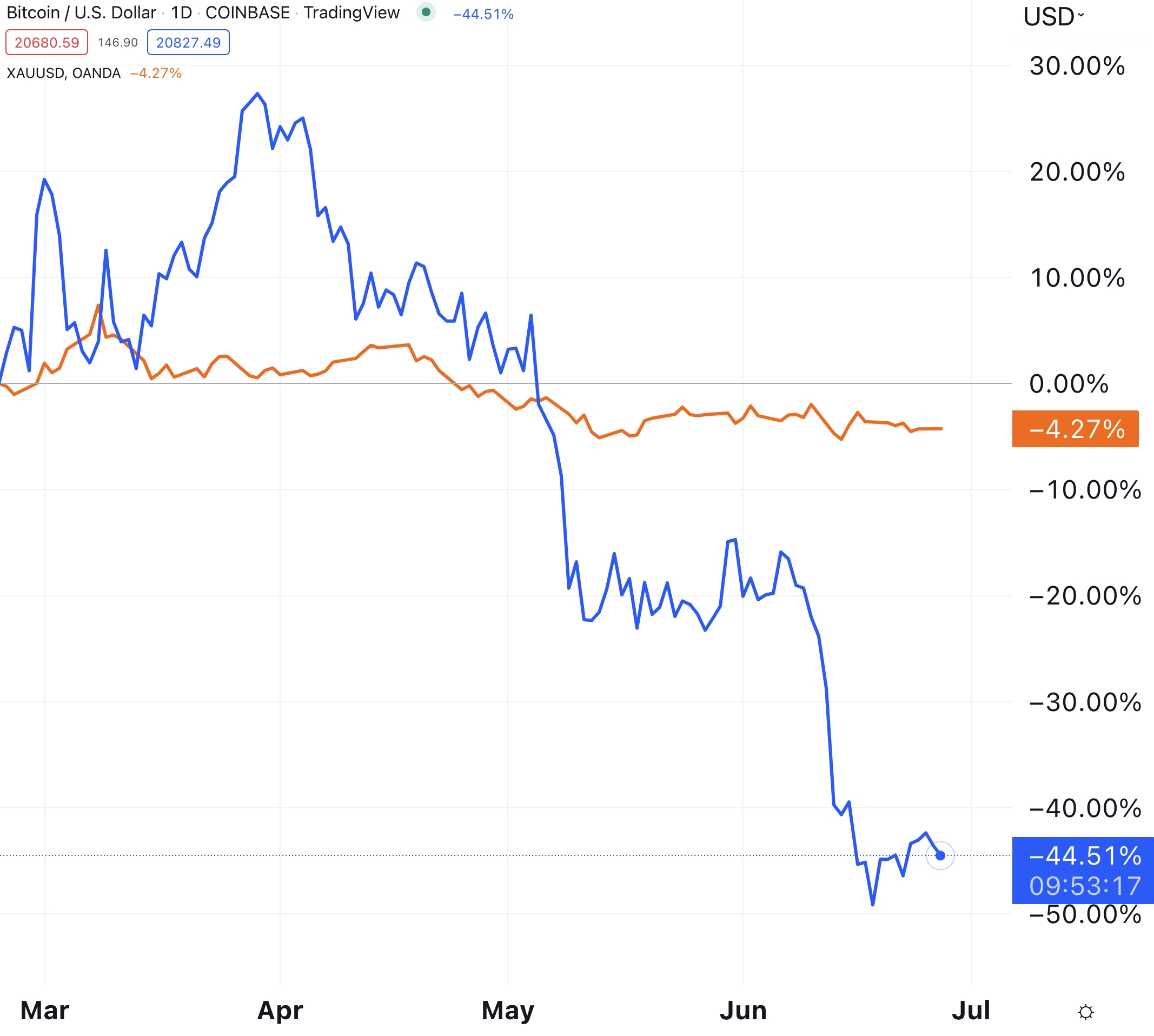 ____
Learn more:
– Governments May Have Had Some Successes, but Seizing Bitcoin and Crypto Is Still Very Hard
– As US Seized Gold in 1933, Is There a Threat to Bitcoin in the 2020s?

– Bullish Sentiment Returns to Gold as Bitcoin Underperforms
– Bitcoin Could Reach USD 100K in Five Years If It Takes on Gold – Goldman Sachs

– Ray Dalio Prefers Bitcoin Over Bonds, But Gold Over Bitcoin
– BlackRock Says Gold Bites the Dust as It Eyes Bitcoin

– Why Bitcoin Likes a Hard-On Environment
– Gold Faces a Very Physical Problem; Bitcoin To the Rescue!
---