Finance Firm Nomura Predicts Fed Rate Cut and End of Tapering This Month – What Would This Mean for Crypto?
Financial services giant Nomura now believes the Federal Reserve is done with interest rate hikes and that it could even cut rates at its meeting next week.
"In reaction to looming financial stability risks, we now expect the Fed to cut rates," Nomura economists Aichi Amemiya and Jacob Meyer were cited by Bloomberg as saying in a private note this week.
The two economists added that they also expect the Fed to "stop quantitative tightening," and said this should help banks maintain reserves.
The comments from the Nomura economists come after a series of banks related to the crypto and tech industry in the US collapsed last week and over the weekend. The collapse of crypto-friendly Signature Bank came just a few days after the collapse of Silvergate Bank and Silicon Valley Bank (SVB).
Despite actions from federal regulators and reassurances that all depositors will be made whole, shares of many of America's largest banks have fallen sharply in the aftermath of the collapses.
For crypto, however, the bank failures have so far had the opposite effect, with prices of most major cryptocurrencies surging as the case for further rate hikes has weakened.
And with Bitcoin's reaction to the increased likelihood of a pause in rate hikes in mind, the possibility of a cut as early as next week could potentially add further fuel to the rally.
Over the past seven days alone, Bitcoin (BTC) was up 16% to $26,000, while Ethereum (ETH) was up nearly 13% to $1,770 at the time of writing.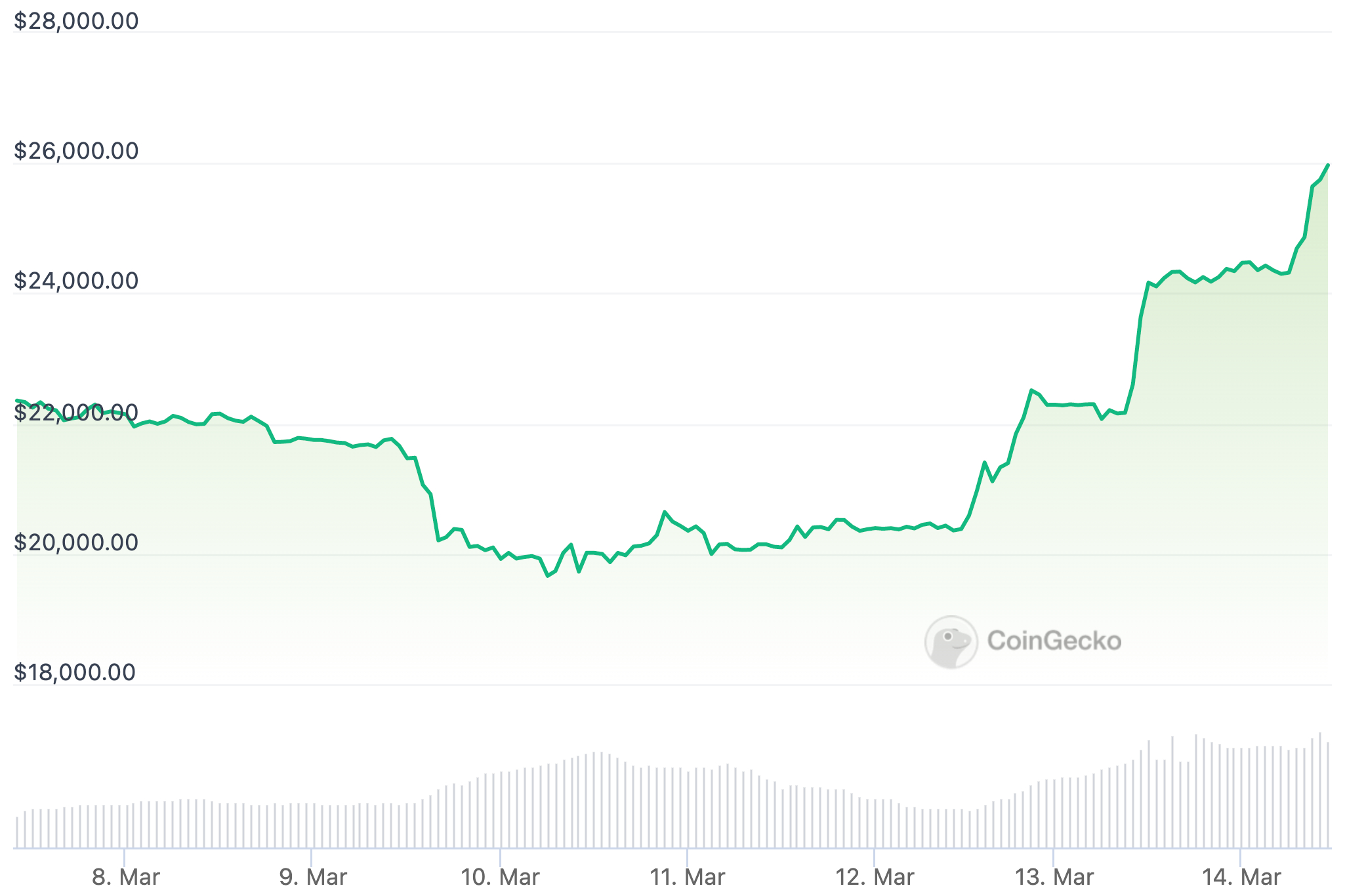 According to Nomura's Amemiya and Meyer, traditional financial markets currently see the actions that have been taken by the government as "insufficient," given the decline in share prices of financial services firms.
"It is possible the Fed may create a new lending facility by either offering a wider eligibility of collateral assets or broader access for borrowers through an emergency lending facility," the economists wrote.
---