Fiat Will Be a Passing Fad In the History of Money - Deutsche Bank Strategist
Fiat money will be a passing fad in the long-term history of money, while gold, as a hedge against government money, is outperformed by equities in the long run, according to Jim Reid, Research Strategist at German banking giant Deutsche Bank.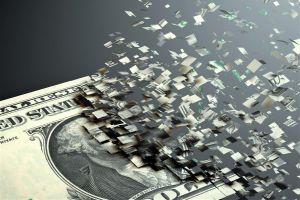 In a note to clients on Wednesday, he admitted that even as he's 'a gold bug' due to the bleak future of fiat money "in my long-term work I've always found many commodities difficult to recommend on a buy and hold basis as most underperform inflation over the long run."
"Indeed, between 1860 and 1971 (when we moved from a gold-based system to fiat money) the real price of Gold fell by 75% and over 80% for Oil and Silver. Since then, Oil and Silver have only doubled in real terms and are still less than half their 1860 values, but Gold is up 7 times, double its 1860s real level. For context, however, the S&P 500 is up 22 times in real total return terms (including dividends) since 1971 and 40,000 times since 1860," Reid wrote.
He concluded that while gold is definitely a fiat money hedge, on a total return basis equities have tended to do much better in the long run.
Reid did not comment on the role of Bitcoin (BTC) in the long-term history of money when contacted by Cryptonews.com.
However, in December last year, Deutsche Bank Research said that the forces that hold the fiat money system together look fragile and, over the next decade, some of these forces could begin to unravel and demand for alternative currencies, from gold to crypto, could take off.
According to the researchers, it is possible that inflation will become more and more embedded in our system and doubts will rise about the sustainability of fiat money.
__
Learn more:
US Banks Offering Crypto Custody is 'Insanely' Bullish and Risky
Bitcoin Mass Adoption Would Benefit and Harm Current Economy
Paul Tudor Jones Confirms His Fund Allocated Hundreds of Millions in USD to BitcoinThis is Why This Investor Prefers Stocks Over Bitcoin and Gold
---