Europe Heats Up Competition in Bitcoin Mining, Layer1 Plans Bold Move in US
As China's dominance in Bitcoin (BTC) mining has already decreased this year, Europeans are taking even more steps to become more attractive to crypto miners. At the same time, BTC miners in the US also have ambitious plans.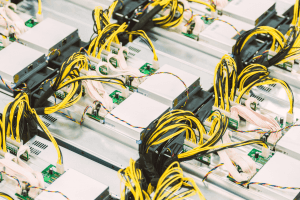 While Ukraine plans to offset the financial chaos of the coronavirus pandemic with nuclear-powered crypto mining, the most recent move has been made in Scandinavia.
Norway's government has proposed to reintroduce an important incentive that directly impacts the profitability of mining operations in the country.
The reintroduction of a "reduced electricity tax" for cryptocurrency mining operations was revealed as the government presented its revised budget for 2020 on May 12. According to E24.no, the plan involves a reduction of the electricity tax for miners from NOK 0.1658 (USD 0.016) per kWh currently to NOK 0.0048 (USD 0.00047) per kWh under the new rule.
The reduced tax for power-hungry data centers was first introduced in Norway in 2016 in a bid to attract more high-tech industries to take advantage of the country's relatively cheap and renewable energy. After heavy criticism from opposition parties, however, the Conservative-led government decided to exclude crypto miners from the incentive scheme. The turnaround by the government made crypto mining far less lucrative in Norway, and in turn, halted plans to establish several major mining operations in the country.
Asked if she expects to receive any criticism on the reintroduction of incentive this time around, Minister of Regional Development and Digitalisation Linda Hofstad Helleland told E24.no:
"It [the criticism] will probably come, and I am ready for that. In this case, there are multiple considerations that need to be balanced, and we have concluded that the most important thing is that we continue to facilitate the establishment of data centers in Norway."
Norway's heavily oil-dependent economy has taken a hard hit in the aftermath of the COVID-19-induced economic downturn, suffering from both rising unemployment and a collapse in oil prices.
The new measures taken by the Norwegian government come as the crypto industry is discussing if the recent halving in Bitcoin mining rewards could drive some of the hash power on the Bitcoin network out of China. If that were to happen, other regions, including Russia and Ukraine, would stand ready to welcome them, with Ukraine recently saying it might offer crypto miners surplus electricity from the country's nuclear power stations.
Ukrainian energy minister Olga Buslavets has confirmed that the ministry's plan to provide nuclear energy to cryptocurrency miners in the country has won support of the cabinet, including the prime minister. Per Ukranews, Buslavets says that potential investors have been asking government agencies about potential crypto mining-related ventures using nuclear power since autumn last year. She confirmed that the cabinet has agreed to create a task force to further explore the plan's legal and practical feasibility.
Meanwhile, in the US, in a podcast this week, Alex Liegl, Co-founder and CEO of crypto investment and infrastructure platform Layer1, said that the company plans to amass 25% of the Bitcoin hash rate by 2021 in just their Texas facility alone.
In October 2019, the company raised its Series A financing at a USD 200 million valuation with the backing of numerous investors, including billionaire Peter Thiel, Shasta Ventures, and cryptocurrency industry leaders. "With this funding, we are positioned to own the whole Bitcoin mining stack by designing, producing, and operating our entire mining infrastructure," Liegl said back then.
Monthly share of total hasrate in April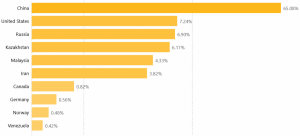 Also, it seems that after the initial post-halving drop, Bitcoin hashrate started to move up again.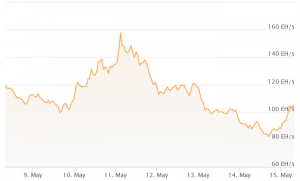 At pixel time (08:36 UTC), BTC trades at USD 9,571 and is up by 1.4% in a day. The price is down by 3% in a week, trimming its monthly gains to below 40%. BTC increased by 20% in a year.
___
With additional reporting by Tim Alper.
___
Learn more: Rain, Government, and BTC Bulls to Help Chinese Miners After Bitcoin Halving
---