Ethereum To Keep Its DeFi Throne For At Least 3 Years - Survey
Talking to "several high-profile decentralized finance [DeFi] projects" about the future of this sector, provider of crypto market data CryptoCompare found that most said "Ethereum (ETH) won't be replaced as the go-to blockchain network for DeFi" in the next 3 years.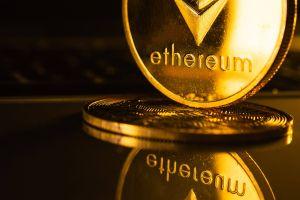 CryptoCompare gathered responses and data via a survey, from a few DeFi protocols, including Augur (REP), Argent, DDEX, Balancer (BAL), Nexus Mutual, Kyber Network (KNC), Loopring (LRC), and Staked, the company said in a blog post.
On a question whether Ethereum will be replaced as the top DeFi network within the next three years, 62.5% of respondents strongly disagreed.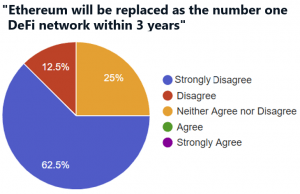 Asked about "shortcomings of the Ethereum network in its current state," the respondents stated that the main concerns regarding the future of the DeFi space are security, user experience, marketing, and a lack of infrastructure for truly decentralized products.
50% of respondents chose 10/10 when ranking "how big of a concern security" is in DeFi, and no one went below 8.
37% chose 10 again when ranking how important it is for DeFi platforms to add insurance against loss of funds, while others chose 3, "suggesting a clear divide in opinion on this issue," said CryptoCompare.
Despite the transaction throughput limit seeing a fee rise over 3,500% so far this year, many respondents didn't see the high fee among the most pressing of issues. Some respondents "pointed towards layer-two scaling solutions" as higher transaction fees will "create more urgency on solutions." Others said that high fees are a burden to some users, and not an issue for others, such as for monthly active users "who deposit for months."
Shane Hong, Marketing Manager at on-chain liquidity protocol Kyber Network, was quoted as saying that: "In my opinion, it is indeed hard for mass adoption to be achieved given the current state of transaction fees. But there will always be a group of users looking for profit-making opportunities even with the high fees."
Meanwhile, crypto wallet Argent said that there's still a need to "build use cases that solve significant pain points for a mainstream audience."
Some in the Cryptoverse see the DeFi growth as evidence of the space being a speculative bubble, particularly given the fact that unaudited projects were able to attract hundreds of millions of dollars in a matter of hours, such as the YAM case. On the opposite side, said the post, stand those who find the growth natural and not comparable to the 2017 initial coin offering (ICO) bubble.
It's its use cases that prompted the 2020 DeFi explosion, CryptoCompare argued, and these include: taking out a crypto-backed loan; saving and earning interest on one's holdings which can be tied to the value of the USD thanks to stablecoins; trading on decentralized platforms; entering leveraged positions; tokenizing real-world assets, etc.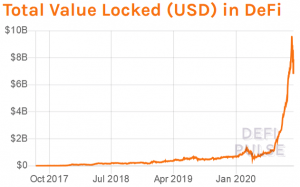 Still the user base seems to be small, while the survey respondents concluded that "valuation is forward looking, and that new products are going to bring in new users." As for the current users, most responses go in favor of speculative use cases.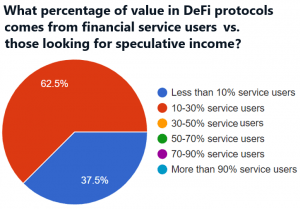 ___
Learn more:
Ethereum Won't Give Its DeFi Throne to EOS, Tron Anytime Soon
The DeFi Sector Is Breaking The Law - It's Time to Act
Safety Second: Top DeFi Projects By Highest Audit Scores
DeFi Punches Above Its Weight As it Targets Bitcoin's Thunder
DeFi Faces Multiple Challenges On Its Way To Dominate Crypto
---