DeFi Frenzy Proves the Power of Bitcoin; Correction Incoming – Novogratz
The current macroecomic backdrop, as well as the frenzy surrounding decentralized finance (DeFi), has proven just how "powerful" bitcoin (BTC) is as a store of value, according to Mike Novogratz, founder and CEO of Galaxy Digital. However, he also warned that the DeFi frenzy is starting to look like the initial coin offering (ICO) boom of 2017, and that a correction could be in the cards.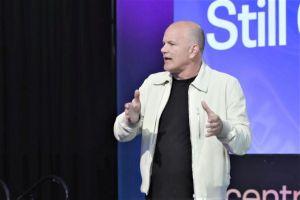 The latest warning from Novogratz came in an interview with BNN Bloomberg yesterday, where the former Goldman Sachs partner said that he believes BTC has indeed fared pretty well in the face of what he called "selling pressure" from speculators looking to make quick profits in the DeFi space:
"A lot of the traditional crypto people are selling their bitcoin, buying the sexier objects. And so, in this move, this mania that we're seeing in decentralized finance, it's pushing the ethereum price up because it's built on the Ethereum network," the famous crypto bull said.
Going in more detail, Novogratz explained that the popularity of DeFi is "probably putting a little weight on bitcoin," and that this "tells you how powerful bitcoin is, when even with that selling pressure it's still going up based on the macro story."
"The new bitcoin buyer is an institutional buyer, it's a high net worth buyer. They're coming in methodically and slowly, and they're not stopping, and so that's keeping the bitcoin price up," Novogratz said.
At pixel time (UTC 10:23), BTC trades at USD 11,731 and is down by 1.6% in a day, trimming its weekly gains to less than 3%. The price is also up by 5.5% in a month and almost 14% in a year. ETH is almost unchanged today, trading at USD 469. It jumped by 22% in a week and 24% in a month. The price rallied by 167% in a year.
Commenting on the current state of DeFi, Novogratz said that the whole industry right now still "is a sandbox" despite it getting liquidity like it was "an adult industry."
"I lived through and profited from the 2017 crypto bubble, and this feels somewhat reminiscent to it," Novogratz said, adding that he still thinks DeFi is going to be with us for longer than the initial coin offerings (ICOs) of 2017.
"I think we are building infrastructure […] Compound might exist in 20 years, we might trade interest rates not at JPMorgan but on Compound," the crypto enthusiast said, before urging people new to the space to "be very careful."
Also, he said that he's "a little worried that we're going to have a big correction in a lot of risky assets soon," but the investor doesn't expect that this correction will last for long.
Meanwhile, a separate report by Bloomberg likened the current DeFi frenzy to the ICO boom of 2017, saying that "there's little reason to expect that investors will fare better this time." However, the report admitted that some of the DeFi apps in use today "have shown some promise."
"It sure appears as a speculative pump and dump," analyst Mike McGlone at Bloomberg Intelligence was quoted as saying. "This to me is part of the problem for the broad crypto market advancement – just too much supply, competition and ease of entry."
__
Watch the entire interview with Mike Novogratz below:
__
Learn more: DeFi Punches Above Its Weight As it Targets Bitcoin's Thunder
---