Ethereum Classic Pumps 26% as Miners Make Switch ahead of ETH Merge
Disclosure: Crypto is a high-risk asset class. This article is provided for informational purposes and does not constitute investment advice. By using this website, you agree to our terms and conditions. We may utilise affiliate links within our content, and receive commission.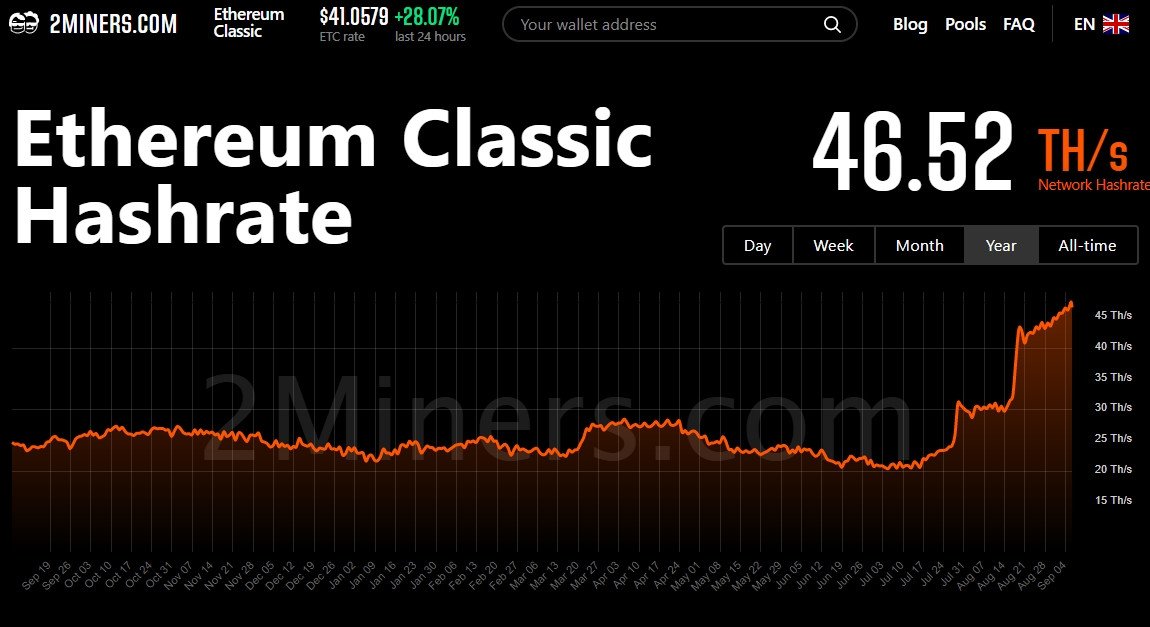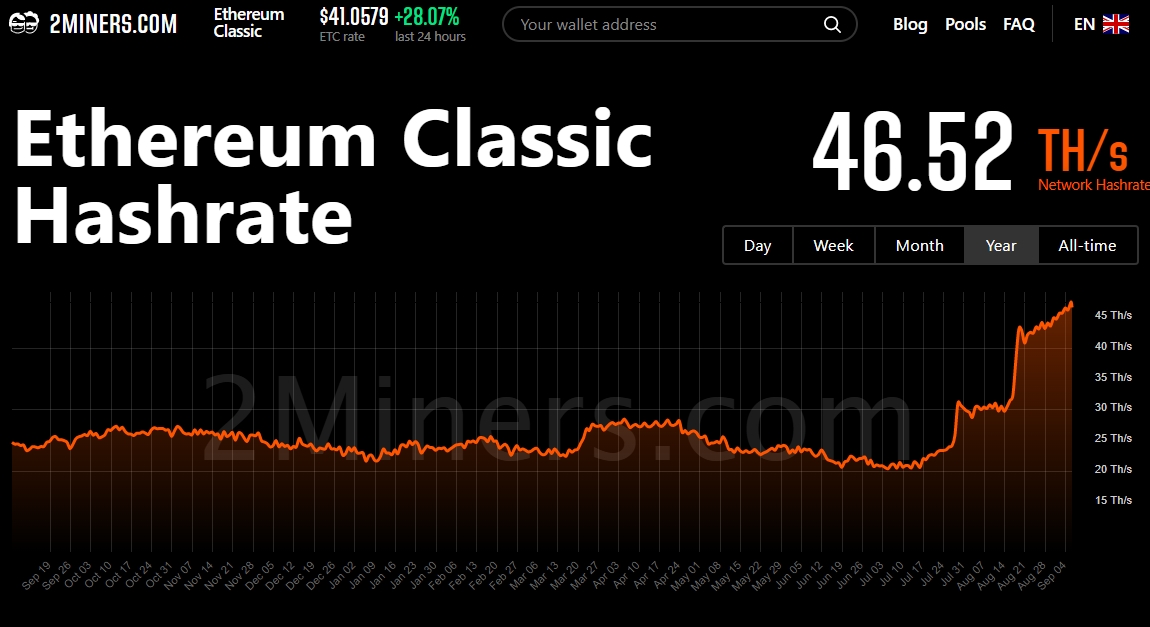 Ethereum Classic has pumped 26% in the last 24hrs as miners continue to make the switch from Ethereum ahead of The Merge.
With Ethereum (ETH) switching from a Proof-of-Work to a Proof-of-Stake (PoS) consensus – scheduled for September 19 – there has been a marked increase in the network hashrate for Ethereum Classic (ETC), which will not convert to the PoS algorithm.
According to data from 2miners.com, the network hashrate for ETC has more than doubled since mid-July, from around 20 Th/s to its current rate of 47 Th/s – a new all-time high.
What is Ethereum Classic and Why is it Pumping?
Ethereum Classic is the legacy chain of Ethereum, after a hard fork was created in 2016 following a split in the community over whether to revert to the chain or move to a new one following a major hack.
More than 11.5 million ETH was stolen – around $50 million at the time and $19 billion today – and there was a bitter dispute over the resolution.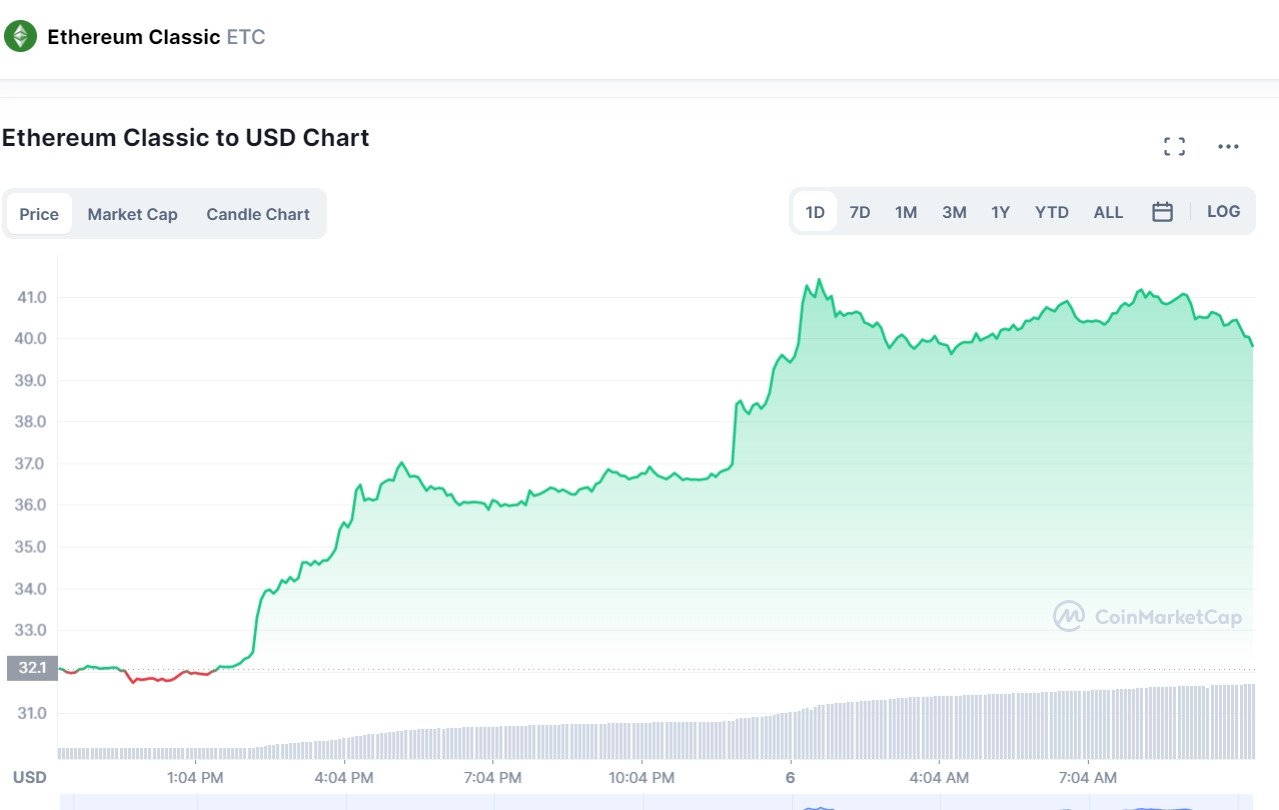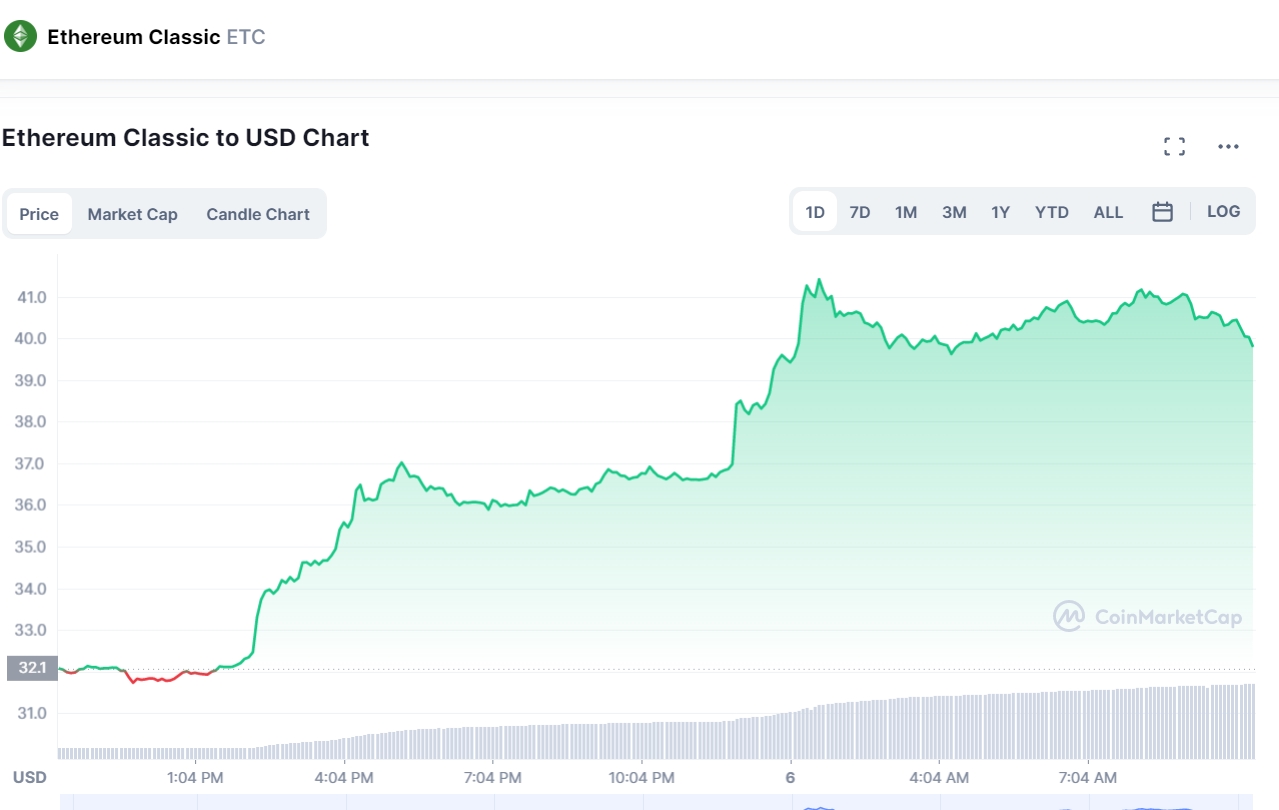 Vitalik Buterin and Gavin Wood, who created Ethereum, led the move to the new Ethereum, which has since become the top altcoin on the market, while some original ETH investors stayed loyal to the original chain.
They argued that a new fork went again decentralization and what ETH had originally set out to do – stop things being manipulated by individual people or groups.
The fork turned out to be a smart move by ETH, which has since become the top altcoin on the market – and may flip Bitcoin – reaching an all-time high of nearly $5,000 per token and currently trading at $1,700.
ETC, on the other hand, has never broken $200, and has drifted between the top 20 and top 30 coins.
It has also been the subject of a series of '51% Attacks' (where a group of miners can alter the blockchain) leading to low investor confidence.
ETH Miners Switch to ETC
However, miners are now switching to ETC as their hardware for ETH mining will become obsolete after The Merge with expensive gear going to waste and their livelihoods at risk.
Furthermore, the more miners working on ETC the less likely it is to fall victim to a 51% attack as it will take a much large group to form the 51% majority need to alter the blockchain.
A number of top mining pools, including Etherpool, Antpool and BTC.com have already expressed support for ETC.
A report by meowsbits, a contributor on the ETC codebase, read: "Ethereum plans to move to Proof of Stake in the near future, which will forcibly eject its mining interests.
"As the second largest cryptocurrency application of this hash power, it stands to reason that ETC should expect its hash rate to be augmented by at least some of those abandoned miners.
"If Ethereum Classic achieves the position as the dominant application of the hash power, its risk exposures would drop to a minimum."
An alternative Ethereum-based crypto that is also enjoying good movement in the market is Tamadoge.
The new project has raised just shy of $12 million in its presale phase and should sell out the rest of its allocation before the end of the month.
---