ECB, IMF, China, Italy and Now Donald Trump Builds a Case for Bitcoin
U.S. President Donald Trump has joined the ranks of other officials unintentionally building a case for Bitcoin and showing why it's better compared to traditional fiat money systems.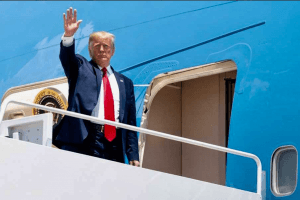 In an eyebrow-raising tweet on Wednesday, Trump expressed his frustration with the depreciating currencies of Europe and China, suggesting the US should do the same to maintain competitiveness of its exports.
The crypto community was quick to respond, claiming that this announcement is "wildly bullish" for bitcoin and encouraging to buy this most popular cryptocurrency which can't be manipulated by governments.
Coincidence or not, bitcoin price jumped following the announcement and even tested the USD 12,000 level before trimming some of its gains.
As the world's de-facto reserve currency, the U.S. dollar has for decades been a safe haven for global investors and even foreign governments, with a "strong dollar policy" being the official stance of the US Government. Now, however, Trump appears to break with this long-standing principle, and is instead pushing for a looser monetary policy.
A weaker dollar has traditionally always led to higher gold prices. That was also true this week, with gold prices reaching levels not seen since May 2013.
"The [cryptocurrency] rally also coincides with a jump in the price of classic haven assets, including the Japanese yen, the Swiss franc and gold. For the true believers, that is a sign that bitcoin has earned a place among the assets that gain during flights to safety," the Financial Times wrote on Monday.
__________________________
__________________________
In theory, from the perspective of an ordinary citizen, getting at least some exposure to bitcoin might help to preserve purchasing power in the wake of a potential currency war where traditional fiat currencies are being devalued in a race towards the bottom. But one should remember that bitcoin is a very volatile asset.
However, not everyone takes Trump's tweeting seriously. Asked by Bloomberg TV if there's a chance of a currency war brewing, Lanhee Chen, director of domestic policy studies at the Hoover Institution, said that he doesn't see much of a risk right now:
"I think the president oftentimes takes to Twitter to exercise some frustration about whatever it is that he sees that day […] This is one of those things that reflects some of his feelings with the Fed […] and some of his frustration with the Fed's independence […] I think the policy-making system in the U.S. is officially independent, and I wouldn't worry too much about it," Chen said.
In either case, who else is in the unintentional bitcoin promoters club?
---