Dogecoin Outperforms Bitcoin as Broader Market Turns Green
Dogecoin (DOGE), the cryptocurrency originally created as a joke in 2013, has been on a roll this year, gaining more than 70% from the beginning of the year until a peak in mid-February. Since then, however, DOGE has sold off along with the rest of the market, despite several short-lived attempts at rallying higher.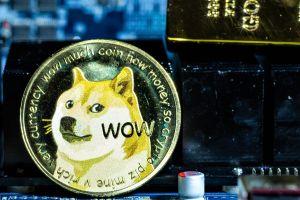 As of pixel time on Tuesday (11:36 UTC), DOGE, ranked as the 33rd most valuable cryptoasset by market capitalization, is up 4.8% over the past 24 hours to a price of USD 0.00223. The price is also up by more than 5% in a week. DOGE is one of the best performers today, as the market turns green, with bitcoin (BTC) rising 3.5% in a day and trimming its weekly losses to 8.6%. Other coins from the top 10 jumped up to 3%, except tezos (XTZ) that rallied almost 6%.
In terms of technicals, DOGE has been trading inside a relatively wide downwards pointing range throughout last year and this year, and is now trading in the lower end of that range. And although there is currently some downward pressure on the price, a firm support level can be found around the USD 0.002 area.
If this level holds, a reversal up to the upper end of the range at the USD 0.0034 area is possible, which would mark an increase of more than 50% from current prices.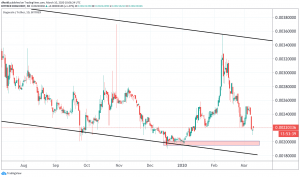 As one of the oldest cryptocurrencies in circulation, dogecoin is listed on a large number of crypto exchanges, with the latest addition being ProBit Exchange, which in February listed in against Korean won (KRW). In terms of trading volume, however, the vast majority of trading in DOGE seems to take place on the three exchanges Hcoin, BKEX, and MXC, all relatively unknown exchanges for most traders.
The coin first received a fresh wave of attention back in July 2019, when the major crypto exchange Binance said it would list DOGE against both BTC, binance coin (BNB), as well as several stablecoins. Today, however, Binance only accounts for 1.7% of the overall trading volume in DOGE.
---