Developing Economies & Better Educated People Lead Crypto 'Space Race'
People in so-called developing economies are more familiar with decentralized cryptocurrencies, such as bitcoin (BTC), while respondents with better education were more likely to use crypto, according to a new survey.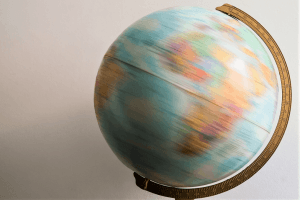 "Money is rapidly evolving. Only a few years ago there seemed to be very little commercial or popular support for even the idea of a digital currency and within the past year, we've seen several governments announce new plans to create digital versions of their currencies. It's like a new space race on that level," Jason Wincuinas, the Economist Intelligence Unit (EIU) editor who spearheaded the report, said in an announcement.
He also added that sentiment on the institutional side of the scale "already seems much higher than expected."
The EIU, the research and analysis division of the London-based media company The Economist Group, surveyed 3,053 consumers and 200 institutional investor and corporate treasury management respondents - both across Asia, Europe, and North America, through February and March of 2021. The survey was commissioned by the Hong Kong-headquartered Crypto.com.
Here's what they found: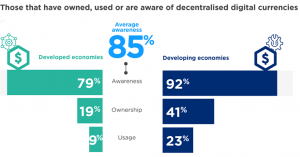 __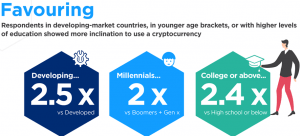 However, on a scale from 1 (not trustworthy at all) to 5 (completely trustworthy), only 9% of respondents rate cryptocurrencies as a 5, while 11% said they don't know, according to the report. They mostly trust cash and government-issued digital currency.
Meanwhile, though central bank digital currencies (CBDCs), such as the one being developed by China, have seen increased media coverage, it was the least recognized form of digital currency, per the report.
Also, the ongoing coronavirus pandemic has had a major influence on consumers, and even more so on institutional and corporate executives, when it comes to digital currency awareness and adoption.
About half of the consumer respondents agreed that the pandemic has heightened the use case for crypto, while 76% of the surveyed institutional and corporate executives said that the pandemic has accelerated demand for digital currencies, as well as their adoption.
The executive survey showed that these respondents seem to be using digital currencies as a store of value with a deflationary hedge, more so than just as a settlement option. And while the majority of respondents said a digital currency should be used primarily for transactional purposes, like settling payments, the most common commercial uses currently seem to be for capital appreciation and asset diversification.
Per the report, a key finding "is corporate and institutional support for the concept of a digital currency playing a role similar to gold in a portfolio."
"As a notional "digital gold", cryptocurrencies can hold similar patterns in terms of limited supply, being authenticatable and dividable, and providing a level of diversity in asset allocation and value storage. However, regulatory, trust and technological-understanding concerns linger," they added.
Meanwhile, the survey found that over 81% of the respondents said that their country was likely to become a cashless society - up from 72% recorded last year. The percent of respondents stating their country would never become cashless dropped from 28% to 19%.
____
Learn more:
- Bitcoin Is More 'Public' Money than Central Bank-Issued Fiat Currencies
- Prepare For 'Uncertain Future of Money' – US Intelligence Center
- 40% of Surveyed Individuals Plan to Use Crypto Within a Year - Mastercard
- 9% of Surveyed US Teens Claim to Have Traded in Crypto
- 18% of Asked Americans Bought Crypto, Most Know Only Bitcoin - Survey
- 41% of Surveyed Crypto Investors are Newbies
- Investors Still Prefer Stocks To Bitcoin, But BTC Wins Over Gold - Survey
- 50% of Inexperienced Investors to Hold Bitcoin Less Than a Year - Survey
___

---