DAO Maker Price is Going to Zero and Crypto Whales are Stacking Launchpad XYZ as a Better Alternative– What Do They Know?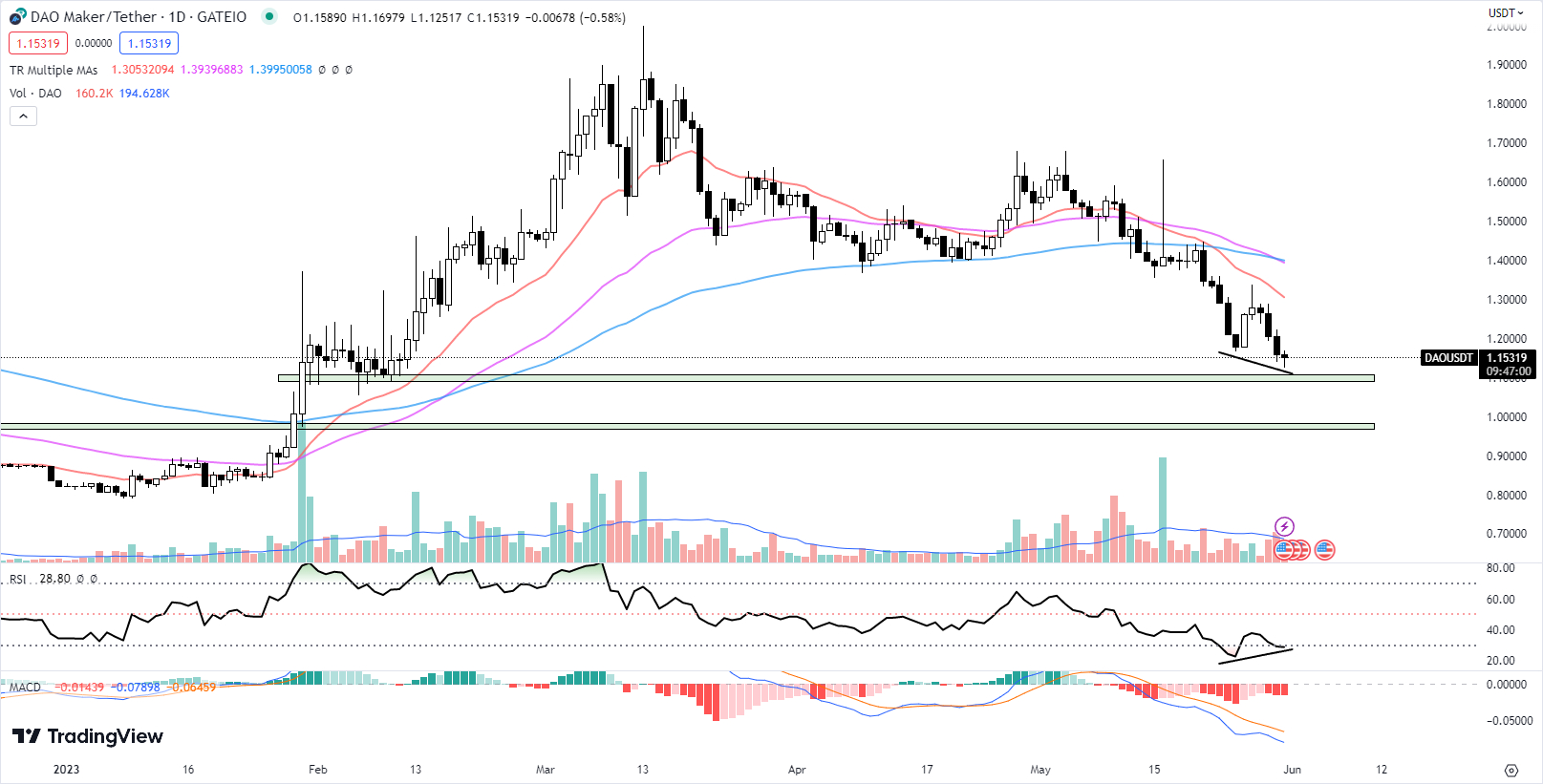 The DAO Maker (DAO) price has been caught in a downward spiral since falling below its 100-day moving average on May 13.
However, certain signals suggest the sell-off may be nearing an end and a reversal could be on the horizon.
DAO Maker Price Prediction and Technical Analysis
The DAO Maker price is currently trading at $1.153, down by 0.58% so far today as the bearish trend persists.
DAO is still trailing below its 20-day EMA and 50-day EMA which are at $1.305 and $1.394 respectively.
However, taking a closer look at the RSI, a bullish divergence appears to be emerging. An RSI value of 28.86, though lower than yesterday's 29.22, is nonetheless hinting towards an oversold condition.
Generally, an asset is considered overbought when the RSI is above 70 and oversold when it is below 30. DAO's low RSI indicates that the selling pressure could be nearing its end.
Adding to this, the MACD histogram has declined slightly to -0.01430 from -0.01399, signaling an increase in bearish momentum. Given that the change is minor, it may not warrant any immediate concern.
The imminent support area lies between $1.089 and $1.109. This range presents an interesting opportunity for DAO to consolidate before a potential bounce.
If the bullish divergence on the RSI chart comes into play, it could propel DAO back towards its immediate resistance, the 20-day EMA at $1.305.
While indicators flash clues for traders to interpret, the price resounds loudest in the end.
For DAO Maker, the price action will confirm or refute whether negative momentum has stalled or intensified.
In the volatile cryptocurrency markets, monitoring price movements rather than indicators is the most reliable approach to steer through unstable conditions. Price reflects everything, and leaves no space for debate.
As the bearish trend persists for DAO Maker, Launchpad XYZ stands ready to simplify the Web3 experience for users through its all-in-one solution.
Launchpad XYZ's Web3 Platform Simplifies Crypto and NFT Trading
Launchpad XYZ, a new crypto project, will provide a simple way for people to trade cryptocurrencies and NFTs. The project is selling $LPX tokens to fund the development of its web3 crypto trading platform.
The presale of tokens has raised over $800,000 in funding so far. The platform wants to make it easier for people to invest in areas like decentralized finance (DeFi), blockchain games, and the metaverse.
The $LPX token presale provides an opportunity to purchase tokens at a reduced price.
Currently priced at $0.0445, the cost of $LPX tokens will rise to $0.046 in the near future.
Purchasing tokens at the current presale price could enable buyers to realize potential gains if the token's price appreciates over time.
If the presale continues raising money quickly, the price increase may happen within weeks.
Launchpad XYZ: Your Comprehensive Platform for Crypto and NFT Trading
Beyond the presale, Launchpad XYZ is ready to significantly impact the crypto space with a variety of web3 trading and investment features.
The platform will host an industry-leading trading terminal, which will execute trades through its built-in decentralized cryptocurrency exchange (DEX).
Launchpad XYZ is committed to drawing premium liquidity providers to facilitate smooth trading on its DEX.
In addition, the platform plans to provide a peer-to-peer NFT marketplace and a market information center named Trading Edge.
This feature will supply investors and traders with valuable market insights, news, sentiment analysis, and top trade setups from seasoned traders.
Launchpad XYZ doesn't just stop at trading; it aspires to be an inclusive resource for the wider web3 ecosystem.
According to its whitepaper, Launchpad XYZ intends to create a user-friendly, curated portal that provides easy access to the best projects in the crypto market, complete with self-custody for any asset.
The platform also plans to offer users the ability to explore the metaverse and web3 gaming realm through its metaverse library and web3 gaming hub.
Some of the main features, including the Launchpad Feed, Token and NFT Directory, Metaverse Library, and Gaming Hub, are expected to roll out in Q3 2023.
Joining the Launchpad XYZ's Web3 Adventure
The $LPX token is expected to play a key role within the Launchpad XYZ ecosystem, serving as the native token on the platform.
Token holders staking a minimum of 10,000 tokens will reap various benefits, including fee discounts, access to partner discounts, whitelists of NFT mints, crypto presale, beta play-to-earn game launches, and community prestige badges.
With a maximum token supply of 1 billion, a fully diluted market cap of $70 million at launch, and a rapidly growing Launchpad XYZ community, it's conceivable that the $LPX token could see significant price growth in the coming years.
Those enthusiastic about the future of web3 commerce empowered by Launchpad XYZ may want to obtain $LPX tokens during the ongoing presale periods should they want to take part in the initiative.
With a listing price of $0.0565 and projected to increase over time, early adopters have an excellent prospect for potential gains.
---