Cryptoverse Reacts: Visa May Become "Front-End for Ethereum", NFT Sales Explode
Global payment provider Visa has made significant waves throughout the crypto asset industry by purchasing their first non-fungible token (NFT) CryptoPunk for ETH 49.5 (around USD 150,000 at the time of purchase). Reactions throughout the community vary, as some consider this irrefutable proof of crypto adoption, while others are calling it a relatively cheap publicity stunt. Either way, NFT sales are skyrocketing in the wake of this news, as major marketplaces are seeing record numbers of digital art sold within hours of the news.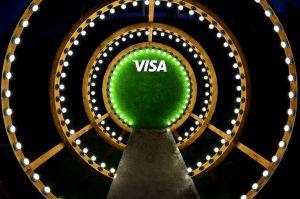 Community Reactions: Disruption or Cheap PR Stunt?
The community is split on the opinion of the Visa NFT purchase into two main camps.
The first thinks that this is what adoption looks like. Anthony Sassano, Ethereum (ETH) educator and founder of The Daily Gwei blog, writes that,
"Our ecosystem is acting as a forcing function for these companies to innovate and get involved in our world rather than sit on their hands and do nothing. In saying that, over the long-term, I think that companies like Visa will be relegated to just acting as front-ends for Ethereum and that is still totally in-vision for what we're building - that is the beauty of a permissionless system!"
Sassano also adds that companies experience FOMO, or fear of missing out, as often as individuals do, but they are slower to act on it due to sheer size. This purchase, he opines, could prompt other major companies to start looking into crypto through a specialized "crypto research division"—if they don't have one already, as is the case with many traditional businesses.
He concludes by writing, "This is what mass adoption looks like folks - embrace it and enjoy the ride!"
In a similar vein, Jack O'Holleran, CEO of Ethereum Layer 2 solution SKALE Labs, said in an email:
"Visa's acquisition of a CryptoPunk was not just a learning experience for them, but a statement about the importance of blockchain and crypto in the future of finance and consumer goods and services (...) Clearly NFTs are solidifying their central role in the future of social media, investing, and entertainment."
On the other hand, many argue that for a giant like Visa, paying USD 150,000 for a digital collectible is not a significant investment. Individuals who purchase NFTs often go through a complex process of deciding what to buy, when, and why, while Visa could potentially easily write off this amount of loss.
Mati Greenspan, financial analyst and consultant, explains in his newsletter: "With about USD 20bn worth of cash on their balance sheet, Visa isn't taking any significant risks by plopping down USD 150,000 for an NFT (...) For Visa, this amount can very easily be written off should things go sour."
However, he adds that, "Call it what you will, the world's largest payment provider has just given a full endorsement of the Ethereum blockchain and has cast a huge vote of confidence in the network's abilities."
Not everyone thinks this is very important for the Ethereum space, and crypto as a whole. Twitter user CryptoCobain finds the purchase is pointless, as Visa is known to censor transactions they disagree with, and purchasing a CryptoPunk may not be the signal for "support of decentralised uncensorable money" that everyone thinks it is.
Others argue that Visa seems to be lobbying for anti-crypto legislation, and that this purchase may be just a way to placate the crypto community.
Be that as it may, many seem to agree that the purchase is an excellent way to gain publicity.
Ethereum maximalists, on the other hand, are celebrating what they consider to be an endorsement of their preferred blockchain network. As they point out, Visa had to purchase ETH to be able to buy the CryptoPunk; a little digging shows that there is still a little bit of ETH remaining on the address, as they had transferred ETH 50.5 into the wallet before paying ETH 49.5 for the NFT.
"You don't need an oracle to see the future. Hint: The future probably isn't Bitcoin," concludes Twitter user 'beaniemaxi.'
Meanwhile, Alex Gladstein, Chief Strategy Officer at the Human Rights Foundation and self-proclaimed friend of Bitcoin, disagrees:
NFT Sales Jump, Average Price Nearly Doubles as FOMO Kicks In
As Sassano wrote in his blog post, FOMO seems to be a near universal experience, at least according to the current NFT market.
NFT marketplace OpenSea currently shows numbers exploding across the board on August 23. Between August 22 and 24, the number of sales went up from 34 to 51. The average price went from ETH 65.43 (around USD 217,500) to ETH 120.53 (USD 400,700), while volume was up from ETH 2,224 (USD 7.4m) to ETH 6,146.8 (USD 20.4m).
All-time volume traded is currently ETH 363,427.5 (USD 1.2bn).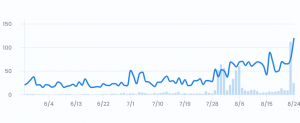 Per NonFungible, CryptoPunks is in third place by 7-day volume, with USD 25.2m, preceded by Bored Ape Yacht Club with over USD 36m, and Art Blocks with USD 102.85m.
It also shows 151 Punk sales in the past week, 13 primary sales and 138 secondary sales.
At the time of writing (UTC 10:15am), ETH was trading at USD 3,326, unchanged in the past 24 hours, and up 5.5% on a weekly basis.
Other Reactions:
__
__
__
__
__
__
__
__
__
____
Learn more:
- Crypto, NFT Adoption with Visa, PayPal, Substack, Marvel + More News
- PayPal, Visa & Other Investors Double Down On Their Crypto Investments
- Visa Starts Settling Transactions in USD Coin On Ethereum
- Visa Crypto Card Users Spent Over USD 1B Globally This Year
- 5 Ways Visa Wants to Work with Crypto and CBDCs
- Visa Boss Wants Company 'in the Middle' of Crypto as Cash 'Declines'
- NFT Sector Far from Dead or Even Resting, Exploding Across the Board
- Non-Fungible Penguins Are Taking Over the NFT Scene
- Sotheby's Record CryptoPunk Auction Sees a Wave of New Bidders
- NFT Traders: 'Christie's F***ed up USD 17m CryptoPunks Sale'
---