CryptoPunk Mistakenly Sells at Over 99% Discount, NFT Sales Plunge Again
Disclosure: Crypto is a high-risk asset class. This article is provided for informational purposes and does not constitute investment advice. By using this website, you agree to our terms and conditions. We may utilise affiliate links within our content, and receive commission.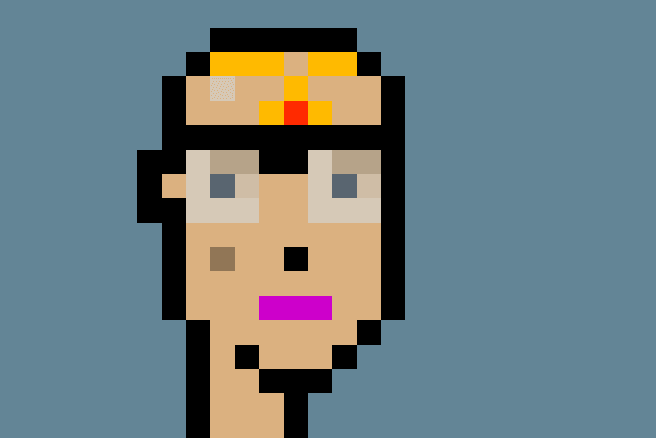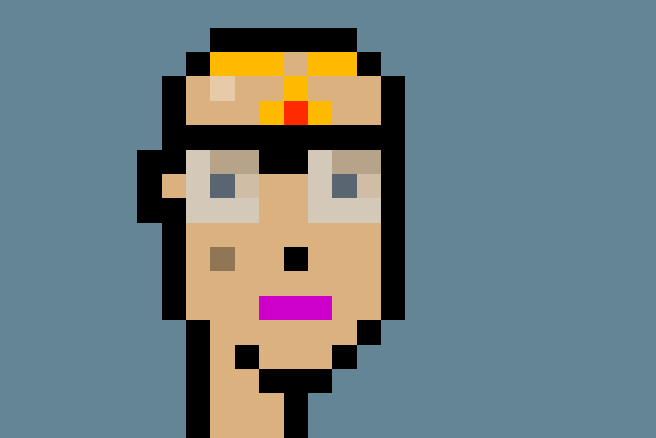 CryptoPunk 7557, one of the 55 non-fungible tokens (NFTs) in the collection that sports a tiara, was sold at more than 99% discount for ETH 4.444 (USD 19,000 at the time of writing) possibly due to a mistake on Monday. In either case, the hype around NFTs is cooling down once again.
Per Larva Labs, the developer of CryptoPunks, the latest tiara punk was traded at ETH 196.69 (USD 828,000) last week, while the cheapest punk of this category was sold for ETH 45 (USD 196,000) back in August, which suggests that the seller possibly listed the NFT at the wrong price.
The seller purchased the punk in early July for around ETH 60 (USD 135,000). Two months later, they offered it for ETH 8,880 (USD 31m). Since the punk did not sell at that price, the owner withdrew the offer yesterday and issued another offer: ETH 4.44.
Possibly, the owner intended to submit an ETH 4,440 price tag, half of the prior offer, but they mistakenly proposed a much lower price. The buyer, confronting an over 99% discount on a rare punk, hoovered it up instantly, even paying an ETH 3.33 priority fee to ensure they are getting the NFT before anyone else.
The new owner has since put the punk on sale, asking for ETH 325 (USD 1.4m), which is still the lowest price for a punk with a tiara.
And this is happening at a time when the hype around NFTs is cooling down once again this year.
The total number of weekly NFT sales has hit a three-month low of around 120,500, down by over 75% compared to August peaks, per Nonfungible.com data. The total weekly sales volume is also at three-month lows at around USD 314m, down by over 80%.
Following this pattern, the number of active wallets, as well as unique buyers and sellers are down by at least 50%.
Weekly sales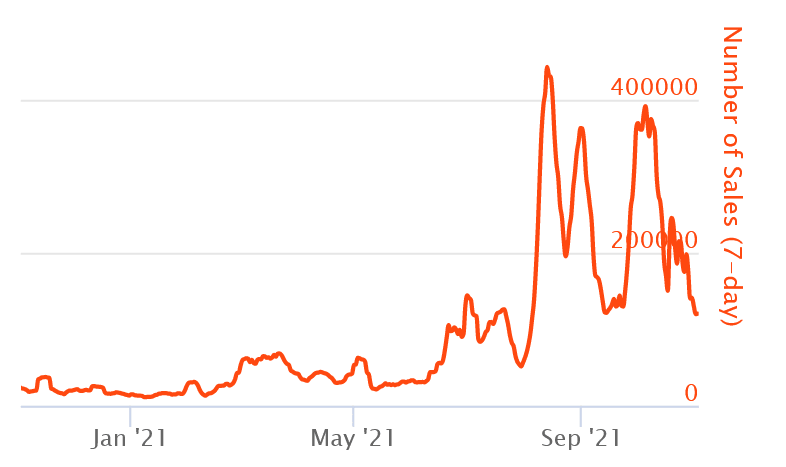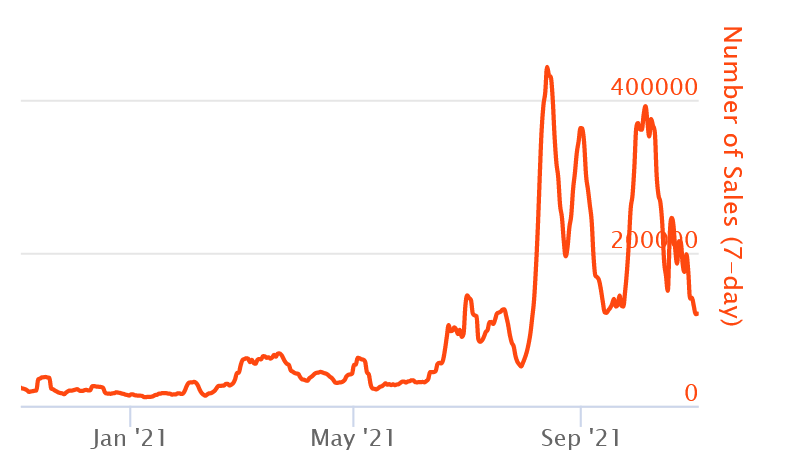 Total USD spent on completed sales (weekly)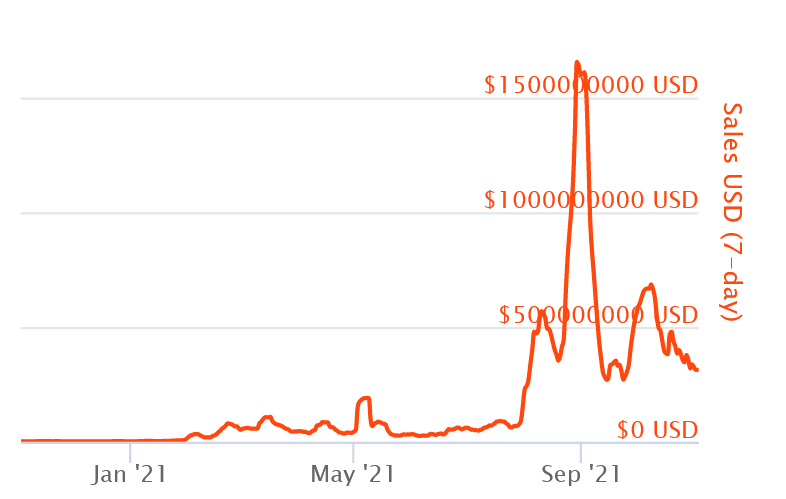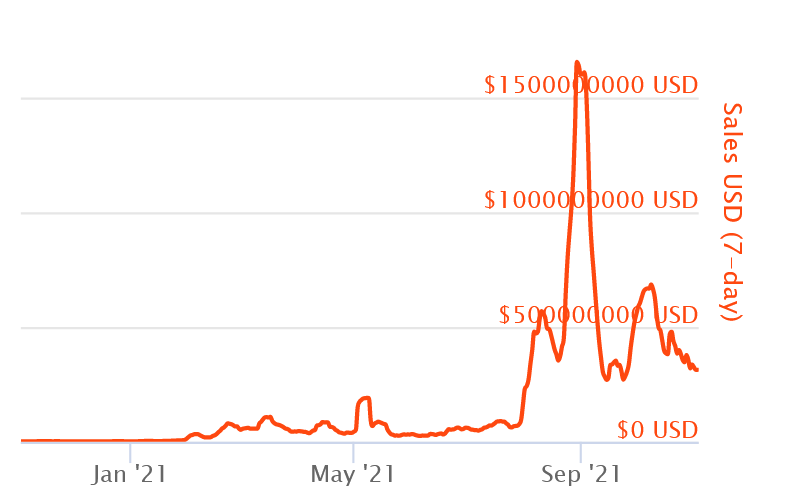 Similarly, the leading NFT marketplace OpenSea is seeing a sharp decline in daily trading volume, which can be partly attributed to the emergence of new major competitors. While OpenSea processed over USD 322m worth of transactions on August 29, the platform processed USD 36m on Sunday, recording a three-month low.
Per CryptoSlam, popular NFT projects like CryptoPunks and Art Blocks have experienced steeper declines compared to other projects. CryptoPunk sales are down by 30% over the last month, while Art Blocks has plunged by over 70%.
Despite this, newer projects like Farmers World, The Humanoids, and Farming Tales have performed much better, gaining 571%, 1,150%, and 38,200% over the last 30 days, respectively.
____
Learn more:
– Half-Billion Dollar 'Fake' NFT Sale Becomes Real PR Stunt
– FATF Wants Countries to Get Serious About Crypto Regulation, Mentions NFTs, DeFi
– FTX Founder on NFTs: 'I Don't Get The Appeal of Some of These'
– NFTs 'on Bitcoin': Yes, That's a Thing!
---