Crypto Whales Say These Altcoins are Poised for Explosive Growth – Here's Why
Disclosure: Crypto is a high-risk asset class. This article is provided for informational purposes and does not constitute investment advice. By using this website, you agree to our terms and conditions. We may utilise affiliate links within our content, and receive commission.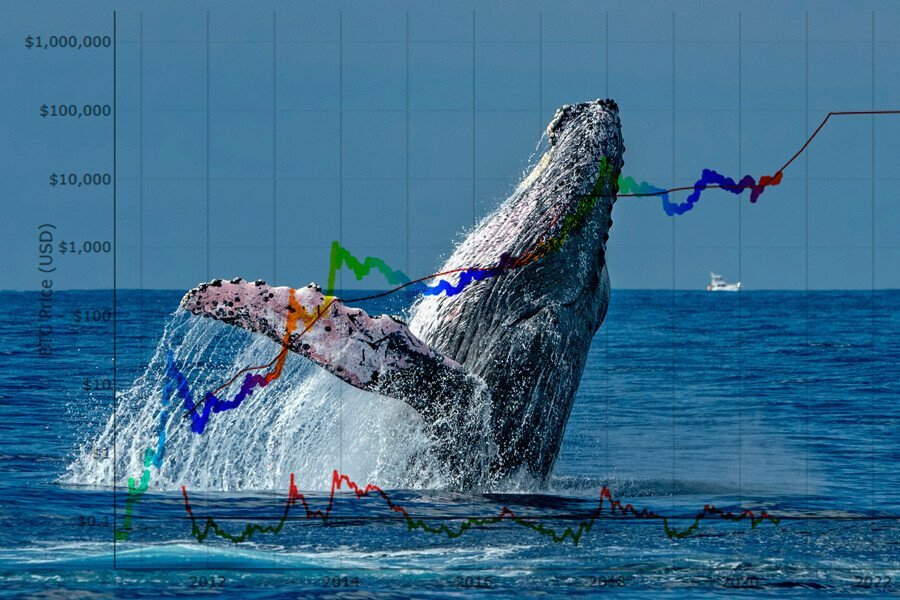 Crypto investors with deep pockets, also known as "whales", are constantly on the lookout for new opportunities to increase the profitability of their cryptocurrency portfolios. To do this, they often take advantage of presales, buying large amounts of certain altcoins in the early stages before they hit the market. But why exactly are these crypto whales so keen to invest in particular altcoins?
One reason is the bonus rewards that are often offered as part of a presale. As we've seen with recently launched project FightOut, investors can receive token bonuses of to 25% for purchases of $50,000 or more and 10% for token purchases of just $500. This incentive makes it more attractive to buy large amounts of tokens, helping to drive up the value of altcoins before they even hit exchanges.
Another reason is that these presales often represent an opportunity for crypto whales to get involved in solid projects that are set for explosive growth in the future. In the case of the up-and-coming project FightOut, for example – with its plans to open gyms, create a celebrity-led ambassador program, launch AI-powered fighters, and more – there's a compelling case for investing in its $FGHT token. The smart money identifies promising projects like this early to get in on the ground floor.
To sum it up, if you're looking to invest in cryptocurrency or diversify your portfolio, follow the money. By finding trustworthy projects with good fundamentals that have a lot of buy in before they even trade on exchanges, you can often get tokens at significantly discounted prices.
Three presales that have gained significant attention from whales and retail investors alike lately are the aforementioned FGHT, as well as D2T and TARO. All three look promising because of their ambitious plans, innovative platforms, supportive investor communities, and experienced development teams.
FightOut (FGHT)
FightOut is an in development innovative Move-to-Earn (M2E) app and gym chain that has been gaining a lot of attention from crypto whales, raising over $1 million in its 7-day private sale. and is now rapidly gaining pace in the first round of its public sale.
FightOut goes beyond existing M2E in a few ways. Most notably, FightOut's technology will make it possible to measure all fitness activity, not just steps taken. Additionally, there's no need to purchase any expensive NFTs; and with FightOut you're rewarded for living a healthy lifestyle–not just completing menial tasks like walking down the streedt.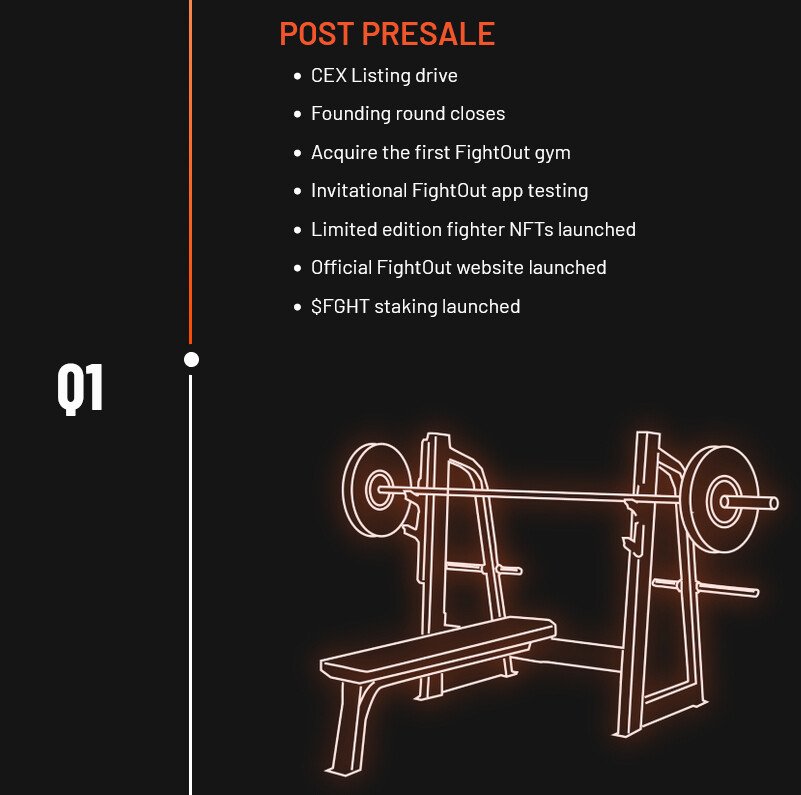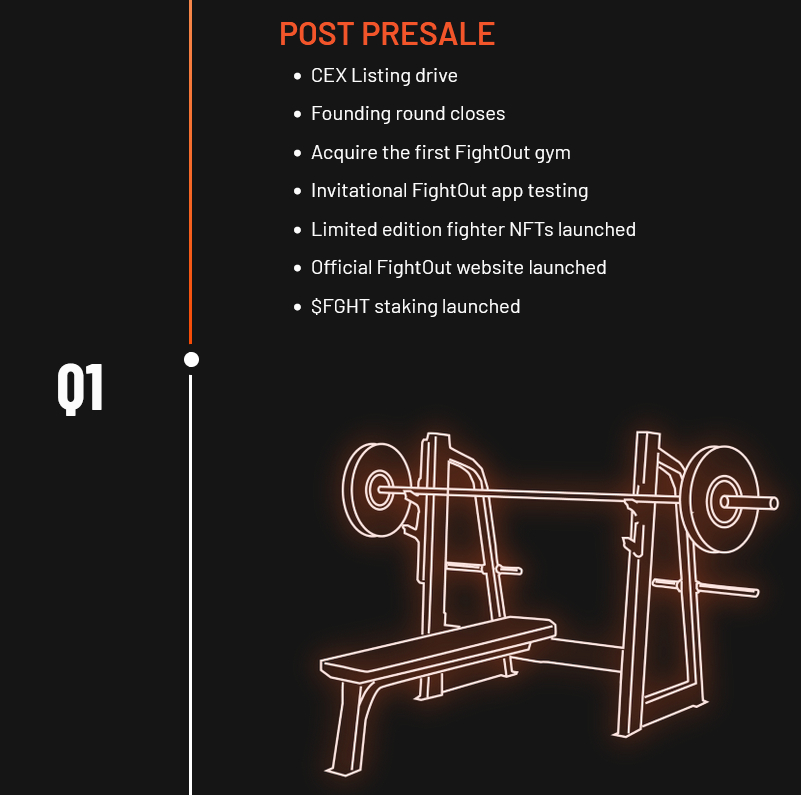 Other cutting edge approaches include a soulbound avatar tied to your in-app self, which includes attributes such as strength, muscular conditioning, cardiovascular performance, and technique. This avatar is the key to accessing an interactive, community-driven metaverse that will put socially motivated fitness at the forefront, with real-life workout stats leveling up your avatar as you progress in your fitness goals.
The team behind FightOut is taking great strides to create a new sports ecosystem, with gyms, martial arts and esports, AI-powered fighters, tournaments, an ambassador program, and much more.
FightOut's first gym will open in Q4 2023 and each gym will include a health bar, studio, and co-working space. The FightOut ambassador program will add value by signing up pro boxers and other elite athletes to promote the brand and run events such as masterclasses.
https://www.twitter.com/FightOut_/status/1603464985329471491
With these plans in place – plus the generous presale rewards of up to 25% – it's no wonder why whales are investing in FGHT. FightOut is backed by LBank Labs, Transak, Cryptonews.com, and BlockMedia Labs, giving it a solid underpinning of logistical and financial support.
The project has already raised $1.8 million in its presale in just a few days, demonstrating the huge potential of the project moving into 2023.
Dash 2 Trade (D2T)
Dash 2 Trade's sole purpose is to give users a platform that will provide them with the data they need to make wise investments. This includes: social sentiment analysis, buy/sell signals for trending coins, and a scoring system that grades presales.
In the aftermath of the FTX scandal, more people are investing in tools to help them avoid cryptocurrency scams. As a result, Dash 2 Trade has announced that their platform will launch sooner than originally planned and their token presale will be cut short. Originally, 665 million D2T tokens were going to be sold over 9 stages of the presale–but this number has been reduced to 4 stages with only 262.5 million tokens available for purchase now.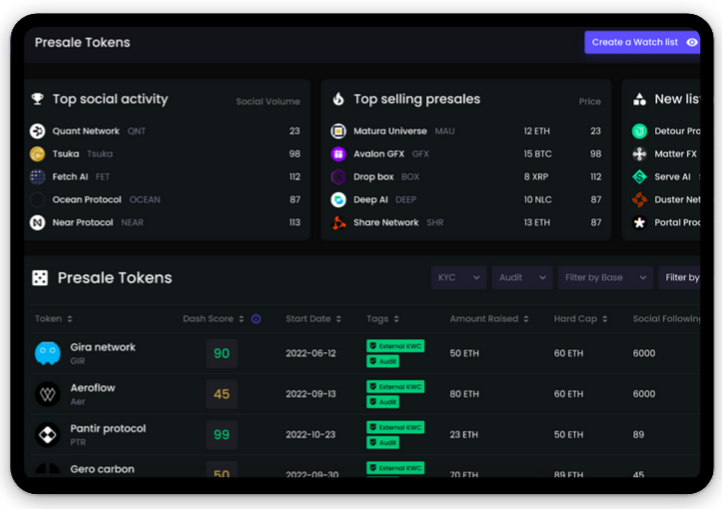 The majority of Dash 2 Trade's functions will necessitate the use of D2T tokens, which is likely to generate a high demand for the token. Up to this point, the D2T token presale has raised $9.56 million and 72.4% of tokens have been sold. The beta version of the presale dashboard will become available shortly as well.
Calvaria (RIA)
Strategy and card trading come together in Calvaria: Duels of Eternity, where players use NFT trading cards to build character decks and battle opponents in an afterlife-inspired world.
Upon completion of matches, players receive rewards in the form of non-fungible tokens (NFTs), which can be bought and traded using RIA tokens in Calvaria's internal marketplace. In addition, holders gain governance power over the game's decentralized autonomous organization (DAO). The token can also be staked by individuals interested in generating extra income passively.
1/

'Play your cards to make the most out of your gaming experience.'

Introducing another GameFi protocol of Battle Arena Games Guild, @CalvariaP2E ⚔️✨

A 🧵 — pic.twitter.com/gtL2A4poTt

— Battle Arena Games Guild (@BattleArenaGG) December 5, 2022
The game's presale has already raised $2.45 million and successfully met 79% of its original goal of $3 million. Because development is ahead of schedule, developers are ending the presale early and there will be only 150 million tokens available instead of the initial 300 million that was offered.
---