Crypto Whales are Increasing Their Holdings in These Altcoins – What Do They Know?
Disclosure: Crypto is a high-risk asset class. This article is provided for informational purposes and does not constitute investment advice. By using this website, you agree to our terms and conditions. We may utilise affiliate links within our content, and receive commission.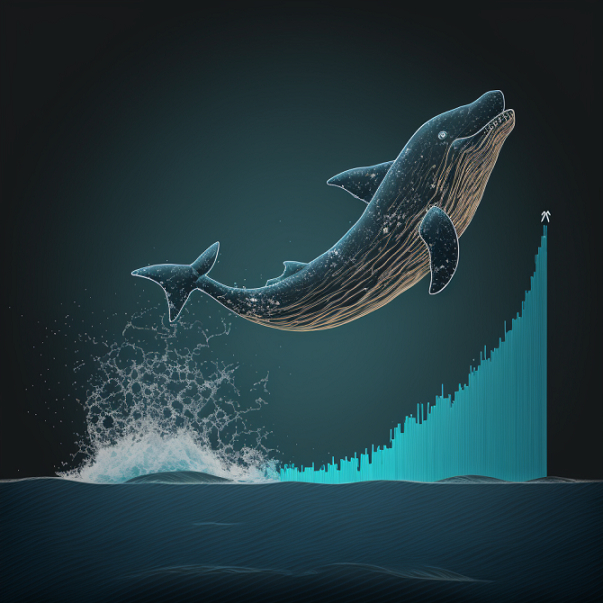 Financial expert Robert Kiyosaki recently caused a stir in the financial world with his predictions for the future of the global economy. In a tweet on February 12, he warned of a potential financial crisis and the possibility of a depression, and stated that by 2025, gold could reach $5,000, silver could reach $500, and bitcoin could reach an impressive $500,000.
Giant crash coming. Depression possible. Fed forced to print billions in fake money. By 2025 gold at $5,000 silver at $500 and Bitcoin at $500,000. Why? Because faith in US dollar, fake money, will be destroyed. Gold & Silver Gods money. Bitcoin people's $. Take care.

— Robert Kiyosaki (@theRealKiyosaki) February 13, 2023
Many people are curious about Robert Kiyosaki's perspective, especially as it relates to the current state of the global economy and the role of money. The U.S. dollar, which is the world's primary reserve currency, has been losing value in recent years due to the Federal Reserve's excessive printing of money. This has led to a loss of confidence in the currency and a search for alternative safe havens, such as gold and silver, which have long been considered stable stores of value.
In addition to gold and silver, Robert Kiyosaki is also optimistic about Bitcoin, the largest decentralized digital currency. Unlike traditional currencies, bitcoin operates independently of governments and financial institutions and is not subject to the same inflationary pressures.
Although Kiyosaki's predictions have been met with some skepticism, he has a strong track record in the financial world. He has been a financial educator for many years and has helped countless individuals achieve financial success through his books and seminars. Kiyosaki has a deep understanding of the global economy and has made several accurate predictions in the past.
Robert Kiyosaki's tweet may serve as a wake-up call for investors to reassess their portfolios and consider alternative investments such as gold, silver, and bitcoin.
With a potential financial crisis on the horizon, it is crucial to have a diversified portfolio that can weather economic turbulence and protect wealth. If you're looking to secure your finances in the coming years, now may be the time to consider investing in these alternative investments, according to the financial expert.
Crypto Investment During Economic Volatility as Robert Kiyosaki Turns Bullish
Investing in the digital currency market is always a risk, but the recent rise in value of Bitcoin and other cryptocurrencies has demonstrated a potential for high returns. However, it is crucial for investors to be aware of the various hazards associated with investing in cryptocurrencies and to only invest what they can afford to lose.
Before making an investment, it is imperative to conduct a comprehensive research of the project. This includes verifying the compliance of the team and platform with legal regulations and ensuring that they are not engaging in any illegal activities.
When evaluating a cryptocurrency project, it is vital to examine its real-world applications and assess whether it has the capability to provide practical solutions or if it is merely capitalizing on blockchain trends for financial gain. A project's ability to address practical issues can greatly influence its long-term return on investment and success.
For those seeking to maximize their investments, participating in cryptocurrency presales may be a wise choice. Crypto experts are currently forecasting huge potential from MEMAG, FGHT, and CCHG.
MMG's Progressive Approach to Gaming Draws Attention From Investors
Meta Masters Guild is attracting attention from crypto whales for its ground-breaking approach to blockchain gaming. With over $4.33 million raised in its presale so far, the community-driven platform and gamer-oriented design of MMG's games and metaverse community is looking to change the way players are rewarded and contribute to games.
Get ready for a gaming experience like no other on your mobile device!📱

Whether you're on the go or relaxing at home, the choice is yours!🕹️😎

Keep an eye out for more information coming soon! 🗓️ https://t.co/9lUbEoKbdS#p2e #mobilegaming #comingsoon pic.twitter.com/sE1sTJVlCb

— Meta Masters Guild (@MEMAGgames) February 12, 2023
Working with game studio Gamearound, MMG is preparing to launch its first title, Meta Kart Racers, in Q3 2023. The high-speed racing game will be available on both iOS and Android, with solo arcade mode and online player vs. player competitions. Gamers can spend their MEMAG on exclusive upgrades or try to earn rare NFT based characters.
MMG's presale has seen impressive growth, with some 24-hour periods bringing in over $100K from whales. Investors can join in the success by visiting the MMG website and connecting their Wallet Connect or MetaMask wallet to purchase MEMAG using ETH or USDT.
Fight Out Fighting its Way into Fitness Industry with Web3 and M2E Tech
Fight Out (FGHT) is looking to disrupt the traditional fitness industry with its innovative Web3 and move-to-earn (M2E) technology, addressing major issues in the industry including the high dropout rate of gym members and lack of motivation and community.
According to the IHRSA, 50% of new gym members stop within six months, mainly due to lack of motivation, connection, and personalization.
Fight Out is offering a comprehensive solution that includes a personalized NFT avatar tied to the user's fitness stats, custom workout plans, and REPS token rewards. Users will be able to earn REPS tokens for working out at home or in a gym and redeem them for discounts on app subscriptions, gym memberships, personal training sessions, and merchandise such as supplements, workout gear, and athletic wear.
With #FightOut, you can earn rewards while getting fit thanks to the power of blockchain technology.

Get ready to move and earn like never before! 😎🚀https://t.co/V7DbtRtfjG#MoveToEarn #Blockchain #Fitness pic.twitter.com/630rVlEzPO

— Fight Out (@FightOut_) February 11, 2023
In the fourth quarter of 2023, Fight Out plans to open its first physical gym, equipped with advanced technology and services, as well as unique Web3-powered features like digital mirrors displaying the user's fitness profile and sensors tracking progress for ongoing feedback.
By providing a supportive community, personalized experience, and goal-oriented inspiration, Fight Out is positioning itself to make a significant impact in the fitness app industry.
Investors have a chance to capitalize on this opportunity, with investments over $50,000 receiving bonuses of up to 50%. The FGHT project has already raised over $4.15 million in its presale period and is set to begin its next phase soon with higher prices.
C+Charge
C+Charge, a blockchain platform, is streamlining the electric vehicle (EV) charging and payment process. The rise of EVs has led to a global push towards sustainable energy solutions, however, the current charging infrastructure is struggling to keep pace with the growth in EV ownership, leading to inefficiencies and unclear pricing.
C+Charge aims to resolve these issues by constructing charging stations and partnering with existing ones, all while allowing users to pay with the CCHG token. The blockchain technology powering CCHG guarantees that payments are transparent and processed efficiently.
🚨 ANNOUNCEMENT: A new milestone accomplished! 🏅

⭐️ Over $1 MILLION RAISED ⭐️

This is a great moment for the C+Charge Crew!

Join the presale now, before the price increases! ⬇️https://t.co/ixe18bPqzI#Presale #Milestone #GreenEnergyCrypto pic.twitter.com/mBjC7Zd4M4

— C+Charge (@C_Charge_Token) February 13, 2023
In addition to simplified payments, C+Charge is also rewarding EV owners with carbon credits in the form of Goodness Native Tokens (GNT). These tokens, backed by venture capital firms such as Samsung Next, a16z Crypto, and Invesco, represent verified voluntary carbon credits and will be easily used from within the C+Charge mobile app for trading.
The first phase of the C+Charge presale has been completed successfully, raising over $1 million.
With whales like Robert Kiyosaki taking notice of the crypto space, and the market currently experiencing a dip, now might be the time to explore projects like those above.
---