Crypto Sector Baffled as Mysterious Report Calls Chainlink a 'Fraud'
Social media and crypto sleuths are attempting to uncover the truth about a report that has been circulating claiming to tell the damning truth about Chainlink, the operator of the LINK token – one of the year's best-performing major altcoins.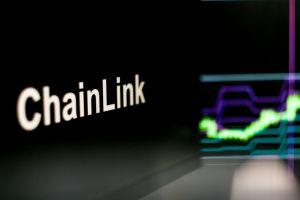 The report is allegedly the work of a company named Zeus Capital, who have labeled Chainlink a "fraud." Zeus Capital claims to be an "asset management and research firm," although its website appears to be very low on content – hosting very little other than the aforementioned report.
Contact details are also few and far between, with no address listed, with a Hong Kong telephone number and an email address listed. The report itself adds a London telephone number.
Cryptonews.com tried calling this number several times, but was redirected each time to an automated answering service that claimed the company was "receiving higher volume call numbers than normal."
The Korean-language version of the site also contains a few language errors.
The allegations in the report include accusations that LINK operators use "classic pump and dump techniques such as trading on inside information," and warnings that a "crash is imminent."
The authors wrote,
"Chainlink is trying to avoid а commitment of its mainnet launch date at any cost."
Chainlink launched its mainnet on the Ethereum blockchain earlier this year.
The report concluded with a stark warning,
"LINK's characteristics, such as lack of a decentralized ecosystem, combined with recent decisions by the [American regulatory] Securities and Exchange Commission (SEC), leave no doubt that LINK will be classified as security putting the whole enterprise and the investors at risk of anything from dealing in unregistered securities to court orders for the disgorgement of proceeds."
Another London-based brokerage named Zeus Capital appears to be totally unaffiliated with the report.
The accusatory report was emailed to a number of crypto market players, along with more warnings of "downside risks" that were "in excess of 99%."
The mysterious company and its report have become a hot topic of conversation on the Chainlink Telegram channel.
One channel member alleged that the report was a fake" and had been "debunked," writing,
"It's a very shady website. They are impersonating https://zeuscapital.co.uk/ (note the different URL). They also appear to have gotten their hands on a list of LINK holders' emails somehow and are emailing it to them."
Other community members asked how their emails had been made available to the report's authors. Others claimed that the authors may have obtained email addresses that had been "dumped" after an "old exchange hack."
And some asked if the report had been prepared in an attempt to short LINK.
LINK price chart: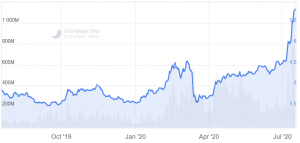 However, some users appear to be convinced the report is yet to be proven to be a fake, and should be taken seriously unless it could be definitively debunked.
One Twitter user claimed that if the report was indeed a fake, it was exceptionally elaborate, and contained some potentially worrying details.
We contacted Zeus Capital and Chainlink for comment and will update should they reply.
At the time of writing (13:26 UTC), LINK, ranked 7th by market capitalization on Coinpaprika.com and Coingecko.com, and 8th on Coinmarketcap.com, trades at USD 8.5 and is up by 3% in a day and 45% in a week. The price skyrocketed by 108% in a month and 238% in a year.
---