Crypto's Weekend Turbulence Shook the Market
The past weekend has once again seen crypto prices fluctuate wildly, and along with it market sentiment has also shifted from previously bearish, to cautiously optimistic, before a dose of frustration set in on Sunday.
February has been a good month for cryptocurrencies so far, with significant gains seen on the 8th, the 18th, and the 23rd. At the highest point on Sunday, bitcoin was up more than 22% for the month, an increase from around USD 3,400 on February 1 to almost USD 4,200 on Sunday the 24th. However, the market then entered into correction mode again, selling off roughly 10%, while bringing the price back well below the 4,000-mark.
Top 10 coins by market capitalization: (UTC 07:30 AM)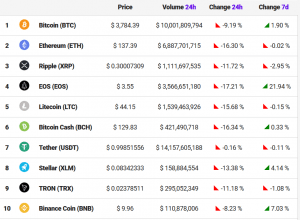 Before the sell-off, there were signs that traders had started positioning themselves for higher bitcoin prices, as illustrated by the bitcoin short-to-long ratio falling to low levels not seen since mid-2018. However, it appears that some short-term speculators got overly excited by this shift in sentiment, which resulted in them quickly having to close out their positions when the market turned against them on Sunday.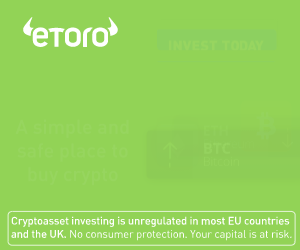 And when the trading volume otherwise is thin, a few big sell orders may be all it takes to ignite a sell-off and cause panic-selling among the short-term speculators, a cycle which then reinforces itself.
Some are also suggesting that trading volume in the bitcoin market may in fact be a lot thinner than we think, which is a nice way to say that the practice among some exchanges of faking trading volume is still very much alive.
Today's crypto pump and dump shows how paper thin our sell and buy support really is. I expect this to continue through this year - we have less organic volume than coinmarketcap tells us. pic.twitter.com/Mg9c0BmINM

— Boxmining (@boxmining) February 24, 2019
Others, however, are not surprised that the bitcoin market suddenly sold off, arguing that the price was just hitting resistance in the chart from a technical analysis perspective:
After a significant run people will always book some profits. I went to bed with coins and woke up with USDT - first priority after some gains is to protect your wealth with stop losses.

— The Cryptographer (@CryptoSniper10) February 24, 2019
From a pure charting perspective, this is a valid point, and we should ideally see a strong break through the resistance area found around USD 4,100 before we can say that the bitcoin price has escaped the current trading range.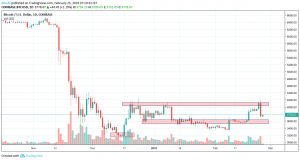 _____
Other reactions:
It's a "Bart" Simpson price formation, suspected to be triggered by overuse of leverage eg on @bitmex and other high leveraged platforms. Short-squeeze followed by long squeeze. Is it good for Bitcoin? It's just a market artefact, more liquidity would likely reduce the effect. pic.twitter.com/zKJef6QFUv

— Adam Back (@adam3us) February 25, 2019
$BTC 2013-2016 vs 2017-2019 analog comparison. Two optional views:
1. 1-10 correction complete, but retest to come
2. 1-10 correction not done, new lows to follow
Then 🍢🎢
Or, just dead cat bounce pic.twitter.com/qAaBve87Ug

— Peter Brandt (@PeterLBrandt) February 24, 2019
Don't listen to technical analysts who predict the future price based on historic trends. They will ignore charts that fail and only focus on those that still align with their bias. Currently, bears are becoming a massive majority. In #bitcoin, majority always gets rekt.

— A v B ⚡ (@ArminVanBitcoin) February 24, 2019
damn it... guess it time to watch eth/usd again. it appears to have lead the sell off this morning with 16,900 eth being market sold in a 1 minute candle.

GDAX has an OTC desk... no idea why you would take that kinda of slippage. pic.twitter.com/H0xcvwnZwx

— I am Nomad (@IamNomad) February 24, 2019
If bitcoin gets back to 3900-4000 in a day or so, how many traders will have outperformed that (basically a 0 return)? I suspect a good chunk of traders got on the bull train late, rode it down too hard, and is now short. Ouch

— Crypto Quantamental (@CryptoQF) February 25, 2019
I'm seeing many comparing today's price action with the price action that preceded the 6K crash. Charts are radically different.

The only thing these two data points have in common is the presence of one of the majors forking and prices running up into the fork.

— Alex Krüger (@krugermacro) February 25, 2019
Whatever you do - have a PLAN. I'm buying the 3700 $BTC pullback. If close below 3700 then I'll cut.

Don't copy me though. Instead, create a simple ruleset for yourself.

Example: If "_____" then I will "_____". Prepping for good and bad scenarios means atleast 2 of these rules.

— Luke Martin (@VentureCoinist) February 24, 2019