Crypto's Weekend Turbulence Shook the Market
The past weekend has once again seen crypto prices fluctuate wildly, and along with it market sentiment has also shifted from previously bearish, to cautiously optimistic, before a dose of frustration set in on Sunday.
February has been a good month for cryptocurrencies so far, with significant gains seen on the 8th, the 18th, and the 23rd. At the highest point on Sunday, bitcoin was up more than 22% for the month, an increase from around USD 3,400 on February 1 to almost USD 4,200 on Sunday the 24th. However, the market then entered into correction mode again, selling off roughly 10%, while bringing the price back well below the 4,000-mark.
Top 10 coins by market capitalization: (UTC 07:30 AM)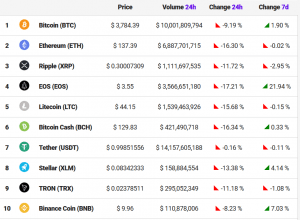 Before the sell-off, there were signs that traders had started positioning themselves for higher bitcoin prices, as illustrated by the bitcoin short-to-long ratio falling to low levels not seen since mid-2018. However, it appears that some short-term speculators got overly excited by this shift in sentiment, which resulted in them quickly having to close out their positions when the market turned against them on Sunday.
And when the trading volume otherwise is thin, a few big sell orders may be all it takes to ignite a sell-off and cause panic-selling among the short-term speculators, a cycle which then reinforces itself.
Some are also suggesting that trading volume in the bitcoin market may in fact be a lot thinner than we think, which is a nice way to say that the practice among some exchanges of faking trading volume is still very much alive.
Others, however, are not surprised that the bitcoin market suddenly sold off, arguing that the price was just hitting resistance in the chart from a technical analysis perspective:
From a pure charting perspective, this is a valid point, and we should ideally see a strong break through the resistance area found around USD 4,100 before we can say that the bitcoin price has escaped the current trading range.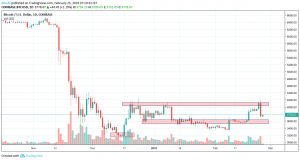 _____
Other reactions:
---