Crypto Market Sentiment Pulls Back, USDC Wins Week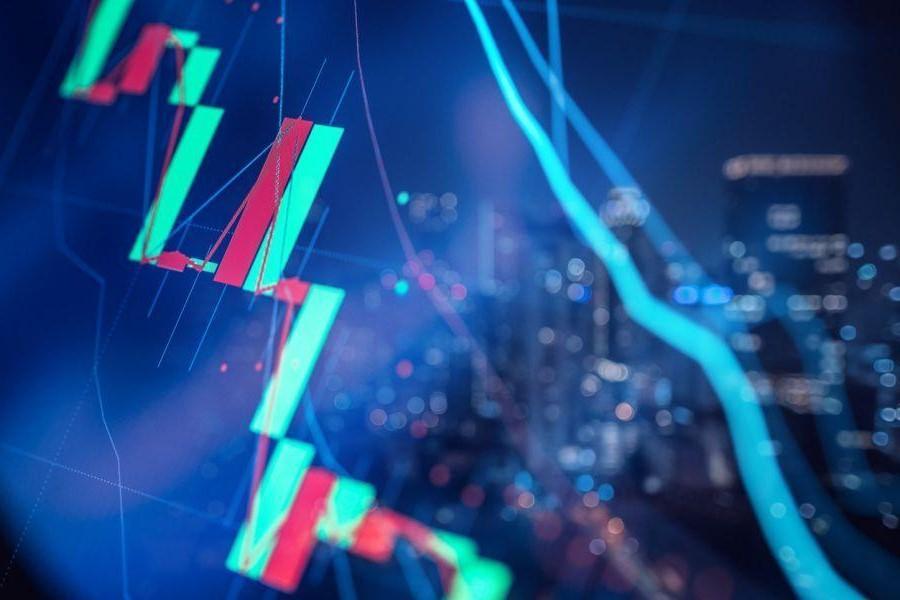 After a strong rise reported last Monday, the crypto market sentiment has taken a step back, moving away from the positive zone. The average 7-day moving crypto market sentiment score (sentscore) for ten major cryptoassets is now 5.79, down from 5.87 seen a week ago, according to the market sentiment analysis service Omenics.
Only four coins are up over the past week, with binance coin (BNB)'s sentscore increasing 1%, litecoin (LTC) 1.7%, and XRP 4.2%. The somewhat surprising winner – winning by far – is USD coin (USDC). It went up almost 24%, higher than any rise, or any drop for that matter, on the list. While it was the red coin last week and the only one below the score of 5, this rise now brought it exactly to 5.
Meanwhile, its fellow stablecoin, tether (USDT), has had such a significant drop of 19%, that it pushed it from 5.2 to 4.3 in a week. This is also the highest fall in sentscore on the list. The remaining red coins saw much smaller decreases: uniswap (UNI) with 7%, and cardano (ADA) with almost 4%, as well as ethereum (ETH), polkadot (DOT), and bitcoin (BTC) with more than 2% drops.
The fall in the overall score can also be seen in the number of coins in the positive zone, there being three such coins, down by one from a week ago. Bitcoin continues to lead here with 7.3, followed by ethereum's 6.8, and polkadot's 6.3. Besides tether, all other coins are within the 5-5.8 territory.
Sentiment change among the top 10 coins*:
Interpreting the sentscore's scale:
- 0 to 2.5: very negative
- 2 to 3.9: somewhat negative zone
- 4 to 5.9: neutral zone
- 6 to 7.49: somewhat positive zone
- 7.5 to 10: very positive zone.
Meanwhile, the overall sentscore for these 10 coins over the past 24 hours isn't that much different from the weekly one, or to the 24h one seen last Monday: it's currently 5.8, compared to last Monday's 5.86. The majority of the coins are red, led by ADA's drop of 8%. This is followed by BTC's 5%, and ETH's 3%, while DOT, UNI, LTC, and BNB's respective sentcores dropped 1% and less. As for the green coins, USDT is up 3%, USDC 1%, and XRP 0.5%. Four coins – BTC, ETH, XRP, and DOT – are in the positive tone, USDT is below 5 despite its increase, while the rest sit in the 5.3-5.8 zone.
Daily Bitcoin sentscore change in the past month:
Given that Omenics tracks 35 coins in total, it's time to take a look at the performance of the 25 coins below the top 10. Over the past week, 11 of these 25 coins have seen their sentscores increase, some by double digits. The top here is taken by yearn.finance (YFI)'s 19%, while the second in line is ontology (ONT)'s 11%, closely followed by compound (COMP)'s 10%. On the other side, the highest drop is REN's 14%, followed by AAVE's 6%, while the smallest is 0.5% seen by stellar (XLM) and 0x (ZRX). Only two coins are in the positive zone, both with a score of 6: algorand (ALGO) and tron (TRX). Four coins are in the 4.7-4.9 zone, and one – COMP – despite its major increase, is in the negative zone with a score of 3.8.
____
* - Methodology:
Omenics measures the market sentiment by calculating the sentscore, which aggregates the sentiment from news, social media, technical analysis, viral trends, and coin fundamentals-based upon their proprietary algorithms.
As their website explains, "Omenics aggregates trending news articles and viral social media posts into an all-in-one data platform, where you can also analyze content sentiment," later adding, "Omenics combines the 2 sentiment indicators from news and social media with 3 additional verticals for technical analysis, coin fundamentals, and buzz, resulting in the sentscore which reports a general outlook for each coin." For now, they are rating 35 cryptoassets.
---