Crypto Market Rebounds After Weekend Massacre
After a dark red weekend in the crypto market, both bitcoin and major altcoins rebounded strongly on Sunday and Monday morning. Over the past 24 hours (UTC 07:10 AM), bitcoin has shot up more than 8% from its weekend lows below the USD 3,500 level.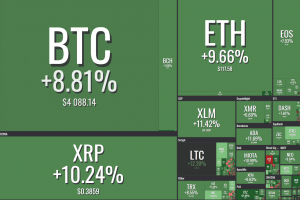 From a technical analysis-perspective, bitcoin and other major coins now appear to have found some support around levels established all the way back in September 2017. The question, however, is whether this level will hold, or if the market needs to search even lower to find a bottom.
Top 10 coins (UTC 07:10 AM):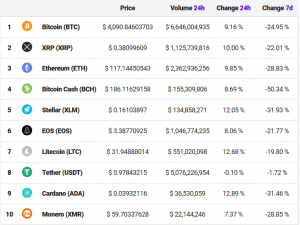 Following the massive decline in the size of the cryptocurrency market, the market capitalization of the entire crypto market has now shrunk to around USD 130 billion, from a peak of 822 billion in January this year.
Therefore, more than 50 of the largest publicly traded companies in the world now have market cap's that are larger than the entire crypto market. This includes all of the famous tech companies – the so-called FAANG (Facebook, Amazon, Apple, Netflix, and Google) group of stocks – but also many smaller companies like McDonald's, Walt Disney, and MasterCard.
Bitcoin Cash Sees Heavy Losses
Among the biggest losers during the recent wave of crypto selling has been Bitcoin Cash (BCH), which was hit hard by the internal fighting between the Bitcoin ABC and Bitcoin SV camps. The dust in that battle now seems to have settled with Bitcoin ABC emerging as the winner, but it has nonetheless caused heavy losses in the BCH price, as it fell from over USD 380 a week ago to just USD 167 as of press time.
Bitcoin Cash also briefly lost its number 4 spot to EOS, although this has been reversed Monday morning.
Bitcoin Futures Expiry on Friday
Although the market seems to have found at least some support for now, volatility may be coming back to bitcoin soon. On Friday (Nov 30), bitcoin futures on the CME Group exchange are set to expire – a monthly occasion which some suggest have caused bitcoin sell-offs in the past.
However, the link between bitcoin futures expiries and sell-offs – or rallies – in the "physical" bitcoin market is highly uncertain, and the last year has shown that other futures expiry dates have been rather uneventful in the bitcoin market.
---