Crypto Market Explodes, Bitcoin Gains 8%, Ether Jumps 13%
After almost two weeks of trading sideways, the crypto market suddenly exploded on Friday.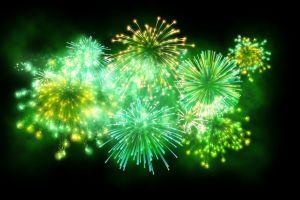 At the time or writing (UTC 05:08 PM,) all top 100 cryptocurrencies by market capitalization are in green.
Bitcoin jumped by more than 8% in the past 24 hours and is trading close to USD 3,700, while Litecoin (LTC) registered strongest gains among top 10 coins (+28%). LTC was the first among top 10 coins that suddenly jumped this Friday.
In a few hours, total market capitalization increased by USD 10 billion, to USD 122 billion.
Top 10 coins by market capitalization: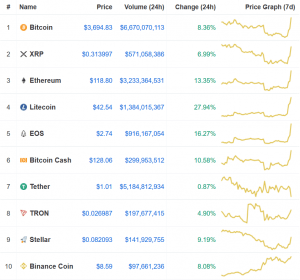 As everyone tries to guess the reason for the explosion, according to The Independent, the latest rise follows news that bitcoin's hashrate – the amount of computing power its network consumes – is at its highest level since November 2018.
Speaking to The Independent before the latest price surge, David Thomas, director of the UK-based cryptocurrency broker GlobalBlock, lamented the negativity in the market but hinted a spark could set it off in a positive direction once again.
"Something needs be the catalyst to get things going again. Unfortunately, global uncertainty for a multitude of reasons is driving many to become more risk averse and so whatever that spark is, it needs to be significant," Thomas was quoted as saying.
Meanwhile, Securities and Exchange Commissioner Robert Jackson told the Roll Call that at some point he expects a crypto exchange-traded fund, which is widely believed to be a huge catalyst for the price of bitcoin: "Eventually, do I think someone will satisfy the standards that we've laid out there? I hope so, yes, and I think so."
Other reactions:
Meanwhile, recently, some members of the cryptoverse were discusing the prospect of Bitcoin's price falling under USD 3,000. Vinny Lingham, general partner at crypto fund Multicoin Capital and the CEO at blockchain company Civic, said that "If we break below USD 3,000 for Bitcoin, 'crypto winter' will become 'crypto nuclear winter'..."
Find the best price to buy/sell cryptocurrency: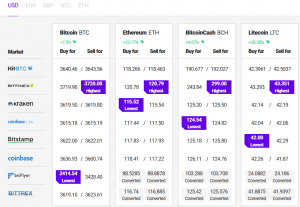 ---