Crypto Industry Fights Back Against EU 'Unhosted Wallet' Propaganda
Disclosure: Crypto is a high-risk asset class. This article is provided for informational purposes and does not constitute investment advice. By using this website, you agree to our terms and conditions. We may utilise affiliate links within our content, and receive commission.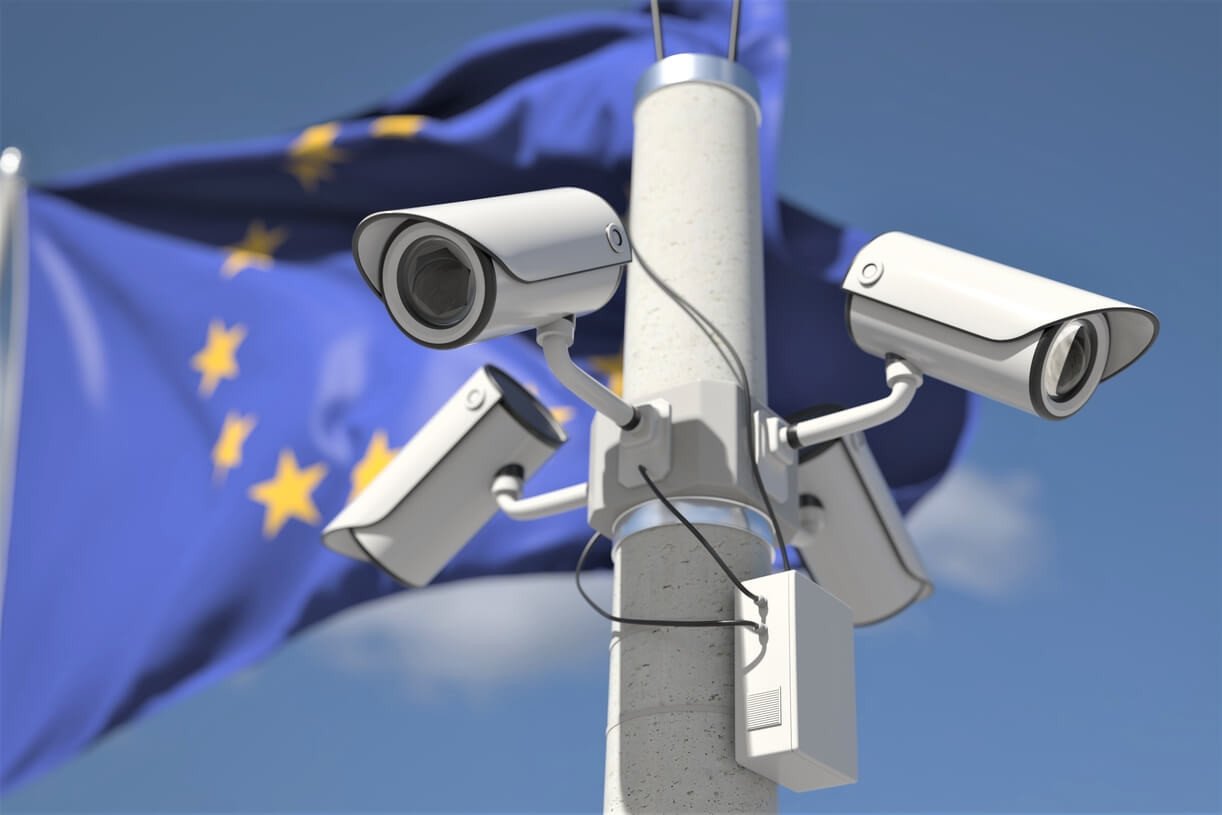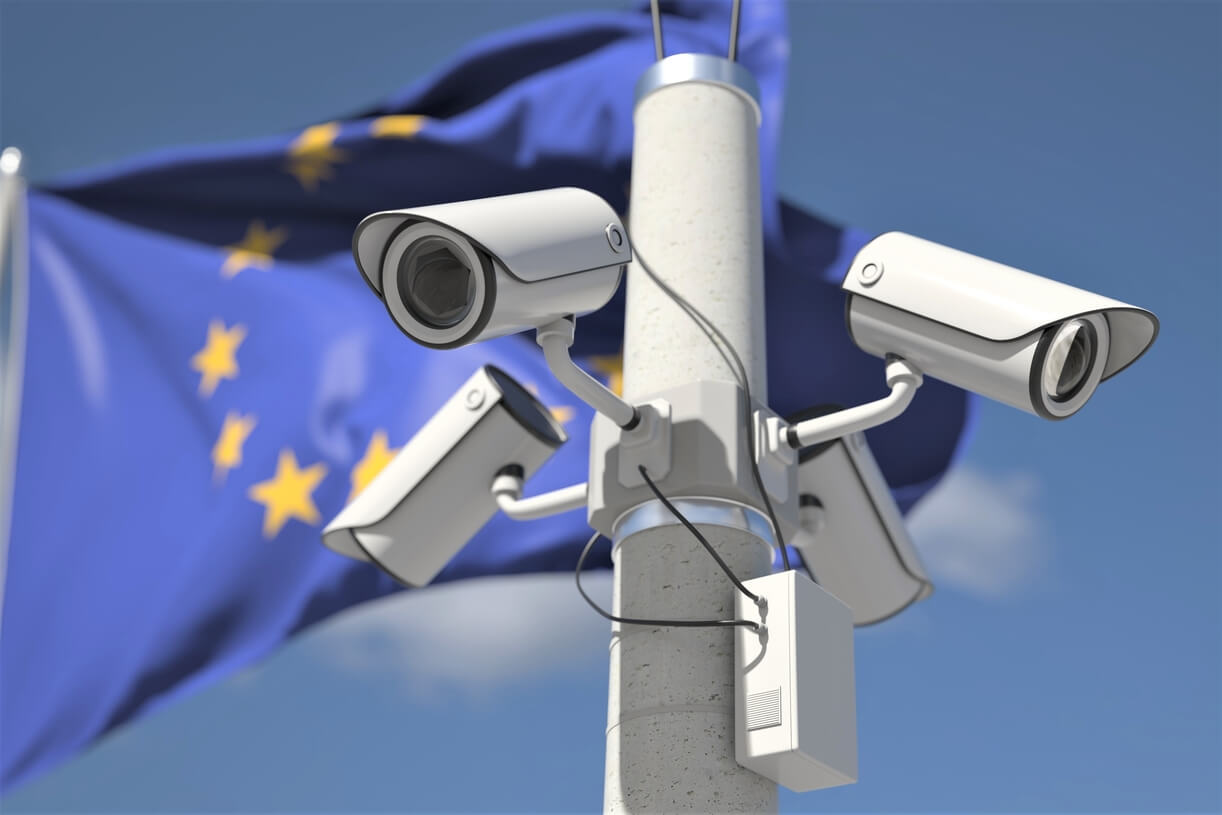 The global crypto industry is increasingly fighting back in response to regulatory proposals they consider harmful to the sector's future development.
Following the unsuccessful campaign by some European Parliament (EP) members to ban proof-of-work (PoW) consensus protocol-powered cryptoassets, the crypto industry is now targeting a potential crackdown on so-called "unhosted wallets" in the European Union's forthcoming Transfer of Funds Regulation (TFR).
An "unhosted wallet" is just a regular crypto wallet where a user is in control of the private keys.
Paul Grewal, Chief Legal Officer at crypto exchange giant Coinbase, said in a statement, that
"If adopted, this revision would unleash an entire surveillance regime on exchanges like Coinbase, stifle innovation, and undermine the self-hosted wallets that individuals use to securely protect their digital assets."
Grewal further noted that the vote would likely take place this week and that time is running out.
Coinbase's head lawyer argued that the new obligations on exchanges to collect, verify and report information on non-customers using their wallets, and requiring them to not only collect personal data about non-customer wallet users, but to also verify the data's accuracy before processing a transfer to one of their customers — resembles a situation in which "you cannot take money out of your bank account to send to someone else until you share personal data with your financial institution about that person and verify their identity."
Art. 5 of the draft requires exchanges to report to the authorities every transfer from a non-customer's self-hosted wallet of at least EUR 1,000.
"The proposal even leaves the door open to a total ban on transfers to self-hosted wallets even though there is no evidence that such a ban would have any impact on illicit activity at all," Grewal said.
The European Commission has long been suspected of preparing a crypto know-your-customer 'trap'.
In the view of Adam Back, CEO of Canada-based blockchain technology firm Blockstream, the draft includes "Orwellian doublespeak."
"[L]et's just call wallets, wallets shall we," he said, adding that "the IOUs they can call hosted wallets if they want."
Some lawmakers in the US are also targeting "unhosted wallets."
"These terms are propaganda with sinister intent," Bitcoin educator and entrepreneur Andreas M. Antonopoulos said last year.
Meanwhile, Patrick Hansen, Head of Strategy and Business Development at Unstoppable Finance, argues that it is high time to ring the alarm bell one more time, as the European Parliament's Committee for Economic and Monetary Affairs (ECON) is scheduled to vote on the draft regulation this Thursday — potentially paving the way for further legislative work on the controversial measure.
Brussels' anti-money laundering package includes a revision of the TFR that could "extend the obligation of financial institutions to accompany transfers of funds with information on the payer and payee to cryptoassets," Hansen tweeted, adding:
The "latest draft compromise before the vote on Thursday introduced/aggravated some absolute red flags."
"Crypto's are extremely mobile and operate in a borderless world. This means that funds from unhosted wallets often come from unknown sources. And money going to unhosted wallets may end up in the wrong place, for example with terrorist groups," Paul Tang, a Member of the EP, said in a Twitter thread today.
According to him, "the identity of unhosted wallet-holders needs identification – just like you need to identify yourself when you deposit money at the bank."
Tang added that the volatility in the crypt market "makes a threshold in euro's difficult to enforce" and "'smurfing' allows for many small transfers to be coordinated so as to escape any threshold."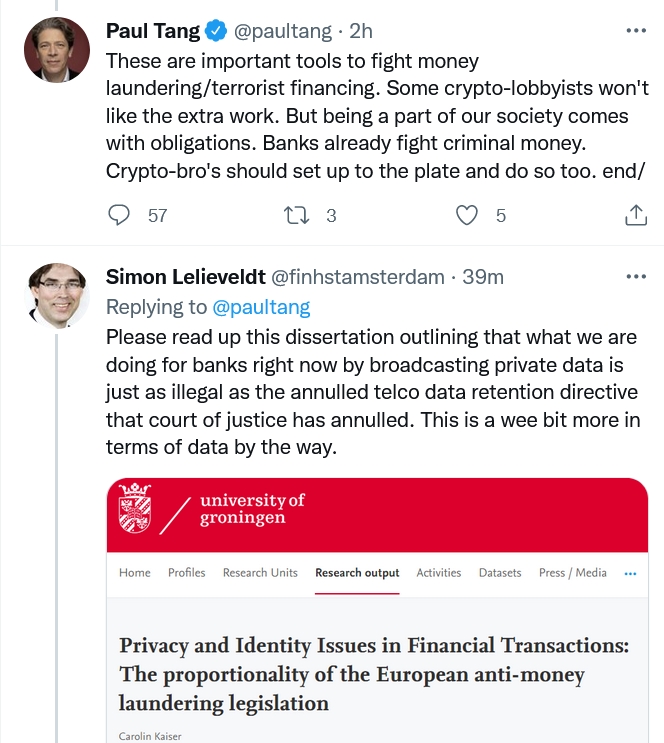 The big innovation of Bitcoin/blockchain was the ability to transfer value without an intermediary.

When I studied computer science in 1992, that was an unsolvable problem.

Hence the need for an intermediary which is the database storing the where the funds are now.

— CTO Larsson (@ctoLarsson) March 28, 2022
____
Learn more:
– 'Don't Be Lulled' as European Commission Mulls a Crypto KYC Trap
– EU Institutions to Continue MiCA Discussions Without Bitcoin Mining Ban Proposal

– Bitcoin and Ethereum Get Support in EU, Ban Idea Rejected
– European Commission Targets 'Crypto Wallets' And Citizens' Privacy

– European Commission Clarifies What It Means By 'Anonymous Crypto Wallets'
– These Are the Latest Crypto Regulatory Moves by US and EU
___
(Updated at 11:54 UTC with additional comments.)
---