Crypto Exchanges Might Be Getting Around 100K New Users Per Day - Analyst
While multiple companies sharing how many millions of new crypto users they've got recently, one popular crypto analyst made an estimation, how many new bitcoin (BTC) traders crypto exchanges might be getting per day.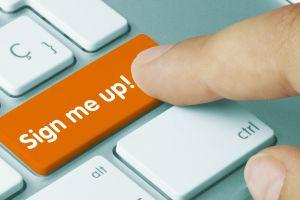 Willy Woo shared that, based on the data provided by on-chain analysis firm Glassnode and the Cambridge Centre for Alternative Finance, the number of new BTC users seen on the blockchain per day has been rising, as shown by the pink line on the chart.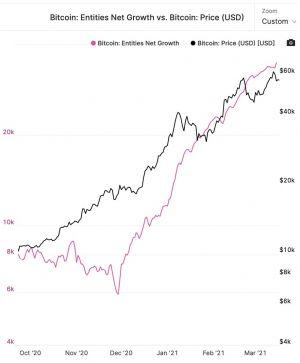 Woo continued, saying that,
"35,000 new users per day arriving on-chain. Which means exchanges are likely adopting an additional ~100,000 users per day right now."
In comparison, as reported, multi-asset social trading platform eToro, said yesterday that it added over 5m new registered users in 2020 and another 1.2m this past January alone, reaching the 20m users milestone. Also, Crypto.com, the Hong Kong-based firm, which provides crypto-related card, trading, and lending services, stated in February that it now has 10 million users, up from 5 million, a number it reached just several months ago. Meanwhile, Jack Dorsey's Square and its crypto-embracing Cash App mobile payments app revealed that "over three million customers" traded BTC on its platform in 2020, while January this year saw "more than 1 million customers" purchase bitcoin "for the first time."
Also, using Square and PayPal data as a proxy, retail investors have purchased over BTC 187,000 so far this quarter, compared to roughly 205,000 last quarter, Bloomberg reported, citing strategists at JPMorgan Chase & Co. Institutions have bought about BTC 173,000 over that time frame — as gathered by BTC futures, fund flows and company announcements — after buying nearly BTC 307,000 in the last quarter of 2020, the report added.
Meanwhile, country-specific surveys are also showing trends in crypto adoption.
Crypto Way in Norway
For example, a recent survey asking 1,020 Norwegians whether they owned bitcoin or any other cryptocurrencies revealed that 7% of them own crypto, wrote Vetle Lunde, an analyst at Arcane Research, a subsidiary of the Norwegian investment company Arcane Crypto.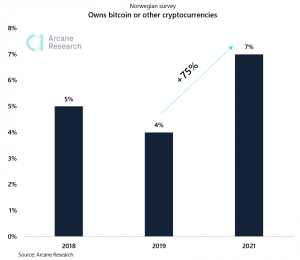 Lunde said that,
"This is analogous to around 300.000 Norwegians owning crypto, an increase of 75% since 2019."
The majority of these crypto holders are young adults (18-39 years old) as was to be expected, according to Lunde, while the older the respondents were, the less likely they owned any bitcoin. Still, 5% of those in the 40-49 age group said they owned crypto - up from 3% in 2019.
Furthermore, among those that currently own none, 4% indicated that they thought they would buy bitcoin in 2021.
11% of all men surveyed indicated that they owned crypto, up from 6%, while 3% of all females - same as last year - said the same.
Crypto ownership is far more widespread in urban areas, said the report, while there are no clear trends around annual income and crypto ownership.
____
Learn more:
- Bitcoin Snowball Is Expected To Hit More Institutions in 2021
- Not Only Bitcoin Price Is Changing During This Bull Run
- Crypto Adoption in 2021: Bitcoin Rules, Ethereum Grows & Faces Rivals
- Not Only Institutional Investors Focus On Bitcoin Now - Goldman Sachs
- CFOs and Financial Advisors Have Different Concerns About Bitcoin
- Investors Still Prefer Stocks To Bitcoin, But BTC Wins Over Gold - Survey
---