Crypto ETP Comes Ahead of ETF: Why it's Important
The world's first multi-crypto exchange-traded product (ETP), developed by Swiss startup Amun, is coming to the SIX Swiss Exchange - a move that the community believes could speed up the adoption of an exchange-traded fund (ETF) as well.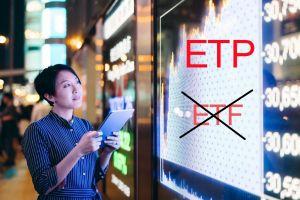 The ETP, to be listed under the index HODL5 within this week, will track the five major cryptocurrencies: Bitcoin, Ripple, Ethereum, Bitcoin Cash and Litecoin, which will all make up a percentage correlating to their market share - similar to a weighted cryptocurrency basket. Bitcoin now accounts for almost half of it, Ripple has around 30%, Ethereum almost 16%, and Bitcoin Cash, and Litecoin each around 3%.
"The index covers the largest and most liquid tokens, weighted by their forecasted 2050 market capitalization," according to its index guide. Also, they said they'd refuse to include any cryptocurrencies that are tied to fiat (like stablecoins), designed to be anonymous (privacy coins), lack sufficient liquidity, trade on non-reputable exchanges, or have been traded for less than six months.
However, it has mistakenly been reported by various sources that this is an ETF. In several cases, articles shared on social media changed the original title from ETP to ETF, although there is a difference.
ETPs represent a type of security that is priced derivatively and trades intraday on a national securities exchange. Investment tools such as a commodity, a currency, a share price, or an interest rate are parts of an ETP. ETPs can reportedly be actively managed funds, including exchange-traded funds (ETFs), and others. This is a passive investment, which sets it apart from ETFs.
The Amun ETP is conceptually similar to an ETF in the sense that it allows both institutional investors and accredited retail traders to invest in digital assets without the necessity of custodians and dealing with additional regulatory hurdles. But to increase the chance of the US Securities and Exchange Commission (SEC) approving an ETF, companies that apply with them must prove that the cryptocurrency futures market is stable enough - something an ETP doesn't have to do, as an ETP already exists in the US market in the form of Grayscale Investment's Bitcoin Investment Trust.
With the confusion between ETFs and ETPs additionally murking the waters, the community's reactions are spanning from, "I'm still just sitting here wondering why anyone here wants a [cryptocurrency] ETF…" by Reddit user u/Pantzzzzless, to, "Interesting move, really excited to see how it will impact the prices," by u/tokenware. However, given that many are hurrying to point out that this is still not an SEC-approved ETF, many are cautious in their optimism - at least until the first results of the trading start to come in.
---