Crypto Emporium Review 2023 – Best Place to Spend Bitcoin?
Disclosure: Crypto is a high-risk asset class. This article is provided for informational purposes and does not constitute investment advice. By using this website, you agree to our terms and conditions. We may utilise affiliate links within our content, and receive commission.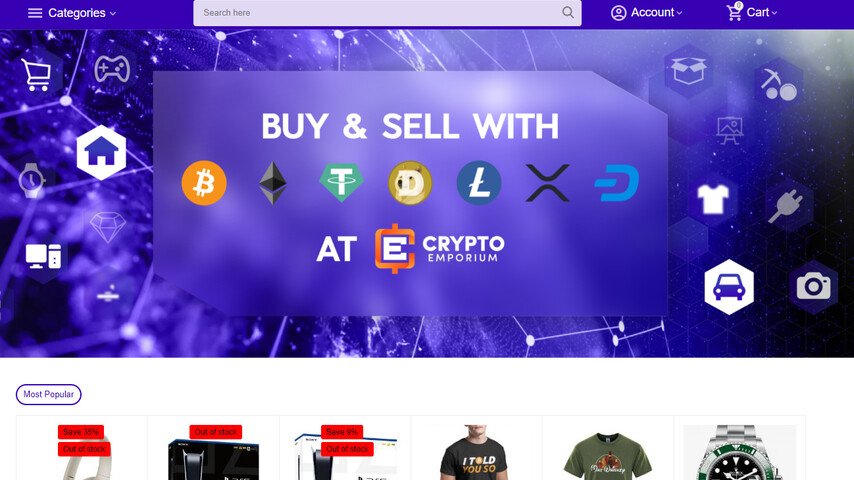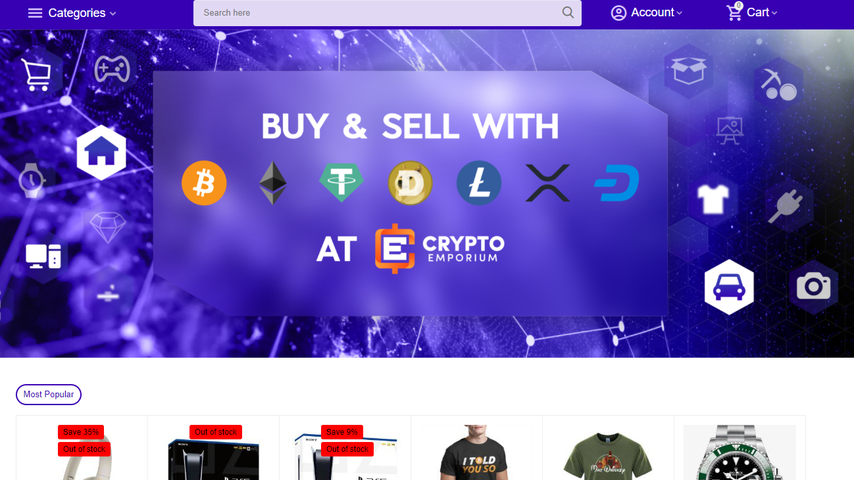 Disclaimer: The Industry Talk section features insights by crypto industry players and is not a part of the editorial content of Cryptonews.com.
Looking for an online store that accepts cryptocurrencies? Crypto Emporium is an established retailer that allows users to buy a wide range of products with Bitcoin, Ethereum, and other altcoins.
In this Crypto Emporium review, we cover everything there is to know about this e-commerce site – including its products, features, fees, security, and customer support.
What is Crypto Emporium?
Crypto Emporium is an e-commerce platform that allows customers to use their digital currencies for online purchases. With a vast selection of products, the platform has quickly become a trusted destination for crypto users worldwide. It also accepts Dogecoin allowing users to buy products with Bitcoin and other leading cryptocurrencies, such as XRP, DOGE, Tether, Ethereum, and more.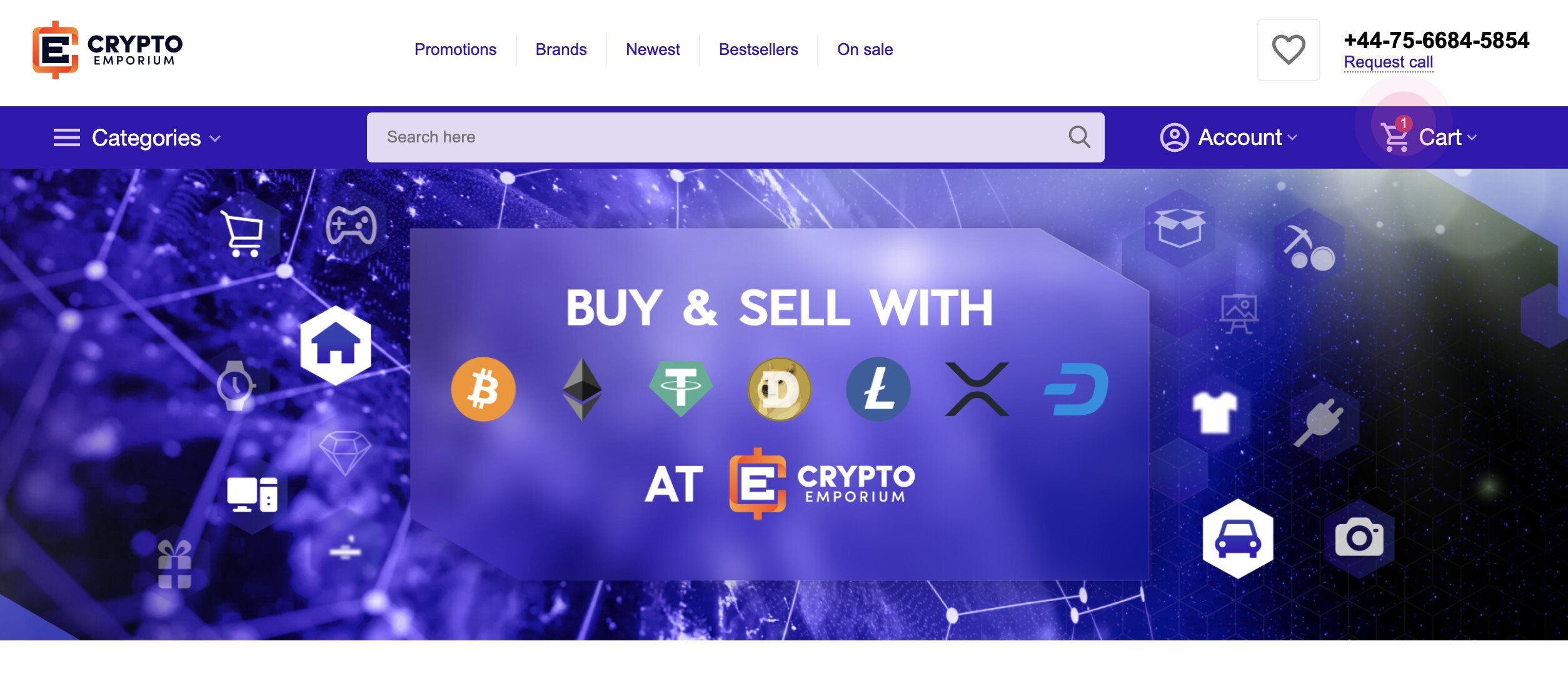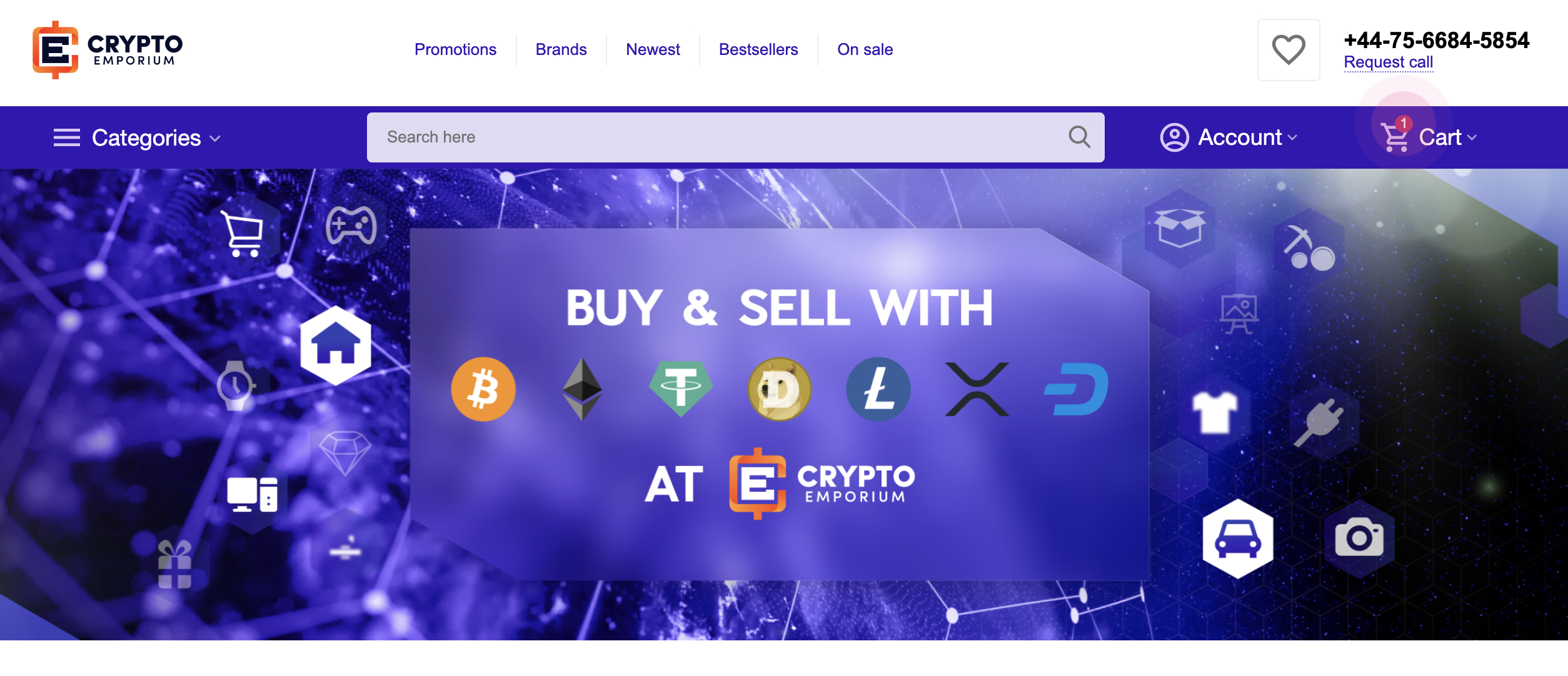 In fact, Crypto Emporium is one of the few online marketplaces that takes payments exclusively in cryptocurrencies. It serves over 125 countries, delivering products right to the doorsteps of customers. The platform launched as a private luxury marketplace in 2018 and has now become an established crypto marketplace offering a variety of high-end products.
Today, customers can buy cars, motorbikes, watches, yachts, clothes, electronics, merchandise, and even property. Moreover, Crypto Emporium also places a strong emphasis on user experience and security, ensuring that customers can make purchases confidently and safely.
How Does the Crypto Emporium Store Work?
In a nutshell, Crypto Emporium works like any other e-commerce site. The website allows customers to browse, search for, and purchase a wide assortment of products. The main difference is that at the time of checking out, the payment will be made with cryptocurrencies.
When a shopper finds a product they wish to purchase on Crypto Emporium, they add it to their virtual shopping cart and proceed to the checkout page.
At checkout, customers can select their preferred cryptocurrency and make the transfer to the displayed crypto wallet address.
Crypto Emporium then processes the payment, and the vendor ships the product directly to the customer.
The entire process will be completed within a matter of minutes. As with other e-commerce platforms, buyers will also be able to track their orders and delivery timeframes. Furthermore, Crypto Emporium also functions as a peer-to-peer marketplace.
This means that users can sign up as sellers and list their own products. Crypto Emporium offers membership plans that allow sellers to list up to 10,000 products at a time. In return, Crypto Emporium will levy a commission of between 2.8% and 3.2%, depending on the membership plan.
What Products Are Available At Crypto Emporium?
With the growing popularity of cryptocurrencies, many investors are considering what can you buy with Bitcoin. Crypto Emporium serves as the perfect hub for spending Bitcoin and other cryptocurrencies.
Our Crypto Emporium review found that users can buy the following products via the platform.
Watches
Crypto Emporium stands out with its selection of luxury watches, but how do you buy watches with Bitcoin in 2023? Customers can find some of the most exclusive brands, such as Rolex, Richard Mille, Patek Phillippe, Omega, Blancpain, Hublot, Audemars Piguet, and more.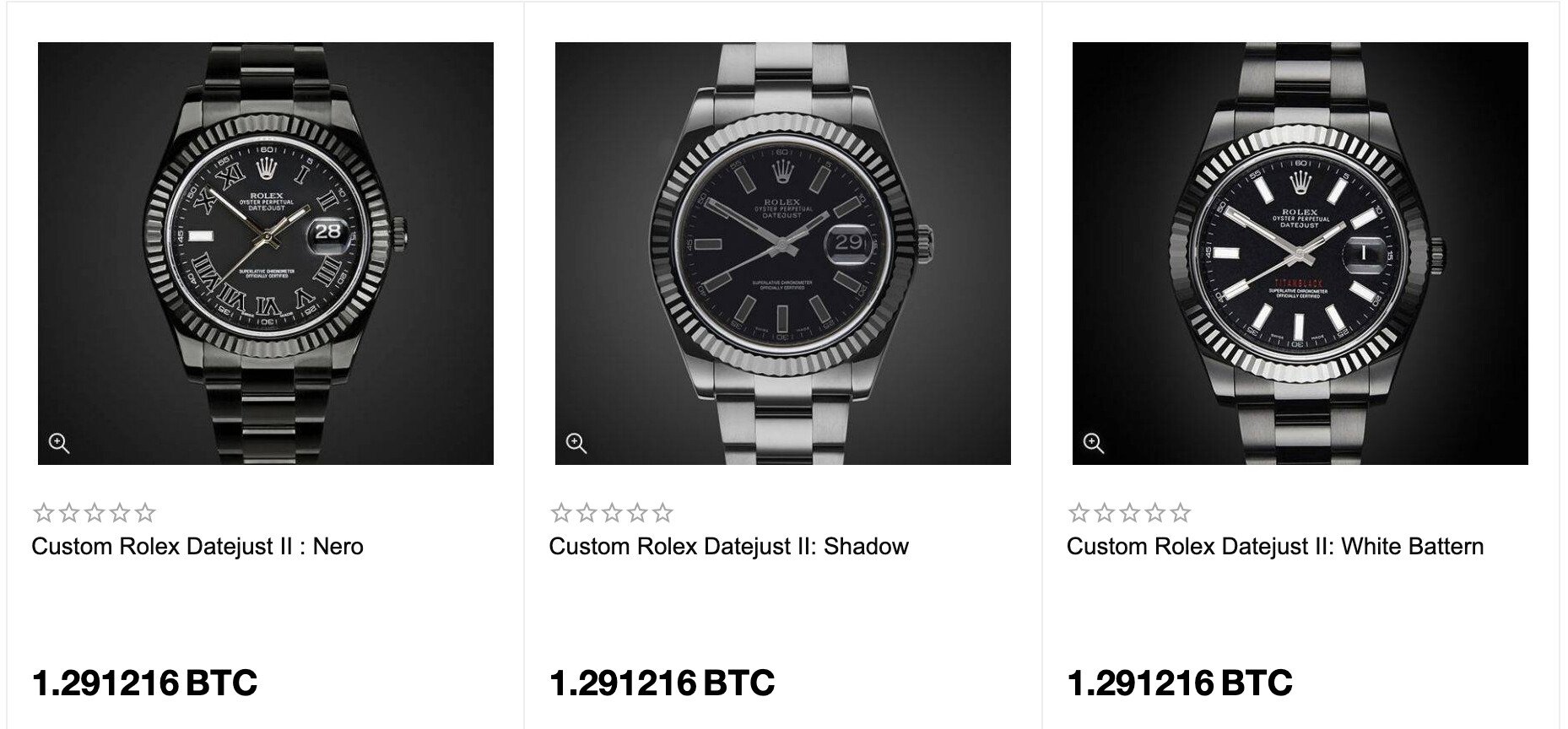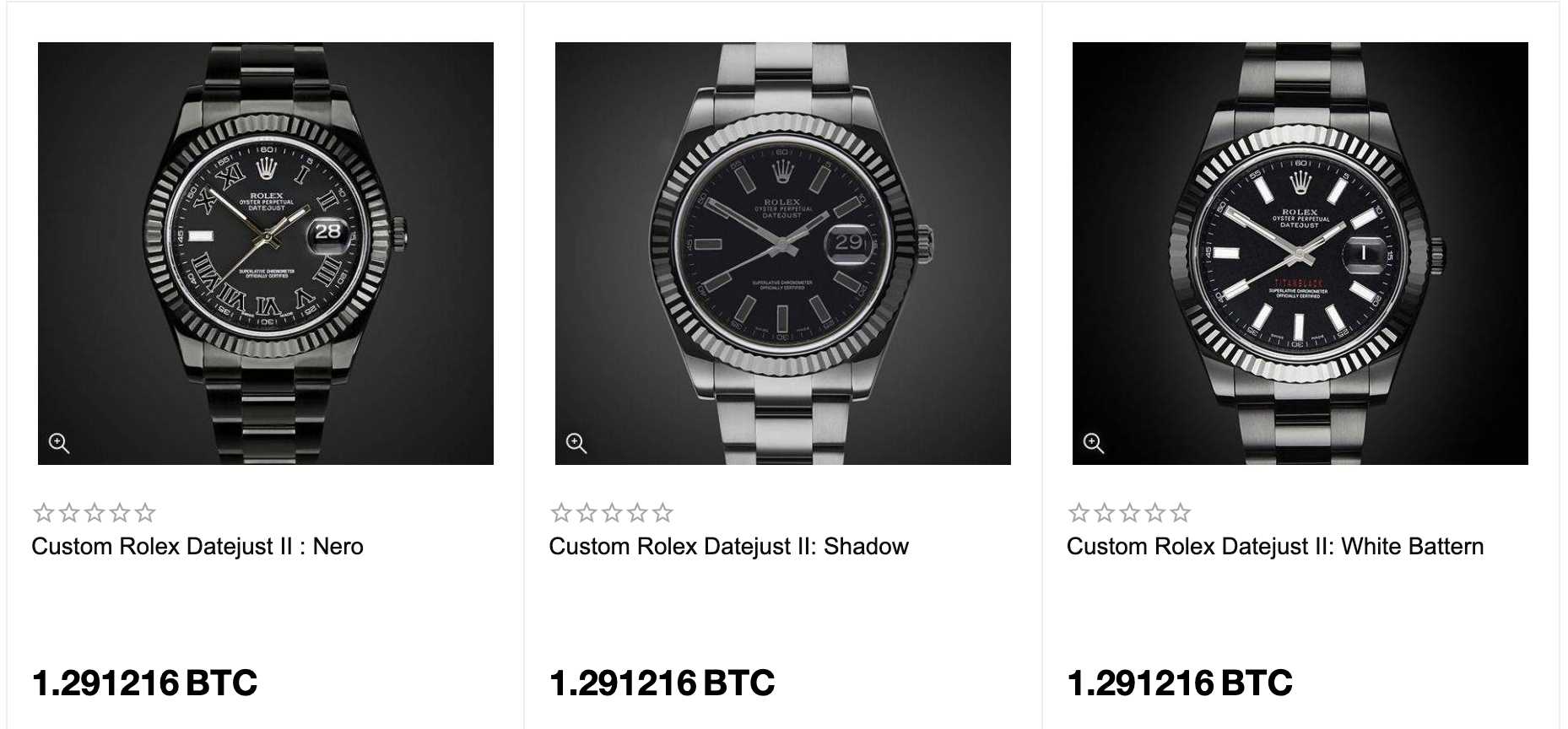 The platform allows users to purchase both new and pre-owned luxury timepieces using cryptocurrencies. Customers can also find detailed descriptions of each product, along with their features. Crypto Emporium will also include the vendor's contact details and rating for further verification.
Electronics
Consumers also flood to Crypto Emporium to buy electronic items at competitive prices. The platform lists a variety of brands and models, ranging from budget-friendly options to high-end and premium products. For instance, customers can find products from popular brands like Apple, Samsung, Sony, HP, and more.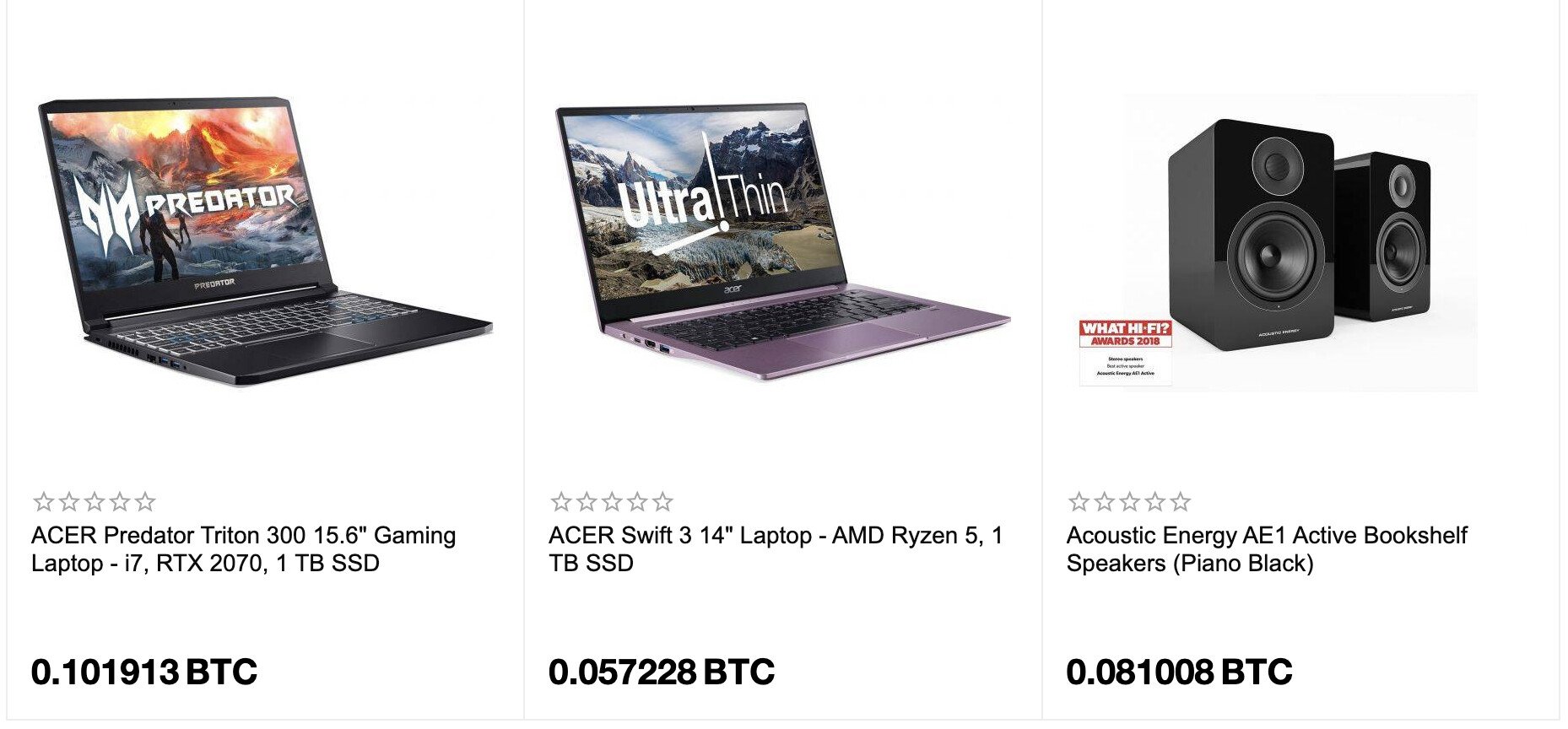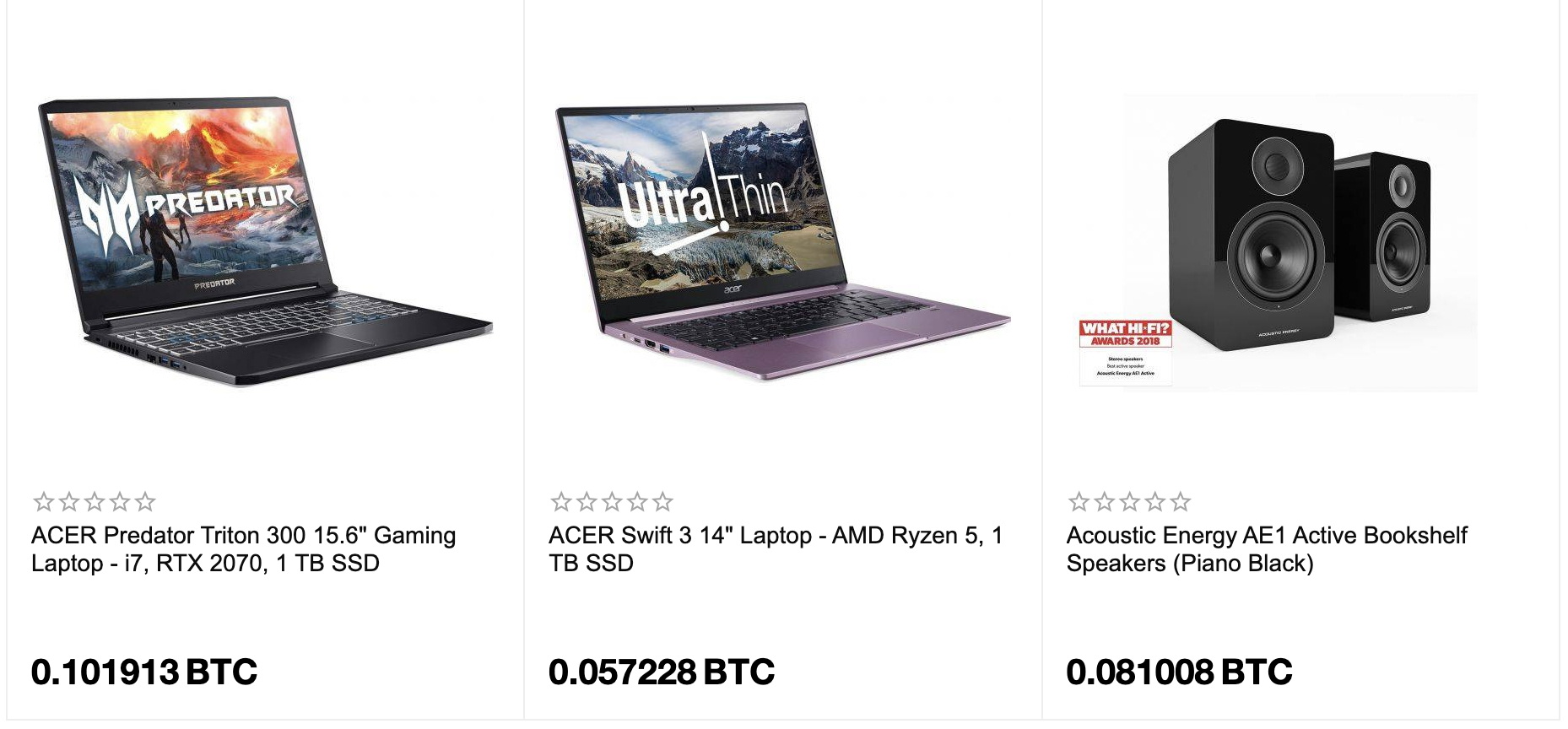 The electronic items available include mobile phones, computers, speakers, cameras, drones, and other gadgets. In addition to offering a diverse selection of electronics, Crypto Emporium also provides customers with a wealth of information regarding each product.
Game Consoles
Crypto Emporium also has a video game section that features game consoles. This includes some of the latest gadgets from popular brands like Microsoft, Sony, and Nintendo. Customers can also purchase controllers, accessories, and the latest games compatible with the different types of consoles.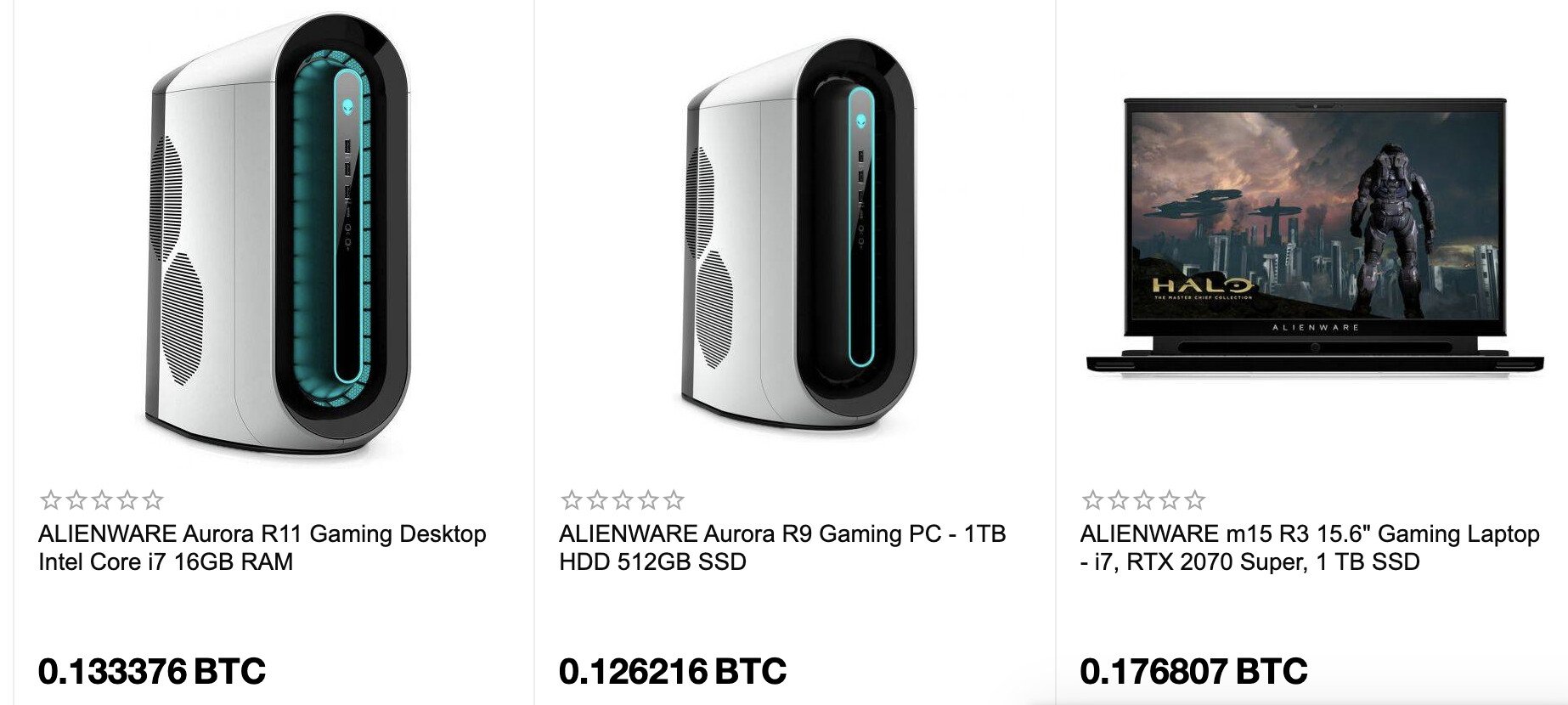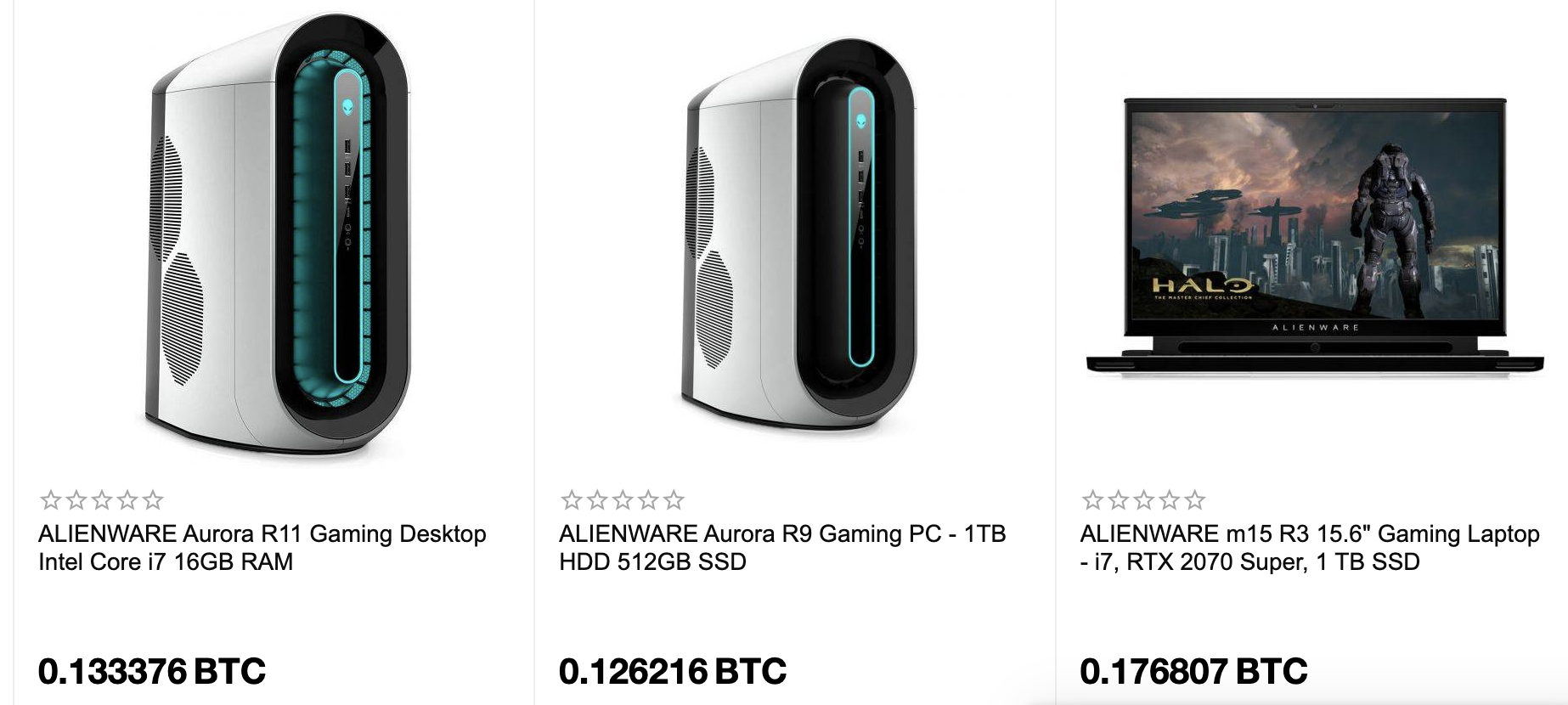 Some of the trending gaming consoles on Crypto Emporium are the Alienware Aurora device and the PlayStation 5. We also found a selection of video games, such as Call of Duty.
Clothes and Bags
In the luxury goods market, 22.4% of total revenue will be generated through online sales this year. And not so surprisingly, fashion is one of the fastest-growing segments of the luxury market. Crypto Emporium capitalizes on this trend by offering an extensive selection of luxury clothing and accessories for men, women, and children.
The fashion library includes formal wear, casual wear, athletic wear, shoes, bags, and more. The platform's clothing and accessories section also features seasonal collections, fashion trends, and popular brands from around the world.
Jewelry
Jewelry is also one of the best things to buy with Bitcoin. For instance, Crypto Emporium features an array of diamond jewelry available as rings, necklaces, earrings, and more. We also found jewelry made of other rare, precious stones, such as Amethyst.
Crypto Emporium also features a handful of jewelry and accessories designed by the popular brand Balenciaga. And do note that this platform also has a stunning range of accessories for both men and women.
Cars
Crypto Emporium prides itself on being one of the first online retailers to offer luxury automobiles in exchange for cryptocurrencies. Users can find both new and used cars on this website. We noticed that the majority of products listed are vintage models from the likes of Aston Martin, Porsche, Ferrari, Rolls Royce, and more.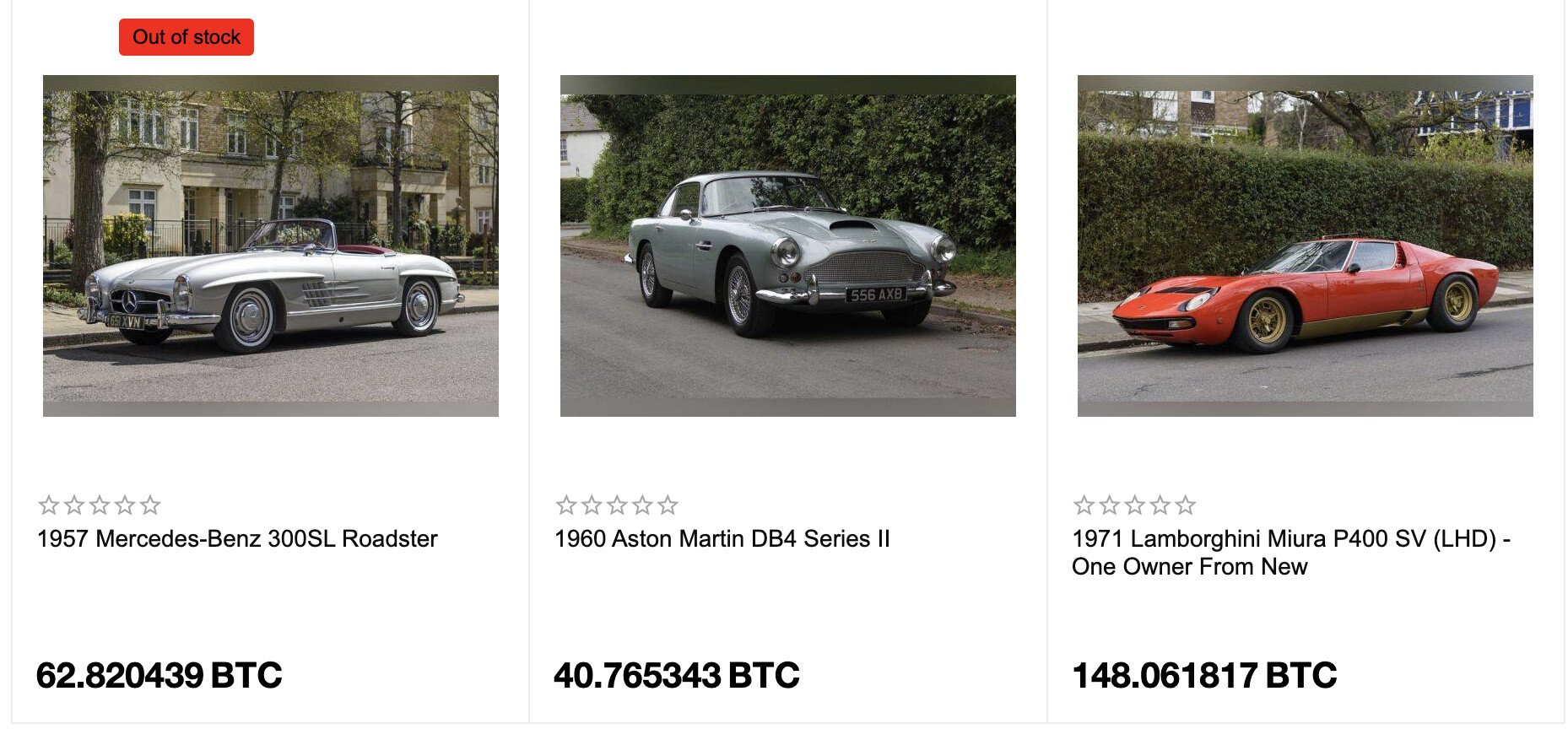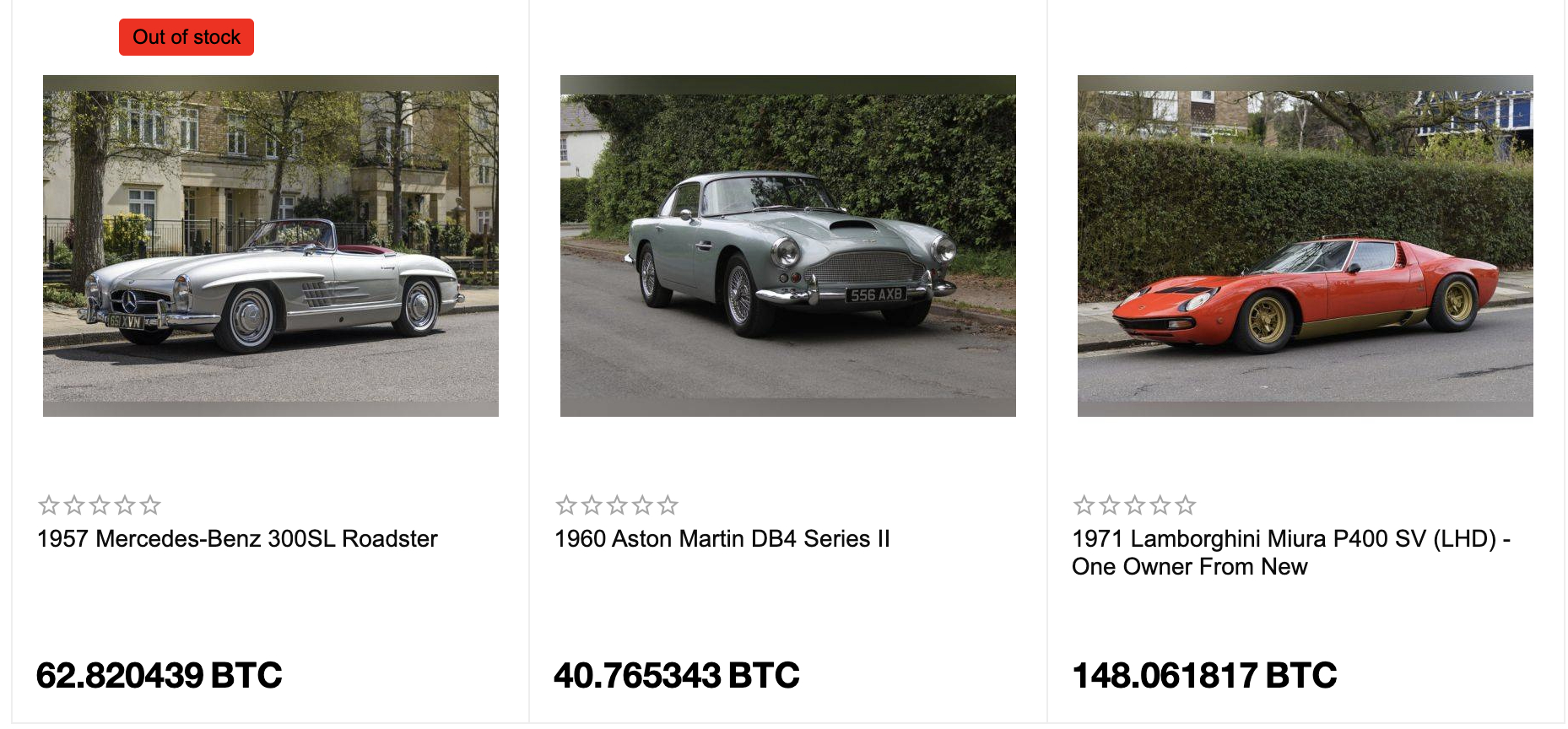 We were also impressed by the amount of information accompanying each vehicle. In addition to images, the website provides data on the origin of each car, the history of its usage, and any modifications made. Customers can also contact Crypto Emporium directly to learn more about a specific listing.
Cars aren't the only luxury automobiles available on Crypto Emporium. The platform also accepts Bitcoin for motorcycles, vans, and trucks. Automobile enthusiasts can find brands such as Honda, KTM, Ducati, and Harley Davidson.
Artwork
It is pretty easy to buy artwork in the form of NFTs with cryptocurrencies these days. However, Crypto Emporium is one of the few platforms that allow crypto investors to buy physical artwork directly with Bitcoin, Ethereum, and other digital assets. The platform features paintings, photographs, drawings, scriptures, and prints.
Users will also be able to narrow their choices based on the medium of art as well as the theme. Buyers can even find an interesting selection of crypto art on this marketplace. The prices vary widely depending on the artwork and the artist.
Property
If you're wondering how to buy a house with Bitcoin then this next section covers everything you need to know about buying real estate via Crypto Emporium. Our Crypto Emporium review also found that the platform supports real estate investments with cryptocurrencies. It lists multiple properties from across the world. Some of the top listings include luxury apartments in Greece, the UK, Italy, Argentina, and dozens of other countries.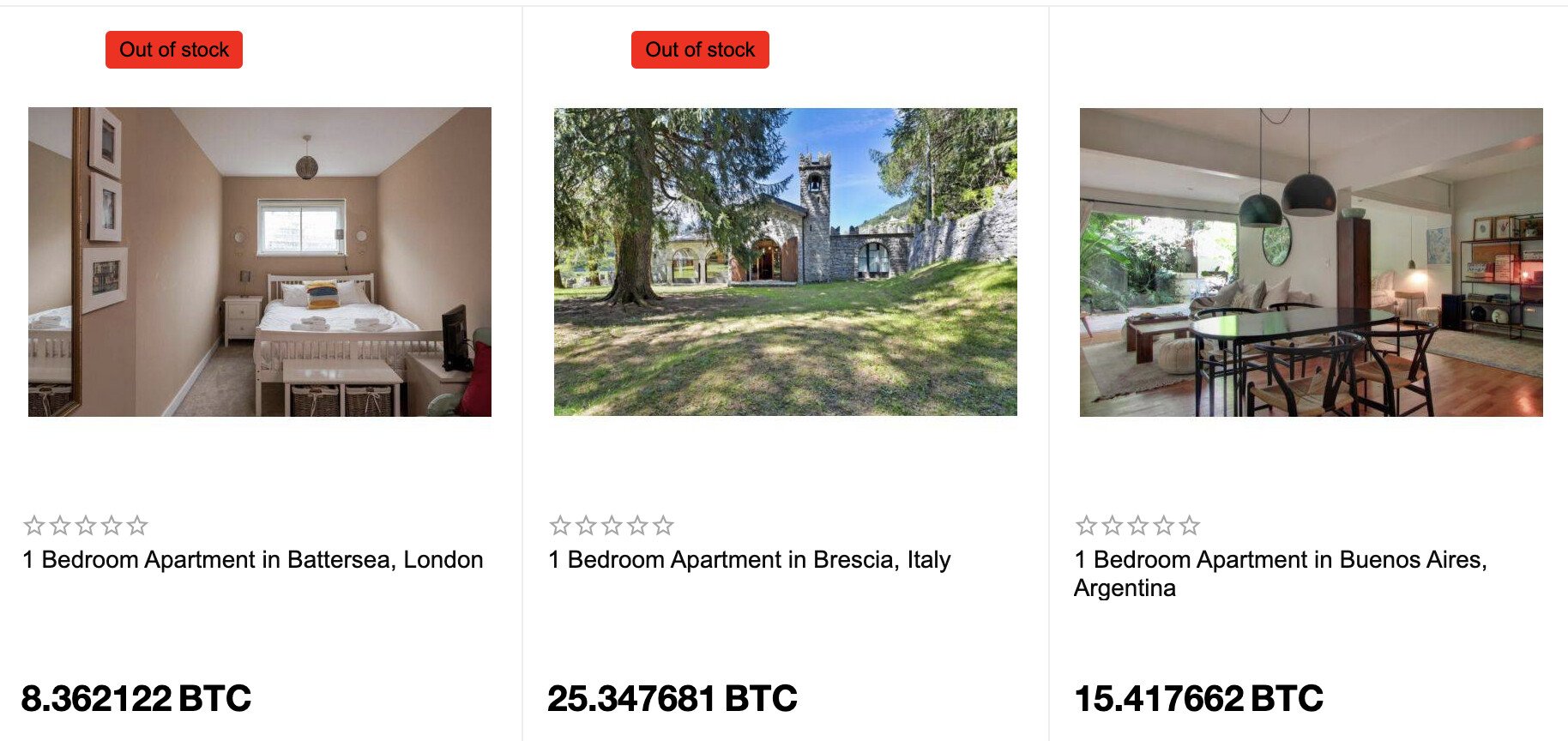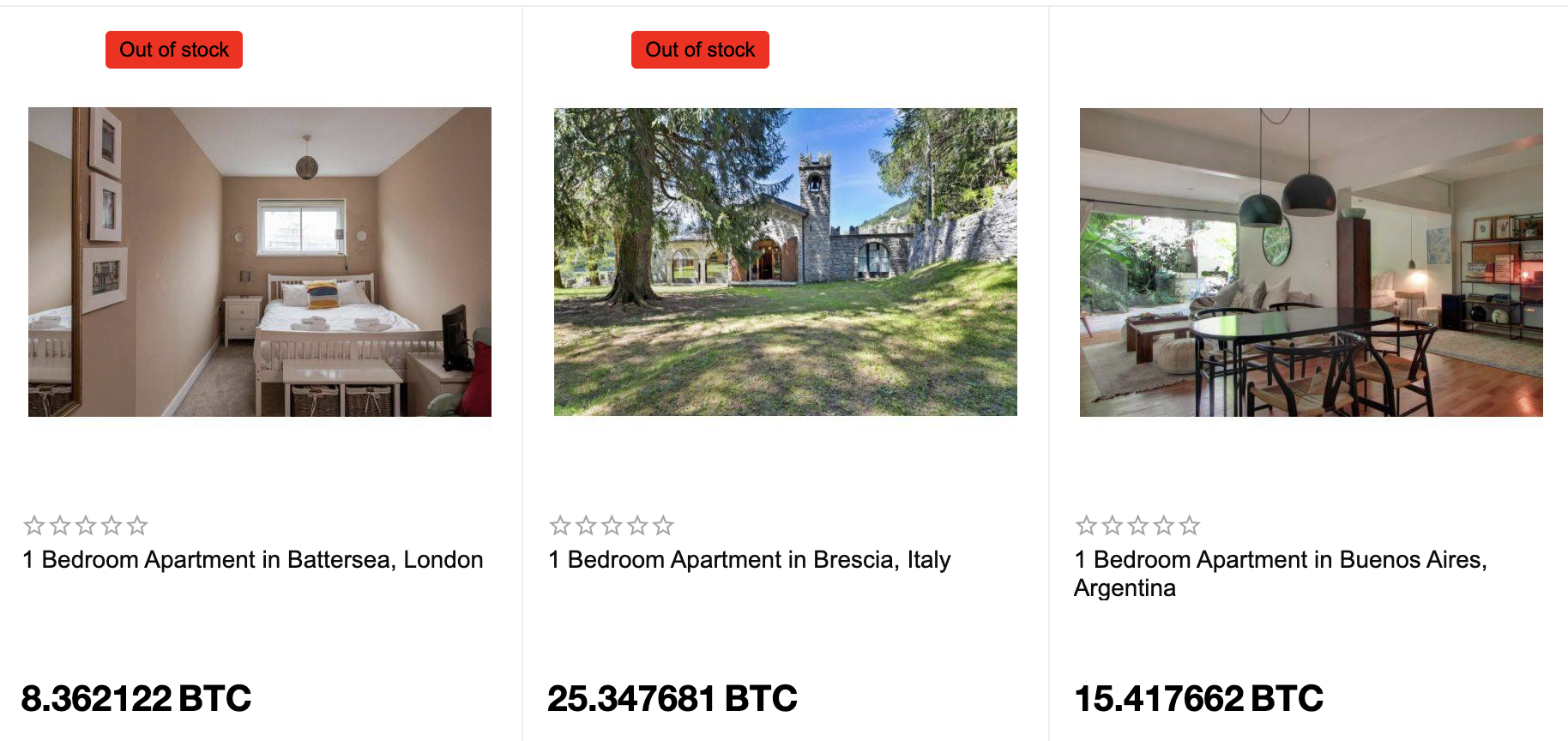 Crypto Emporium also arranges local legal support and surveyors to assist buyers with purchasing properties. Moreover, the platform also handles sales negotiations and processes. However, buyers will have to bear the additional cost of property taxes, registration fees, insurance, and any other expenses.
Crypto Mining Setups
Looking to invest in Bitcoin mining equipment using cryptocurrencies? Crypto Emporium can help with that too. The platform allows users to buy equipment such as ASIC and GPU miners, rigs, and other accessories. This includes power supplies, directly through the marketplace.
Crypto Emporium has listings from reputable sellers all over the world. This means that customers do not need to pay exorbitant shipping fees when buying mining equipment.
Online Courses
When compiling this Crypto Emporium review, we found that the platform has a rare selection of online courses catering to artificial intelligence and machine learning. Its courses come in the format of on-demand video.
The platform also offers detailed descriptions of the features of each course, along with the topics covered. Buying an online course allows users to access the study material whenever they want and complete the program at their own pace.
Other Products
Still wondering what you can buy with Ethereum and other altcoins in 2023? Apart from the categories mentioned above, customers can also find the following at Crypto Emporium:
eBooks
Music & Video
Toys & Gadgets
Scooters & Micro-mobility
Sports & Leisure
Bicycles & eBikes
Health & Beauty
Home & Garden
Pet Products
Travel
Collectibles
Arcade Games
Health Supplements
Needless to say, there are hundreds of products listed across these sections. Users can filter the products based on brands, price range, type of product, and more.
Crypto Emporium – Charges & Fees
Crypto Emporium does not charge any fees for customers to create an account or use its services. However, customers must pay standard service and shipping fees, as found on most e-commerce websites. The service fee comes to 0.87%, whereas the shipping costs vary depending on the location and the product.
Additionally, customers are also liable to pay any customs fees or taxes incurred when importing a product to their home country. For those interested in how to avoid crypto taxes, our comprehensive guide covers everything you'll ever need to know. Nevertheless, Crypto Emporium is transparent regarding these charges, and customers will be able to review the fees when checking out.
Crypto Emporium Membership Plans for Sellers
As we noted above, Crypto Emporium also accepts sellers. To become a seller, users have to choose between one of the two membership plans – Basic and Premium.
The Basic plan requires a one-time payment of $40 (crypto equivalent) and allows users to list up to 20 items.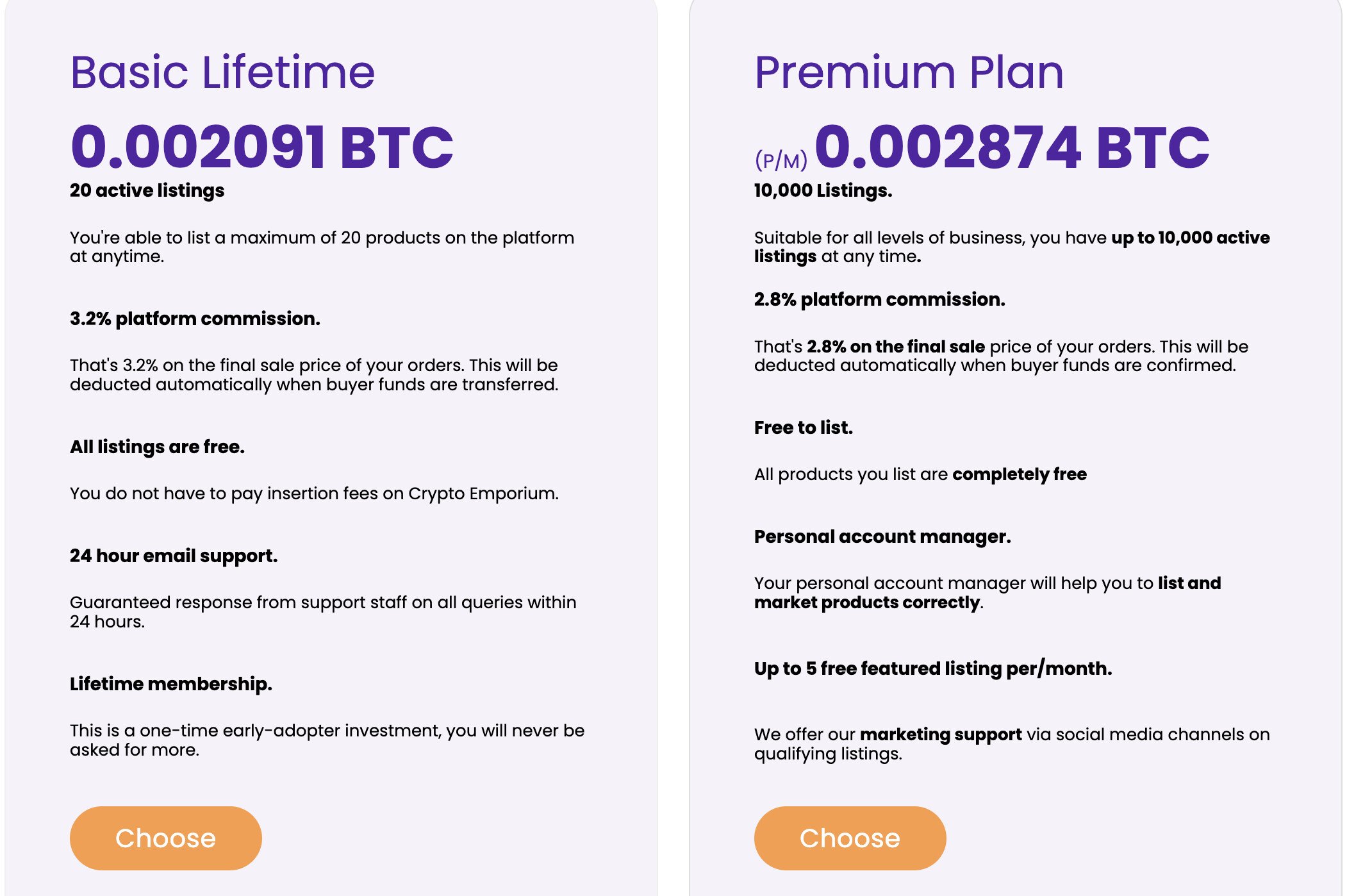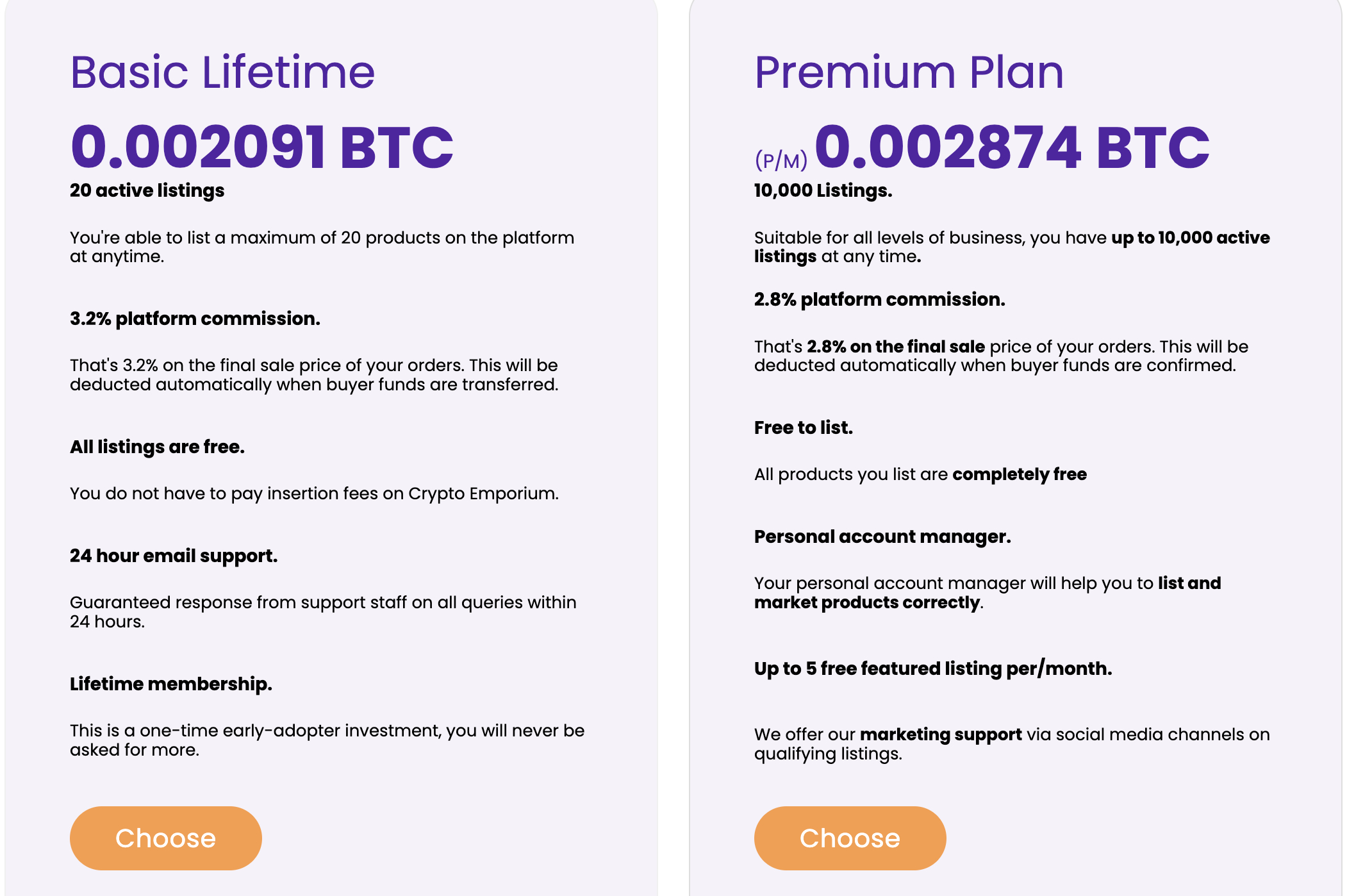 On the other hand, the Premium packages support up to 10,000 listings. While this is slightly more expensive at $55, sellers will pay a commission of just 2.8%. On the basic plan, the commission amounts to 3.2%.
Is Crypto Emporium A Legitimate Platform?
According to CNBC, financial experts believe that the crypto market could test new highs this year. However, mainstream adoption has also led to many crypto-related scams. As such, when compiling this Crypto Emporium review, we paid extra attention to the security of the e-commerce website.
We found that Crypto Emporium is a legitimate e-commerce platform for crypto enthusiasts. After all, it's been in business since 2018.
Moreover, the platform doesn't require any private wallet information from users. This is because it facilitates direct crypto transfers, so users only need to ensure the security of their own private wallets.
How to Contact Crypto Emporium Customer Support?
We found Crypto Emporium's customer support to be highly responsive and helpful. Each user can track their orders directly from their account dashboards. Additionally, the platform also offers multiple channels for users to reach out to customer support, including email and live chat.
Customers can expect prompt and friendly responses 24/7. Moreover, Crypto Emporium also lists a phone number on its website. Users can also request a callback and specify a convenient time slot to talk to a customer support agent directly.
On top of this, customers can also engage with Crypto Emporium via Twitter, Telegram, and other social media platforms.
Crypto Emporium Reward Program
Crypto Emporium offers rewards to customers who make purchases on its marketplace using Bitcoin and other cryptocurrencies. Customers can earn 4% of the total order value as reward points. The rewards are offered in the form of Emporium Cash, the platform's native utility token.
Emporium Cash rewards can be collected after 30 days of making the purchase. The rewards will be sent directly to the customer's wallet. Interestingly, during promotional periods, customers can receive up to 100% back in rewards points.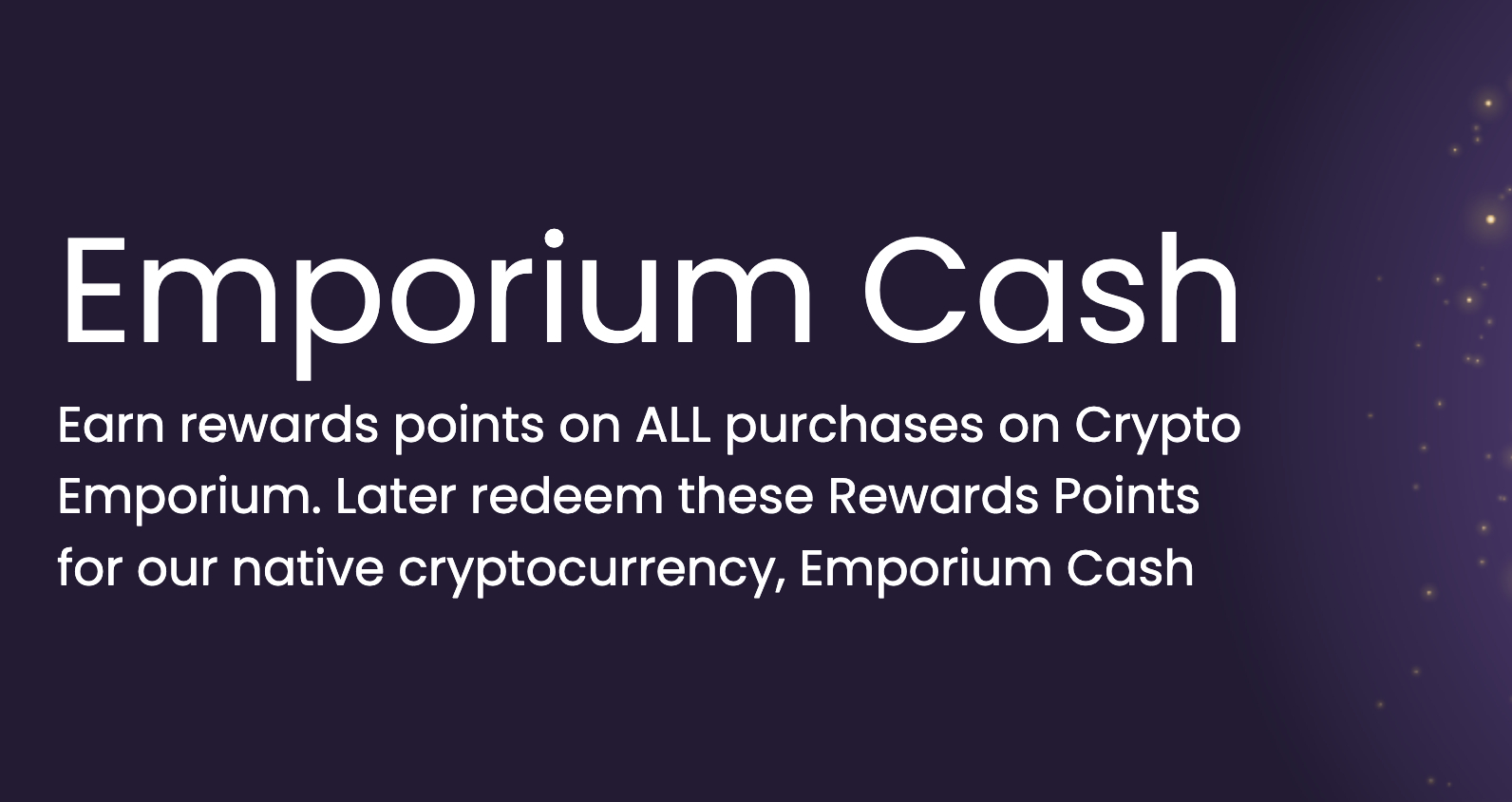 Crypto Emporium is still working on the launch of Emporium Cash tokens. According to the platform, customers will be able to use their Emporium Cash tokens for staking, governance, and trading in the future.
Moreover, Crypto Emporium also plans to run monthly giveaways and competitions for its native token holders.
Crypto Emporium Referral Bonuses & Rewards
Aside from the reward points, Crypto Emporium also features promotions and sales. Customers can often find luxury products such as cars, watches, and even high-end gadgets on sale, with discounts of over 20%. Promotions change every day, so it's worth keeping an eye out for the latest offers.
Crypto Emporium Referral Bonus
Customers of Crypto Emporium can also set up passive income streams by taking advantage of its uncapped affiliate program. Simply spread the word about the platform, and users will receive a commission every time their referrals make a purchase.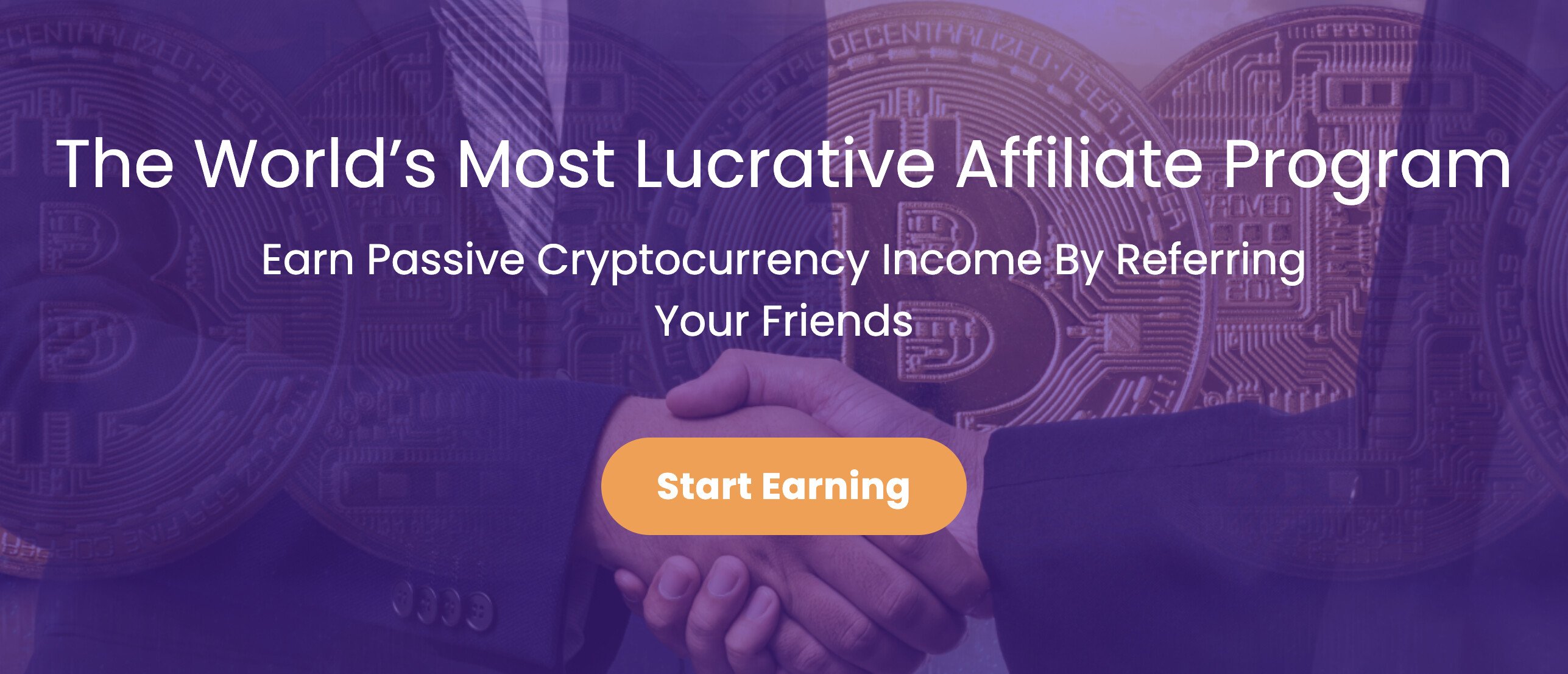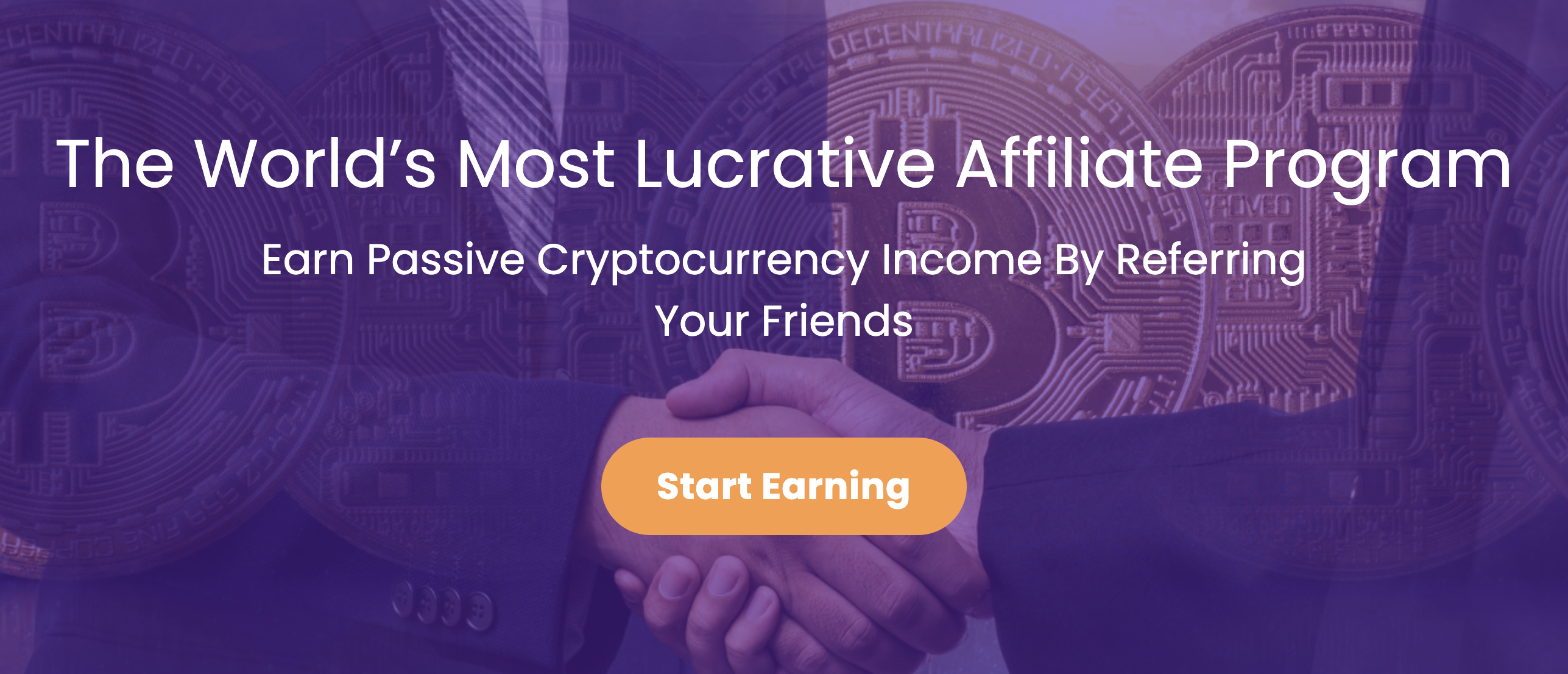 Additionally, the multi-tiered affiliate structure offers an additional commission on all orders made by a referral's subsequent affiliates. This way, users can maximize their earnings with a growing network. In addition to this, Crypto Emporium also offers monthly rewards to top affiliates.
The process of becoming an affiliate of Crypto Emporium is very simple.
Once customers are logged into their account, they can find their unique affiliate link.
Users can then share their affiliate link with friends and family.
Every time an individual signs up and buys something using the affiliate link, they become a referral.
This means the affiliate receives a commission on all of their purchases.
The commission earned depends on the product. Crypto Emporium also offers higher commissions for luxury products such as cars and property. The rewards are paid out every month to the affiliate's wallet.
Welcome Bonus
As of writing, Crypto Emporium doesn't offer any welcome bonuses to new customers. However, there are often exciting promotions going on that offer huge discounts.
Which Payment Methods Are Accepted by Crypto Emporium?
In addition to Bitcoin, Crypto Emporium accepts many of the best altcoins in the market. This includes Ethereum, Tether, Dogecoin, Litecoin, and more. However, unlike many other crypto-based e-commerce websites, Crypto Emporium doesn't require users to connect their digital wallet to the platform.
Instead, at the time of making a purchase, customers simply have to transfer their cryptocurrencies to the displayed wallet address. This means that there is no need to worry about minimum deposits.
Users only need to transfer the exact amount in their chosen cryptocurrency to complete the payment. Depending on the chosen cryptocurrency, the processing time varies between 10 to 45 minutes.
Crypto Emporium Accepted Cryptocurrencies
Bitcoin
Ethereum
Tether
Dogecoin
Litecoin
Dash
Ripple
Is Crypto Emporium Secure to Use?
Crypto Emporium is a company based in Tallinn, Estonia. The platform has included a valid business address and a phone number on its website.
Moreover, we found many positive reviews on third-party platforms that suggest Crypto Emporium takes client protection seriously. And of course, Crypto Emporium is an established retailer that was launched in 2018.
Crypto Emporium Customer Service Review
As we noted above, Crypto Emporium provides excellent support for users who need assistance. Its customer service representatives go above and beyond to resolve any issues that may arise. In addition to being responsive, Crypto Emporium's customer support team is also knowledgeable and informative.
Representatives are well-versed in the platform's features and policies, providing users with clear and concise information when needed. This level of expertise is especially valuable for users who are new to the platform or new to cryptocurrencies in general.
How to Start Shopping on Crypto Emporium Using Cryptocurrencies
Before concluding this Crypto Emporium review, we have included a step-by-step explanation of how to buy products via this platform.
Step 1: Create an Account
Start by visiting the Crypto Emporium website to create an account. Customers can register as a new user by providing their full name, phone number, and email address.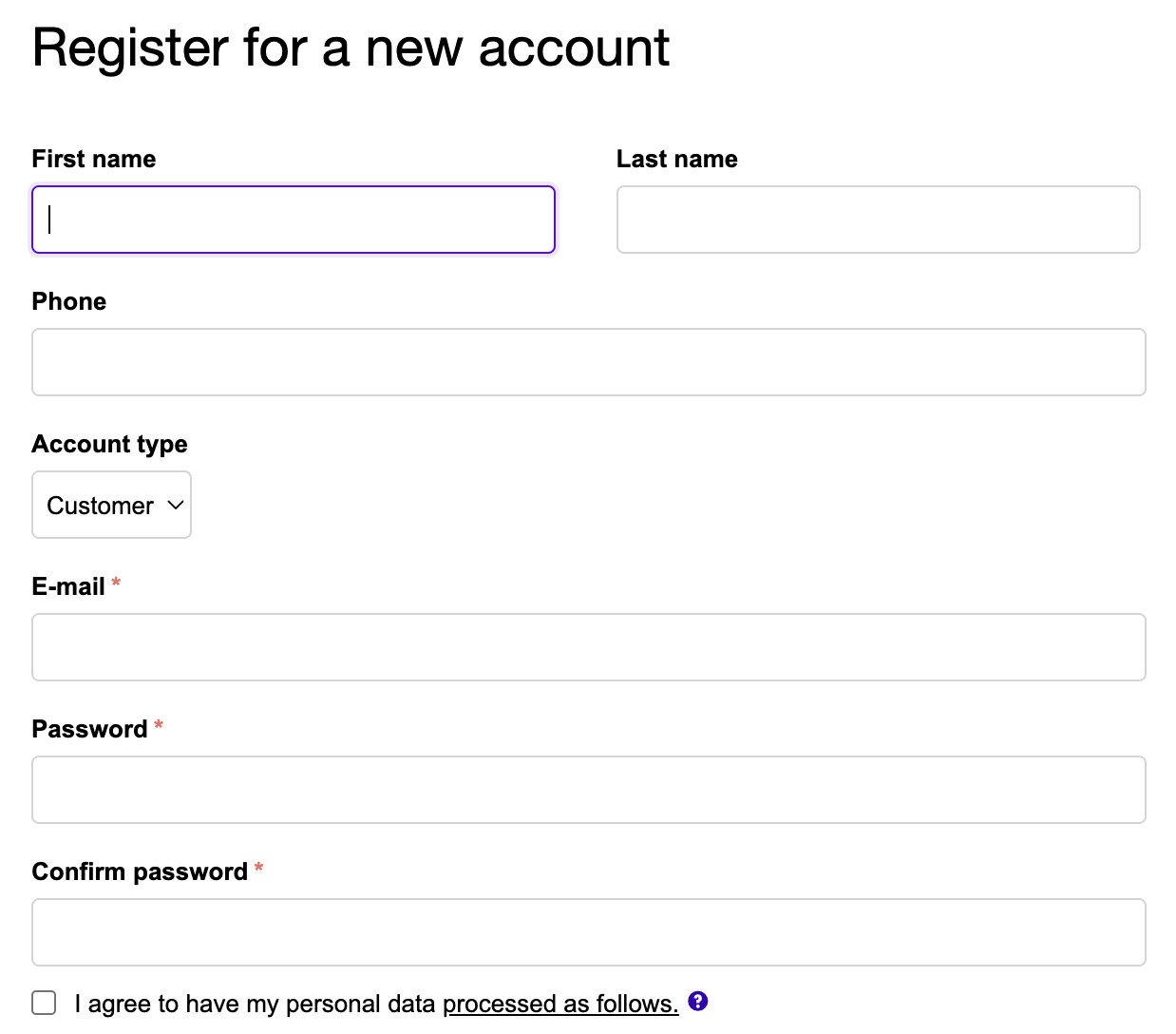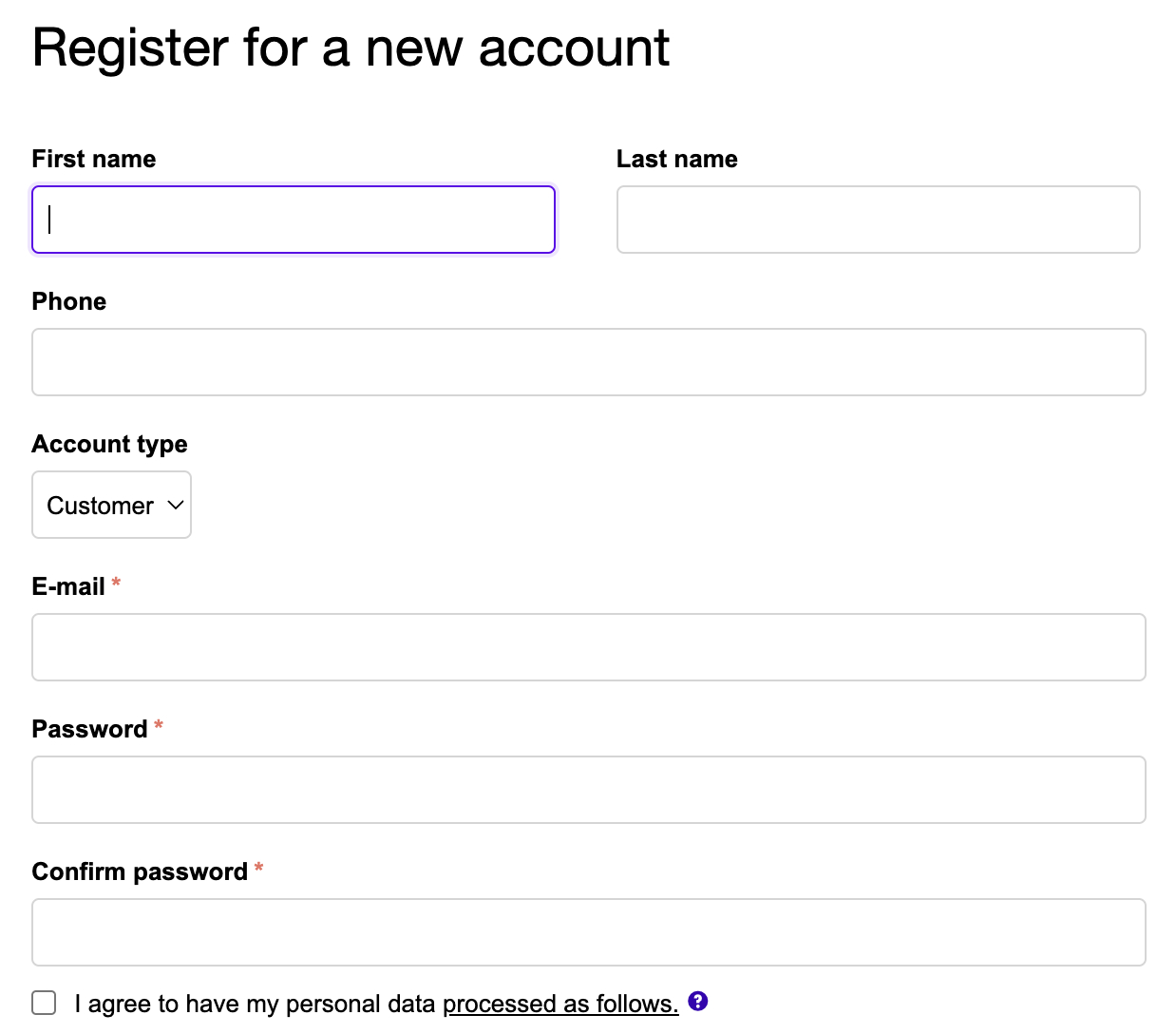 Users will then receive an email with a link to verify and activate their account.
Step 2 – Browse for Products
Then users can browse the products that are available for purchase. As discussed above, customers can find thousands of luxury goods such as watches, jewelry, cars, art, and much more.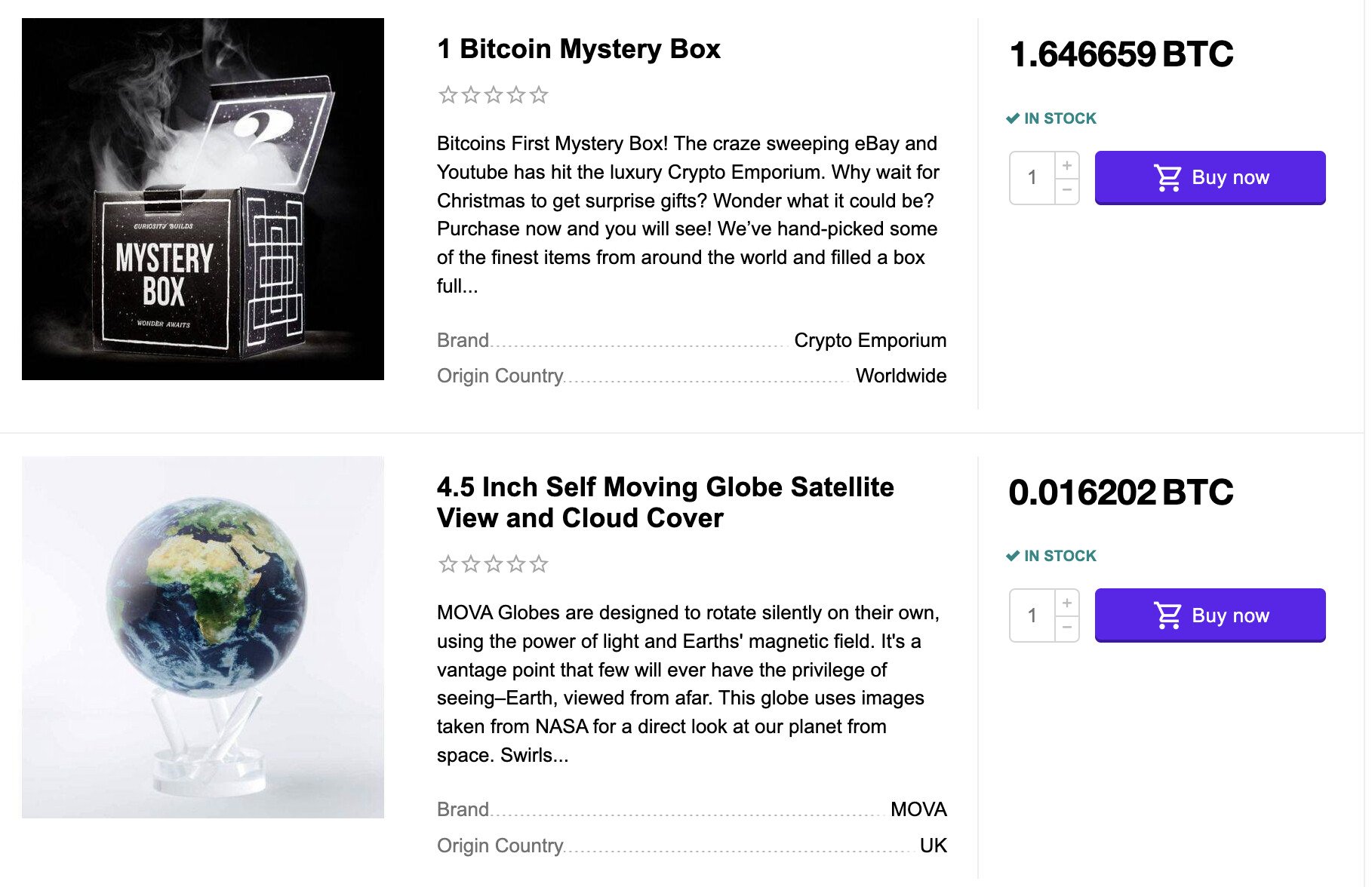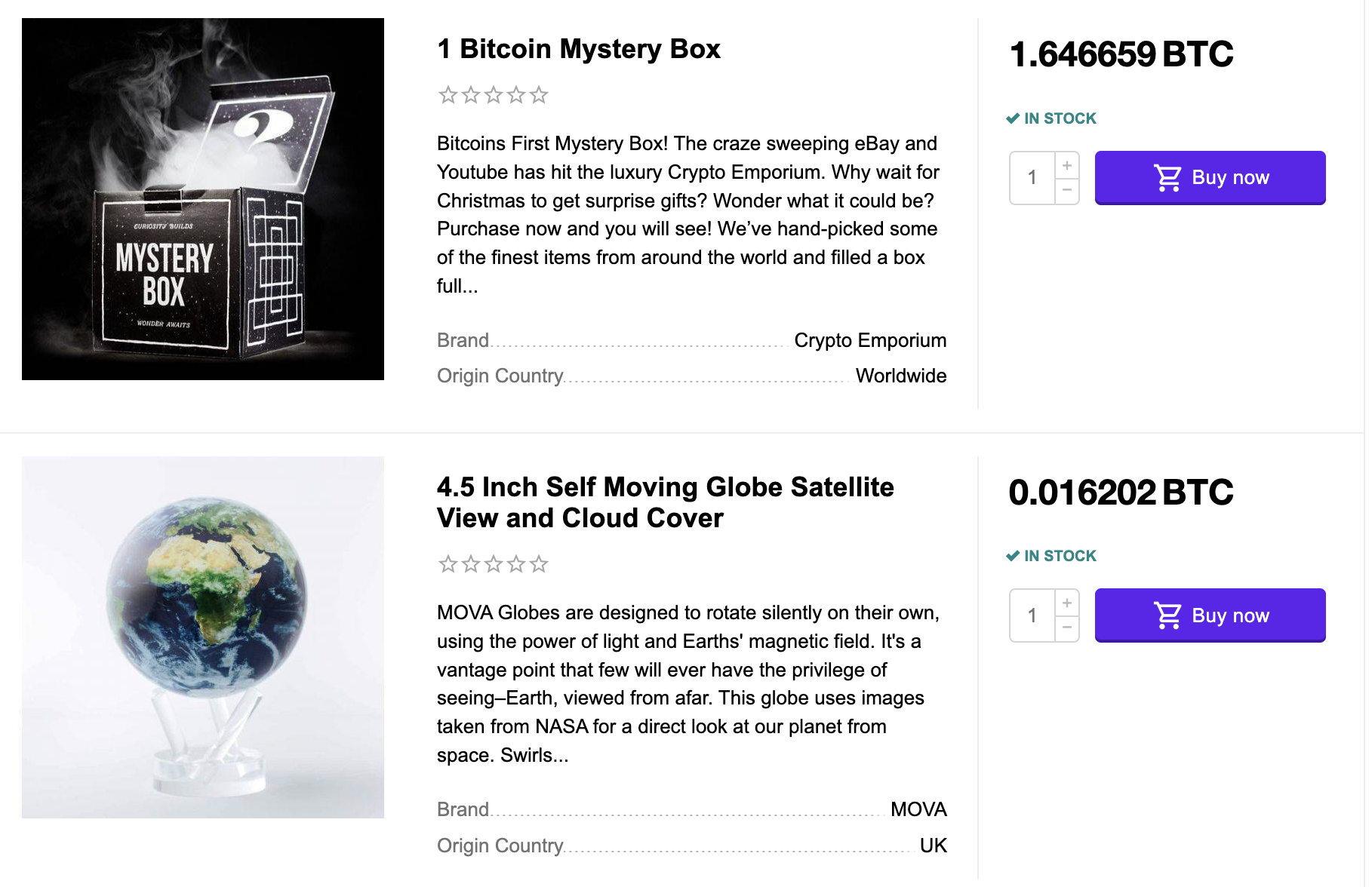 After selecting the products to be purchased, add them to the shopping cart.
Step 3 – Make Payment
After adding products to your cart, proceed to the checkout page. Customers will be asked to provide their shipping address and other necessary details. As in the image below, Crypto Emporium clearly details the shipping charges as well as the additional costs that might incur.
During the checkout process, customers can select their preferred cryptocurrency – which is Bitcoin, by default. Crypto Emporium will then provide a unique Bitcoin address to send the payment to. Users can either copy the address or scan the QR code provided.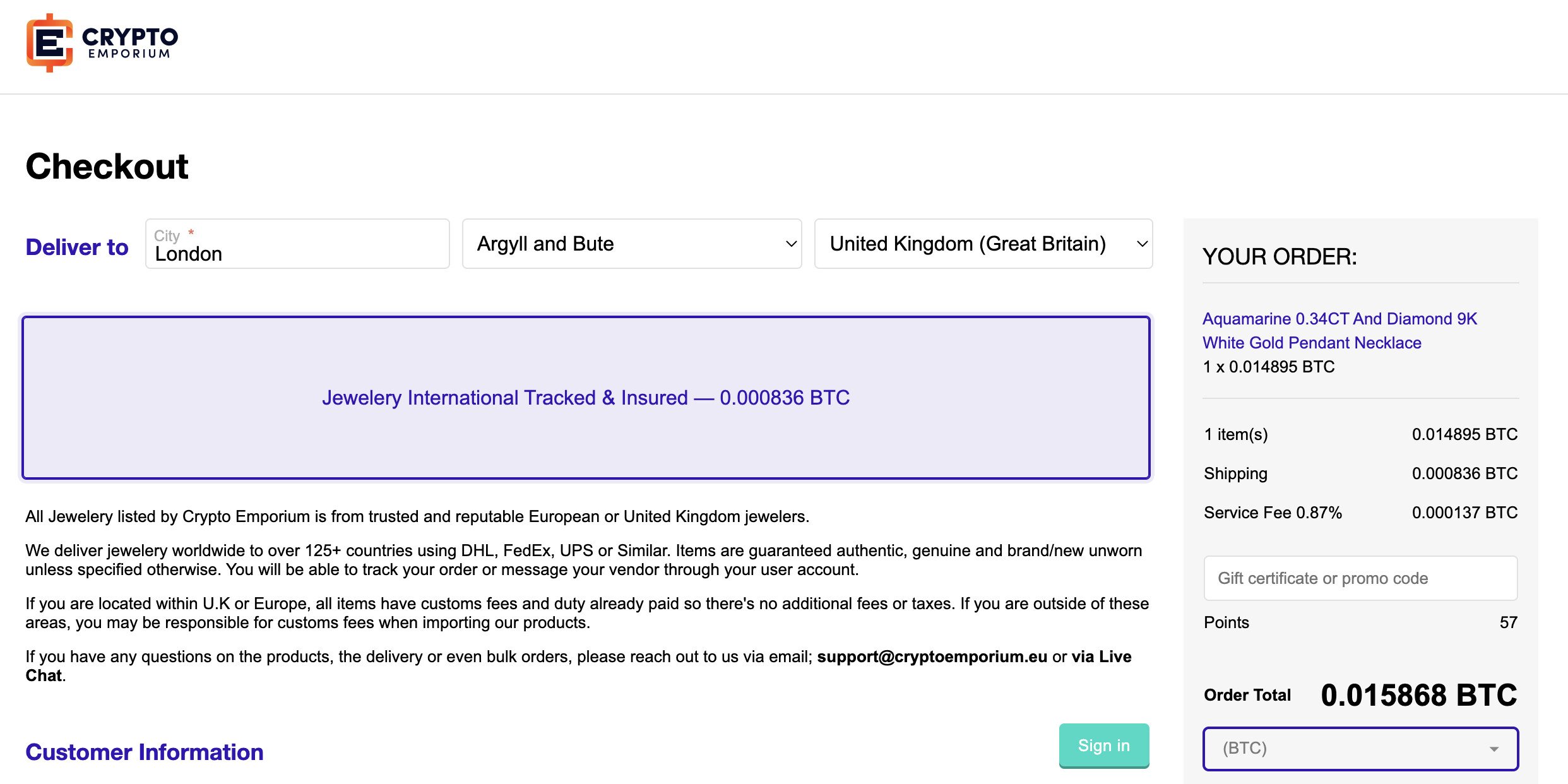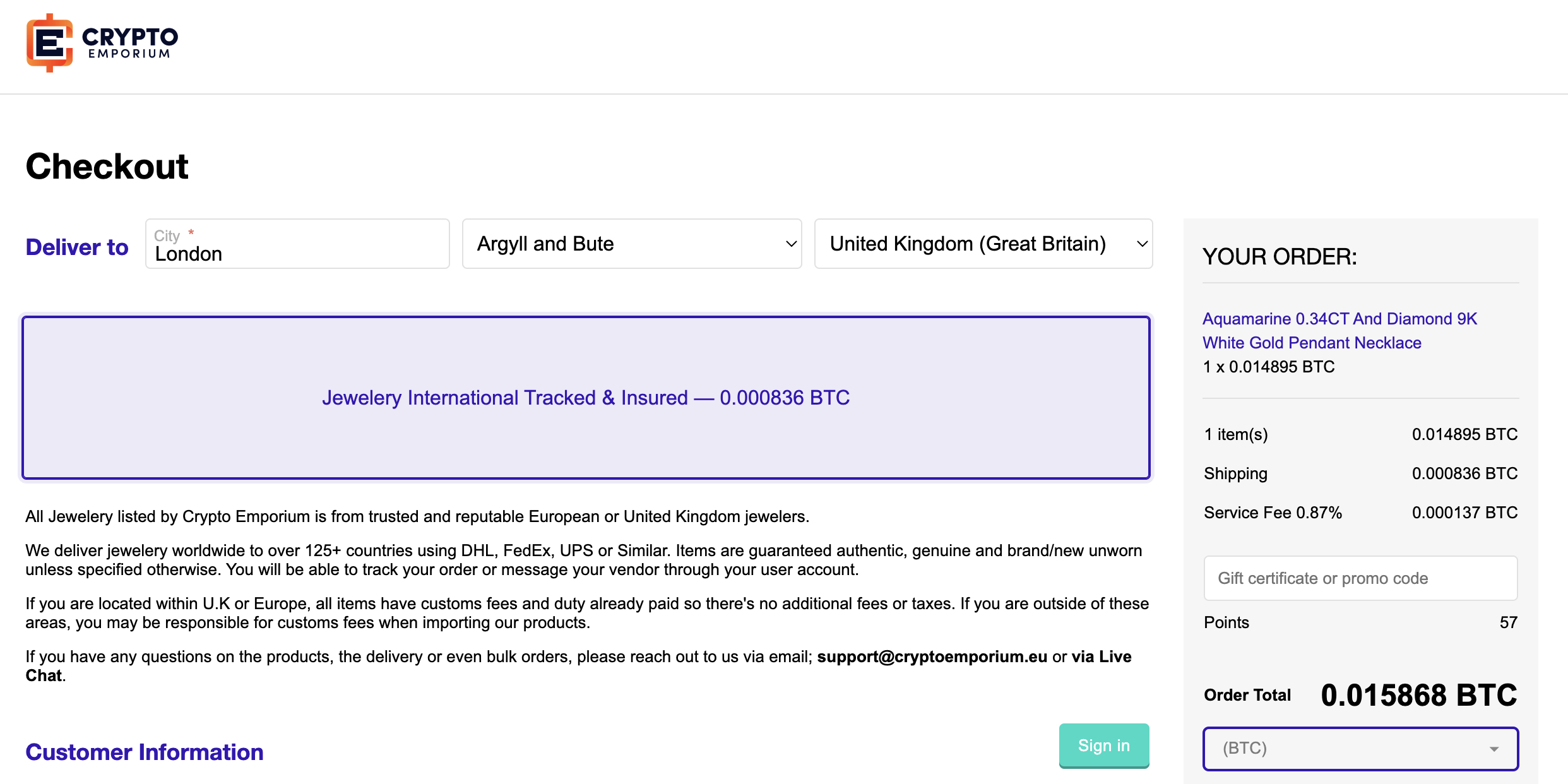 After the payment is made, Crypto Emporium will verify the transaction automatically. This process usually takes a few minutes, depending on the network.
Step 4: Receive the Order
After sending the payment, customers can review the status of their transaction. Once the payment is confirmed, Crypto Emporium will ship the product to the provided address. Customers will receive a tracking number to monitor the delivery.
Note: Crypto Emporium also offers a one-click buy option for specific products. With this feature, users can directly proceed to check out and transfer funds to a crypto wallet address to complete the purchase. However, becoming a registered member comes with additional advantages, such as rewards points and access to special promotions.
Crypto Emporium Review – The Verdict
In summary, this Crypto Emporium review found the platform offers an easy-to-use and secure marketplace for cryptocurrency purchases. The platform features a wide variety of products, ranging from luxury cars, watches, and properties, to everyday items like clothing and electronic devices.
Moreover, Crypto Emporium has an excellent rewards program, with 4% accumulated on each purchase. With 24/7 customer support, attractive bonuses, and a user-friendly interface, Crypto Emporium stands out as one of the best online shopping sites for crypto enthusiasts.
FAQs
How does Crypto Emporium work?
Crypto Emporium is an online marketplace that allows users to buy and sell a variety of products using cryptocurrencies such as Bitcoin, Ethereum, and Litecoin.
What can you buy at Crypto Emporium?
Crypto Emporium sells a variety of products ranging from luxury watches, properties, and cars to electronics and clothing – all of which can be purchased using cryptocurrencies.
Is Crypto Emporium a legitimate platform?
Yes, launched in 2018 – Crypto Emporium is a legitimate platform for buying and selling products using cryptocurrencies.
Disclaimer: The Industry Talk section features insights by crypto industry players and is not a part of the editorial content of Cryptonews.com.
---