Crypto Analysts are Saying These Altcoins Have Huge Potential – Here's Why
Disclosure: Crypto is a high-risk asset class. This article is provided for informational purposes and does not constitute investment advice. By using this website, you agree to our terms and conditions. We may utilise affiliate links within our content, and receive commission.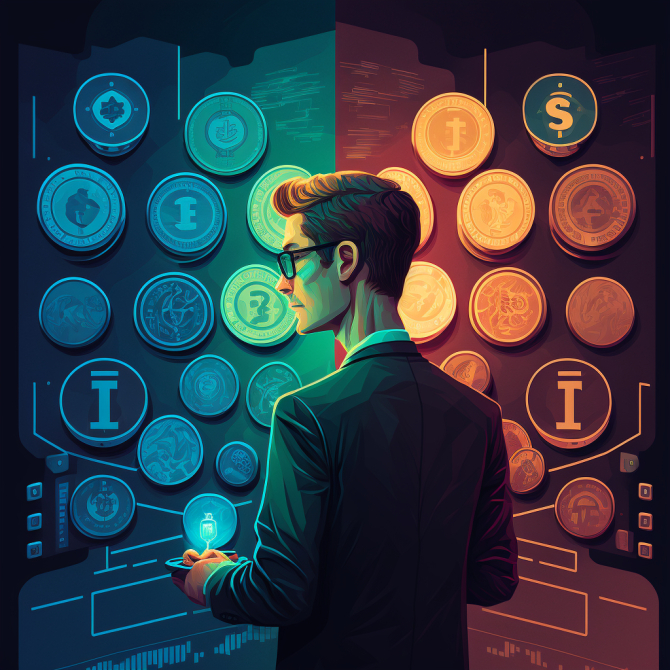 After reaching impressive heights in late 2021, the world's largest cryptocurrency, Bitcoin, experienced a steep decline, falling from a record-breaking high of $69,044.77 in November 2021 to $16,400 in November 2022.
This significant drop of over 76% was attributed to a number of factors, including the collapse of FTX, related bankruptcies in the industry, and growing concerns over regulations. Despite these challenges, many analysts remain optimistic about the future of cryptocurrencies and their potential for growth. So, what are some of the best altcoins to buy with this in mind?
The Case for a Continued Crypto Bull Run and Best Altcoins to Buy
First, let's look at the potential of crypto markets. As one example of the potential for crypto markets to continue growing, a recent survey conducted by the deVere Group, a leading financial consulting firm, found there may be a growing interest in cryptocurrencies among wealthy investors.
The survey, which included 560 high net worth individuals from various regions, including Europe, North America, Asia-Pacific, Africa, and South America, found that 82% of millionaires with assets ranging from £1 million to £5 million (USD $1.23 million to USD $6.16 million) sought advice on cryptocurrencies in the past 12 months.
According to the CEO and founder of the deVere Group, Nigel Green, the current rally in Bitcoin could very well continue, driven by hopes that inflation has peaked and monetary policies are becoming more favorable.
"Bitcoin is on track for its best January since 2013 based on hopes that inflation has peaked, monetary policies become more favourable, and the various crypto-sector crises, including high-profile bankruptcies, are now in the rear-view mirror," said Green.
Green believes that the significant crypto market growth in January will not go unnoticed by high net worth clients and other individuals who are always looking for top performing assets.
The crypto market's optimism so far this year may also be due to the recent entry of institutional investment. Traditionally conservative finance companies, including JPMorgan and Fidelity, have begun offering crypto-related services, indicating a growing acceptance among mainstream finance.
An analysis conducted by PwC in June 2022 further supports this trend, as nearly one-third of the 89 hedge funds surveyed had already invested in digital currencies such as Bitcoin.
The technology behind cryptocurrencies, blockchain, has a wide range of potential uses beyond just digital currencies as well. From supply chain management to voting systems, blockchain has the potential to greatly impact and transform multiple industries, providing new growth opportunities for both the technology and its related cryptocurrencies.
Know the Risks, Avoid Frauds, Invest Wisely
Making wise investments is not as simple as throwing money into any available digital asset being hyped up on Twitter. There are several crucial aspects to consider before investing.
The first step is to be aware of the risks involved. The crypto market is highly unpredictable, and it's essential to be prepared to potentially lose the funds you invest. Only invest money that you don't need and that you can lose with minimal emotional distress.
Next, conduct thorough due diligence on the projects you're interested in. Verify the compliance of the projects with legal regulations and the trustworthiness of the teams behind them. Invest only in projects that are legit and have a strong reputation.
Another important aspect to consider is the real-world applications of the project. The value proposition of the project should be assessed to ensure that it provides practical solutions to existing issues, rather than simply tying to capitalize on trends without delivering actual value. A project's ability to tackle real-world problems has a significant impact on its long-term success and potential returns on investment.
For those who are seeking high ROI, presales of cryptocurrencies can be a good option. Presales offer the potential for great returns, but only with informed investment decisions and thorough vetting of the projects. Ensure that the projects you invest in meet the criteria mentioned above, and you have a clear understanding of the risks involved.
Crypto analysts recommend several digital assets that meet these criteria and are soem of the best altcoins to buy. Some options include MEMAG, FGHT, CCHG.
Meta Masters Guild (MEMAG) to Master Web3 Gaming
Meta Masters Guild, an in-development Ethereum-based play-and-earn gaming platform, is gaining attention with its current presale reaching over $2.2 million raised. With only 2 days left before it enters its fifth stage of the seven-stage offering, the presale is likely to sell out, providing a limited window for interested parties to obtain MEMAG before it lists on exchanges.
The rapid growth of the presale can be attributed to positive word-of-mouth, with some 24-hour periods seeing over $100,000 raised. Investors can participate in the sale by visiting the official Meta Masters Guild website and using Wallet Connect or MetaMask wallets to purchase MEMAG using ETH or USDT.
Meta Masters Guild holds massive promise as a blockchain-based gaming platform focused on creating games that people want and getting input on game direction from users while allowing them to truly own their game assets. Its first game Meta Kart Racers set to launch in the third quarter of the year.
The platform aims to develop fun and rewarding games to cultivate a sustainable community of gamers, with its titles incorporating play-to-earn features and online multiplayer elements. The native MEMAG token will serve as both a governance and utility token, with a fixed maximum supply of 1 billion, potentially becoming deflationary as demand increases.
Meta Kart Racers will be a free-to-play racing game available on iOS and Android devices and will feature solo arcade mode and online player-versus-player options. Players will be able to spend MEMAG on rare in-game items and upgrades, and potentially win rare NFT-based characters. The game is being developed by blockchain-based studio Gamearound and Meta Masters Guild has already formed partnerships with other development firms as well.
With over 21,000 followers on Twitter, despite not even launching yet, Meta Masters Guild shows potential to become a major player in the blockchain gaming industry.
Fight Out (FGHT) Fights for Your Fitness
Fight Out is a new company that is aiming to transform the fitness industry by utilizing the latest in Web3 and M2E (move-to-earn) technologies. This innovative approach is a response to the high turnover rate that traditional gyms experience, with roughly 50% of new members quitting within the first six months of joining. A lack of motivation, community, and personalization are among the primary reasons cited for this.
---