Coinbase IPO: What We Know, What We Don't, and What is Speculated
Disclosure: Crypto is a high-risk asset class. This article is provided for informational purposes and does not constitute investment advice. By using this website, you agree to our terms and conditions. We may utilise affiliate links within our content, and receive commission.
The Cryptoverse is expecting an event of major importance for the industry as US-based crypto exchange Coinbase yesterday finally confirmed it is preparing for its initial public offering (IPO) – but there are still multiple questions to be answered regarding it. Let's look at what we do know and what we don't about this "huge event."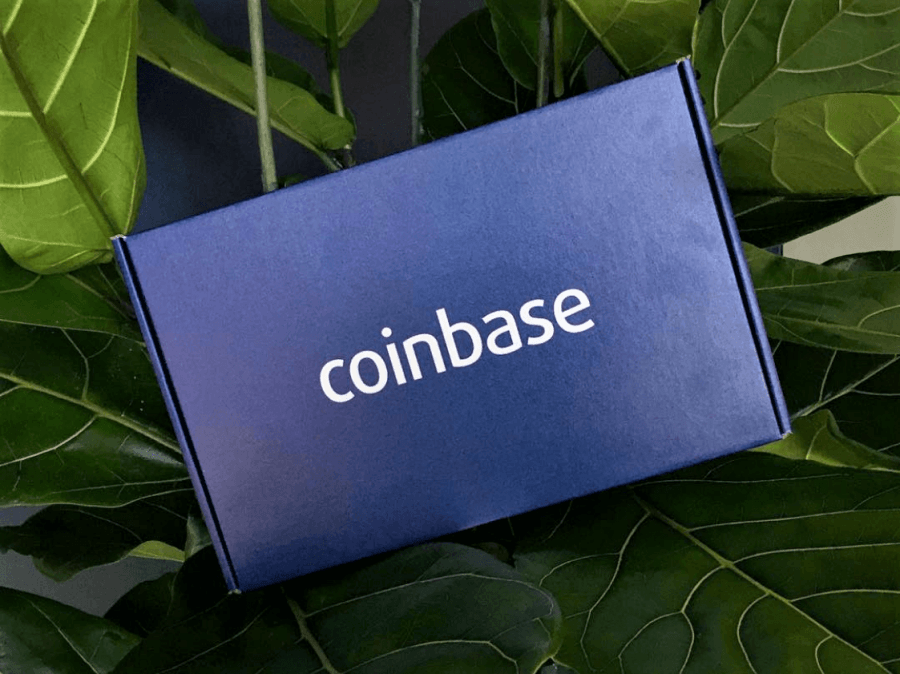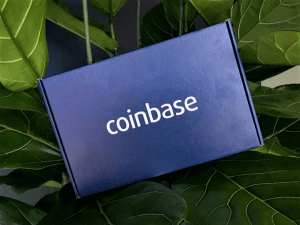 On December 17, Coinbase announced that it confidentially submitted a draft registration statement on Form S-1 with the US Securities and Exchange Commission (SEC), which they said is expected to become effective after the SEC completes its review process. Besides the disclaimer that this is not an offer to sell any securities, and that the offering would be subject to market conditions and other considerations, no additional information was provided, leaving open a number of questions.
Goldman Sachs is leading Coinbase's upcoming IPO, Business Insider reported, citing two undisclosed sources familiar with the matter.
The IPO was rumored already this summer, when it was reported that the company had already been in talks to hire investment banks and law firms, and that it is exploring going public via a direct listing.
An IPO is a process of offering shares of a private corporation to the public in a new stock issuance, thus raising capital from public investors. In this case, the company uses the services of intermediaries called underwriters, who facilitate the IPO process and charge a commission for their work. But in a direct listing, the company sells shares directly to the public without getting help from intermediaries.
According to Fortune, Coinbase co-founder Fred Ehrsam said earlier that the company is "spiritually" built to go public through an offering that involves "digital tokens on a blockchain." But it's uncertain whether the SEC would allow that. "If the agency refuses to do so, another option would be for Coinbase to pursue a direct listing in which it sells shares directly to the public [and] veteran tech journalist Alex Wilhelm has noted that Coinbase is an "archetypal" candidate for such a listing, in part because of its hefty balance sheet," said the article.
Known details vs. speculation
And despite it being described as an event that's "anticipated to be a break-through moment for the industry," as Bloomberg said, even more things remain a mystery for now. For example, its public valuation is unknown. The commonly cited information is that Coinbase was valued in 2018 at USD 8bn following a mega funding round. Since then, both the company and the whole crypto market has grown.
As reported, major investment firm Blockchain Capital estimated that in 2021 Coinbase debuts as the first IPO in crypto and its market capitalization surpasses USD 30bn.
Also, crypto researcher Messari said they value Coinbase at USD 28bn.
"This listing is important even for Token valuations as Coinbase will provide a valuation anchor — not only for future equity listings — but also for crypto-native exchange tokens," Mira Christanto, a researcher at Messari said.
Meanwhile, crypto investment powerhouse Digital Currency Group (DCG) is also among the investors in Coinbase. As announced today, DCG led a SEK 11m (USD 1.3m) investment round in Swedish crypto exchange Safello that aims for listing on the Nasdaq First North Growth Market in 2021. The company claims that demand for its newly issued shares was more than four times higher during this investment round. Safello says it has 165,000 customers and more than SEK 800m (USD 97m) in transaction volume.
Now, back to Coinbase, per provider of the crypto market data CryptoCompare, the company was the fourth top-tier exchange by volume in November, trading USD 30bn (up 166%), after Binance, Huobi Global, and OKEx.
According to Crunchbase data, Coinbase has raised USD 547.3m in venture-backed funding since the company was founded in 2012. It also says the exchange has had 59 investors, and 13 acquisitions. We know that the New York Stock Exchange (NYSE), BBVA, and Andreessen Horowitz are among those who have invested in the San Francisco-based crypto exchange. Also, Coinbase themselves said that they have more than 35m users in over 100 countries, with more than USD 320bn total volume traded.
"Coinbase is cashing in on another hot trend in the capital markets: IPOs have raised more than [USD] 160 billion this year on US exchanges, exceeding the heights of the dot-com boom in 1999," reported The Wall Street Journal.
IPOs are not the only hot trend Coinbase will be riding on, as the crypto market is rallying too. Bitcoin (BTC) has surpassed it's all-time high set in December 2017, and is now (9:43 UTC) standing at USD 23,056. It's up 2.4% in a day and nearly 30% in a week.
Questions to be answered
Other details also remain unknown, will Coinbase pick one of its shareholders, NYSE, for the IPO (in theory, it could be listed on more than one exchange), who the advisors are (or maybe it's JPMorgan?), as well as specifics such as the stake size, expected amount to be raised, and the way the proceeds will be used, including how much of the raised capital will go into the pockets of the current shareholders.
Per CNBC, assuming Coinbase filled the statement yesterday, not just announced it days or weeks after the filling, it will take several months of questioning between the company submitting the statement and the SEC, before the company can disclose more information such as the financial situation and business model, as well as an official document, marketing, etc. If all goes well, "the quickest timeline it could possibly go public" would be Q1 2021, they said.
CNBC also estimated that if Coinbase is looking for a valuation higher than the mentioned USD 8bn, "we could expect this IPO to come in around a billion [USD] or even greater than that."
Cryptonews.com has contacted Coinbase for comment.
The Coinbase IPO announcement is certainly a momentous way to end the year," commented Paolo Ardoino, Chief Technology Officer at crypto exchange, Bitfinex, congratulating the competitor's team.
"Coinbase's arrival on Wall Street is also somewhat ironic as it is now tech — and crypto — where the brightest minds are gravitating. In the past this had been almost the exclusive preserve of Wall Street," Ardoino said.
Kyle Samani, co-founder of MultiCoin Capital and an investor in Coinbase, was quoted by Bloomberg as saying that he expects Coinbase going public to be a "huge event" for the industry […] "a watershed moment for the asset class, both as a form of legitimization, and by providing a way for investors to bet on the crypto industry without betting on a specific asset."
"Coinbase's IPO will give its early shareholders, including CEO Brian Armstrong and venture firm Andreessen Horowitz, an opportunity to cash out," Fortune said. "But it will also represent a milestone in the crypto industry's long-running quest for legitimacy."
Meanwhile, in Cryptoverse, while many are excited over the coming IPO and its significance for the industry, some wonder how they could get some Coinbase shares, being told that they'd need at least USD 10,000 for that, and others are arguing that it's "suspiciously early in the game to be trying to cash out," being told that they can profit off the IPO stock and then use the profit to buy BTC, while the IPO will bring more legitimization to BTC, pushing the price up. Overall, many believe it's a good thing to buy both more BTC and company shares to diversify one's portfolio, but it seems many more would rather invest in BTC alone.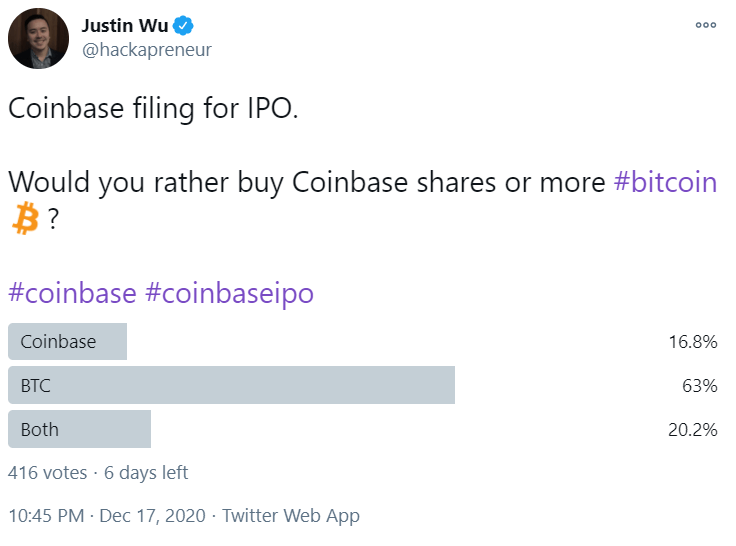 ____
Learn more:
Crypto Exchanges to Spend 2021 Focusing on DeFi, UX, and New Services
Coinbase on Defense As NYT Report Alleging Racial Discrimination Goes Live
Coinbase CEO Warns of 'Rushed' Wallet Regulation, Bitcoin Drops Below USD 17K
Major Exchanges Are Hiring: Here's What the Data Is Saying
Cryptoverse Doubts Coinbase's Upgrades After Another Incident
Coinbase Controversy Gets Violent Twist As Twitter CEOs Chime In
__
(This article was updated at:
12:38 PM UTC to include a quote from Messari;
18:12 UTC to add a new report on Goldman Sachs.)
---