Coin Race: Top Winners/Losers of January
Disclosure: Crypto is a high-risk asset class. This article is provided for informational purposes and does not constitute investment advice. By using this website, you agree to our terms and conditions. We may utilise affiliate links within our content, and receive commission.
The first month of 2022 is behind us, and as in nature so in the crypto markets – it was cold.
The month of December 2021 saw mostly lower prices for major cryptoassets. For example, bitcoin (BTC) and ethereum (ETH) both went down by close to 20%, which spelled absolute failure of many of the most bullish price predictions for 2021.
The losses continued in the first month of 2022, with BTC dropping to USD 35,500 at one point, and ETH to USD 2,200. The crypto prices across the board turned so red that even McDonald's trolled crypto twitter. The prices reacted to the economic developments in the USA as well, dropping along with stocks as the Federal Reserve (Fed) confirmed tapering, then going slightly up as traders started digesting the Fed statement, before making a few more up and down trips as the month was nearing its end.
That said, January ended largely in red across the board, despite some green candles on the last day of the month.
Top 10 coins in January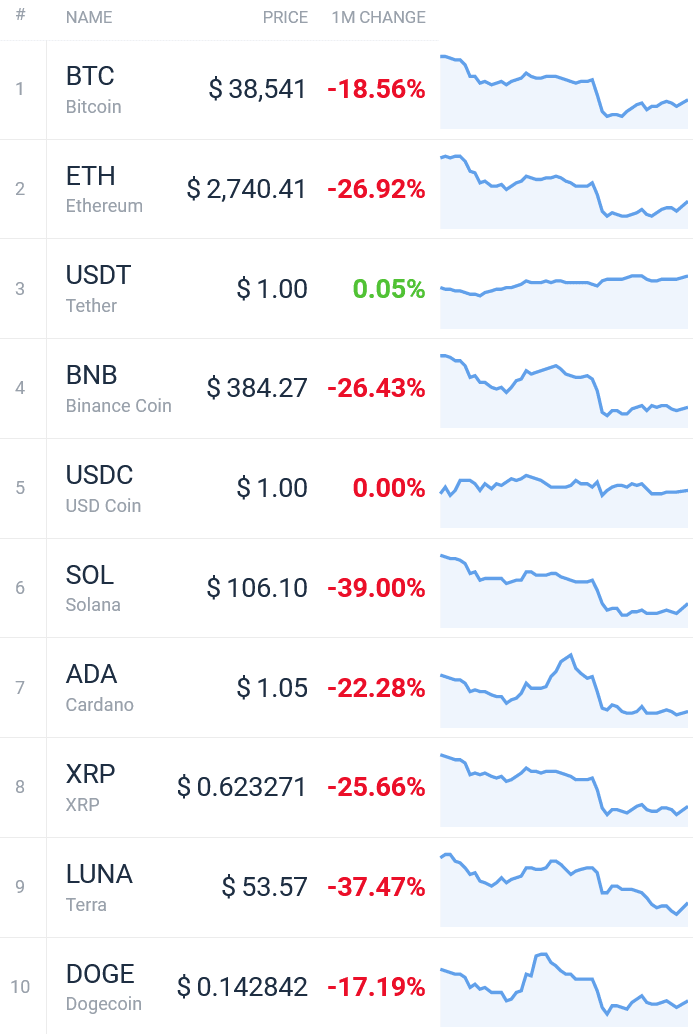 It was a fully red month for the top ten coins by market capitalization. Not a single coin ended January in green. What's more, all of them saw double-digit drops. Among these, the highest one is solana (SOL)'s 39% fall. Terra (LUNA) is not far behind, with almost 38%. As for Solana, it did experience some issues in January, as its CEO denied that the network went down due to an attack, but the network experienced high congestion once again due to bots spamming the network.
Four coins dropped between 22% and 27%, these being cardano (ADA), XRP, binance coin (BNB), as well as ethereum. XRP did go up slightly with the market at one point as the XRP-affiliated Ripple announced a buyout, but it wasn't enough to pull it out of the red zone over the month.
Lastly, two coins recorded losses below 20%, these being bitcoin with almost 19%, and dogecoin (DOGE) with 17%. Since there are no green coins, its smallest drop would make DOGE the winner among the top 10.
Meanwhile, in the first week of the new year, Bitcoin celebrated its 13th birthday, as some industry insiders argued that BTC was likely to hit the much-anticipated USD 100,000 milestone during the first half of 2022. As for the second-largest project, its co-founder Vitalik Buterin claimed in January that Ethereum is halfway towards its vision of scalability.
After three strong years, a difficult start to 2022 for the vast majority of investors.

(For background on the January volatility, please refer to: https://t.co/zOFN2SzoZy )#markets #investors #investing #stocks #bonds #oil #EconTwitter pic.twitter.com/B0lhrM2xj8

— Mohamed A. El-Erian (@elerianm) February 1, 2022
Best from the top 50 in January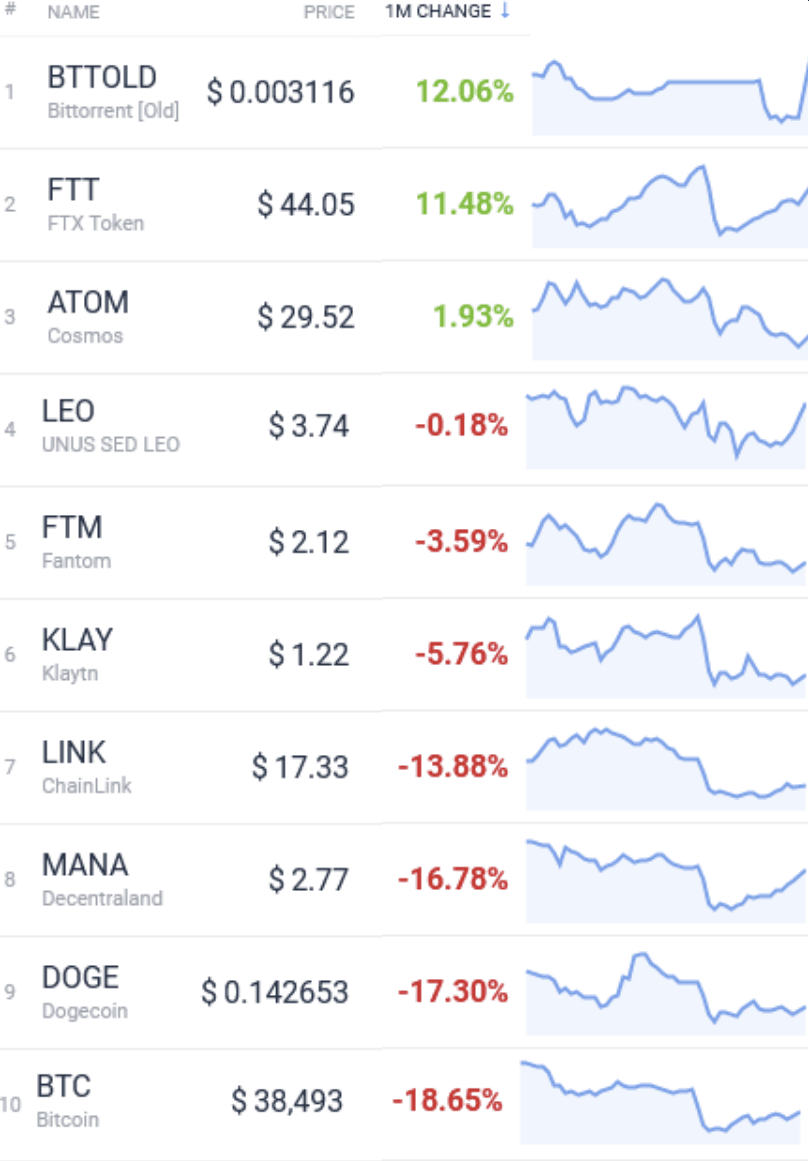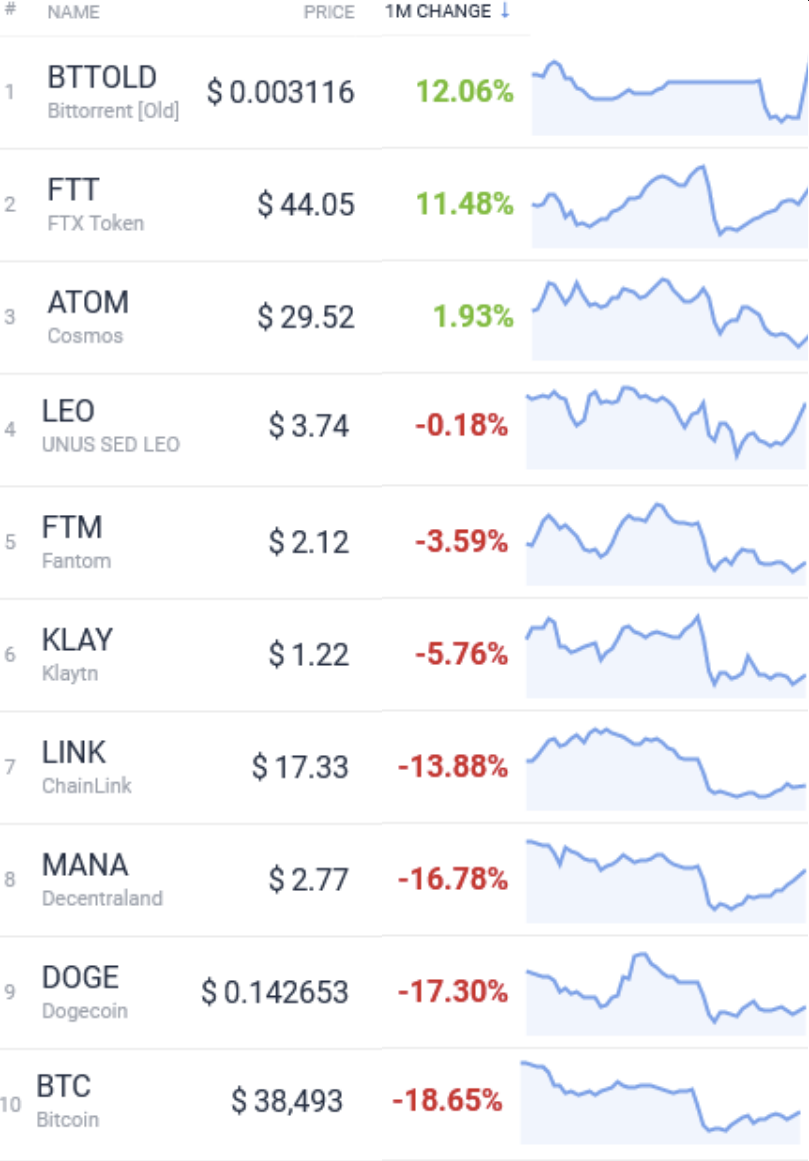 Just how bad of a month it was for crypto prices, one can see from the number of coins that actually saw their prices rise in January. The first month of 2022 had only three such coins among the top 50 by market capitalization, making them the winners in this category.
The most to appreciate was bittorrent (BTTOLD), which went up 12%. In late December, BitTorrent Inc. published a tutorial for its users on how to swap BTTOLD to BTT, as well as further clarification on the BTT redenomination plan a week ago.
This coin is followed by FTX token (FTT)'s 12%, while cosmos (ATOM) went up just under 2%. For its part, the crypto exchange FTX has been quite busy. For example, in January, FTX launched a USD 2bn venture fund, FTX US raised USD 400m, and FTX itself was valued at USD 32bn. Meanwhile, as reported, ATOM has been performing well overall: in the first week of January, the coin rose sharply despite selling pressure from the rest of the market.
Worst from the top 50 in January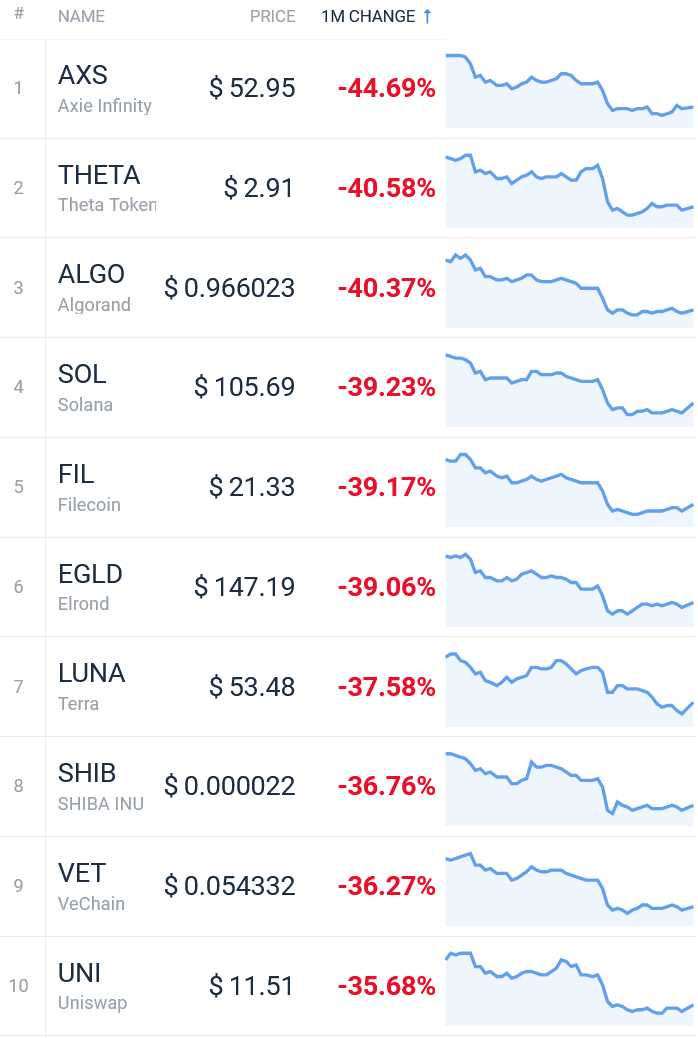 On the other hand, there is no shortage of red coins among the top 50. The most to drop in this category over the month of January was axie infinity (AXS), with 45%. Axie Infinity announced several developments as the new year began, including the Axie Infinity Builders Program and the launch of RON which is used to pay for transactions on the Ronin blockchain.
Theta token (THETA) and algorand (ALGO) dropped around 40%, while the rest of the list saw losses below that percentage, but not below 35%. This includes the mentioned SOL, followed by filecoin (FIL) and elrond (EGLD), both of which are down some 39%. Speaking of which, as reported, Elrond Network acquired the Web 3 payment solution Utrust, seeing the latter's coin jump at one point in January.
Then comes LUNA, after which shiba inu (SHIB) and vechain (VET) record their losses of around 36%. The least to drop in this category (top 10 worst performers among the top 50 coins by market capitalization) is uniswap (UNI), with 36%.
Winners & losers from the top 100 & 200
Now expanding our view to the top 100 coins by market capitalization, we find only six of them finishing January green. The most to appreciate by far is osmosis (OSMO) with 37%. It's followed by the already mentioned BTTOLD and FTT. BORA with 10% and ecomi (OMI) with 8% are next on this short list, with ATOM ending it.
As for the red coins, the highest fall was recorded by GALA, with 55%. The next two coins on the list are kadena (KDA) and loopring (LRC), with 51% and 50%, respectively. Among the first 10 coins in this category, thorchain (RUNE) sits in that 10th spot, with a drop of 40%.
If we take a look at the top 200 coins by market capitalization, we get a full list of 10 green coins to observe. Kyber network crystal legacy (KNCL) showed the best performance, going up 53% over the past month. Kyber network crystal (KNC) follows closely with a rise of 49%. Then comes OSMO. The rest of the list is up between braintrust (BTRST)'s 19% and OMI's 8%.
Meanwhile, olympus v2 (OHM) dropped the most among the top 200, with an 81% loss. In the third week of last month, olympus shed 35% in price and USD 474m in market capitalization as a whale dumped the coin. Spell token (SPELL) with 66% and floki inu (FLOKI) with 64% come after it. Kadena sits in the final, 10th place in this category, followed by a number of red coins.
____
Learn more:
– Bitcoin Trading Volume During Four Market Crashes Suggest Sellers Are Giving Up
– Bitcoin to Hit USD 93K This Year, According to Less Optimistic Survey

– Polkadot, Terra, 'Most Promising' for 2022, Pantera's Morehead Says
– Altcoins in for a Bumper 2022 as Number of Crypto Traders Set to Double – Report

– Goldman Sachs Claims Adoption Won't Boost Crypto Prices, Talks Down Stablecoin Plans
– This is What's Backing Ark's Big Bitcoin, Ethereum and Web 3 Forecasts
---